#1355: Bound To Fly by 3's A Crowd
Peak Month: October 1966
5 weeks on Vancouver's CKLG chart
Peak Position #9
Peak Position on Billboard Hot 100 ~ did not chart
YouTube.com link: "Bound To Fly"
On the Canadian West Coast there was a lot of experimenting with musical styles. Folk, pop and psychedelic rock were merging into a West Coast sound. In 1964, local comedian Brent Titcomb also had vocal skills he was putting to use in small coffee houses. Another comedian with musical talents, Donna Warner, was also interested in starting a music group. That August they began to write songs and became a trio when a coffee house audience member and guitarist, Trevor Veitch, became their third member. As part of the hipster scene at the time, the group took on an avant-garde name that was not indicative of who they were. Billed as the Bill Schwartz Quartet, their ironic name caused audience members to wonder what happened to the fourth person in the group, assuming their must be a fourth bandmate since they were billed as a quartet. More puzzling, there was no one named Bill Schwartz in the group. The oddity of their name grew tired fast and they next went by the name to 3's A Crowd as early as the spring of 1965. In June '65 the group was on the cover of the TV Times magazine in Vancouver.
3's A Crowd made some demo tapes and sent them to numerous record labels in Canada in hopes of securing a contract. The head of Universal Performing Artists was Sid Dolgay. He'd previously been part of a Vancouver folk-rock group called The Travellers, but then moved to run his Toronto based company. Titcomb, Warner and Veitch travelled to Toronto and began appearing at clubs in trendy Yorkville. The group also were based for a short time in the Maritimes. A temporary addition was Ken Koblun, formerly with Neil Young & The Squires. For a brief period 3's A Crowd were a band of four with Titcomb, Warner, Veitch and Koblun, as seen on the CBC TV program, The Juliette Show. Koblun was later replaced by Comrie Smith. But for awhile the group was back to the original three members. 3's A Crowd landed a deal with Epic Records, and travelled to New York City in the early fall of 1966. While there they recorded their debut single, "Bound To Fly". On the single the recording artists are billed as Three's A Crowd.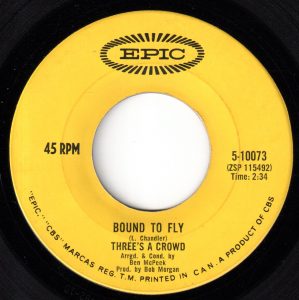 "Bound To Fly" appeared on the radio surveys in Edmonton, Regina and Sault Ste. Marie. But it was in Vancouver it made the biggest splash peaking at #9. The song is about using imagination and non-logical ways of making meaning that can lead to freedom. Our minds use of logic can trap and bind us into thought-forms that are uninspiring and depressing. Even thoughts of evil may appear and suck the life out of us. We can wake up one day and notice, metaphorically, that we've never seen the sky. We've been spending all our time looking down at the ground.
In the mid-60's there was a counter-culture movement that was anti-establishment. As Bob Dylan wrote, the times they were a-changing. In America there was a Civil Rights Movement spurred on by leaders like Martin Luther King Jr. who dreamed that one day another "man" would be judged not by the color of his skin, but by the conduct of his character. Young people were marching in the streets and wearing flowers in their hair. They were chanting "make peace, not war." And as news of the Vietnam War unfolded, Walter Cronkite told CBS viewers on February 27, 1968, We have been too often disappointed by the optimism of the American leaders, both in Vietnam and Washington, to have faith any longer in the silver linings they find in the darkest clouds. To say that we are mired in stalemate seems the only realistic, yet unsatisfactory, conclusion. …it is increasingly clear to this reporter that the only rational way out then will be to negotiate, not as victors, but as an honorable people who lived up to their pledge to defend democracy, and did the best they could. Conkrite made these statements after his own visit to Vietnam during the Tet Offensive. Conkrite told viewers it was time to get out of Vietnam.
The world of perception was changing as fast as people could grow their hair. "Bound To Fly" was one of many songs at the time that invited people to free their minds from conformity. In "Bound To Fly" the singer relates that when their body can catch up with their mind then they'll really be flying. (By the way, the first line in the final verse of this song is indecipherable ~ at least to me ~ so if you have any suggestions regarding what Donna Warner is singing, please send me an email).
Soon, along with Comrie Smith, 3's A Crowd added singer-songwriter David Wiffen, drummer Richard Patterson and who were both playing with Ottawa-based band, The Children. The group released a second single, "Honey Machine", a psychdelic-pop/funk number that ended up on CFUN's All Canadian Top Ten for four weeks in May 1967. But the song didn't chart on the C-FUNTASTIC FIFTY. But while the band was touring, making several TV appearances along the way, their onstage rapport with the crowd ended up casting them as a comedy/musical group, which didn't sit well with the members. After an argument with Epic Record executives about the direction the company was trying to mold the band to be, they dropped the label. In the summer of 1967 3's A Crowd toured extensively including an appearance at the Canadian Pavilion Feature stage at Expo '67 and the Mariposa Folk Festival held that year in Ottawa.
With an extensive resume of live concert appearances, 3's A Crowd got signed to ABC-Dunhill Records. Around this time they met Mama Cass Elliott of The Mamas & The Papas. She was interested in getting the group to do some recording sessions at a studio in New York City. Donna Warner left the band exhausted from extensive touring. She was replaced by Colleen Peterson, and the group performed at venues like West Hollywood's The Ash Grove. Returning to Canada they hosted a CBC TV special titled, Our Kind of Crowd, with Joni Mitchell and Richard Pryor among the guests on the show.
Back in Toronto 3's A Crowd became the house band for the Riverboat Coffehouse. They next released a Bruce Cockburn composition, "Bird Without Wings" The song spent three weeks on the CKLG charts, peaking at #26 in January 1968. It got airplay in Los Angeles and as far away as Brisbane, Australia. The single was still climbing the charts when their debut album, Christopher's Movie Matinee, was finally released in February 1968. One of the tracks on the album was Dino Valenti's "Let's Get Together". While on their current tour 3's A Crowd played at Vancouver's Retinal Circus and Simon Fraser University.
However, Donna Warner soon left the group permanently due to recurring exhaustion. And Colleen Peterson was unable to stay with the group when asked in late March '68. Both Titcomb and Veitch lost interest and 3's A Crowd folded. However, investors advancing cash to make the album wanted their money back.
The financial pressure was a catalyst for a new line-up and reformed group. The new 3's A Crowd consisted of David Wiffen (vocals) Richard Pattersn (drums), Sandy Crawley (guitar), Dennis Pendrith (bass) Colleen Peterson (vocals) and Bruce Cockburn (guitar and vocals). Cockburn had written four of the songs on the album. 3's A Crowd were opening acts for numbers of bands coming to Ontario in the summer of 1968. These included Gary Puckett & The Union Gap, The Turtles, and Grand Funk Railroad. A few more TV appearances on variety shows that fall and winter were followed by a two-month tour on the US college circuit in the spring of 1969. After that the group folded.
Bruce Cockburn went on the become a major folk-rock star recording 24 studio albums and five live albums. David Wiffen went solo and got several solo albums released in the 70's. Colleen Peterson, along with Sylvia Tyson, became a member of the Canadian folk group, Quartette. She died after a battle with cancer in 1996. Crawley went on to pursue an acting career. Brent Titcomb went on to write numbers of songs, including "Sing High, Sing Low", a modest hit for Anne Murray. For a number of years Titcomb was a member of Anne Murray's touring band. He also did voiceovers for the animated movie, The Care Bears. Donna Warner lives in Edmonton and has appeared on a Tommy Banks jazz album and sings in a choir for a cancer care facility. Brent Titcomb has headlined the Festival of Friends music festival in Hamilton, Ontario, on five occasions and performed there at over twenty-five of the festivals. He had his own variety folk music show on CBC called The Brent Titcomb Show. Living mostly in Toronto, Brent Titcomb returned to Vancouver in 2014 to help care for his dad up to his fathers death in 2016.
Trevor Veitch was involved in the musical score for both the movies Top Gun and Pretty Woman. Veitch wrote the English translation for Laura Branigan's early '80s hit "Gloria". He played guitar on Donna Summer's hit, "On The Radio", and helped get her song "Hot Stuff" into the recording studio. Veitch also produced Toni Basil's song #1 80's hit, "Mickey". Veitch has appeared as personnel listed in studio recordings of albums by numbers of recording artists including Pink Floyd, Frank Sinatra and Madonna.
July 20, 2017
Ray McGinnis
References:
Brent Titcomb, "3's A Crowd," Citizenfreak.com.
Ron Grahame and Richard Patterson, "3's A Crowd," Canadian Bands.com.
"3's A Crowd," The Canadian Encyclopedia.ca.
Martin Luther King Jr. "Why I Am Opposed to the War in Vietnam – Speech," Ebenezer Baptist Church, Atlanta, GA, April 30, 1967.
Walter Conkrite, "Commentary: Vietnam War during the Tet Offensive," CBS, February 27, 1968
The Care Bears, Samuel Goldwyn Company, 1985.
"Boss 40," CKLG 730 AM, Vancouver, BC, October 22, 1966.
For more song reviews visit the Countdown.