#201: Cocaine/Tulsa Time by Eric Clapton
A-side: "Cocaine"
Peak Month: August 1980
14 weeks on Vancouver's CFUN chart
Peak Position #4
Peak Position on Billboard Hot 100 ~ #30
YouTube: "Cocaine"
Lyrics: "Cocaine"
B-side: "Tulsa Time"
Peak Month: August 1980
10 weeks on Vancouver's CFUN chart
Peak Position #4
Peak Position on Billboard Hot 100 ~ did not chart
YouTube: "Tulsa Time"
Lyrics: "Tulsa Time"
Eric Patrick Clapton was born in 1945 in a village in Surrey, England. When he was thirteen he was given a steel-stringed guitar for his birthday. By the age of sixteen, Clapton was busking in Surrey. By the age of 17, in 1962 Clapton joined an R&B band called the Roosters. Another guitarist, Tom McGuinness, later joined Manfred Mann. Clapton left in the summer of 1963 to join Casey Jones and the Engineers. Soon after he switched bands to join the Yardbirds. He contributed lead vocals on "Good Morning School Girl" and other blues-based tracks. The album, Five Live Yardbirds, included covers of "Smokestack Lightening" by Howlin' Wolf, "Five Long Years" by Eddie Boyd, "Too Much Monkey Business" by Chuck Berry, and "I'm A Man" by Bo Diddley. Committed to a solid blues sound, Clapton was troubled by a growing commercial sound the band was showcasing. "For Your Love" hit the top of the charts in the UK and Canada and reached number six in the United States. This displeased Clapton, a blues purist whose vision extended beyond three-minute singles. Frustrated by the commercial approach, he abruptly left the band on March 25, 1965, the day "For Your Love" was released.
Eric Clapton was already getting a lot of buzz about his guitar playing. He soon joined John Mayall & the Bluesbreakers. While with the band, Clapton played lead guitar, backing and occasional lead vocals.But Clapton was still not settled. In 1965, he collaborated with Jimmy Page and others billed as The Immediate All Stars. In 1966, he went on with Jack Bruce and Steve Winwood to form Eric Clapton and the Powerhouse. In July 1966, Eric Clapton was invited by Ginger Baker to join him with Jack Bruce to be part of their new band called Cream. With Cream, lead guitarist Eric Clapton got his first exposure with North American radio listeners where "I Feel Free" – a #4 hit in Vancouver in March '67 – got airplay. Cream's biggest hit, "Sunshine Of Your Love" climbed to #1 in Hamilton (ON), Toronto, Saint John (NB), Winnipeg (MB), Calgary (AB), Edmonton (AB) and other radio markets in North America. But, it didn't chart in Vancouver (BC). On June 2, 1968, Cream performed in concert at the Pacific Coliseum in Vancouver. Cream had top ten hits in Vancouver in the winter of '68 and spring of '69, with "White Room" and "Badge". In 1968 Clapton played guitar on the George Harrison penned "While My Guitar Gently Weeps", recorded for the Beatles "White Album".
Cream split in early 1969, which happened to coincide with the breakup of Traffic. Clapton and Baker from Cream, joined Steve Winwood and Ric Grech from Traffic to form Blind Faith. Their self-titled debut album, Blind Faith, proved to be their only trip to the recording studio. The album was one of ten that topped the Billboard 200 album chart in 1969. It was also a huge international seller exceeding 8 million in sales. However, after touring in the summer of '69, Blind Faith split up that October.
When Blind Faith went on tour in 1969, Clapton invited Delaney & Bonnie to be the opening act. And he also performed with them. After Blind Faith split, Clapton continued to perform with them in Delaney, Bonnie & Friends. In December 1969 Clapton was in the recording studio with Delaney and Bonnie Bramlett, George Harrison, Rita Coolidge, Dave Mason and others. The outcome was an album titled On Tour with Eric Clapton, which included the hit single "Only You Know And I Know". Clapton also appeared on their sixth album released in 1972 titled D&B Together.
Concurrently, in 1970 Eric Clapton formed Derek and the Dominos. Clapton was devastated by news of the death of Jimi Hendrix; eight days previously the band had cut a cover of "Little Wing" as a tribute. On 17 September 1970, one day before Hendrix's death, Clapton had purchased a left-handed Fender Stratocaster that he had planned to give to Hendrix as a birthday gift.
Derek and the Dominoes released "Layla" from their sole studio album in 1970. Initial sales were weak. However, the title track – "Layla" released in March 1971 – became Top Ten hit in 1972. This was despite its length of seven minutes and eight seconds. "Layla" climbed into the Top Ten in Canada, Ireland, Japan, Netherlands, New Zealand, Poland, the UK and USA. It had its best chart run in Puerto Rico where it peaked at #1. The song won Eric Clapton a Grammy Hall of Fame award in 1998 for a Historical/Lasting Rock Single. The 1970 album Layla and Other Assorted Love Songs also won Eric Clapton a Grammy Hall of Fame Award in 2000 for Historical/Lasting Rock Album.
In addition, Eric Clapton pursued a solo career. In 1970 he released a self-titled debut album which included the single "After Midnight". But he struggled with heroin addiction and retreated from the spotlight for a few years. However, a notable exception was Clapton's involvement with George Harrison in The Concert for Bangladesh. The triple album, recorded in December 1971 and January 1972, earned Eric Clapton his first Grammy Award for Album of the Year.
In 1974 he went back to the studio and released 461 Ocean Boulevard. The album gave him a number one hit single "I Shot The Sheriff", a cover of a 1973 record by Bob Marley. The single won Clapton a Grammy Hall of Fame Award in 2003 as a Historical/Lasting Rock Single. On August 3, 1975, Eric Clapton appeared in concert for the first time as a solo recording artist in Vancouver, at the Pacific Coliseum.
And in 1977, on his fifth studio album, he had success with "Lay Down Sally" and "Wonderful Tonight". His 1978 album, Backless, included the Top Ten hit "Promises". On February r1, 1978, Eric Clapton appeared in concert in Vancouver at the PNE Forum.
In 1980 he emerged again from the recording studio with the double live album Just One Night. It featured the tracks "Cocaine" and "Tulsa Time".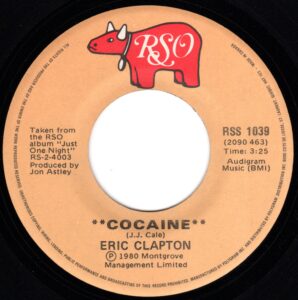 "Cocaine" was written by J.J. Cale in 1976. Eric Clapton covered the song in 1977. Clapton described "Cocaine" as an anti-drug song intended to warn listeners about its addictiveness and deadliness. He called the song "quite cleverly anti-cocaine", noting: "It's no good to write a deliberate anti-drug song and hope that it will catch. Because the general thing is that people will be upset by that. It would disturb them to have someone else shoving something down their throat. So the best thing to do is offer something that seems ambiguous—that on study or on reflection actually can be seen to be "anti"—which the song "Cocaine" is actually an anti-cocaine song. If you study it or look at it with a little bit of thought … from a distance … or as it goes by … it just sounds like a song about cocaine. But actually, it is quite cleverly anti-cocaine."
In the lyrics by J.J. Cale, the singer relates "Don't forget this fact, you can't get it back…" and "If you want to get down, down on the ground, cocaine." It seems cocaine will soon be your master, and you'll be addicted. The refrain goes "she don't lie, she don't lie, she don't lie, cocaine." What is it that cocaine doesn't lie about? A person who tries cocaine learns firsthand what it is like to get high on cocaine, and "ride on" when your day is done. They're left wanting more.
J.J. Cale was born in 1938 in Oklahoma City. He was drafted into the U.S. military and joined the U.S. Air Force. Out of the service, he moved to Los Angeles in 1964. In early 1966 his single "Dick Tracy", about "the hero of precinct two," was a Top 40 hit in Vancouver. The song about the In 1966 he recorded a single, with the B-side which he penned titled "After Midnight". The song was covered by Eric Clapton in 1970. Cale's original version of "After Midnight" was a Top 20 hit in Vancouver in 1972. Cale's biggest hit single was "Crazy Mama", which peaked at #22 on the Billboard Hot 100 in 1971. He turned down an invitation to appear on American Bandstand, after being told he couldn't bring his band and would have to lip-synch "Crazy Mama" during the broadcast. Cale admits the lack of exposure kept his song out of the Top 20.
In 1976, J.J. Cale's original version of "Cocaine" was a number-one hit in New Zealand, #2 in Switzerland, #5 in Austria and #10 in Sweden. In 2006, J.J. Cale and Eric Clapton collaborated to release the album The Road to Escondido. In 2008 it won them a Grammy Award for Best Contemporary Blues Album. J. J. Cale released 15 solo albums, and three live albums. He died of a heart attack in 2013 at the age of 74.
"Cocaine" peaked at #1 in Lindsay (ON), #2 in Toronto, #3 in Ottawa and Bakersfield (CA), #4 in Vancouver (BC), #7 in Peterborough (ON), #8 in Washington D.C., and #9 in Montreal.
"Tulsa Time" was written by Danny Flowers, and a number-one country hit in the USA in 1978 for Don Williams (who formed the Pozo-Seco Singers in 1963). Eric Clapton heard the song and recorded it for his 1978 album Backless, and for his live album, Just One Night. Danny Flowers later wrote "Back in my Younger Days", a #2 country hit for Don Williams in the USA in 1991, and a number-one country hit in Canada. Flowers was born in Hendersonville, North Carolina, in 1948. He wrote songs recorded by Emmylou Harris, Willie Nelson and the Blind Boys of Alabama. Flowers was also a session musician for Vince Gill, George Hamilton IV, Dobie Gray and others.
"Tulsa Time" is about a guy who is formed by his culture and pace of life back in Tulsa, Oklahoma. When he moves to Hollywood, he discovers no one wants to hire him as an actor for any part in a film. No one is interested in the type of song he plays. He recognizes that if he left L.A., no one would miss him. Since he's living on Tulsa time, he senses he "had no business leaving" his home town in the first place.
"Tulsa Time" peaked at #1 in Anniston (AL), #2 in Presque Isle (ME), #3 in Atlanta, #4 in Vancouver (BC), #6 in Fredericton (NB), #8 in South Bend (IN), #9 in Greensboro (NC), and #10 in Richmond (IN).
Through the 80s, Eric Clapton was mostly successful on the Mainstream Rock charts. Still, he managed on Top Ten hit on the Billboard Hot 100 that decade with his 1981 release of "I Can't Stand It". On July 25, 1985, and again on September 28, 1988, Clapton gave concerts at the Pacific Coliseum.
But it was the 1990s where Eric Clapton re-emerged to top the pop charts for the first time. In 1991 he penned "Tears In Heaven". The song was about the death of Clapton's four-year-old son, Conor. On March 20, 1991, Conor died after falling from the 53rd-floor window of a New York City apartment belonging to a friend of Conor's mother. The single won Clapton three Grammy Awards in 1993: Record of the Year, Song of the Year and Beset Male Pop Vocal Performance. He also won at the February 1993 Grammy Awards for Album of the Year: Unplugged, and Best Rock Song for his acoustic version of "Layla".
At the 1997 Grammys, Clapton won both Record of the Year and Best Male Pop Vocal Performance for "Change The World". And in "My Father's Eyes" won him a Grammy Award for Best Male Pop Vocal Performance.
Over the decades Eric Clapton has recorded 21 studio albums, released 26 singles and 14 live albums. Eric Clapton has been nominated/considered for 42 Grammy Awards since 1969, and has been awarded 22 Grammy Awards. Among his other awards, Clapton won in the Best Traditional Blues Album category for From The Cradle (1995) and Riding with the King (2001). He also won a Grammy Award for Best Contemporary Blues Album in 2008 for The Road to Escondido. Among his many nominations for a Grammy Award is one for Best Rock Performance by a Duo or Group with Vocal for his 1994 recording of "My Back Pages".
At Clapton's request, Cream reunited for a series of four shows, on May 2nd, 3rd, 5th and 6th, 2005, at the Royal Albert Hall in London. This was the same venue where they performed their final concerts in October 1968. Cream subsequently performed three concerts at Madison Square Gardens in New York City, October 24-26, 2005. On September 8, 1998, August 5, 2001, and again on March 23, 2007, Clapton appeared in concerts at General Motors Place in Vancouver. On February 25, 2011, Eric Clapton performed in Vancouver at Rogers Arena.
Eric Clapton has been given a Grammy Lifetime Achievement Award and made an Officer of the Order of the British Empire, and in 2004 promoted to Commander of the Order of the British Empire. On March 30, 2022, Eric Clapton will turn 77.
February 11, 2022
Ray McGinnis
References:
Elias Leight, "10 Things We Learned From 'Eric Clapton: Life in 12 Bars' Doc," Rolling Stone, February 9, 2018.
"Hendrix Jams with Cream," BBC, April 24, 2016.
"100 Greatest Artists of All Time: #55 – Eric Clapton," Rolling Stone, July 18, 2012.
"List of Awards and Nominations Received by Eric Clapton," Wikipedia.org.
Jon Friedman, "That Time Eric Clapton Almost Became a Beatle," Esquire, November 20, 2015.
Mark Roberty, The Complete Guide to the Music of Eric Clapton, (Omnibus, 1995).
"In An English Country Churchyard, Eric Clapton and Friends Mourn the Death of His Son, Conor, 4," People, April 15, 1991.
"Obituary: JJ Cale was music's towering figure," Gulfnews, July 28, 2013.
Martin Chilton, "Eric Clapton: J.J. Cale Got Me Through My Darkest Days," Telegraph, July 25, 2014.
"Cream – Concerts – Canada," setlist.fm.
"Eric Clapton – Concerts – Canada," setlist.fm.
"C-FUN Top Thirty," CFUN 1410 AM, Vancouver, BC, August 1, 1980.
For more song reviews visit the Countdown.