#984: Cool Operator by Sandy Nelson
Peak Month: January 1961
6 weeks on Vancouver's CKWX chart
Peak Position #4 – CFUN
Peak Position on Billboard Hot 100 ~ did not chart
YouTube.com: "Cool Operator"
Lloyd Sander Nelson was born in Santa Monica, California, in 1938. Jan Berry, Dean Torrence and Phil Spector were among the students in his school who also pursued careers in pop music. Sandy became a proficient drummer and joined his first group, Kip Tyler and the Flips. Another member of the group was future Beach Boy, Bruce Johnston, who played piano. Ki Tyler and the Flips recorded a few songs on local record labels in Los Angeles, introducing Sandy Nelson to the world of studio recording. In 1957, with three friends from high school, Marshall Leib, Sandy Nelson, and Annette Kleinbard, Phil Spector formed a group called the Teddy Bears. Nelson played drums on the Teddy Bears' chart-topping 1958 hit, "To Know Him, Is To Love Him". In 1959 Sandy Nelson played drums for Gene Vincent on "Crazy Times" before going solo.
Nelson's fascination with drums began when, as he told a Las Vegas Weekly reporter in 2015, his parents "had these drunken parties. The music they'd play, some of it really grabbed me. I'd look down the hallway with my pajamas on and see Aunt Sylvia dance. After the party I'd sneak in and take some of the records to my own little phonograph"—songs like Rose Room and Song of India. I was just fascinated."
When he was a child he saw legendary drummer Gene Krupa play in Downtown Los Angeles. By the age of eight he was learning to play on his first drum kit, an old set from the 1920's. A fan of big band and swing, Nelson's tastes began to change in his teenage years, as he listened to Little Richard, Ritchie Valens and Fats Domino. Over time, he taught himself by watching idols like Little Richard's drummer Earl Palmer, the kind of musician he never imagined he'd get to meet.
In 1959 Nelson made a demo which cost him $19 to record, of a drum tune he composed called "Teen Beat." After being turned down by several local labels, Nelson was introduced to Art Laboe, who had just had a Top 20 hit with "Bongo Rock" by Preston Epps on Laboe's Original Sound label. "Teen Beat" climbed to #4 on the Billboard Hot 100, and #3 in Vancouver, in 1959. It was rather unusual in that it was an instrumental song featuring Sandy's pounding drums. In 1959 several instrumentals did well on the pop charts including "Sleep Walk" by Johnny and Santo, "The Happy Organ" by Dave "Baby" Cortez, "Red River Rock" by Johnny And The Hurricanes, "Quiet Village" by Martin Denny, "Forty Miles Of Bad Road" by Duane Eddy, "Peter Gunn Theme" by Ray Anthony, "Petite Fleur" by Chris Barber, "Manhattan Spiritual" by Reg Owen and the "Guitar Boogie Shuffle" by The Virtues. There were a dozen instrumentals on the Top 100 year end pop chart in 1959.
Though most online biographical write-ups of Sandy Nelson don't mention it, one of the readers of this article pointed out that Nelson was a member of the Gamblers. A quick visit to a website about this Southern California instrumental surf rock band confirmed the tip. The Gamblers formed in the fall of 1959 and released a single in 1960 titled "Moon Dawg". The song's title was a tribute to the rock 'n roll DJ Alan Freed whose nickname was "Moon Dog". Freed began playing R&B records in Cleveland in July 1951, and his show was named "The Moondog House." "Moon Dawg" by the Gamblers climbed to #14 on the Vancouver (BC) C-FUN chart. "Moon Dawg" even made it to #4 in Seattle, Washington. Though it didn't crack the Billboard Hot 100, the instrumental's brief 5-week chart run didn't give "Moon Dawg" enough points to land it on this website Countdown. However, a 1965 cover by The Arrows featuring Davie Allan did merit a song review. The Gamblers returned to the Vancouver (BC) pop chart with a Top 30 instrumental in 1961 titled "Teen Machine". Later that year they disbanded.
Sandy Nelson continued his work as a session drummer on many well known rock-and-roll songs in the early 60's, appearing on such top ten hits as "Alley-Oop" and "A Thousand Stars". In 1960 Nelson signed a recording contract with Imperial.
Nelson released five singles on Imperial Records which did not chart in the USA. The first of these, "Drum Party" did chart in the Top 30 in Vancouver and made #1 in Minneapolis/St. Paul, Minnesota. Another of these early Imperial releases, "Cool Operator", found appeal with Vancouver record buyers who sent the tune to #4 at the start of 1961. It was the only radio market where the instrumental made the Top 40 in North America.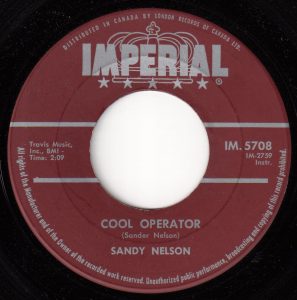 The title for the instrument "Cool Operator" is from the words "cool" and "operator." In the late 50's Ed "Kookie Kookie" Byrnes, on the TV show 77 Sunset Strip, epitomized everything that was cool. Kookie had his own vocabulary, was attractive, knew where he was going and made his own plans. He exuded a state of well-being and was composed, he didn't lose his cool. It was "in" to be cool and no one wanted to be labeled a "square" who was slow on the uptake and nerdy. A person who was an "operator" who was cool was someone who was "on top of things" and in "control" of whatever situation they were faced with.
After five commercial flops, Imperial was about to drop Nelson, when his friend Richie Podolor helped him write "Let There Be Drums". The drum sound was much slicker and more polished than on "Teen Beat" and the instrumental became his second million seller, reaching #7 on the Billboard Hot 100, #4 in Vancouver and #3 in the UK. Nelson released six albums in 1962, all of them of consistently good quality. Five of these charted, with the LP "Let There Be Drums" remaining in the charts for 48 weeks, reaching #6. Once again he had scored with an instrumental that featured hi driving drum beat. He had other minor hits in 1962, such as "Drums Are My Beat".
Following a motor-cycle accident, he had his right foot and part of his leg amputated. Despite his injuries, he returned to drumming and made a chart comeback in late 1964 with "Teen Beat '65" which made the Top 50 on the Billboard Hot 100, thanks in part to its #1 chart position in Denver and Oklahoma City. Sandy Nelson modernized his sound and continued to record dance-inspired albums for Imperial until 1970. After that he recorded a few records for United Artists. In total, he released 36 instrumental singles and 30 albums. For several years he played with a small jazz combo in and around Los Angeles.
After 1978, Nelson became largely inactive in professional music. He hasn't done oldies shows as his leg can be very painful. But in 2002, he did accept an invitation to play at the annual Viva Las Vegas Rockabilly Festival. Sandy Nelson lives in Boulder City, Nevada. In 2009 he released a new CD titled Nelsonized by Sandy Nelson and the Sin City Termites.
October 12, 2017
Ray McGinnis
References:
Sandy Nelson, Rockabilly.nl.
Drum Dungeon bio – Sandy Nelson, Drum Asylum.com.
Caleb Warren & Margaret C. Campbell, "'What Makes Things Cool? How Autonomy Influences Perceived Coolness,'" Journal of Consumer Research, Vol. 41, Chicago, IL, August 2014.
"Daddy-O! – Define the Fifties: Slang Terms from Auto Parts to Women and Everything in Between!," Daddy-O.us.
Duane Cozzen, Surf & Hot Rod Music of the 60's: Collectors Quick Reference, (lulu.com, 2015) p. 66.
Cool (Aesthetic), Wikipedia.org.
"C-FUN-Tastic 50," CFUN 1410 AM, Vancouver, BC, January 21, 1961.
For more song reviews visit the Countdown.