#414: Cool Water by Jack Scott
Peak Month: August 1960
8 weeks on CKLG's Vancouver Charts
Peak Position ~ #2
Peak Position on Billboard Hot 100 ~ #85
YouTube: "Cool Water"
Lyrics: "Cool Water"
Giovanni Dominico Scafone Jr. was born in 1936 in Windsor, Ontario, and spent some of his years growing up in the Detroit suburb of Hazel Park, Michigan. In 1954 he formed a band called the Southern Drifters. In 1957 he got a record deal with ABC-Paramount. He released two singles that year that sold little outside of Detroit and Cleveland. He scored four Top Ten hits on the Billboard Hot 100 and two more in the Top 30 in the USA. In Vancouver Jack Scott was a teen idol with his good looks and classic rock 'n roll. He enjoyed eight Top Ten hits on the Vancouver charts including "What In The World's Come Over You" and his most successful hit in town, "Goodbye Baby" that peaked at #2 and spent 17 weeks on the CKWX charts in 1958. At the time, Scott had more US singles in the Billboard Hot 100 (19), in a shorter period of time (41 months), than any other recording artist – with the exception of The Beatles, Elvis Presley, Fats Domino and Connie Francis. Scott charted twenty songs on the local record surveys in Vancouver between July 1958 and November 1962.
Jack Scott wrote all but one of his hits, that being "Burning Bridges." One song would be a ballad, the next a rockabilly hit, a third a doo-wop tune, and then he'd release a pop-country song. "Leroy," "Geraldine", "Save My Soul", "The Way I Walk" and "I Never Felt Like This" are the favorites by Jack Scott among rockabilly fans. Scott was versatile and his deep bass voice was always on the airwaves in that four year period along with Elvis Presley, Ricky Nelson and Roy Orbison who were also putting out a lot of singles at the time. In 1958 his first Top Ten hit was "My True Love" which showcased his bass voice. His follow up single, also on a love-related theme was "With Your Love". He also made the Top Ten in 1958 with "Goodbye Baby".
Between February and May 1959, Jack Scott served in the U.S. Army. Jack Scott was one of a few Canadian pop stars in the early rock 'n roll era. Other teen idols from Canada, prior to the British Invasion in 1964, included Paul Anka and Bobby Curtola. In his book, Rockabilly: A Forty Year Journey, author Billy Poore describes Jack Scott as "the best rockabilly vocalist of any artist outside the Southern states." In 1960, Jack Scott organized two tours and shared the bill with Danny & The Juniors, The Champs and Sonny James.
In 1960 Jack Scott returned to the Top Ten on the Billboard Hot 100 with "What In The World's Come Over You" and "Burning Bridges". In Vancouver (BC) he managed to climb back into the Top Ten in 1960 with the B-side to "Burning Bridges" titled "Oh Little One", and later with "Cool Water".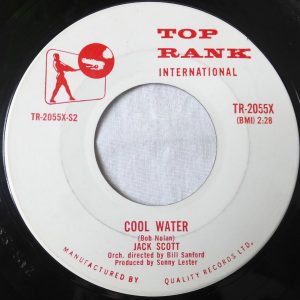 "Cool Water" was written by Winnipeg born Bob Nolan (born Robert Clarence Nobles in 1908). Nolan was a founding member of the Sons of the Pioneers. In September 1931, Nolan answered a classified ad in the Los Angeles Herald-Examiner that read, "Yodeler for old-time act, to travel. Tenor preferred." He was chosen for the part and was briefly a member of the western group called the Rocky Mountaineers. In 1933 Nolan became part of the Pioneer Trio, along with Roy Rogers (who was then known as Leonard Style). By 1934 they billed themselves as the Sons of the Pioneers. They were based in Los Angeles. Nolan wrote "Cool Water" in 1936, though the Sons of the Pioneers didn't record it until 1941. At the time it became a minor Top 30 hit. In 1945 "Cool Water" was sung by Bob Nolan and the Sons of the Pioneers in the Hollywood western Along the Navajo Trail. It was also featured in another western released in 1945 titled Saddle Serenade. "Cool Water" was recorded again in 1948, featuring Vaughan Monroe with the Sons of the Pioneers. It subsequently landed at the #9 spot on the Billboard pop chart later that year.
"Cool Water" was also recorded by Hank Williams, Bing Crosby and the Andrews Sisters. And in 1955 Frankie Laine had a number two hit with the song on the UK singles chart. Other cover versions of "Cool Water" were recorded by Marty Robbins, Burl Ives, Johnnie Ray and Johnny Cash. So, when Jack Scott recorded "Cool Water" he was releasing a single that had been a Top Ten hit in North America only twelve years earlier.
"Cool Water" is a song about a man and his mule, Dan, and a mirage in the desert. The first lines let the listener know the seriousness of his plight: "All day I face a barren waste without the taste of water…" Proper hydration is essential in order to survive. The pioneer in the song, together with his mule, Dan, need to consume a significant amount of water each day to function properly. This is because, like anyone, humans constantly excrete water through sweat and urination, so the body needs to replenish the lost fluids. And more fluids are lost from sweating under a hot sun in a barren desert. Dan, the mule, and his owner face the burning sand with dry burning throats. Their survival is at stake. Unless they can discover some creek or stream, they will die in the barren landscape they are trying to cross.
You won't live long without consuming a healthy amount of water. It's only possible to survive without water for a matter of days. But the view of the frontiersman crossing the American plain in search of water needs some context. In 2020 we listen to the lyrics of "Cool Water" being used to proper sanitation with tap water that is safe to drink, and readily available bottled water. Historically, in Renaissance England, drinking water had been viewed as bad for your health. This was due to poor sanitation. And so people drank beer and other spirits instead. The Pilgrims loaded more beer than water on the Mayflower when they sailed from England for Plymouth in 1620.
Looking at General George Washington's expense account, author Marvin Kitman marveled at the consumption of alcohol at the time. "Revolutionary War era persons drank a phenomenal amount. We have here an account of a gentleman's average consumption: 'Given cider and punch for lunch; rum and brandy before dinner; punch, Madeira, port and sherry at dinner; punch and liqueurs with the ladies; and wine, spirit and punch till bedtime, all in punchbowls big enough for a goose to swim in.'" Andrew Barr writing in Drink: A Social History of America, details how "Americans of the period believed it was particularly healthier to drink lukewarm alcohol during hot weather rather than drink cold water. Signs were displayed at public wells warning individuals of the dangers of cold water during the summer. The rationale for this is that when a person sweated, heat was conducted from the inside of the body. Therefore, the stomach needed warmth, which could be provided by alcohol. The bias against water was so great that a recent immigrant from Italy, Phillip Massei, caused a stir at a large dinner party where he asked for a glass of water. 'I perceived some confusion among the servants, and the water did not arrive. The host, next to who I sat, whispered in my ear, asking with a smile if I could not drink something else, because the unexpected request for a glass upset the entire household and they did not know what they were about.'"
The first businesses established on the frontier were often simple taverns located along trails and roads to take care of the needs of travelers. Tradition of the time dictated that a drink be had at every halt in a journey. One story tells of two travelers on a seventy-mile trek by coach who drank a quart of liquor at each of the eight stops that were made. Religious services and court sessions were often held in taverns. Judges interrupted court to drink, and clergy were obligated to drink at every house call and were often seen reeling home. In his book Dining By Rail: The History and Recipes of America's Golden Age of Railroad Cuisine, James Porterfield describes a breakfast menu on a pre-Civil War dining car that offered waffles and whiskey.
To be sure, it was harder for people on the frontier west of the Allegheny Mountains to obtain liquor, depending on their destination. But, it is likely that the fellow in the song "Cool Water", with his mule named Dan, might have had a flask of whiskey or rum with him – at least based on the historical odds of the era. In his article "Drink and the Destruction of the Frontier," Jim Cornelius observes "The frontiers of the 18th and 19th centuries were awash in potent alcohol, from rum to brandy to whiskey. There were a few abstemious frontiersmen, but they were very much the exception."
"Cool Water" climbed to #2 in Vancouver (BC), #4 in Toronto, #5 in Seattle, #6 in Syracuse (NY), and #8 in Minneapolis/St. Paul. As it got little chart action in over 30 states in the USA, the song stalled at #85 on the Billboard Hot 100. In November 1961, Jack Scott had his nineteenth and final hit on the Billboard Hot 100 in the USA. It was titled "Steps 1 And 2".
Jack Scott had a few more hits on the Vancouver pop charts, including "If Only" in the fall of 1962. Over the decades, Jack Scott has continued to perform. In 1977, Jack Scott toured Europe with Buddy Knox and others during a rockabilly revival. On June 1, 1986, Jack Scott appeared at the Expo Theatre during Expo '86 in Vancouver. In early February 1991, Jack Scott performed at the Tribute to Buddy Holly, Ritchie Valens and the Big Bopper, in Clear Lake, Iowa. Others on the bill were Carl Perkins and Wanda Jackson. In 2007, he performed at the five-day Rockin' 50's Fest in Green Bay, Wisconsin. Among the other performers was Little Richard.
Jack Scott has been inducted into the Rockabilly Hall of Fame and the Canadian Music Hall of Fame. Into his 81st year, Jack Scott was performing infrequently. In December 2019, at the age of 83 Jack Scott died of congestive heart failure.
July 27, 2020
Ray McGinnis
References:
Jack Scott bio, Michigan Rock n Roll Legends.com.
Jack Scott bio, Rockabilly Hall of Fame.com.
"Bob Nolan bio," Bobnolan-sop.net.
James E. Royce, Alcohol Problems and Alcoholism: A Comprehensive Survey, (New York Free Press, 1981).
George Washington and Marvin Kitman, George Washington's Expense Account, (Grove Press, 2001).
Andrew Barr, Drink: A Social History of America, (Carroll & Graf Pub., 2000).
James D. Porterfield, Dining By Rail: The History and Recipes of America's Golden Age of Railroad Cuisine, (St. Martin's Griffin, 1993).
Jim Cornelius, "Drink And Destruction On The Frontier," Frontier Partisans.com, November 12, 2016.
"C-FUN-Tastic-Fifty," CFUN 1410 AM, Vancouver, BC, August 27, 1960.
For more song reviews visit the Countdown.