#157: Corinna Corinna by Ray Peterson
Peak Month: January 1961
11 weeks on Vancouver's CFUN chart
Peak Position ~ #1
Peak Position on Billboard Hot 100 ~ #9
YouTube: "Corinna Corinna"
Lyrics: "Corinna Corinna"
Ray T. Peterson was born in Denton, Texas, in 1939. He became an athlete in high school. But he contracted polio at the age of fifteen. Peterson had thought singing was for sissies, but with polio he focused on his vocal gift. He took singing lessons and developed a four-octave range. Ray Peterson was told he would never walk again. And then his doctors told him he could only walk with crutches. Peterson persevered and performed at singing contests in San Antonio. He won some contests and was flown out to Los Angeles to appear with Bob Hope in a telethon for polio victims. By 1957 he moved to Los Angeles and got a contract with RCA Victor that fall.
In November 1957, Ray Peterson released a cover of the Little Willie John's summer of '56 R&B hit "Fever". Peterson stuck close to the original by Little Willie John, and sang the tune on the Ed Sullivan Show on December 8, 1957. Peggy Lee released a live version of "Fever" six months later in June 1958. She credited Ray Peterson with introducing her to the song. In his cover of "Fever" Ray Peterson showed off an amazing vocal range. Jayne Mansfield threw a party for him.
His second single, "Shirley Purley" was a rollicking rockabilly tune which made the Top 40 in Toronto. His third single, "Suddenly", was written by Jo Ann Belvin, the wife of R&B singer Jessie Belvin. Peterson and the Belvin's were close and he became a godfather to Jessie and Jo Ann Belvin's second son. (Jessie and Jo Ann Belvin died in a car crash on February 6, 1960). A fourth release in 1958, "Richer Than I" failed to chart.
Ray Peterson's first national pop hit was "The Wonder Of You" in 1959. That year it climbed to #23 on the CKWX Sensational Sixty in Vancouver (BC) and #25 on the Billboard Hot 100. Peterson's follow-up release, "Come And Get It", was a flop. Next, he released a cover of the Jessie Belvin R&B hit "Goodnight My Love". But the single stalled on the Billboard Hot 100 at #64. And "Answer Me My Love" got little notice in early 1960.
In the late 50s and early 60s Ray Peterson performed often at the black music theaters in Baltimore, New York City and Washington D.C. He shared the stage with Jackie Wilson, Roy Hamilton, the Impressions, Big Mama Thornton, Little Willie John and others.
But in June 1960 Ray Peterson became a household name with his teen tragedy novelty hit "Tell Laura I Love Her". In the song Laura's boyfriend, Tommy, dies in a stock car race while attempting to win the cash prize in order to get her a wedding ring. The song climbed to #2 in Vancouver and #7 on the Billboard Hot 100. It was the first song written by Jeff Barry to become a hit. Barry went on to write other hits including "Chapel Of Love" by the Dixie Cups, "River Deep – Mountain High" by Ike and Tina Turner, "Then He Kissed Me" by the Crystals, "Be My Baby" by the Ronettes, "Do Wah Diddy Diddy" by the Exciter and Manfred Mann, "Leader Of The Pack" for the Shangri-Las, "Sugar Sugar" (with Andy Kim) for the Archies, "Lay A Little Lovin' On Me" for Robin McNamara and "I Honestly Love You" for Olivia Newton-John.
"Tell Laura I Love Her" was part of a genre of tragic tunes about the death of a young person. Other teen tragedy tunes that were hits in Vancouver include "Jimmy Love" by Cathy Carroll, "A Thousand Feet Below" by Terry Tyler, "Star-Crossed Lovers" by Eddy and Teddy, Mark Dinning's "Teen Angel", J. Frank Wilson and the Cavaliers "Last Kiss", Jan And Dean's "Dead Man's Curve", the Everly Brothers' "Ebony Eyes", the Shangri-Las "Leader Of The Pack", Johnny Preston's "Running Bear", Pat Boone's "Moody River" and Dickey Lee's "Patches".
Peterson had another Top Ten hit in the winter of 1960-61 with a cover on an old blues song "Corinna Corinna".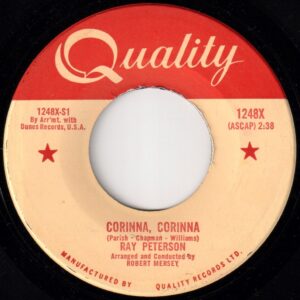 "Corinna Corinna" was written by Mitchell Parish, Bo Chatmon and John Mayo "Ink" Williams. The given name for Mitchell Parish at birth was Michael Hyman Pashelinsky. He was born in 1900 in Lithuania, Russian Empire. His family emigrated to the United States, arriving on February 3, 1901, on the SS Dresden when he was less than a year old. They settled first in Louisiana where his paternal grandmother had relatives, but later moved to New York City, where he grew up on the Lower East Side of Manhattan. After high school, Pashelinsky attended Columbia University and than New York University, as an aspiring student in Law. But, he gave up that dream and got a gig working for $12 a week to write comedy lyrics for vaudeville acts and to be a song-plugger. Taking the name Mitchell Parish, he established himself as a writer of songs for stage, screen and numerous musical revues. By the late 1920s, Parish was a well-regarded Tin Pan Alley lyricist.
In 1930, Parish co-wrote "Stardust" with Hoagy Carmichael. It became a number-one hit for Bing Crosby in 1931. In 1932 Parish co-wrote lyrics for the Duke Ellington jazz standard instrumental "Sophisticated Lady". The song was recorded by Ella Fitzgerald. In 1934, Parish's song, "Stars Fell On Alabama", was a number-one hit for Guy Lombardo and his Royal Canadians. And in 1935, Mitchell Parish's "Sweet Lorraine" was a Top 20 hit for Teddy Wilson.
In 1938, Mitchell Parish wrote lyrics for the 1933 instrumental "Deep Purple". Larry Clinton and his Orchestra recorded it with Bea Wain as vocalist. It charted at number-one for nine weeks in the USA in 1939. The song also charted at #2 for Jimmy Dorsey, and #9 for Guy Lombardo. In November 1963, Nino Tempo & April Stevens had a #1 hit with the song. Another song Mitchell Parish wrote in 1939 were lyrics to "Moonlight Serenade", the instrumental hit for Glenn Miller and his Orchestra. The single peaked at #3 and was the fifth most popular hit in 1939 according to Billboard. A vocal version was recorded by Frank Sinatra. Parish continued with the success of penning "Stairway To The Stars", a #1 hit for Glenn Miller and his Orchestra in 1939.
On Broadway, Mitchell Parish was lyricist for Continental Varieties (1935), Lew Leslie's Blackbirds of 1939, and Earl Carroll's Vanities of 1940.
In 1950 Parish wrote lyrics for "The Syncopated Clock", composed by Leroy Anderson in 1945. That year Parish adapted the French lyrics for "Bolero" to English and the song was recorded as "All My Love", a number-one hit in 1950 for Patti Page. As well, in 1950 Mitchell Parish wrote lyrics for "Sleigh Ride". The song has become a Christmas pop standard as recorded by the Ronettes in 1963, finally peaking at #10 in 2021.
In 1958, Mitchell Parish adapted the Italian lyrics of "Nel blu dipinto di blu" to an English-language version recorded as "Volare" by Dean Martin. The cover by Martin climbed to #12 on the Billboard Hot 100. Mitchell Parish died in 1993 at the age of 92.
Co-writer of "Corinna Corinna" was John Mayo "Ink" Williams. He was born in 1894 in Pine Bluff, Arkansas. When he was seven years old his father was murdered, and his mother moved the family back to her home state of Illinois. Williams was a star in track and field and football player. He served in the United States Army in World War I. From 1920 to 1926, Williams played in the NFL for the Akron Pros (alongside Paul Robeson), the Dayton Triangles and Cleveland Indians. Some historians have claimed that Ink Williams earned his nickname by his ability to get the signatures of talented African-American musicians on recording contracts. However, "Ink" was a racial sobriquet from his football days, when he was a rare Black player on white college and NFL teams. Williams was the most successful "race records" producer of his time, breaking all previous records for sales in this genre.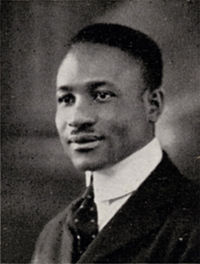 "Ink" Williams
In 1924 he joined Paramount Records, which had recently begun to produce and market "race" records. Williams was hired as a talent scout and supervisor of recording sessions in the Chicago area, becoming the most successful blues producer of his time. He produced records for Ma Rainey, Blind Lemon Jefferson, Jelly Roll Morton, Ida Cox, Thomas A. Dorsey, King Oliver, Jimmy Blythe and others. In 1934, Williams was hired as head of the "race records" department at Decca Records. He went on to record Alberta Hunter, Mahalia Jackson, Roosevelt Sykes, Sister Rosetta Tharpe and others. In later decades he produced records for Muddy Waters and Oscar Brown.
In addition to being a talent scout and producer, Williams began to write songs in 1924. In 1926 Ma Rainey recorded "Stack O' Lee Blues". The song was later a #1 hit for Lloyd Price titled "Stagger Lee" in 1959. Williams wrote a #1 hit for Louis Jordan in 1945 titled "Mop Mop". In 1947 "Drinkin' Wine Spo-Dee-O-Dee", co-written with (and recorded by) Stick McGhee was a #2 hit on the Billboard R&B chart for four weeks. And in 1948, Nellie Lutcher took "Ink" Williams' "Fine Brown Frame" to #2 in the Billboard R&B chart. Williams died in 1980 at the age of 85.
The third songwriter of "Corinna Corinna" was Armenter Chatmon, born in 1893 in rural Mississippi. He learned to play guitar and in 1917 was drafted into the United States Army once America declared war against Germany. He began to record blues records in 1928. His second 78 RPM recording on the Brunswick label was the first recording of "Corinna Corinna" in December '28.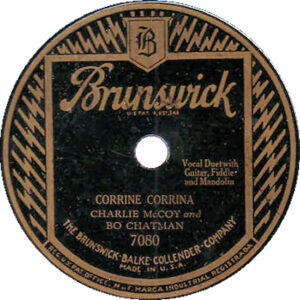 Over the years his surname credited on record labels was variously spelled Chatmon, Chatman, and Chapman. Professionally, Armenter Chatmon was known as Bo Carter. He became known for his bawdy blues recordings "Banana In Your Fruit Basket" and "My Pencil Won't Write No More" in 1931, "Let Me Roll Your Lemon" and "Please Warm My Weiner" in 1935, and "Your Biscuits Are Big Enough For Me" in 1938.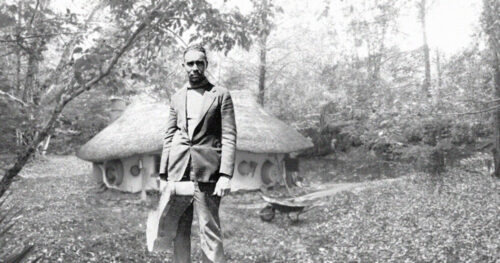 Bo Carter, 1940
Carter began to go partially blind in the 1930s. He left the music behind by 1944. He died in 1964 at the age of 71 after several strokes and a cerebral hemorrhage.
"Corrine Corrina" was not copyrighted until 1932. The song had roots back to at least the 1910s. In 1918 sheet music was published by Roger Graham for "Has Anybody Seen My Corrine?". The song was recorded that year by country singer Vernon Dalhart. It's lyrics have similarities to what was copyrighted in 1932.
Has anybody seen my Corrine?
No matter where Corrina may be
Tell my Corrina to come right back to me
I want some lovin' sweetie dear
In 1926, Blind Lemon Jefferson recorded a song to the tune of "C.C. Rider" titled "Corrina Blues". It included this verse:
If you see Corrina, tell her to hurry home
I ain't had no true love since Corrina been gone (3×)
In Bo Carter's 1928 version has nine verses. Carter sings in verse one: "Corrine Corrina, where you been so long?" In verse two he sings "Corrine Corrina, where you stay last night? Come in this morning, sun was shining bright." In verse three Carter sings "I met Corrina way across the sea. She wouldn't write no letter. She didn't care for me." In verse four, Carter sings "Corrine Corrina, what you gonna do? Just a little bit of loving, let your heart be true." Verse five: "I love Corrina, tell the world I do, just a little bit of loving let your heart be true." Verse seven "Corrine Corrina, what's the matter now? You wouldn't write no letter. You didn't love me no how."
Other verses in pre-copyrighted versions had these verses:
I'll chop your wood babe, I'll even tan yo' hide.
I'll make you happier than any man alive.
Goin' down to the river, gonna set down on a log.
If I can't be the one you love, I sho' won't be your dog.
Got a bird that whistles, got a bird that sings.
If I can't have Corinna, life don't mean a thing.
In 1941 Big Joe Turner recorded "Corrine Corrina", and in 1956 enjoyed a #2 R&B hit in the USA with a re-recorded version of his cover. Bill Haley and His Comets recorded the song in 1958, but it didn't chart.
In "Corinna Corinna" it's clear there is a serious problem in the 'relationship' between Corinna and her man. If a relationship exists beyond the mind of the guy smitten with Corinna. In the original version, the pair first meet "way across the sea." But she wouldn't write him back. In the Peterson version "I left Corinna way across the sea. If you see Corinna, send her home to me." In either case, Corinna isn't in touch with the guy at all. He doesn't know how to contact her. It seems they met and hooked up overseas, and after a short affair, she cut things off. Meanwhile, the guy is back in his hometown idealizing Corrina. He tells the world he loves her. But it's clear the affection isn't reciprocal: "I pray every night, she'll learn to love me too." Peterson ends the song "Oh darling, don't you know I love you so?"
"Corinna Corinna" peaked at #1 in Vancouver (BC), Calgary (AB), Erie (PA), Denver, Davenport (IA), and Buffalo, #3 in Minneapolis/St. Paul, Montreal, Ogden (UT), Ottawa (ON), and Pensacola (FL), #4 in Cleveland, Kalamazoo (MI), Los Angeles, Boston, Springfield (MA), and Allentown (PA), #5 in San Bernardino (CA), Sacramento (CA), Nashville, Albuequerque (NM), Providence (RI), Fort Wayne (IN), Newport News (VA), and Philadelphia, #6 in San Antonio (TX), Seattle, Oklahoma City, Vancouver (WA), New Haven (CT), Milwaukee (WI), Winnipeg (MB), and Chicago, #7 in New York City, Houston, Saint Charles (MO), and Halifax (NS), #8 in Akron (OH), San Francisco, Santa Barbara (CA), Ventura (CA), and Wilkes-Barre (PA), Manchester (NH), Jacksonville (FL), Memphis, and Hartford (CT), #9 in Phoenix, Dallas, York (PA), and #10 in Fort Worth (TX), Oxnard (CA), Indianapolis (IN), Mobile (AL), and Worcester (MA).
Though "Corinna Corinna" climbed into the Top Ten in over 45 radio markets in the USA, it got almost no airplay in 19 states. As a result, the single stalled on the Billboard Hot 100 at #9.
"Corinna Corinna" was released on Ray Peterson's own record label which he owned called Dunes Records. He also released two commercial failures on either side of "Corinna Corinna", "Teenage Heartache" and "Sweet Little Kathy". The former tune was co-written by songwriting team Doc Pomus and Mort Shulman, hitmakers for Elvis Presley ("Surrender", "Little Sister"), the Drifters ("Save The Last Dance For Me"), Andy Williams (Can't Get Used To Losing You") and Terry Stafford ("Suspicion"). But "Teenage Heartache" didn't catch on. The latter was co-written by Ray Peterson and Tommy Boyce. But later in 1961 Ray Peterson recovered with a country-pop tune written by Red Sovine titled "Missing You". It climbed to #16 in Vancouver (BC) and #29 on the Billboard Hot 100. Though his next single, "I Could Have Loved You So Well", cracked the Top 20 in Vancouver, it stalled on the Billboard Hot 100 at #57. The song was co-written by Barry Mann and Gerry Goffin. Peterson also appeared again in the Top 30 in Vancouver in 1961 with "I'm Tired".
In 1962 and 1963 Ray Peterson was falling off the radar as he released five more singles that failed to crack the Billboard Hot 100. His final attempt in 1963 was with another teen tragedy tune called "Give Us Your Blessing". The song was about a teen couple faced with no support from their parents for their relationship. Jimmy and Sue died when their car crashed after they failed to see the detour signs on the road. The song was successfully covered by the Shangri-Las in late 1964.
Peterson's last appearance on the Billboard Hot 100 was in 1964 with a re-issue of "The Wonder Of You".
In the mid-sixties Ray Peterson recorded a cover of Tommy Roe's 1963 hit "Everybody", and Roy Orbison's "Love Hurts". The latter he performed on American Bandstand on February 6, 1966. It was one of 35 appearances Ray Peterson made on American Bandstand between 1959 and 1966. Ray Peterson's choice to record one of Roy Orbison's songs was likely influenced by Orbison being Peterson's best friend in the recording industry. In 1965 Ray Peterson recorded an album of nightclub songs titled The Other Side Of Ray Peterson. It included his cover of the 1955 hit by Al Hibbler titled "Unchained Melody". His recording was a minor hit in San Diego in March 1965. But it was the Righteous Brothers who took the song into the Top Ten across America in May '65. Other songs Ray Peterson recorded on the album include "You'll Never Walk Alone", "Fly Me To The Moon", "Over The Rainbow", "Love Is A Many Splendored Thing" and "Canadian Sunset".
Ray Peterson tells the story of how Elvis called and asked permission to remake "The Wonder Of You". Peterson told Presley, "You don't have to ask permission, you're Elvis Presley." But Elvis responded, "Yes I do, you're Ray Peterson." Presley recorded a live cover of "The Wonder Of You" in 1970. Elvis' version climbed to #1 in the UK and the Netherlands, #9 on the Billboard Hot 100, and made the Top Ten charts nationally in Australia, Belgium, Canada, South Africa and Sweden. "The Wonder Of You" became one of the staples of Elvis Presley's 35-song set when he was on tour, or in Las Vegas. Since Presley's death "The Wonder of You" is performed every night by at least 1,000 Elvis impersonators around the world.
Peterson became a Baptist minister in the 1970s and by his own account "ministered in over a thousand churches" as a guest preacher and singer. However, he continued to appear on occasion in oldies revival tours across the USA. In 1981 he released a Christian folk rock album called Highest Flight, which was also released as My Father's Place. Peterson has taken part in a number of Pat Boone golf tournaments. He died in 2005 at the age of 66 of cancer.
June 1, 2022
Ray McGinnis
References:
Spencer Leigh, "Baker Knight: Author of such songs as 'Lonesome Town', 'The Wonder of You' and 'Somewhere There's a Someone'," Independent, UK, October 17, 2005.
Ray Peterson, "Love Hurts", American Bandstand, February 6, 1966.
"Ray Peterson Interview," American Bandstand, September 19, 1964.
Earl Freudenberg, "Ray Peterson Interview," Hey Earl Show, WDOD, Chattanooga, Tennessee, October 2000.
Dave Laing, "Ray Peterson: Singer Famed for his 1960s Hit, Tell Laura I Love Her," Guardian, February 1, 2005.
Stephen Holden, "Mitchell Parish, 92, the Lyricist of 'Stardust' and 'Volare' Dies," New York Times, April 2, 1993.
"J. Mayo Williams," ivy50.com.
"Discography – Bo Carter," Wirz American Music.
"C-FUN-Tastic-50," CFUN 1410 AM, Vancouver, BC, January 14, 1961.
For more song reviews visit the Countdown.