#354: Cutie Pie by Johnny Tillotson
Peak Month: August 1961
9 weeks on CFUN's Vancouver Chart
Peak Position ~ #3
Peak Position on Billboard Hot 100 ~ did not chart
YouTube: "Cutie Pie"
Lyrics: "Cutie Pie"
In 1939 Johnny Tillotson was born in Jacksonville. He had four Top Ten hits on the Billboard Hot 100 and ten more in the American Top 40. He took an early interest in appearing on stage and by high school had a talent as a singer. In his teens he got a contract to be in the line-up of regular performers on the Jacksonville TV show, McDuff Hayride, hosted by Toby Dowdy. And in the mid-50s Tillotson had his own variety TV show, called The Velda Show, on WFGA. In 1957, a local Jacksonville deejay, Bob Norris, sent a recording of Tillotson singing at a Pet Milk talent contest. He ended up performing on the Grand Ole Opry in Nashville. Cadence Records owner, Archie Bleyer, signed Tillotson to a record contract. "Dreamy Eyes" was his first single released in the fall of 1958. It peaked at #63 on the Billboard Hot 100. It would wait three years before appearing on the pop charts in Vancouver in 1961, peaking at #8, as the song enjoyed a more successful re-issue.
In 1959, Tillotson graduated with a B.A. in Journalism and Communications, and then relocated to Manhattan in hopes of a break in the new rock 'n roll music scene. A second single flopped, but his third release, "True True Happiness", was a modest success climbing to #54 on the US charts and #8 in Vancouver. "True, True Happiness" features spoken word verses between a sung chorus. Tillotson penned one of the best examples of gingerbread pop as he brags "Let me lead you like a steady, take my hand and say you're ready…"
After releasing mid-50s R&B covers of the Penguin's "Earth Angel" and the late Johnny Ace's "Pledging My Love", Tillotson scored his biggest hit, "Poetry In Motion", in the fall of 1960. It leaped from #27 to #1 on the CFUN chart on October 8, 1960. And it was #1 on CFUN or CKWX for a total of four weeks, spending eight weeks altogether in the Top Ten in Vancouver. While in the USA, the song peaked for one week at #2. Tillotson went on to have several more Top Ten hits in North America, including "Without You". The B-side on the disc was "Cutie Pie".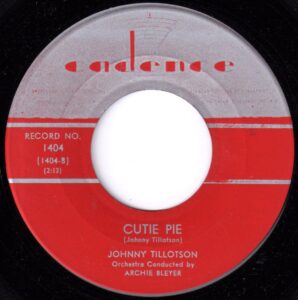 "Cutie Pie" was written by Johnny Tillotson. It's one of a number of songs in the late 50s and early 60s about a guy dreaming about his steady girlfriend who, in this case, "is just an angel without wings." Tillotson gives a nod to Ray Smith by calling his 'Cutie Pie' a "Rockin' Little Angel." He likes to go out and have some lovin' beneath the silvery moon, and go strolling on nights in June.
When the word "cute" first appeared in English in 1731, it was a shortened form of acute, the adjective meaning "shrewd," "keen," or "clever." It even had its own opening apostrophe—'cute—to let you know it had been shortened. A "cute remark" back in Victorian England was a quick-witted one. So was the "cute man" in Dickens' 1841 book Barbaby Rudge. And so was a cute girl. In 1882, the Manchester Evening Mail ran a piece defending the typical American young woman as being just "as cute as the masculine Yankee," by which it meant she was equally sharp and spirited.
It was American school students in the 1830s that began to use "cute" to define someone as "attractive," "pretty," or "charming." Once cute's slang meaning began to catch on in the mid 1830s, it started to be used to describe a range of things: small socks, an orderly study room, the narrow and beautiful vasculature of old city streets, and "a French accent … reminiscent of the naughty-naughty twitterings' of a Parisian miss on the English musical comedy stage."
As 'cute' became synonymous with being adorable, alluring, appealing, likable, and sweet, part way through World War I people (and animals) were starting to get the pet name 'cutie pie.' In a November 28, 1916, edition of the Washington Herald, a joke was printed as follows in the comic sketch Dopey Dan and Lon:
(Characters-Harry th' barkeep over th' phone with someone in Washington).
Someone-Hello! Is 'at you, Harry? Well, say! Listen! Listen, kid! Ain't it no way you can get off Thanksgivin' an' take me over t' see th' football at Georgetown?
Harry-Not a chance, Cutie-Pie! I'm still in th' hands o' my Oculist! (An Oculist being a physician who treats diseases of the eyes).
In a search for synonyms Roget's Thesaurus, "cutie" is understood as synonymous with "bunny," "dish," "angel," "babe," "peach," "cupcake," "darling," "sweetheart," a "pin-up" and a "centerfold."
By 1961 when Johnny Tillotson is singing about his "cutie pie," he means it solely in the sense of physical attractiveness, and no longer in the original meaning from the root, cute: meaning "shrewd," "keen," or "clever." Nevermind, from the original acute: meaning "incisive," "penetrating," "quick," "discerning" and "precise."
And the "pie" that came after "cutie," was likely a variant of the new phrase "sweetie-pie."
Pie originally emerged from the 13th century and was in reference to the many items that a magpie would get to make its nest. As the items were variously colored, pie became synonymous with multi-colored things. And so the "Pied Piper of Hamlin" and his multi-colored coat.
"Pie" as food went on to develop a wide range of extended figurative uses, from meaning "collective wealth" (as in "get yourself a piece of the pie") to personal business or affairs (e.g., "to have a finger in every pie," to be involved in many things). One of the most enduring and popular uses of "pie" as a metaphor springs from the fact that most people really like pie. And so "pie," since the early 19th century, has been used as an example of something pleasurable, simple or easy to do ("easy as pie")…
By the 19th Century "sweet as pie" was a popular compliment given during the same period to someone whose demeanor was kind and accommodating. "Sweet as pie" was a sort of low-level pun, since dessert pies are usually sweet and "sweetness" has long been associated with kindness, attractiveness and a "lovable" personality. But, it wasn't until 1928 that P.G.Wodehouse offered up the combination of "sweet as pie" and "sweetie" into "sweetie-pie."
"Cutie Pie" peaked at #3 in Vancouver (BC), #6 in Edmonton (AB) and #10 in La Crosse (WI). Internationally, "Cutie Pie" did best in Argentina where it peaked nationally at #5.
Johnny Tillotson had more hit singles in 1962 including "It Keeps Right On A-Hurtin" and "Talk Back Trembling Lips". The second of these earned him a Grammy Award nomination in 1963, inspired by his dad's terminal illness. Shifting toward country & western and Adult Contemporary music in the mid-60s, Tillotson won a second Grammy Award nomination for his cover of the Guy Mitchell tune "Heartaches By The Number".
In 1965 he sang the theme song for the TV show, Gidget, featuring Sally Field. Tillotson toured the world in concert extensively over the following decades and appeared in several films. In 2014 Johnny Tillotson was inducted into America's Pop Music Hall of Fame. Tillotson continues to tour and in 2016 included Thailand among his international destinations, as well as numbers of concert dates in the 'States. In February and March, 2019, Tillotson was a featured act on several Rockin' in the Caribbean cruises. Since the COVID-19 pandemic, all his concerts have been cancelled.
References:
"Johnny Tillotson bio," Johnny Tillotson.com
"Johnny Tillotson bio," The 60s Official Site.com
N. Rama Lohan, "No Retirement for Golden Age Pop and Country Singer Johnny Tillotson," The Star, Selangor Darul Ehsan, Malaysia, September 5, 2014.
"Katy Waldman, "The Totally Adorable History of Cute," Slate.com, February 27, 2015.
"Fabulous Forty," CKWX 1130 AM, Vancouver, BC, August 26, 1961.
For more song reviews visit the Countdown.