#258: Delilah by Tom Jones
Peak Month: May 1968
8 weeks on Vancouver's CKLG chart
Peak Position #1
1 week Hit Bound
Peak Position on Billboard Hot 100 ~ #15
YouTube.com: "Delilah"
Lyrics: "Delilah"
Thomas John Woodward was born in Wales in 1940. His father was a coal miner. Young Tom began singing at an early age and was in a children's choir. At age 12 he had tuberculosis. While convalescing he spent more time developing an interest in music and listening to records. In 1963 he was the lead singer for the Welsh band Tommy Scott and the Senators. They had a record made with Tornados producer Joe Meek. In 1964 Jones was heard by a manager in the music industry based in London. Jones was brought to London and renamed Tom Jones. This was a strategy to get his attention after the successful musical Tom Jones won four Academy Awards in 1963, including Best Director and Best Picture.
In 1965 Tom Jones became a hit sensation with hit Top Ten appearances of "It's Not Unusual" and "What's New Pussycat". The latter was the theme song for the film What's New Pussycat, with a screenplay written by a new talent named Woody Allen. That year Jones also sang the theme songs for the James Bond spy film Thunderball and the comedy Promise Her Anything. In 1966 Tom Jones was awarded a Grammy for Best New Artist.
In 1967 Jones began with a pop-country hit "Green, Green Grass Of Home". In the UK Jones had several more Top Ten hits in 1967, "Detroit City", "Funny Familiar Forgotten Feelings", "I'll Never Fall In Love Again" and "I'm Coming Home". While "Detroit City" climbed to #12 in Vancouver, it was "I'll Never Fall In Love Again" that was his next biggest hit for Jones in '67.
In 1967 Tom Jones appeared for the first time in Las Vegas. His performances increasingly featured his open, half-unbuttoned shirts and tight trousers. His shows became a magnet for women who started throwing their Las Vegas hotel room keys onto the stage. At the Copacabana, Jones had female audience members toss underwear onto the stage. Off stage Tom Jones was having multiple affairs and, including an extra-marital relationship with Mary Wilson of the Supremes.
Several more songs were released the next year, with "Delilah" being his most successful.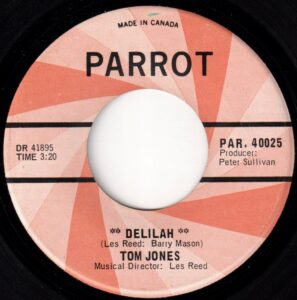 "Delilah" was cowritten by the songwriting team of Les Reed and Barry Mason. John Barry Mason was born in 1935 in suburban Manchester, England. Leslie David Reed was also born in 1935, in Hampshire. Reed was penning songs by the mid-sixties that included "Tell Me When" for the Applejacks, "It's Not Unusual" "Daughter Of Darkness" for Tom Jones, and "There's A Kind Of Hush" for Herman's Hermits. With Barry Mason, Les Reed teamed up to write "Here It Comes Again" for the Fortunes, "Everybody Knows" for the Dave Clark Five, "Kiss Me Goodbye" for Petula Clark, "The Last Waltz", "Winter World of Love", and "Les Bicyclettes de Belsize" for Engelbert Humperdinck. They also wrote "Love Grows Where My Rosemary Goes" for Edison Lighthouse in 1970. Les Reed died at age 83 in 2019. Barry Mason died in 2021 at the age of 85.
"Delilah" is a name from Biblical times featured in the story of Samson and Delilah. In that story Samson falls in love with Delilah after meeting her in the Judean Hills – in the border area between the land of the Philistines and the Israelite Tribe of Dan. The Philistines approach Delilah and induce her with 1,100 silver coins to find the secret of Samson's strength so that they can capture their enemy, but Samson refuses to reveal the secret and teases her, telling her that he will lose his strength if he is bound with fresh bowstrings. She does so while he sleeps, but when he wakes up he snaps the strings. Eventually, Samson reveals to Delilah that his strength lies in his hair. Delilah then woos him to sleep "in her lap" and calls for a servant to cut his hair. Samson loses his strength and he is captured by the Philistines who blind him by gouging out his eyes.
Ever since that Biblical tale, Delilah's name has become synonymous with a voluptuous, treacherous woman. The use of the name "Delilah" to connote deceit or betrayal has been featured in numbers of novels and plays. In 1949 Cecille B. DeMille directed Samson and Delilah. The film was nominated for five Academy Awards, winning one for Best Costume Design and Best Art Direction.
In "Delilah" by Tom Jones, the narrator is not Samson. However, there are some echoes of the story in the lyrics. In the Biblical story, after Samson is captured by the Philistines, his strength returns. While in the Temple of Dagon, he grasps two pillars and with all his might causes them to break and the temple to crumble. In the song "Delilah" Tom Jones sings "So before, they come to break down the door…" However, in the song, the narrator sees Delilah has deceived him and watches as she makes love to another man. The story in the song turns to a love-triangle, as Jones sings "At break of day when that man drove away I was waiting. I crossed the street to her house and she opened the door. She stood there laughing. I felt the knife in my hand and she laughed no more." Presumably, he used the knife in his hand to commit murder. The final line to the song: "Forgive me Delilah I just couldn't take anymore."
"Delilah" peaked at #1 in Vancouver (BC), #2 in Edmonton (AB), La Crosse (WI), Winnipeg (MB), Cincinnati, and Toronto, #3 in San Diego, #4 in Buffalo, Tulsa (OK), Quincy (IL), and Hamilton (ON), #5 in St. Louis and Phoenix, #6 in New York City and Manchester (NH), #7 in Boston and Minneapolis/St. Paul, #8 in Pittsburgh and Pointe Claire (PQ), #9 in Hartford (CT) and San Francisco, and #10 in Oklahoma City, Seattle, and Billings (MT).
In 1969 Tom Jones received a Golden Globe Award for Best Actor – Television Series Musical or Comedy for This Is Tom Jones. The series ran on ABC from 1969 to 1971. In 1969 "I'll Never Fall In Love Again" was reissued in the USA and shot to the #6. Jones returned to the Top 20 with a number of songs in the early '70's, with "She's A Lady" becoming his biggest hit. On August 26, 1971, Jones performed in Vancouver at the Pacific Coliseum. But after 1971 Tom Jones started to fall off the pop charts. Nonetheless, he kept on touring. He gave a four-night-stand at the Queen Elizabeth Theatre from July 18th to 21st in 1979 in Vancouver.
In the early 1980's he had some success making records that crossed over to the Billboard Country chart. And on October 2nd and 3rd, 1982, Tom Jones gave two concerts at the Queen Elizabeth Theatre. In 1987 Tom Jones had a #2 hit with the song "A Boy From Nowhere". The song was from the London musical Matador. On January 18, 1990, Tom Jones came to Vancouver to perform at the Queen Elizabeth Theatre.
On August 30, 1996, Tom Jones gave a concert at the Pacific Coliseum, and on the same date again in 1997. On April 11, 1998, Tom Jones performed at the Orpheum in Vancouver. In 1999 Jones received the Order of the British Empire (OBE) and in 2006 was knighted by Queen Elizabeth II. In 1999 Jones had a UK singles Top Ten hit with his cover of the Talking Heads tune "Burning Down The House". On September 6, 1999, Tom Jones came to the Orpheum in Vancouver for a concert.
The following year he returned to the Top Ten on the UK singles chart with a cover of the Three Dog Night tune, "Mama Told Me Not To Come", and "Sex Bomb". The latter song made it into the top three chart positions in the UK, Austria, Belgium and Germany, and #1 in Switzerland. On March 30, 2004, Tom Jones performed at the Orpheum in Vancouver. On June 17, 2005, Tom Jones gave a concert in Vancouver at General Motors Place.
On May 31, 2008, Tom Jones appeared in concert at the Centre For the Performing Arts in Vancouver. In 2009 Jones teamed up with Robin Gibb and Welsh performers Ruth Jones and Rob Brydon in a cover of "Islands In The Stream". The single climbed to #1 on the UK singles chart. Over the years Tom Jones has released 37 studio albums. In 2015 he released his autobiography.
In 2019, Tom Jones had over thirty concert dates scheduled across the UK, Croatia, Slovenia, Slovakia, Hungary, Bulgaria, Romania, Israel, Austria, Switzerland, Germany, Portugal and Finland.
September 17, 2021
Ray McGinnis
References:
"Tom Jones: 'On The Voice I was Pressured into Picking Singers I Didn't Like'," Telegraph, April 11, 2016.
"Tom Jones interview: I was Typecast, in a Tux," New Zealand Herald, March 12, 2016.
Tom Jones, Over The Top and Back: The Autobiography, (Blue Rider Press, 2015).
Spencer Leigh, "Les Reed Obituary: Songwriter who wrote Huge Hits for the Stars of the 60s and 70s, including Delilah for Tom Jones," Guardian, April 17, 2019.
Andrew Nowell, "Tributes paid to Wigan-born musician Barry Mason: Musicians took to social media on Saturday morning to remember the iconic songwriter," Wigan Today, April 17, 2021.
"Tom Jones – Concerts in Canada," setlist.fm.
"Delilah," Wikipedia.org.
"Boss 30," CKLG 730 AM, Vancouver, BC, May 18, 1968.
For more song reviews visit the Countdown.