#930: Drive In Show by Eddie Cochran
Peak Month: July 1957
4 weeks on Vancouver's Red Robinson chart
Peak Position #5
Peak Position on Billboard Hot 100 ~ #82
YouTube.com: "Drive In Show"
Lyrics: "Drive In Show"
Eddie Cochran was born in Albert Lea, Minnesota, in 1938. His family moved to the Los Angeles area in 1951 where Eddie attended Bell Gardens Junior High. While there he became friends with Connie 'Guybo' Smith. Smith was already a promising musical talent who played bass, steel guitar and mandolin. Eddie and Connie began to jam together and gave a concert at their junior high school. Connie "Guybo" Smith went on to become Cochran's bass player and was one of the musicians heard on most records during Eddie's brief professional career. In 1953, while still in junior high school, Eddie met another musician named Chuck Foreman. The two experimented with Foreman's two-track tape recorder. The pair made recordings of a number of songs including "Stardust," "The Poor People Of Paris," "Hearts of Stone" and the "Cannonball Rag." Cochran graduated from Bell Gardens Junior High in 1954.
In the following months Eddie met country singer Hank Cochran, of no relation. In January 1955 Hank offered Eddie a job as his guitar accompanist. Eddie left school and for the next year and a half Hank and Eddie played and recorded as The Cochran Brothers. At Sunset Recorders in Hollywood The Cochran Brothers recorded several tracks, including "Mr. Fiddle." Next, Eddie and Hank met songwriter, Jerry Capehart, who was searching for artists to demo his songs. By the end of 1955 Capehart had begun promoting The Cochran Brothers. In January 1956, "Walkin' Stick Boogie" was released with the recording artists billed as Jerry Capehart featuring the Cochran Brothers on the Cash Record label. That spring The Cochran Brothers cut four rock and roll songs, including "Tired & Sleepy." After this recording Eddie Cochran pursued a solo career.
In July 1956, "Skinny Jim" was Cochran's first solo single release. His recording on the Crest label didn't chart. Soon after Eddie was asked by producer Boris Petroff to sing a part in an upcoming rock 'n roll filmed titled Do-Re-Mi. The film was later re-titled The Girl Can't Help It. Cochran recorded a couple of tunes for the film, including "Twenty-Flight Rock." A buzz was building around Eddie Cochran and in September he signed a contract with Liberty Records. Then, in December 1956, Eddie Cochran appeared in the rock'n roll film Untamed Youth, starring Mamie van Doren. Cochran played and sang a small part in the movie as a character named Bong. The song Bong (Cochran) sings in the movie is "Cotton Picker."
In 1957 Eddie Cochran played guitar on a number of recordings by junior high school buddy, Don Deal. Deal had a minor hit in November 1957 called "Unfaithful Diane." Meanwhile, Eddie Cochran recorded a song written by John D. Loudermilk titled "Sittin' In The Balcony". In May '57, it became his first Top 40 hit, climbing to #18 on the Billboard pop chart and #2 in Vancouver (BC).
Between May and August 1957 Eddie Cochran recorded the tracks of the only album he would end up recording titled Singin' To My Baby. Songs recorded included "Drive In Show" which was released as Eddie's third Liberty single. It climbed to #82 on the Billboard charts and #5 in Vancouver.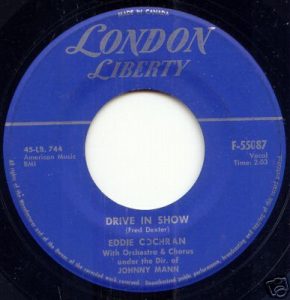 In addition to making the Top Ten in Vancouver, "Drive In Show" also charted well in Kansas City, Missouri, climbing to #4.
The first partial drive-in theatre, Theatre de Guadalupe, opened in Las Cruces, New Mexico, in 1915. What became known as the drive-in theater was patented in Camden, New Jersey by chemical company magnate Richard M. Hollingshead, Jr. His family owned and ran the R.M. Hollingshead Corporation chemical plant in Camden. In 1932, Hollingshead ran outdoor theater experiments in his driveway at 212 Thomas Avenue in Riverton, New Jersey. He nailed a screen to trees in his backyard and mounted a 1928 Kodak projector onto the hood of his car. He placed a radio behind the movie screen and experimented with a range of sound volumes with his car windows down and up. He also laid out parking stalls that would enable cars to have an unobstructed view of the movie screen. Hollingshead applied for a patent of his invention on August, 1932 and received a U.S. Patent in May, 1933.
Hollingshead's drive-in opened in New Jersey June 6, 1933, on Admiral Wilson Boulevard in Pennsauken Township. His Drive-in Theatre contained 400 parking spaces and a 40 by 50 ft screen. The drive-in theater was promoted with the slogan, "The whole family is welcome, regardless of how noisy the children are." By 1938 there were 19 drive-in theaters littered across California, Florida, Maine, Maryland, Massachusetts, Michigan, New York, Pennsylvania, Texas and Virginia. According to the Hamilton Spectator, the first drive-in theatre to open in Canada was in Stoney Creek, Ontario, on July 10, 1946. This quickly spread to other Canadian provinces, except Quebec which passed a law in 1947 prohibiting them. According to Kerry Seagrave, author of Drive-in Theaters: A History From Their Inception in 1933, the Roman Catholic church pressured the Quebec legislature to pass this legislation banning drive-in theaters from the province because they were convinced "the outdoor theaters were…passion pits not conducive to good moral development." It was only in 1967 that Quebec had its first drive-in theater. This led to a delayed peak in the number of drive-in theaters in Canada topping off at 315 theaters in 1975.
Early drive-in theaters had to deal with sound issues. The original Hollingshead drive-in had speakers installed on the tower itself which caused a sound delay affecting patrons at the rear of the drive-in's field. In 1935, the Pico Drive-in Theater in Los Angeles attempted to solve this problem by having a row of speakers in front of the cars. In 1941, RCA introduced in-car speakers with individual volume controls which solved the noise pollution issue and provided satisfactory sound to drive-in patrons. The drive-in's peak popularity came in the late 1950s and early 1960s, particularly in rural areas, with some 4,000 drive-ins spread across the United States. At the drive-in industry's height, about 25 percent of the America's movie screens were found at a drive-in. Among its advantages was the fact that a family with a baby could take care of their child while watching a movie, while teenagers with access to autos found drive-ins ideal for dates.
The decline in attendance at drive-ins was due mostly to the inventions of the color TV and VCR's. As of 2017, in Canada there are still 33 drive-in theaters across the country and in America there remain somewhere over 300.
In 1957 drive-in theaters were a popular form of entertainment and Eddie Cochran's "Drive In Show" gave it a musical ear worm. Ahead of intermission at drive-in theaters came some commercials to let the audience think about what to get for a refreshment. Peanuts and candy bars were two typical items often found at the concession. Ads, such as this Armour Frankfurter ad, were seen on many drive-in movie screens. In the case of Cochran's "Drive In Show," the couple decides to go out to a diner for six hot dogs between the two of them, "for a little snack," after the movie's over.
In the fall of 1957 Eddie Cochran appeared in concert with Buddy Holly and The Crickets at the Georgia Auditorium in Vancouver. They subsequently toured Australia with Gene Vincent, Little Richard and Elis Lesley (billed as the female Elvis Presley) in what was boasted as The Biggest Show Of Stars for 1957. This was the first American rock and roll show ever to come to Australia. Every single date was sold out. This was also the tour where at the end Little Richard threw his jewelry into the water, left show business and gave himself to religion. At the end of the year Eddie Cochran released a single called "Cradle Baby" that may have only appeared on a record chart in Vancouver, where it climbed to #7.
In March 1958, Cochran and his touring band Dick D'Agostin And The Swingers recorded and were filmed in the music score for the movie Hot Rod Gang. At a studio session they backed up John Ashley on "Annie Laurie" and "Hit And Run Lover," though Cochran was not credited for his performances. Around that time Eddie Cochran also played guitar on a demo called "Guitar Picker" recorded by Bob Luman. In June 1958, Cochran had his biggest chart success with "Summertime Blues" which peaked at #8 on the Billboard charts and #6 in Vancouver. The novelty cat fish vocals in the song were Eddie's. His follow-up release was "C'Mon Everybody," which stalled at #35 on the Billboard Hot 100. However, in the UK it climbed to #6. The year ended with Cochran playing at The Loews State Theatre in New York. He was part of an all-star show hosted by legendary rock 'n roll DJ Alan Freed. Among the other artists at that concert were Chuck Berry, Jackie Wilson and Bo Diddley.
In January 1959, Cochran appeared in the movie Go, Johnny, Go! performing "Teenage Heaven." During a saxophone solo in "Teenage Heaven" Cochran danced with his guitar. Chuck Berry, Jackie Wilson and the Ritchie Valens also starred in the movie. Then on February 3, 1959, Buddy Holly, Ritchie Valens and The Big Bopper were killed in a plane crash in rural Iowa. On February 5th Cochran recorded "Three Stars," a song penned by DJ Tommy Dee. Eddie Cochran made multiple takes of the song and found himself tearing up each time. Liberty Records chose not to release the song as they weren't satisfied with any of the recordings that day by Cochran. Eddie Cochran played guitar on "Opportunity," and "Doin' The Hully Gully" for Jewel Aitkens in the fall of 1959. Cochran also played guitar on a number of unreleased demos for Johnny Burnette in late 1958 into 1959, as well as other records for Margie Rayburn and others.
On July 24, 1959, Eddie Cochran appeared in concert in Greater Vancouver at the Edmonds Rollerway in Burnaby (BC).
On January 8, 1960, Eddie Cochran recorded his last session for Liberty Records. "Three Steps To Heaven" was among several songs he recorded with the remaining Crickets, formerly with Buddy Holly, as back-up band. After the session Eddie Cochran left for the UK to join Gene Vincent in a tour of the Scotland, England and Wales. While in England Eddie appeared on the first of four TV-shows, Boy Meets Girls, on January 16th. Eddie and Gene had a big impact on the British teenagers and budding rock 'n roll bands. Cochran has had his songs covered by The Beatles, The Rolling Stones, David Bowie, Cliff Richard, Led Zeppelin, Rod Stewart, Keith Richard, U2 and others in the UK pop music scene.
On April 17, 1960, at the end of the tour, Cochran and Vincent drove to the airport in a taxi, along with Eddie' fiancee Sharon Sheeley. The taxi got in a motor vehicle accident near Chippenham. Sheeley and Vincent were only slightly hurt, but Eddie Cochran died of severe head injuries later that night. The following month, "Three Steps To Heaven" was posthumously released. In the UK the song climbed to #1 and in Vancouver it peaked at #5. Oddly, this born-in-the-USA rock 'n roll star's posthumous release didn't crack the Billboard Hot 100.
December 19, 2017
Ray McGinnis
References:
1950s Armour Frankfurter commercial
"July 10, 1946: First Drive-in Theatre in Canada opens in Stoney Creek," Hamilton Spectator, September 23, 2016.
"Teenage Heaven" clip from Go, Johnny, Go!
"Three Stars" ~ Eddie Cochran recording
Bobby Cochrane and Susan Van Hecke, Three Steps to Heaven: The Eddie Cochran Story. (Hal Leonard, Milwaukee, Wisconsin, 2003).
Jessica Robinson, "Summer Date Idea: All the Drive-in Theatres in Canada," FLARE, Toronto, Ontario, May 17, 2016.
Kevin Seagrave, Drive-in Theaters: A History From their Inception in 1933, (McFarland & Company, Jefferson, NC, 2006).
"Red Robinson's Teen Canteen Survey," CKWX 1130 AM, Vancouver, BC, July 27, 1957.
For more song reviews visit the Countdown.