#108: Ebony Eyes by the Everly Brothers
Peak Month: February 1961
11 weeks on Vancouver's CKWX chart
Peak Position #1
Peak Position on Billboard Hot 100 ~ #8
YouTube.com: "Ebony Eyes"
Lyrics: "Ebony Eyes"
Isaac Donald "Don" Everly was born in 1937 and Phillip Jason "Phil" Everly was born in 1939. Don was born in Muhlenberg County in Kentucky, and Phil was born in Chicago. Their dad, Ike, had been a coal miner who decided to pursue music as a guitar player. From the mid-40s Ike and his wife, Margaret, sang as a duo in Shanendoah, Iowa. Later they included their sons "Little Donnie and Baby Boy Phil," on local radio stations KMA and KFNF. In time they were billed as The Everly Family. In 1953, the family moved to Knoxville, Tennessee. Family friend and musician Chet Atkins got a record deal for the Everly Brothers with RCA Victor in 1956. However, their first single release was a commercial failure and they were dropped from the label. Next, Atkins got them connected with Archie Bleyer, and the boys were signed to Cadence Records. In 1957, their first single on the label, "Bye Bye Love", became a million-seller and launched their career.
Felice and Boudleaux Bryant wrote "Bye Bye Love". They wrote other hits for the Everly's including "Wake Up Little Susie", "Bird Dog", "Problems", "Take A Message To Mary" and "All I Have To Do Is Dream". The Everly Brothers began to pen many of their own songs.
After recording "Wake up Little Susie," Don and Phil embarked on a 78-city tour that began on September 6th and ran through the 24th of November, 1957. They shared the stage with Chuck Berry, Buddy Knox, The Drifters, Paul Anka, Fats Domino, The Crickets, and Eddie Cochran. Their tour included a concert date at the Georgia Auditorium in Vancouver on October 23rd. In 1957 and 1958 the Everly Brothers toured extensively with Buddy Holly and The Crickets.
In mid-October 1958, the Everly Brothers released a single titled "Problems". The B-side, "Love Of My Life", also charted into the Top Ten in Vancouver.
When Buddy Holly died in a plane crash in rural Iowa on February 3, 1959, Phil Everly attended the funeral and sat with Holly's family. Don did not attend, saying, "I couldn't go to the funeral. I couldn't go anywhere. I just took to my bed."
In 1959 Don Everly wrote "(Till) I Kissed You", and later "So Sad (To Watch Good Love Go Bad)". The brothers biggest hit, "Cathy's Clown", was one they co-wrote in 1960. "Cathy's Clown" became their third number one hit, and The Beatles based the harmonies from the song to write "Please Please Me". Additionally, Phil Everly wrote "When Will I Be Loved".
By 1961 Don and Phil Everly had racked up eleven Top Ten hits on the Billboard Hot 100. One of these in 1961 was "Ebony Eyes".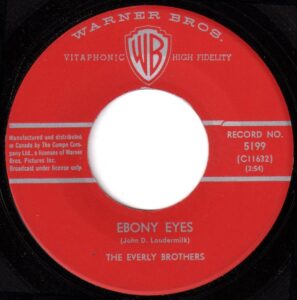 "Ebony Eyes" was written by John D. Loudermilk. He was born in Durham, North Carolina, in 1934. Although he had a middle initial, D, the "D" wasn't short for any middle name. His father was an illiterate carpenter, John D Loudermilk Sr. When John D. Jr. was, seven his dad gave him a ukulele made from a cigar box. Young John D Jr. learned to play guitar in his youth and began to write poems and songs. His poetry was inspired after he began to read the works of Kahlil Gibran. In his late teens, in the early 50's, John D Jr. wrote a poem titled "A Rose And A Baby Ruth." It concerned a teenage couple who have a quarrel and the boy gives his girlfriend a rose and a Baby Ruth candy bar to make up. Loudermilk put notes to the poem and played the sung version on a local TV station. This caught the attention of country singer, George Hamilton IV. The song was published in 1956 and became a Top Ten hit on both the Country and Pop charts on Billboard Magazine. The following year, Loudermilk penned "Sittin' In The Balcony" for Eddie Cochran. Once that became a hit, Loudermilk's songwriting career was launched. He co-wrote "Waterloo," a #1 country hit and #4 pop hit in 1959 for country singer, Stonewall Jackson.
"Ebony Eyes" lyrics tell a young man in the U.S. military who is stationed at a base. He wants to get married to his sweetheart. But the weekend pass he is allowed to be away from the base isn't enough time to get back to her home town and tie the knot. So she flies on Flight 1203 to the airport nearest to where he's stationed. "Ebony Eyes" tells the tragic story of losing his beloved fiancée in the crash of Flight 1203 in dark, stormy weather conditions. The crash is anticipated as Flight 1203 flies through "dark ebony skies," which remind the officer of his fiancée's ebony eyes.
"Ebony Eyes" is one of countless songs about the tragic death of a young person. In the late 50s and early 60s there was a genre of music called teen tragedy. The songs concerned fateful circumstances of teenage lovers. Their relationship usually ended because of a fatality. In "Endless Sleep", Jody Reynold's "baby" throws herself into the sea after an argument. Her life is spared when he swims out to save her. Reynolds "happy ending" was due to his original version, ending in the girlfriend drowning, was deemed to morbid by Demon Record Co. In Mark Dinning's "Teen Angel", a young woman runs back into a car stalled at the railway tracks after being pulled out. She runs back to get her high school ring and dies in the car and train collision. Ray Peterson sings, in "Tell Laura I Love Her", about Tommy's choice to enter a stock car race, hopeful to win the race in order to be able to afford a wedding ring to give to Laura. He dies when his car flips over. J. Frank Wilson and the Cavaliers had a #1 hit in 1964 called "Last Kiss". It concerned an accident with a stalled car resulting in a death of the female passenger. Jan And Dean had a hit with "Dead Man's Curve." In the song the driver of the Stingray survives a crash, but the driver of the XKE dies after his sports car slides into the curve.
The Cheers sang of a guy who was the "terror of Highway 101" who rode his motorcycle into a diesel truck. In "Leader Of The Pack" by The Sharngri-las, Betty's boyfriend, Jimmy, dies in a fatal crash in his motorcycle on a rainy night. Pat Boone sang about a girlfriend who commits suicide by drowning in "Moody River". In Johnny Preston's "Running Bear", two lovers from different Native tribes meet in the middle of a river. After their hands and lips meet, the current pulls them to their death. In "Patches", Dickey Lee sang about a girl who commits suicide by drowning after she doesn't hear back from her boyfriend. She doesn't know the reason he hasn't been in touch is due to his father forbidding them to get married. And Noel Harrison sang, in "A Young Girl", about a rich girl who falls in love with a vagabond. His love devours her and she takes her life at sixteen years of age.
Behind the teen tragedy genre was a cultural event that evoked the tragedy of a young person's life cut short. On September 30, 1955, actor James Dean was driving a Porche Spyder. At 5:45 p.m. he had a collision with a Ford Sedan driven by Donald Turnupseed. Though Dean had not been speeding, he was killed instantly at the intersection in Cholame, California. The town was 121 miles northwest of Bakersfield. The sunlight at that time of day made it almost impossible for the Turnupseed to see the Porche Spyder.
In 1961, Vancouver radio listeners had their share of teen tragedy songs. In addition there was "Star-Crossed Lovers" by Eddy And Teddy. In the case of "Star-Crossed Lovers," it was another car accident that sealed their fate. And Cathy Carroll, in her song "Jimmy Love", sang about a couple about to get married when the groom is killed after a tree falls on top of him in a lightening strike.
"Ebony Eyes" peaked at #1 in Vancouver, San Diego, San Francisco, Erie (PA), York (PA), Denver, Minneapolis/St. Paul, Santa Barbara (CA), and Seattle, #2 in Hartford (CT), and Atlanta, #3 in Pensacola (FL), Toronto, and Louisville (KY), #4 in Bakersfield (CA), Buffalo, Syracuse (NY), La Crosse (WI), Kalamazoo (MI), Davenport (IA), Milwaukee (WI), Pittsburgh, Little Rock (AR), Providence (RI), Ottawa, and Rochester (NY), #5 in Miami, Phoenix, Spokane (WA), and Houston, #6 in San Bernardino (CA), Los Angeles, Dayton (OH), San Antonio (TX), and Allentown (PA), #7 in Philadelphia, Ogden (UT), Vancouver (WA), and Tucson (AZ), #8 in Worcester (MA), Wilkes-Barre (PA), Springfield (MA)
In the early 60's Loudermilk continued to have success as a songwriter. Sue Thompson had two Top Ten hits on the pop and country charts in 1961 written by Loudermilk: "Sad Movies (Make Me Cry)" and "Norman." And Bob Luman had a Top Ten hit in Vancouver in 1961 by Loudermilk called "The Great Snowman." The singer of "Teen Angel", Mark Dinning, had a #6 hit in Vancouver in '61 with "Top 40, News, Weather And Sports," another Loudermilk composition. Loudermilk also had a Top 40 hit on the Billboard Hot 100 titled "Language Of Love".
In 1962, Loudermilk had several more hits recorded by other singers, including "If The Boy Only Knew" by Sue Thompson. Kris Jensen had a hit with "Torture". Loudermilk also recorded several more songs he penned: "Angela Jones", "Calling Dr. Casey" and "Road Hog".
John Loudermilk had other songs on the US charts in 1962. "Thou Shalt Not Steal" was a minor hit in the USA and did not chart in Vancouver. However, in 1964 it was a Top 20 hit for Dick and Dee Dee. That same year Loudermilk's 1960 composition, "Tobacco Road", became a Top Ten hit in the UK for the Nashville Teens. Johnny Tillotson had a Top Ten hit in early 1964 with "Talk Back Trembling Lips" written by Loudermilk. And in 1965, another one of his songs, "This Little Bird", became a Top Ten hit in Vancouver and the UK for Marianne Faithfull. In 1967, Loudermilk won a Grammy Award for Best Liner Notes for his album Suburban Attitudes in Country Verse. And a song he wrote in 1962, "Then You Can Tell Me Goodbye", became a Top Ten hit for The Casinos. In March of 1968, Glen Campbell had a Top 40 hit and a #1 hit in Vancouver with Loudermilk's tune, "I Wanna Live". And in 1968, another of Loudermilk's songs got critical acclaim when Don Fardon released "Indian Reservation". The song was a #1 hit for Paul Revere And The Raiders in 1971.
"Ebony Eyes" peaked at #1 in Vancouver (BC), San Francisco, Erie (PA), York (PA), Minneapolis/St. Paul, Seattle, San Diego, #2 in Santa Barbara (CA), Atlanta and Hartford (CT), #3 in Toronto, Louisville (KY), and Denver, #4 in Bakersfield (CA), Providence (RI), Kalamazoo (MI), Davenport (IA), Syracuse (NY), Rochester (NY), Buffalo (NY), La Crosse (WI), Pittsburgh (PA), and Ottawa (ON), #5 in Spokane (WA), Phoenix (AZ), and Houston, #6 in San Bernardino (CA), Allentown (PA), Philadelphia, San Antonio (TX), Dayton (OH), and Los Angeles, #7 in Tucson (AZ), and Ogden (UT), #8 in Springfield (MA), Wilkes-Barre (PA), and Worcester (MA). "Ebony Eyes" charted respectably in 30 states across the USA, but struggled to chart in 20 states. Consequently, it stalled at #8 on the Billboard Hot 100, and did not crack the Year-End Top 100 for 1961 in America.
In October 1961 the Everly Brothers enlisted in the United States Marine Corps. That same month they had a minor hit with "Muskrat", their final recording of a song by Felice and Boudleaux Bryant.
In 1961, the brothers had a falling out with Wesley Rose during the recording of "Temptation". Rose was perturbed that Don and Phil were recording a song Rose hadn't published. Since Rose wouldn't be paid publishing royalties, he tried to prevent the single from being released. When the Everly Brothers went ahead and released "Temptation", later in 1961 they were prevented from collaborating with any Acuff-Rose songwriters. These included Felice and Boudleaux Bryant, as well as Don and Phil Everly themselves, who were still contracted to Acuff-Rose as songwriters and had written several of their own hits. Subsequently, Don and Phil recorded some songs credited to Jimmy Howard a pseudonym they used to avoid a dispute with Acuff-Rose publishing.
Seeking new songwriters, they recorded "Walk Right Back" by Sonny Curtis (of the Crickets), "Crying In The Rain" by Carole King and Howard Greenfield, "Ebony Eyes" by John D. Loudermilk. "Walk Right Back" and "Ebony Eyes" were released as a double-sided hit. In 1962, prior to "Temptation" which was facing obstacles getting airplay. The Everly Brothers single "That's Old Fashioned" was composed by the Elvis Presley songwriters Bill Giant, Bernie Baum and Florence Kaye ("You're The Devil In Disguise" and numerous songs for films including Roustabout, Viva Las Vegas, Fun in Acapulco, It Happened at The World's Fair, Girl Happy, Spinout, Kissing' Cousins and others.
On February 18, 1962, the Everly Brothers appeared on The Ed Sullivan Show and performed "Jezebel" and "Crying in the Rain" while dressed in their blue Marine Corps uniforms. It was their only appearance between October 1961 and the end of 1962 when they were stationed at Camp Pendleton in San Diego County. Their absence from touring and television appearances coincided with a decline in sales and interest in the Everly Brothers.
The dance craze – "The Twist", "The Loco-Motion", The Mashed Potato" and others, the surfing sound, the bossa nova and the British Invasion were on the ascendant. The Everly Brothers and many other recording artists from the late 50s struggled to adapt. Between 1963 and 1973 the pair released 30 singles. Of these, none made the Top 30 and only three made the Billboard Hot 100.
Though the Everly Brothers were no longer on the top of the charts, they continued to perform live. In 1968 the pair came to Vancouver. They did shows at Isy's Supper Club at 1136 West Georgia Street for ten nights in a row. Isy's poster ran with this pitch:
Isy's Supper Club
Presents
10 BIG DAYS
OCT.16 to 26
The BIG EVENT
OF 1968
EVERLY
BROTHERS
Warner Bros. Recording Stars
SINGING
ALL
THEIR
(MILLION)
RECORD
HITS
RESERVE NOW, MU.4-5022
In 1970 the Everly Brothers had a summer variety show on ABC-TV titled Johnny Cash Presents the Everly Brothers. Among their featured guests were Linda Ronstadt and Stevie Wonder. Don Everly released an unsuccessful solo album the following year. On June 4, 1972, the Everly Brothers appeared in concert at the Queen Elizabeth Theatre in Vancouver.
Lacking any direction, they scheduled a farewell performance on July 14, 1973, at Knott's Berry Farm in Southern California. While they were performing, Phil smashed his guitar and left the stage, leaving Don to play the final songs in their set to a stunned audience. Beneath the surface the two had sharply different political views. Aside from their music, they had little in common regarding their outlook on life.
In 1983 the brothers buried the hatchet after their father's funeral to perform a reunion concert at the Royal Albert Hall in London, The next year they released a single written by Paul McCartney titled "On The Wings Of A Nightingale" which peaked at #50 on the Billboard Hot 100. UK. In 1986 the Everly Brothers provided backing vocals for the title song on Paul Simon's Graceland album. And on July 13, 1986, the Everly Brothers performed at the Expo Theatre in Vancouver.
In 1994 "All I Have To Do Is Dream" made it into the Top 20 of the UK singles chart, with vocals by Phil Everly and Cliff Richard. In 1997 they received a Grammy Lifetime Achievement Award. They were also given a star on the Hollywood Walk of Fame.
Don and Phil Everly toured with Simon & Garfunkel as part of their Old Friends Tour. During the concerts they performed in the middle of the show. The tour involved 72 dates in the United States, Canada and Europe, between October 2003 and July 2004.
In 2014 Phil Everly, a longtime smoker, died of lung disease at the age of 74. The Everly Brothers close harmony style has been credited as a musical influence by the Beach Boys, The Beatles, Simon & Garfunkel, The Bee Gees, Neil Young and The Hollies.
October 10, 2022
Ray McGinnis
References:
Kurt Loder, "The Everly Brothers: The Rolling Stone Interview: Thirty Years of Heart-melting Music and Heart-wrenching Sadness," Rolling Stone, May 8, 1986.
Tony Russell, "Felice Bryant: Gifted Songwriter with Many 1960s Chart Hits," Guardian, May 20, 2003.
"Felice and Boudleaux Bryant bio," Rockabilly Hall of Fame.
Julie Thanki, "Songwriter John D. Loudermilk Dead at 82," The Tennesseean, Nashville, TN, September 22, 2016.
"John D Loudermilk Obituary: Singer and Songwriter Best Known for Tobacco Road, a Big Hit for the Nashville Teens in 1964," Guardian, September 27, 2016.
Roger White, The Everly Brothers: Walk Right Back, (Plexus, 1998).
Lee Wilson, All I Have To Do Is Dream: The Boudleaux and Felice Bryant Story, (Two Creeks Press, 2017).
"Everly Brothers – Concerts, Canada," setlist.fm.
"Sensational Sixty," CKWX 1130 AM, Vancouver, BC, December 8, 1958.
For more song reviews visit the Countdown.