#391: Fallen Idol by Ken Lyon
Peak Month: June 1961
8 weeks on CKWX's Vancouver Chart
Peak Position ~ #2
Peak Position on Billboard Hot 100 ~ did not chart
YouTube: "Fallen Idol"
In 1941 Ken Lyon was born in Newport, Rhode Island. His mother was classically trained and began to give vocal lessons to Ken at age three. Ken's father was an Episcopal priest and his family moved to East Weymouth (MA) before he entered his teens. When he turned 15 in 1956, Ken Lyon got his first guitar and taught himself to play. In 1957, Lyon teamed up with a South Weymouth high school classmate named Billy Allen to form a singing duo called The Seniors. Lyon was taken with both folk music and calypso and in 1959 started performing under the name "Calypso Ken." In 1960 he made appearances playing calypso at Ted Hilton's Dude Ranch in Moosup, Connecticut. The Woonsocket Call reported that Lyon also was in the United States Navy Reserves for two years, but got a medical discharge due to an asthmatic condition. After high school Ken Lyons got work as an electrician at the Ann & Hope Factory Outlet in Lower Cumberland, Rhode Island.
In 1960 Ken Lyon traveled to New York City and recorded a song in the Brill Building on Broadway. The demo for the song was sung by Jerry Landis (aka Paul Simon). Lyon released his the single on Dot Records called "The Big White House". The song was written by Johnny Brandon, a British singer who had a Top Ten hit on the UK charts in 1955 titled "Tomorrow". "The Big White House" was a song about a boy from the railroad track who is in love with a girl who lives in the "big white house." The song didn't get much attention beyond Rhode Island.
Lyon switched labels and released "Fallen Idol" on Epic Records.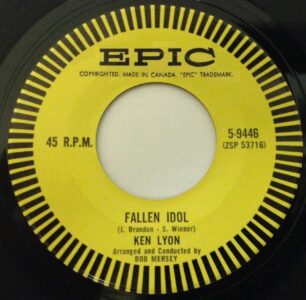 "Fallen Idol" was written by Johnny Brandon and Stu Weiner. Brandon wrote Ken Lyon's earlier effort "The Big White House". Brandon was born in 1925 in the UK. His songwriting skills were acknowledged when at the age of 22, Vera Lynn recorded "Once Upon A Wintertime" in early 1948. In 1950 the Andrews Sisters recorded Brandon's composition of "The Telephone Song". Other recording artists that Johnny Brandon composed for include 1950s Trinidadian-UK chart-topper Winifred Atwell, American R&B singers Thurston Harris, the Duponts, and Brook Benton; Traditional American pop recording acts Teresa Brewer, Dorothy Collins, and Eydie Gormé; and pop-rock recording acts Bill Haley and His Comets, Kris Jensen, Larry Hall, Billy Fury, Neil Scott and the Crests.
Meanwhile, Johnny Brandon had a follow-up hit in the UK in 1955 titled "Don't Worry", which climbed to #18. Later in 1955, Brandon appeared in the British comedy film Fun at St. Fanny's. He co-wrote the 1964 Off-Broadway musical, Cindy, based on the fairytale Cinderella. It ran sequentially in three theaters Off-Broadway between March 1964 and May 1965. In 1970 Johnny Brandon's musical about a black man growing up, Billy Noname, had a run Off-Broadway. In 1978 Brandon co-wrote lyrics and music for the musical revue, Eubie!, based on the music and life of African-American ragtime and jazz composer Eubie Blake. The musical was nominated for three Tony Awards, including a nomination for Best Original Score. Brandon's subsequent musicals on Broadway were Ain't Doin' Nothin' But Singin' My Song (1982) and Oh, Diahne! (1997). In 2005 Johnny Brandon released his first solo album, Now and Then. He died in his adoptive city of Manhattan in 2017, where he'd lived since the early 60s, at the age of 92.
The co-writer of "Fallen Idol", Stu Weiner, had co-written "To The Isle" for the Five Satins in 1957. He also wrote songs recorded by the Cadillacs, the Chantels, Gale Storm, Frankie Lymon, Sal Mineo, Roy Hamilton, Billy Fury and Neil Scott.
In the song, Ken Lyons sings "scratch a tin god and you'll find a fallen idol." In the ancient world it was believed that when a statue was displeased with someone they would fall on them. In HistoryToday.com, it is written that "An ancient story tells of a statue of a deceased athlete at Thasos that was routinely whipped by an enemy. The statue took its revenge by falling on the man and killing him. Venting anger on statues is, in part, satisfying because life-like images act as substitutes for the people they represent. That feeling must have been intensely charged in a culture where such images could be imbued with an animate presence and would sometimes fight back."
The phrase 'tin god' was introduced to Americans around 1875 by novelist Robert Grant. He used it in his novel The Little Tin Gods-on-Wheels; or, Society in our Modern Athens. A Trilogy after the Manner of the Greek. In the novel Grant used the term little Tin Gods-on-wheels to denote fashionable young men of high social position, characterized by their stupidity, vanity and lack of tact.
In "Fallen Idol" we learn that although there is a guy who is "six feet tall" that a girl finds attractive, the guy who adores her reminds her "even giants have feet of clay." In the Hebrew scriptures in the Book of Daniel, the Hebrew captain Daniel interprets a dream for Nebuchadnezzar, founder of the new Babylonian Empire. Nebuchadnezzar had dreamed of a giant idol with golden head, silver arms and chest, brass thighs and body, and iron legs. Only the feet of this image, compounded of iron and potter's clay, weren't made wholly of metal. Daniel told Nebuchadnezzar that the clay feet of the figure made it vulnerable, that it prophesized the breaking apart of his empire. In Daniel chapter 2:31-35 it is written "You were looking, O king, and lo! there was a great statue. This statue was huge, its brilliance extraordinary; it was standing before you, and its appearance was frightening. The head of that statue was of fine gold, its chest and arms of silver, its middle and thighs of bronze, its' legs of iron, its feet partly of iron and partly of clay. While you were watching, a rock was cut out, but not by human hands. It struck the statue on its feet of iron and clay and smashed them. Then the iron, the clay, the bronze, the silver and the gold were all broken to pieces and became like chaff on a threshing floor in the summer."
Over the years the phrase 'feet of clay' in the story Daniel was used down the centuries to describe an unexpected flaw or vulnerable point in the character of a hero or any admired person.
In "Fallen Idol", the six-foot tall gorgeous guy the girls are falling for will "only run around" once they have won some girl's heart. The strategy of the singer is to wait for the Fallen Idol to put his vulnerability on display – in this case, his lack of romantic commitment – and then the 'girl' the singer wants will finally realize the fallen idol isn't the kind of guy she thought he was. Then she'll choose the singer over the fallen idol.
In the recording studio, the musicians on "Fallen Idol" were part of Bobby Vinton's backing band. To promote "Fallen Idol", Ken Lyon performed at record hops and on tour with Gary U.S. Bonds and the Brothers Four. And Dick Clark played "Fallen Idol" a number of times on American Bandstand.
"Fallen Idol" peaked at #1 in Baltimore (MD), #2 in Vancouver (BC) and Worcester (MA), and #12 in Wichita (KS). Outside of these few radio markets "Fallen Idol" got little airplay and did not chart on the Billboard Hot 1oo.
Lyon's brief attempt to have a hit on the Billboard Hot 100 was foiled. In the fall of 1961, Ken Lyon moved to Cambridge, Massachusetts and got involved in the folk music scene. However, his life's direction was altered in early 1962 when the United States Navy called him up for active duty. From 1962 to 1964 Lyon was a sailor on naval vessels sailing the Atlantic, the Mediterranean, and the Caribbean. While heh was with the Navy, Lyon formed a band that entertained crowds in European, Caribbean and American ports. Once he finished his tour of duty, Ken Lyon joined the New England group Albi & The Spellbinders. But by the end of 1964, Ken Lyon had moved to Greenwich Village in Manhattan.
In Greenwich Village he performed at Café Wha? and Gerde's Folk City. While he was part of the folk scene in Greenwich Village, Ken Lyon made friends with Noel "Paul" Stookey of Peter, Paul and Mary, and with Ritchie Havens. In 1965 he released a single titled "My Life" on Red Bird Records, credited to Lyon under the name Orpheus. And in 1966, Lyon released a version of the 19th Century blues standard "St. James Infirmary", this time credited to Ken Lyon. Later that year he returned to New England to rejoin the Spellbinders.
In 1967 Ken Lyon decided to expand beyond folk music and formed the Tombstone Blues Band. They released "Lonesome Trip" on Viscount Records. Again, the single got little notice, though Lyon and his band packed small venues in concert. He released the album, "Ken Lyon In Concert" on Decca in 1970, recorded at The Mouthpiece Coffeehouse in Providence, Rhode Island. Later in 1970 Ken Lyon gave a concert at the MCA annual showcase convention, where a new recording artist from the UK, Elton John, also gave a performance.
In 1974 Ken Lyon and Tombstone released a single titled "Sing Song City", which charted in the Top 30 in Pawtucket, Rhode Island. The single was a track from the self-titled blues album by Ken Lyon and his band. That year Ken Lyon & Tombstone toured in the USA as an opening act for Mott the Hoople and Queen. Ken Lyon and Tombstone disbanded in 1975 and Lyon pursued a teaching degree. One of the members of the Tombstone Blues Band, Brenda Bennett, was involved with Prince on the Purple Rain album and film as part of the girl group trio Apollonia 6.
Lyon focused on his profession as a school teacher and his family for over a dozen years, but made space again to focus on his love of music. In the late 80s he joined a Celtic group called Pendragon, (which he was still a member of in 2007). In 1990 Ken Lyon & Tombstone released an eclectic album of blues, country and world music titled Up From The Ashes. It included covers of Chuck Berry's 1955 hit "Maybelline", and the Robins R&B 1954 classic "Riot In Cell Block #9".
In the 2000s, Ken Lyon added to his other musical projects – Pendragon, and Ken Lyon & The Tombstone Blues Band – an acoustic group called The Shoe Fly Orchestra, and a blues group called The Mark Taber Trio. The latter hosted a blues jam at Chan's jazz club in Woonsocket.
Back in the recording studio, in 2003 he released a solo album Ken Lyon: Old School. And in 2007 he released The Best of Ken Lyon Volume 1. The compilation included his releases in the early 60s, as Orpheus, with the Tombstone Blues Band and King Cotton. Later that year he also released Ken Lyon: The Singles Collection 1960-1974. A concert on April 14, 2007, billed as "An Evening with Ken Lyon: A Musical Retrospective," at the Stadium Theatre in Woonsocket, Rhode Island, was made into a DVD.
In 2012 Ken Lyons was inducted into the Rhode Island Music Hall of Fame.
November 4, 2020
Ray McGinnis
References:
Pete Silva and Rick Bellaire, "Ken Lyon: A Man and His Music," Rhode Island Music Hall of Fame, August 2007.
"Youth Gets Disc Contract," Woonsocket Call, Woonsocket, Rhode Island, 1961.
"Johnny Brandon," Wikipedia.org.
"Daniel 2:29-36," Bible – New Revised Standard Version.
"Eubie!," Wikipedia.org.
"Brenda Bennett," Wikipedia.org.
Christopher Dickenson, "Fallen Idols," History Today.com, August 8, 2020.
"Fabulous Forty," CKWX 1130 AM, Vancouver, BC, June 17, 1961.
For more song reviews visit the Countdown.