#56: First Name Initial by Annette and the Afterbeats
A-side: "First Name Initial"
Peak Month: December 1959
14 weeks on Vancouver's CFUN chart
Peak Position #1
Peak Position on Billboard Hot 100 ~ #20
YouTube.com: "First Name Initial"
Lyrics: "First Name Initial"
Annette Joanne Funicello was born in Utica, New York in 1942. In 1955 she began her professional career as a child performer at the age of twelve when Walt Disney discovered her performing as the Swan Queen in a dance recital of Swan Lake at the Starlight Bowl in Burbank, California. She became one of the most popular Mouseketeers on the original Mickey Mouse Club. As a teenager, she became a pop singer and shortly after an actress in a series of films popularizing the successful Beach Party genre alongside co-star Frankie Avalon during the mid-1960s. On July 17, 1955 Annette Funicello made her television debut during the live broadcast of Disneyland's opening day ceremonies. She participated in a song and dance routine promoting the upcoming debut of Walt Disney's new television show, The Mickey Mouse Club. Following the shows premier on Monday, October 3, 1955, The Mickey Mouse Club became an immediate hit. Its army of small, amateur mouse-eared stars took America by storm. It wasn't long before the young audience of boys and girls developed a particular interest in a little dark haired girl named Annette.
Just as she had appealed to Walt Disney himself, when he discovered her at a dance recital, Annette emerged as a favorite among many children across the USA, launching her into television stardom. As a result Annette appeared on numerous magazine covers and a variety of Disney branded merchandise.
Walt Disney took advantage of Annette's talents and popularity by featuring her in several Mickey Mouse Club serials, such as The Further Adventures of Spin and Marty and The New Adventures of Spin and Marty. He eventually gave Annette a twenty episode serial of her own, simply titled Annette, during what would be the shows final season. Following the cancellation of The Mickey Mouse Club in 1959, Annette was the only mouseketeer to remain under contract with Disney. The Mickey Mouse Club did, however, appear in re-runs well into the 1960s.
Annette's solo music career began in 1958 while her serial Annette, was airing on The Mickey Mouse Club. During a hayride scene in one of the episodes, Annette sang what was meant to be a hokey ballad called "How Will I Know My Love," complete with juice harp and miniature accordion. As a result of Annette's rendition her friend Laura apologizes for being previously critical of the song.
After the episode aired, thousands of fans called the studio asking where they could buy the record. It was then Walt Disney met with Annette and announced he was signing her to a recording contract. With panic in her voice Annette responded, "But Mr. Disney, I don't sing. You know I don't sing". Disney arranged for Annette to work with Tutti Camarata, a famous musician, arranger, and record producer who had previously worked with other recording artists including Frank Sinatra, Bing Crosby and Ella Fitzgerald. Camarata also brought in The Sherman Brothers as composers, who would come to call Annette "their lucky star" due to the success they found in working with her.
Following the successful release of "How Will I Know My Love", it was decided that Annette's next record would be aimed toward the Rock and Roll market, which at the time was practically uncharted territory for a female artist. "Tall Paul," her second single was recorded and released by March of 1959. It was written by Bob and Dick Sherman. It reached number seven on the Billboard chart. With rock and roll instrumentation overpowering her soft voice during the recording sessions, the Shermans and Tutti developed the "Annette Sound." This was a method of double tracking Annette's voice and adding echos. In 1959 Annette began what would become a long time professional relationship with Dick Clark when she made her first appearance on American Bandstand singing "Tall Paul". She also joined Dick Clarks Caravan of Stars that year, a bus concert tour across the country with other teen idols.
Although uncomfortable being thought of as a singer, Funicello had a number of hit records in the late 1950s and early 1960s, mostly written by the Sherman Brothers, including "My Heart Became Of Age" (in 1959) and "Pineapple Princess" (in 1960). Annette struggled to bounce back into the Top Ten after her success with "Tall Paul" in 1958. "Jo Jo The Dog-Faced Boy", "Lonely Guitar" and "Especially For You" each failed to catch on. Her fourth followup to "Tall Paul" was "First Name Initial" backed with "My Heart Became Of Age".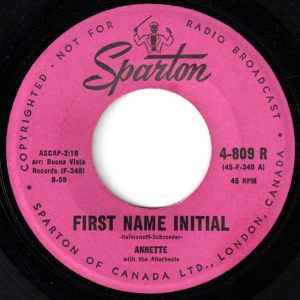 "First Name Initial" is a song about a teen boys' girlfriend who wears the initial of his first name on a chain around her neck. She does this to declare to everyone who sees her that she "belongs" to him. For the other females in town, it is a sign that she's got a dreamboat of a boyfriend. For the guys she meets, it's a sign that she's already "taken." In proclaiming her "steady boy" is her "true love," she wears her first name initial at "the soda shop…the record hop, riding to a movie in your jeep…the gym…when I take a swim…when I sleep." But all this wearing of her steady boy's first name initial is part of her own plan. You see, though the first name initial she wears is his "first name. I wish your last name initial and my last initial, will one day be the same."
"First Name Initial" was cowritten by Aaron Schroeder and Martin Kalmanoff. Aaron Schroeder was born in Brooklyn in 1926. He wrote "At a Sidewalk Penny Arcade" for Rosemary Clooney in 1948. Schroeder wrote 17 hit songs for Elvis Presley including five that topped the charts: "A Big Hunk o' Love", "Good Luck Charm", "I Got Stung", "It's Now Or Never" and "Stuck On You". He also wrote songs recorded by Chaka Khan, Roy Orbison, Frankie Lymon & The Teenagers, Nat "King" Cole, Perry Como, Guy Mitchell, The Playmates, Barry White, Tony Bennett, Dionne Warwick, Pat Boone, "Bandit Of My Dreams" for Eddie Hodges, "I'm Gonna Knock On Your Door" for the Isley Brothers in 1959 which was successfully covered by Eddie Hodges, "First Name Initial" for Annette, "Cincinnati Fireball" for Johnny Burnette, "Rubber Ball"" for Bobby Vee, "Because They're Young" for Duane Eddy, the Staple Singers and Paul McCartney. Schroeder also wrote "French Foreign Legion" for Frank Sinatra. Schroeder also produced numerous hits for Gene Pitney that included "I Wanna Love My Life Away", "Town Without Pity", "(The Man Who Shot) Liberty Valance", "Only Love Can Break A Heart" and "24 Hours From Tulsa". Aaron Schroeder later became an international music representative for Hanna-Barbera Productions and provided music, singers and songs for "The Banana Splits" and "Scooby Doo, Where Are You!" Aaron Schroeder had a cameo appearance as a songwriter in the 1957 rock 'n roll film Jamboree, and once appeared on the TV panel show To Tell The Truth.
Martin Kalmanoff was born in Brooklyn, New York, in 1920. He studied piano and composition from the age of seven. He graduated from Woodmere Academy in 1937 and studied music at Harvard. He began his career as a popular songwriter. Artists who recorded his songs included Sammy Kaye, Guy Lombardo, Connie Francis, Julius LaRosa, Vic Damone, Engelbert Humperdinck, Roy Rogers, Billy Butterfield and Elvis Presley. As his career progressed, Kalmanoff devoted most of his energy to operas and musicals.
"First Name Initial" peaked at #1 in Vancouver (BC), Miami, San Francisco, Albany (NY), #3 in Phoenix, St. Louis, and Baton Rouge (LA), #4 in Syracuse (NY), Los Angeles, Manchester (NH), and Buffalo, #5 in Troy (NY), Jacksonville (FL), and Saginaw (MI), #6 in Kansas City (MO), and San Antonio, #7 in Louisville (KY), Montgomery (AL), and Wilkes-Barre (PA), #8 in Tucson (AZ), Detroit, and Oklahoma City, and #9 in Fort Myers (FL), Anaheim (CA), and Pasadena (CA), and #10 in Philadelphia.
Annette cracked the Top Ten of the Billboard Hot 100 with "O Dio Mio" in March 1960, and peaking at #8 in Vancouver. While she stalled at #11 with "Pineapple Princess" later that summer, the single climbed to number-one in Vancouver. After "Pineapple Princess", Annette had trouble getting on the Billboard Hot 100, never mind any more Top 40 hits. "Dream Boy" barely made the Hot 100, stalling at #87, though it made the Top 20 in Vancouver. Her next twenty single releases, beginning with "Indian Giver" missed the Billboard Hot 100. But in 1961 in Vancouver, "Indian Giver" caught on and made the Top 10. Annette also had a medium hit in Vancouver in 1962 with "Mr. Piano Man".
In 1963 Annette was loaned out to American International for ten movies. She starred in her first non Disney film, Beach Party with her long time friend Frankie Avalon. This campy comedy put a spin on the traditional musical with dialogue and songs directly inspired by the humor and musical tastes of teens at the time. The movie was a great success and spawned four more beach themed-movies: Muscle Beach Party, Bikini Beach, Beach Blanket Bingo and How to Stuff a Wild Bikini. From 1963 to 1965 Annette Funicello and Frankie Avalon became known as the "King and Queen of the Beach". While working with American International Pictures Annette also starred in Pajama Party and two racing films: Fireball 500 and Thunder Alley. She made cameo appearances in Ski Party and Dr Goldfoot and the Bikini Machine. In 1968 she played Davy Jones' girlfriend in the Monkees film HEAD before retiring from the big screen for two decades.
In 1965 Annette was married to Jack Gilardi and gave birth to a daughter (Gina) that same year, and had two more children in the early 70s (Jack Jr. and Jason). By the late 60s she shifted her attention from her career to raising a family. Although she had completely walked away from other aspects of her career, Annette never left television. While staying busy being a mom she would agree to guest star on a large number of popular shows and specials over the next two decades including Fantasy Island, Love American Style and The Love Boat. She was the popular spokeswoman for Skippy Peanutbutter for nine years from the mid 70's through the early 80's and she took part in countless television, radio, and magazine interviews. In 1992 Annette founded the Annette Funicello Bear Company which produced collectable designer teddy bears. She died in 2013 after living with multiple sclerosis for twenty-one years.
February 24, 2023
Ray McGinnis
References:
Funicello, Annette, and Romanowski, Patricia. A Dream Is a Wish Your Heart Makes: My Story. Hyperion, New York, NY, 1994.
Eudie Pak, Annette Funicello, Original Mouseketeer, Dies at 70, Biography.com, April 8, 2013.
Bikini Beach, American International Pictures, 1964.
Muscle Beach Party, American International Pictures, 1964.
Fireball 500, American International Pictures, 1966.
Thunder Alley, American International Pictures, 1967.
How to Stuff a Wild Bikini, American International Pictures, 1965.
Beach Blanket Bingo, American International Pictures, 1965.
Mickey Mouse Club, ABC, 1955-1959.
Dennis McLellan, "Aaron Schroeder Dies at 83; Prolific Songwriter for Elvis Presley and Others," Los Angeles Times, December 4, 2009.
"Martin Kalmanoff Papers," New York Public Library Archives, 2002.
"Hi-Fi Forty," CFUN 1410 AM, Vancouver, BC, December 12, 1959.
For more song reviews visit the Countdown.