#11: Fortune Teller/Johnny Take Your Time by Bobby Curtola
A-side: "Fortune Teller"
Peak Month: March 1962
10 weeks on Vancouver's CFUN chart
Peak Position #1
Peak Position on Billboard Hot 100 ~ #41
YouTube.com: "Fortune Teller"
Lyrics: "Fortune Teller"
B-side: "Johnny Take Your Time"
Peak Month: May 1962
11 weeks on Vancouver's CFUN chart
Peak Position #3
Peak Position on Billboard Hot 100 ~ did not chart
YouTube.com: "Johnny Take Your Time"
Bobby Curtola was born in Port Arthur, Ontario, in 1943. (The town would become amalgamated into the city of Thunder Bay in 1970). His cousin Susan Andrusco remembers "Bobby would always be singing at our family gatherings. The family loved him. And he loved being the centre of attention. He would sing Oh My Papa, and my grandpa would cry." Oh My Papa was a number-one hit for Eddie Fisher in January 1954, when Bobby Curtola was still ten-years-old. In the fall of 1959, sixteen-year-old high school student Bobby Curtola went from pumping gas at his father's garage in Thunder Bay, Ontario, to the life of a teen idol. Within a year he went from playing in his basement band, Bobby and the Bobcats, to recording his first hit single in 1960, "Hand In Hand With You", which charted in June '60 in Ontario, but not in Vancouver.
After performing on the Bob Hope Show in 1960, the charismatic teenager, with his handsome boy-next-door looks was quickly finding himself within a whirlwind called "Curtolamania."
Bobby set out on his first Western Canadian Tour in the fall of 1960. From there Curtola went on to become a trailblazer. He toured the first coast to coast tour circuit in Canada. In 1961 he went to Nashville to record with Bill Porter for RCA Studios. That relationship continued for decades. "Don't You Sweetheart Me" was his first Top Ten hit in Canada. The song climbed to #1 in Winnipeg, #4 in Vancouver and #5 in Toronto. In September 1961 Curtola was back on the CFUN chart in Vancouver with "I'll Never Be Alone Again". He had another hit on his hands four months later with "Hitchhiker".
Between 1960 and 1968 Curtola had continual single and album releases on the Tartan label in Canada. The managers and main songwriters were brothers Dyer and Basil Hurdon. The Del-Fi label released some of those singles in the US. His biggest hit, "Fortune Teller", was released in 1962.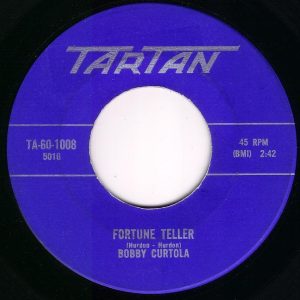 "Fortune Teller" is a song about a boy who asks a fortune teller about his future, especially concerning romance. He wonders if the fortune teller can see in their crystal ball if he's meet the girl of his dreams on a street corner, and if she'll know instantly that he's "the one?" The boy wonders by way of a simile if he'll be "like Little Jack Horner" and get himself "a sugar plum."
Little Jack Horner is a nursery rhyme from Mother Goose. That rhyme dating from 1765 has these lines:
Little Jack Horner
Sat in the corner,
Eating his Christmas pie;
He put in his thumb,
And pulled out a plum,
And said, "What a good boy am I!"
This children's nursery rhyme was sanitized from the 1725 verse of Henry Carey's satire:
Now he sings of Jackey Horner
Sitting in the Chimney-Corner
Eating of a Christmas pye,
Putting in his thumb, Oh fie!
Putting in, Oh fie! his Thumb,
Pulling out, Oh strange! a Plum.
From 1725, references to Little Jack Horner were associated with acts of opportunism. And in 1796 Samuel Bishop described the civil service bureaucracy with these lines:
What are they but JACK HORNERS, who snug in their corners,
Cut freely the public pie?
Till each with his thumb has squeezed out a round plum,
Then he cries, "What a Great Man am I!"
In 1817, Thomas Love Peacock built on this theme of Jack Horner and the civil service in his satirical novel Melincourt. The novel introduces five go-getting characters who contribute to a song describing how they misuse their trades to fleece the public.
Jack Horner's CHRISTMAS PIE my learned nurse
interpreted to mean the public purse.
From thence a plum he drew. O happy Horner!
Who would not be ensconced in thy snug corner?
The verse adds later on:
And truth and taste shall know, that there everlasting foe,
Has a finger, finger, finger, in the Christmas Pie.
Each of the five take turns describing the nature of their sharp practice in his particular profession, followed by the general chorus "And we'll all have a finger, a finger, a finger, / We'll all have a finger in the CHRISTMAS PIE." And so began the saying of someone having their "finger in the pie," and taking something that didn't belong to them.
Of course, Bobby Curtola's "Fortune Teller" lyric draws on the Mother Goose lyric telling children how lucky Little Jack Horner is to pull out a sugar plum from the pie. And the guy in "Fortune Teller" imagines that if he gets to meet the girl of his dreams he'll be as fortunate as Little Jack Horner was in finding a sugar plum in his Christmas Pie.
In "Fortune Teller" the fortune teller has a crystal ball that the lad in the song hopes will reveal a promising future. As early as the first century, Roman author and philosopher Pliny the Elder described how soothsayers used a crystal ball to tell a person's fortune. The word soothsayer was derived from "crystallum orbis" – one who sees the future by gazing into the crystal ball. Fortune telling is distinct from divination, the latter associated with predictions that are part of a religious ritual. Crystal gazing was a popular pastime in the Victorian era. Immediately before the appearance of a vision, the ball was said to mist up from within.
In "Fortune Teller", the boy declares that the "dream" he has is "the only one for me." So, he hopes the fortune teller will confirm all will work out with the girl he hasn't met yet.
"Fortune Teller" went Gold in Canada. The now Rock n' Roll Hall of Fame DJ, Red Robinson, was key in the success of "Fortune Teller." Seeing its potential internationally, Robinson sent it to Disc Jockey's in Seattle at KJR and Hawaii's KPOI in Honolulu. A major US record deal was signed and "Fortune Teller" went on to sell two and a half million copies.
"Fortune Teller" climbed to #1 in Vancouver (BC), London (ON) and Boston, #2 in Seattle, #3 in Worcester (MA) and Calgary (AB), #4 in Halifax (NS), Denver, Toledo (OH), and Springfield (MA), #5 in Toronto, Cleveland, San Bernardino (CA), Indianapolis (IN), and Winnipeg (MB), #6 in Fresno (CA) and Chicago, #7 in Buffalo and El Cajon (CA), #8 in San Francisco, #9 in Montreal, and #10 in Syracuse (NY), and #12 in Fargo (ND).
The B-side to "Fortune Teller" was "Johnny Take Your Time". On the ninth week of the chart run for "Fortune Teller", the B-side began to chart, with the A-side at #8 and the B-side entering the on the C-FUNTASTIC FIFTY at #42.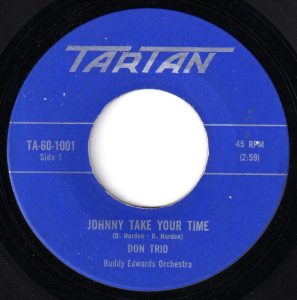 "Johnny Take Your Time" is a song about timing in the game of romance. At what point does taking a girl's hand in yours make sense? If he comes on too strong it might seem improper. He waits to learn what his heart has to say. At the right moment he determines that "now's the time" to hold his girlfriend's hand.
"Johnny Take Your Time" climbed to #3 in Vancouver (BC), #9 in Montreal and #10 in Toronto. While "Fortune Teller" was included on Bobby Curtola's second album, Mr. Personality, "Johnny Take Your Time" became a non-album charting single.
Curtola traveled to many towns in British Columbia, including the Vancouver Island town of Ladysmith on April 7, 1962, while "Fortune Teller" and "Johnny Take Your Time" were charting all over the province.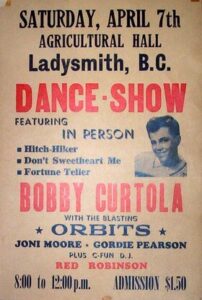 Bobby Curtola was invited in 1962 to tour with Dick Clark and his Cavalcade of Stars. Curtola also enjoyed other Top 20 hits in '62 in Vancouver with "You Must Belong To Me" and "I Cry And Cry". After these, Curtola was back in the Top Ten in Vancouver with "Aladdin".
In early 1963 Bobby Curtola had his second number-one hit in Vancouver titled "Destination Love". Other singles from Truly Yours were "Indian Giver" and "Gypsy Heart".
After "Destination Love" began to chart on CFUN in mid-January '63, Curtola was in Vancouver and had a live interview with Red Robinson. Curtola performed in concert in Vancouver in 1963 when he was at the height of his popularity. Red Robinson said in an interview after Curtola died "Bobby broke out in the early Sixties and when he appeared in Vancouver at Park Royal mall over 3,000 kids showed up. I met him when I was program director at C-FUN/Vancouver and he (later) performed for C-FUN Day at Kits Showboat. Almost 10,000 showed up for this annual event, big numbers for the Sixties!"
While on tour in England in 1963, Bobby met The Beatles and appeared on the famous British TV variety show Thank Your Lucky Stars. The episode on June 15, 1963, also featured performances by John Leyton, Jackie Trent, Kenny Ball, and the Bachelors.
In 1963, Bobby Curtola had five songs climb into the Top Ten on CFUN in Vancouver. These were "Destination Love," "Gypsy Heart", "Three Rows Over", "Move Over" and "Indian Giver".
n 1963, Winnipeg's Chad Allan & the Reflections (later the Guess Who) were introduced to Curtola. "We backed him on some Winnipeg dates and across Western Canada, all the way to Edmonton for Klondike Days and Calgary for the Stampede," says guitarist Randy Bachman. "It was an opportunity for us to travel and promote our records. We had Shy Guy out at the time. At the Stampede we played the Teen Tent with him, sponsored by Coca-Cola. That was our first encounter with screaming girls who came to see Bobby every night. It was our taste of the rock 'n' roll limelight. Bobby Curtola was a decent singer and performer and a nice enough guy who came along when Canadian teenagers were looking for their very own Elvis or Cliff Richard, and he filled that void. And he was very successful."
On August 18, 1962, "I Cry And Cry" began to chart. From then on, Curtola kept on charting one (or more) of his singles on the C-FUNTASTIC FIFTY on consecutive weeks until January 11, 1964. He managed to have one of his songs on the pop chart for 70 of 71 weeks in a row. (Curtola had earlier charted for 20 consecutive weeks on the C-FUNTASTIC FIFTY from February 2 to June 16, 1962).
With the British Invasion in early 1964, Bobby Curtola struggled to get into the Top 20. Of his five single releases that year, only "Little Girl Blue", made the Top 20, peaking at #15.
In June of 1964, Bobby Curtola got to sing what would become an ear-worm for radio listeners across all radio and TV stations in the mid-sixties. He became the first pop singer to record a jingle that sounded like a Top 40 Hit Single. The jingle was "Things Go Better with Coke." He signed an exclusive contract with Coca-Cola to be their #1 Spokesman. Bobby, also co-wrote "The Real Thing" which was used for the commercial "Coke's The Real Thing." After turning twenty-one, Bobby was interviewed by John Pozer on his TV show in Ottawa, Saturday Date, which ended with the pair toasting to his success with coke bottles. In the interview Curtola reveals that the jingle was made in Nashville and that Elvis' former backup group, The Jordanaires, backed Curtola in recording the commercial.
Bobby Curtola went on in 1965 to host The After Four Show in Toronto. On a comment thread on his obituary, Dee Gionet wrote that Curtola performed at a sock hop at Vincent Massey High School in 1965. At another performance somewhere in Vancouver in July '65, a member of the audience recalled "…when Bobby took to the stage, the place went wild, the girls all screamed and the hits started rolling. He could really work the crowd, and what a singer – he danced and moved around that stage and sang right to you. He wore flashy stage clothes and beetle boots; we all thought he was the coolest dude."
In 1966 he won a RPM Gold Leaf Award for becoming the first Canadian to have an album go gold. In 1973 Curtola became the CTV host of Shake, Rock and Roll. For many years he also hosted the Miss Canada and Teen Canada beauty pageants. And from 1972 into the mid-90's Bobby Curtola had a career performing in Las Vegas, often as the opening act of Bob Hope. Over the years Bobby Curtola has toured Asia, Europe, South America and across North America. On August 10, 1986, Bobby Curtola appeared in concert at the Expo Theatre during Vancouver's Expo '86 celebrations.
Besides his musical work, Curtola is also a business entrepreneur, marketing a successful brand of Caesar Cocktail. From 1990 to 1998 Curtola was on yearly Princess Cruises Love Boat as a performer.
In 1996, Toronto City Council made April 26 Bobby Curtola Day. Curtola also has been given the keys to the city of Edmonton, Brandon, Calgary, and Hamilton. In 1997 Bobby Curtola flew to Las Vegas to become an inductee of the Coca Cola Hall of Fame.
In 1998 Bobby received the Order of Canada for his humanitarian work. His website states that in March 1998 he launched his "Stand By Me Tour" in Vancouver. However, the venue where he performed is not listed.
In 1999 Curtola traveled to Malaysia to tour in that country. And in 2001, Bobby embarked on a European tour and visited France, Italy, Switzerland, and England. Later that year he continued his relationship with Princess Cruises by performing on Caribbean and Mediterranean cruises.
In 2011 he received a star on Toronto's Italian Walk of Fame. Curtola died in 2016 at the age of 73.
June 28, 2023
Ray McGinnis
References:
John Einarson, "Sharing the Stage with a Music Sensation: Multiple Manitoba Bands Backed up Crooner Curtola, Canada's First Teen Idol, in his Heyday," Winnipeg Free Press, June 18, 2016.
Bobby Curtola biography, Bobby Curtola.com
Janet French, "Canadian Singer Bobby Curtola Dies During Edmonton Visit," Edmonton Journal, Edmonton, Alberta, June 6, 2016.
Bobby Curtola, Canadian Bands.com.
Red Robinson, "Remembering Bobby Curtola," redrobinson.com, June 6, 2016.
John Pozer, "Bobby Curtola Coca Cola Interview," Saturday Date, Ottawa 1964.
"Epigram XXII," The Poetical Works of the Rev. Samuel Bishop, 1796.
"Little Jack Horner," allnurseryrhymes.com.
Thomas Love Peacock, "Quintetto," Melincourt, 1817.
Maureen Monohan, "A Brief History of the Crystal Ball," mental floss.com, October 31, 2016.
"C-FUNTASTIC FIFTY," CFUN 1410 AM, Vancouver, BC, March 2, 1962.
"C-FUNTASTIC FIFTY," CFUN 1410 AM, Vancouver, BC, May 12, 1962.
For more song reviews visit the Countdown.