#1278: From Me To You By Del Shannon/The Beatles
Peak Month: July 1963
8 weeks on Vancouver's CFUN chart
Peak Position #14
Peak Position on Billboard Hot 100 ~ #77 (Del Shannon)/ #116 (the Beatles in 1963)
Youtube.com "From Me To You" The Beatles
Youtube.com "From Me To You" Del Shannon
Lyrics: "From Me To You"
Charles Weedon Westover was born on December 30, 1934. He was known professionally as Del Shannon. Westover was born in Grand Rapids, Michigan. He learned ukulele and guitar and listened to country music. He was drafted into the Army in 1954, and while in Germany played guitar in a band called The Cool Flames. When his service ended, he returned to Battle Creek, Michigan. There he worked as a carpet salesman and as a truck driver in a furniture factory. He found part-time work as a rhythm guitarist in singer Doug DeMott's group called Moonlight Ramblers, working at the Hi-Lo Club. Ann Arbor deejay Ollie McLaughlin heard the band. In July 1960, Westover signed to become a recording artist and composer on the Bigtop label. Westover changed his name to Del Shannon. It was a combination of Shannon Kavanagh (a wannabe wrestler who patronized the Hi-Lo Club) with Del, derived from the Cadillac Coupe de Ville, which Westover's carpet store boss drove.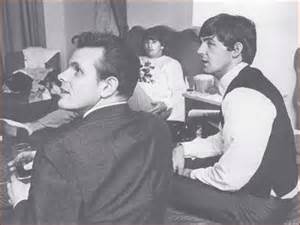 Apparently, Charles Westover asked a girl named Karen to go with him to the Senior Prom. She said yes, but two weeks later dumped him for another guy who was Westover's rival. Westover, who was 140 pounds and 5'6" was devastated and never got over it. Almost all fourteen of Del Shannon's singles released from "Runaway" (1961) to "Two Kinds Of Teardeops" (1963) were about sadness, break-ups, and loneliness. Song like "Swiss Maid" were full of longing. A summer 1962 hit, "Cry Myself To Sleep", found the songs' character lonely and in misery. Though "Runaway" was a #1 hit and Del Shannon had several more songs in the Top 30 on the Billboard Hot 100, his star was on the wane. "Two Kinds of Teardrops" only peaked on the Billboard Hot 100 at #50. During his career Del Shannon had just three songs in the Top Ten of the Billboard Hot 100 and four more singles that reached the Top 30. While in Vancouver he charted three songs to #1, six more songs into the Top Ten and seven more songs into the Top 30. In Vancouver any Del Shannon 45 RPM had a good chance at being a big seller.
Del Shannon appeared in concert at the PNE Auditorium in Vancouver (BC) on June 30, 1962.
In 1963 Del Shannon flew to England where he toured heavily on the success of "Little Town Flirt" and to push "Two Kinds of Teardrops". He also visited Sweden, where he was popular. By the spring of 1963 Del Shannon had only managed to chart two Top Ten singles in the USA. But in the UK he had seven Top Ten hits, including "Two Kinds of Teardrops" which peaked at #5 in the US. On 18 April 1963, the Beatles were one of 15 acts to play at Swinging Sound '63, an all-star concert at the Royal Albert Hall in London. They played "From Me to You", a song just released earlier that week, and "Twist and Shout". Del Shannon was also on the line-up that night. When the concert was over Shannon told John Lennon that he was going to record "From Me to You" to give the group some exposure in America. At first, Lennon was flattered, but he quickly changed his mind. Lennon was aware that a cover version by Del Shannon might hurt the Beatles' chances of having a hit with "From Me to You" in America.
In early June, Bigtop Records released Del Shannon's version of "From Me To You" as the follow-up to "Two Kinds of Teardrops".
On June 29th it entered the Billboard Hot 100 and became the first Lennon–McCartney song to chart in the USA. Shannon's cover spent four weeks on the Billboard Hot 100 and peaked at number 77. It owed its lowly climb in part to WLS in Chicago where it climbed to #15. Del Shannon recalled "At that time no one had heard of the Beatles here (America), but I knew they were great writers so I just picked up on one of their songs."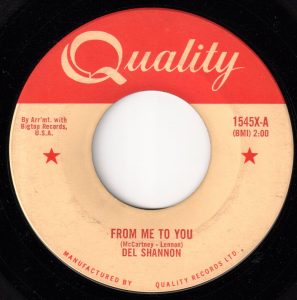 John Lennon and Paul McCartney were riding on a bus to Shrewsbury to perform at a concert as the opening act while The Beatles were on a tour of England with Helen Shapiro. While on the coach they started to write "From Me to You." They took the title as a variant of the letter to the editor section of the pop music magazine, New Musical Express. That section was named "From You To Us." Paul McCartney recalled that many of the songs they wrote in their early years included "I," "me" or "you" as a way of making them more direct and personal. John Lennon recalled that the initial tune for the lyrics relied heavily on the blues and initially The Beatles decided to record it. But when their manager, George Martin, added harmonica to the tune, it seemed to be just right.
On the bus with McCartney and Lennon was a black British singer named Kenny Lynch who had recently had a Top Ten UK hit with a cover of The Drifters song "Up On the Roof." He tried to Lennon and McCartney write lyrics for "From Me to You." When they sang the song and included "ooh" as a bridge, Lynch was outraged. He told them "You can't do that. You'll sound like a bunch of fucking fairies!" Soon afterwards he stormed off, ranting "Well, that's it. I am not going to write any more of that bloody rubbish with those idiots. They don't know music from their backsides. That's it! No more help from me!" Lynch would later write "Sha-La-La-La-Lee", a #3 hit for the Small Faces in 1966.
On April 11, 1963, Parlophone Records released "From Me to You" in the UK as a single, with "Thank You Girl" on the B-side. On April 20th it began a 21 week run in the British charts, reaching number one on May 4th, and remaining there for another six weeks.
"From Me To You" featured Lennon playing harmonica in a blues style he was taught by Delbert McClinton. McClinton was the harmonica player on the 1962 #1 hit "Hey Baby" by Bruce Channel. On the same bill with Del Shannon and The Beatles, Bruce Channel sang "Hey Baby" with Delbert McClinton playing harmonica. "It's chiseled in stone now that I taught Lennon how to play harmonica," McClinton said. "John said, 'Show me something.' I was in a pretty unique position, because there just weren't a lot of people playing harmonica in popular music."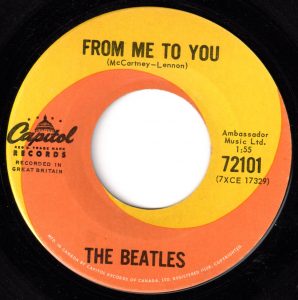 The song was a very straightforward pitch to love, satisfy and be faithful. "From Me To You" was the first Beatles song to reach number one in Britain, and the first of eleven consecutive British number one singles by the group.
Cash Box magazine called "From Me To You" a "Pick of the Week" when it was released on May 27, 1963, in the USA. However, in 1963 the American record-buying audience was not ready for The Beatles. Their previous single release in the USA, "Please Please Me" had sold only around 5,000 copies. "From Me to You" had only 4,000 sales by the end of June '63 and didn't chart anywhere except in Los Angeles. In Vancouver Del Shannon's cover of "From Me To You" debuted on the June 29/63 C-FUNTASTIC FIFTY at #35. But for the next 7 weeks of its chart run both the original version by The Beatles and Del Shannon's cover were listed as artists across from the song. A sign of how unfamiliar even DJ's in Vancouver were with the "Fab Four" is exhibited in how the band was listed with Del Shannon during the chart run of "From Me To You" in July and August of '63. The Beatles were misspelled with two t's on CFUN's record survey as "The Beatles."
"From Me To You" by Del Shannon peaked at #4 in Muskegon (MI), #13 in Toronto, #14 in Vancouver, #15 in Chicago, and #16 in St. Louis. While the Beatles Vee-Jay release of "From Me To You" in 1963 peaked at #7 in San Bernardino (CA), #8 in Duluth (MN), #13 in Akron (OH), and El Cajon (CA), #14 in Vancouver, #15 in Seattle, and #18 in Winnipeg (MB).
The Beatles were from Liverpool and formed in 1960. They charted dozens of singles onto the pop charts in Vancouver between the summer of 1963 and the spring of 1970. Numbers of these songs were much more popular in Vancouver than in the USA. One of these was a German version of "She Loves You" titled "Sie Liebt Dich". It was a Top Ten hit for the Fab Four the following summer. One of the features of The Beatles was that they mostly recorded singles and tracks from their albums they wrote themselves. The exceptions were songs like "My Bonnie", "Please Mr. Postman", "Roll Over Beethoven" and "Ain't She Sweet". The band would become the most influential rock 'n roll band of the 20th Century. They have sold over one billion records. They began recording elemental love songs like "I Want To Hold Your Hand" and later composed more complex songs, such as those on their award-winning 1967 album, Sgt. Pepper's Lonely Hearts Club Band. The Beatles were on the cusp of whatever was new and were often the trend-setting reason for the next new thing. In 1967 they got involved with Transcendental Meditation. When they released "Hey Jude", they had one of those rare singles that was longer than 7 minutes climb to the top of the charts. At the time, the standard formula for singles was around two to three minutes in length.
The Beatles split in 1970 after the release of the Let It Be album. All four enjoyed success as solo recording artists. Ringo Starr had a number of Top Ten hits including "Photograph" and the "No No Song". Paul McCartney had numerous hits that included "Live And Let Die" and "Silly Love Songs". George Harrison had hits with "My Sweet Lord" and "Give Me Love". While John Lennon's hits included "Imagine" and "Woman". Hopes for a Beatles reunion were dashed when John Lennon was murdered on December 8, 1980, outside his New York City apartment near Central Park. George Harrison died of lung cancer in 2001. Starr and McCartney have continued to tour. Paul McCartney was in Vancouver in April, 2016.
In the winter of 1964-65 Del Shannon had his last notable hit titled "Keep Searching (We'll Follow The Sun)". It spent six weeks in the Top Ten on the CKLG Boss 40, including three weeks at #6. On May 26, 1965, Del Shannon returned to perform at the PNE Forum in Vancouver (BC). His appearance was as part of the Dick Clark Caravan of Stars. Others on stage included The Zombies, Shangri-Las, Dee Dee Sharp, Jewel Aikens, Tommy Roe and others. Del Shannon struggled with alcoholism and still managed to pursue a career despite having no hits after 1965.
In 1968 Shannon became a member of Alcoholics Anonymous vowing to quit his addiction to alcohol. Shannon and Bryan Hyland were roommates for several years in the late 60's when Shannon tried to help Hyland who was in his own career slump. Shannon produced Hyland's comeback hit in 1970, "Gypsy Woman", a remake of a 1961 R&B hit by The Impressions written by Curtis Mayfield.
After a rare concert at The Roxy Theatre in West Hollywood in 1976, The Los Angeles Times wrote, "Shannon's haunting vignettes of heartbreak and restlessness contain something of a cosmic undercurrent which has the protagonist tragically doomed to a bleak, shadowy struggle." Years later he was sought out by Tom Petty who had discussed with Shannon joining the Travelling Wilbury's after the death of Roy Orbison in December 1988. Shannon declined. Del Shannon next cancelled a revival tour to England. In mid-January 1990 he was prescribed Prozac by his therapist and began taking the medication. He grew steadily more agitated, paced around as his hands trembled. Without leaving a note, Shannon died by suicide three weeks later in early February 1990.
November 24, 2016
Ray McGinnis
References:
Del Shannon Biography, Del Shannon.com.
The Beatles, Rolling Stone.
From Me To You, The Beatles Bible
From Me To You, Songfacts.com
"C-FUNTASTIC FIFTY", CFUN 1410 AM, Vancouver, BC, July 27, 1963.
For more song reviews visit the Countdown.