#1313: Going Down by Tom Northcott Trio
Peak Month: May 1966
7 weeks on Vancouver's CFUN chart
Peak Position #12
Peak Position on Billboard Hot 100 ~ did not chart
YouTube.com: "Going Down"
Born in Vancouver in 1943. When he was still in his teens, Tom Northcott was gaining a reputation while making his rounds through the Vancouver coffeehouse circuit in the early '60s. In particular, he frequented the Kitsilano area, the focal point of the hippie counterculture north of San Francisco.
In 1965, Northcott took over from Ronnie Jordan as the frontman for the Vancouver Playboys, already an established BC band that wore identical suits. They were considered one of BC's top emerging bands, mixing a Beatles look with music stylings of The Ventures. Northcott established one of Vancouver's first labels, Syndrome Records, which LA execs at Warner were impressed enough with to offer him distribution. While the Playboys toured the country that summer and fall, the label served home to their first single, "Cry Tomorrow". The b-side, "She Loves Me, She Loves Me Not" was then pushed as a single backed with "Don't You Just Know It."
But by the end of the year Northcott left and, on 12-string guitar, he formed The Tom Northcott Trio with drummer Chris Dixon and Rick Enns on bass. They were soon regulars on CBC TV's Let's Go program for the next couple of years. Meanwhile they were selling out the top clubs in the area, such as The Afterthought in Kitsilano. They headed to California and played throughout San Fransisco and Los Angeles. This exposure got them further gigs and they opened for The Who, The Doors and Jefferson Airplane. In December 1965 they released "Just Don't" to overall good reviews and it charted on both CKLG and CFUN. Their next single, "Going Down," followed in the summer of 1966.
"Going Down" is a song about a guy who's telling his girlfriend that he knows she's going downhill and heading for a fall.
Well is there one more thing you want?
One more thing that I can do?
Have you done enough to me?
Have I done enough to you?
Babe growing up you're on a throne,
Looking at another goin' down.
Look out girl, I know you're gonna fall,
I hope you land the hardest of them all.
Whoa, oh, oh, hey, hey, hey, well, well, well.
This crazy world spins upside down.
faster than the eye can see.
But I won't be your painted clown,
on your circus ferris wheel.
So dally and your road… last night.
There's a stupid mule in the daylight.
Look out girl I know you're goin' down,
you're head high is so far off the ground.
Whoa, oh, oh, hey, hey, hey, well, well, well.
When you finally come to earth,
analyze what you've done wrong.
Get rid of your useless friends,
they don't know what's going on.
Realize selfishness and pride,
have brought you the trouble you would hide.
If you can't go against the trend,
you better go and start again.
Hey, hey, hey, aw, aw, oh, well, well, well.
"Going Down" is a song that offers advice to someone whose gotten out of touch with themselves and has an exaggerated sense of self-importance. The lyrics describe an impasse in a deteriorating relationship: "have you done enough to me/have I done enough to you." There is a sense that one person in the relationship is going to get knocked down a peg or two given their attitude: "look out girl I know you're gonna fall/I hope you land the hardest of them all." The viewpoint the guy sees is of a partner he is breaking up with who has been ungrounded. He concludes: "when you finally come to earth/analyze what you've done wrong/get rid of your useless friends/they don't know what's going on." The only way forward is to start from scratch and head down a new road, grounded in reality and a healthy dose of humility. This will involve not expecting others to be painted clowns and treat life like it's one big circus. The distractions of ferris wheels and other rides have, metaphorically, been part of the problem.
The garage band sound the Tom Northcott Trio achieved with both "Just Don't" and "Goin Down" caught on locally in Vancouver. "Going Down" got some airplay on Edmonton's CJCA and peaked at #49 on the Canadian RPM chart, but mostly due to its chart performance in Vancouver where it peaked at #12. It didn't chart in the USA.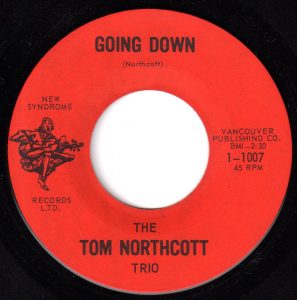 Next up for Tom Northcott, he formed a band called The Eternal Triangle. In September 1966, they had a minor hit in Vancouver titled "It's True".
Northcott was also one of a roster of regular performers to appear on the Vancouver based CBC TV show Let's Go. Other performers to appear on the Vancouver show were Gillian Russell, Howie Vickers, Mike Campbell and Susan Pesklevits (later Susan Jacks). CBC ran the show each weekday from 5:30 p.m. to 6 p.m. The Vancouver show was aired on Mondays hosted by Fred Latremouille and Red Robinson. Winnipeg's Let's Go TV show was on Tuesdays, Toronto on Wednesday, Montreal on Thursday and Halifax on Friday afternoon.
Tom Northcott went on to have numbers of hit records in the Vancouver AM-Top 40 radio market. These include "Sunny Goodge Street", "Girl From The North Country", "1941", "Crazy Jane", "The Rainmaker" and "Spaceship Races".
Northcott changed careers in the early 1970s and got a license to become a commercial fisherman in British Columbia. At the end of the decade Northcott ran for public office under the banner of the Social Credit Party of British Columbia in the New Democratic Party stronghold of East Vancouver. He lost the campaign. Once again he switched careers and, after studying law at university, he specialized in maritime and admiralty law. Northcott is now retired and living in Kamloops, British Columbia.
October 24, 2016
Ray McGinnis
References:
Mark Allan, Ron Grahame, Susan Jacks, Dennis McFadden, Fred Robinson, Tom Northcott, Canadianbands.com.
Dennis MacFadden, Vancouver Playboys ~ Pacific Northwest Bands, October 2008.
"C-FUNTASTIC FIFTY," CFUN 1410 AM, Vancouver, BC, May 14, 1966.
For more song reviews visit the Countdown.