#363: Gypsy Woman/String Along by Rick Nelson
Peak Month: June 1963
5 weeks on CFUN's Vancouver Chart
Gypsy Woman Peak Position ~ #6
Peak Position on Billboard Hot 100 ~ #62
YouTube: "Gypsy Woman"
Lyrics: "Gypsy Woman"
Peak Month: June 1963
6 weeks on CFUN's Vancouver Chart
String Along Peak Position ~ #5
Peak Position on Billboard Hot 100 ~ #25
YouTube: "String Along"
Lyrics: "String Along"
In 1940 Eric Hilliard Nelson was born. On February 20, 1949, while still eight years old, he took the stage name of Ricky Nelson when appearing on the radio program, The Adventures of Ozzie and Harriet. A child actor, Ricky was also a musician and singer-songwriter. who starred alongside his family in the long-running television series, The Adventures of Ozzie and Harriet (1952–66), as well as co-starring alongside John Wayne and Dean Martin in the western Rio Bravo (1959). He placed 53 songs on the Billboard singles charts between 1957 and 1973.
His first single release was "I'm Walking" which debuted on May 3, 1957 on CKWX in Vancouver (BC), and May 18 on the Cashbox pop singles chart. It climbed to #4 in Vancouver and #17 on the Billboard pop chart. The B-side, "A Teenager's Romance" peaked at #8 on the Billboard pop chart, but didn't chart in Vancouver. Ricky Nelson sang all his single releases on The Adventures of Ozzie and Harriet. His next single was "You're My One And Only Love".
Nelson racked up a number of #1 hits in Vancouver, including "My Bucket's Got A Hole In It" in 1958. In August 1958, Ricky Nelson had his first #1 song on the Billboard Hot 100, "Poor Little Fool". The single charted to #1 in Vancouver on Red Robinson's chart in July and on August 16th on Bob McGavin's WX chart. From November 10 , 1958, to January 19, 1959, "Lonesome Town"/"I Got A Feeling" charted within the Top Ten of the CKWX Sensational Sixty. Additional hits for Nelson included the double-sided disc "It's Late"/"Never Be Anyone Else But You" which climbed to #1 in Vancouver in March 1959. And in August 1959, Ricky Nelson was back in the Top Ten in Vancouver with "Sweeter Than You"/"Just A Little Too Much". A final appearance in the Top Ten in 1959 was with "One Minute To One".
With his weekly appearance on The Adventures of Ozzie and Harriet, Nelson was the first pop singer in the rock 'n roll era to use a TV show as a platform to promote his single releases. Between 1957 and 1959 Ricky Nelson had charted 15 songs into the Top Ten in Vancouver. His sixteenth Top Ten hit was "Young Emotions." The B-side of that single was "Right By My Side." While the tune didn't do very well in the USA, stalling at #59, in Vancouver the B-side peaked at #11. While the pretty "Young Emotions" written by Mack David, climbed to #7 here in town.
During 1960, Ricky Nelson was shooting a film titled The Wackiest Ship In The Army. Filmed in Pearl Harbor and the island of Kauai. The film's plot set during World War II, begins with Lt. Rip Crandall (Jack Lemmon), an expert yachtsman in civilian life, now based at Townsville, Queensland, Australia. He is surprised to be assigned command of a sailing ship, the USS Echo. The only crew member who knows how to work a ship with sails is eager young Ensign Tommy Hanson (Ricky Nelson), who cost Crandall a yacht race with a error in that race before the war.
In 1961 Ricky Nelson dropped the "y" from his name on his 21st birthday. Nelson was back at #1 in 1961 with "Travelin' Man"/"Hello Mary Lou". He enjoyed further successes on the pop charts in the early 60's. These included Top Ten hits in Vancouver: "A Wonder Like You", "Teenage Idol" and "It's Up To You". A final Top Ten hit in Vancouver in 1963 was a double-sided disc: "Gypsy Woman"/"String Along".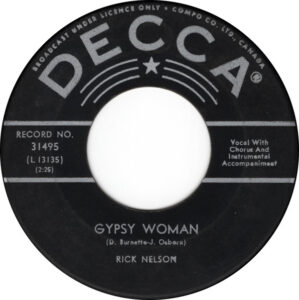 "Gypsy Woman" was cowritten by Dorsey Burnette and session musician Joe Osborne. Dorsey Burnette was born in 1932 in Memphis, Tennessee. He played bass in his younger brother Johnny Burnette's rockabilly Rock 'n Roll Trio. Dorsey became a solo artist and had a few minor hits in the late 1950s and early 1960s. His biggest hit was in 1960 with "Tall Oak Tree" that peaked in the Top 30 in the USA and #15 in Vancouver. Dorsey Burnette is best known for writing over 350 songs. Together, with his brother Johnny and their friend Paul Burlison, they began performing in 1951 as the Rock and Roll Trio. While Dorsey worked at Crown Electric there was a guy who worked odd jobs there called Elvis Presley who was a few years younger.
Dorsey moved to California after turning down an invitation to appear on the Louisiana Hayride. The brothers audaciously stepped up the street where Ozzie and Harriet Nelson lived in Beverley Hills and asked to speak to their son, teen idol Ricky Nelson. At that moment Ricky Nelson came up the driveway in his motorcycle. Nelson asked Dorsey and Johnny to perform in front of him on the spot. Ricky Nelson recorded Burnette's "Waiting' In School", "It's Late", and "Believe What You Say". This songwriting success led to a record deal with ERA Records.Dorsey wrote his first Top 30 hit, "Tall Oak Tree" – a song Nelson and turned down – in 1960. His follow-up, "Hey Little One", peaked at #48 on the Billboard Hot 100 in 1960, but climbed to #13 in Vancouver in 1960, and #14 for a second chart run in 1963. At the age of 46 he died in his California home of a heart attack in 1979.
"Gypsy Woman" concerns the narrator seeking out a gypsy to find out is she can reveal where his "baby" has gone. All he can tell the gypsy woman is that suddenly, one night, his "baby" left him like the wind. He doesn't know, but suspects, that the reason she left was because of him. And he'd like to know if his suspicions are correct. As well, he'd like the gypsy woman to look in her crystal ball and find out if the gypsy sees the couple back together.
Between the 9th and 14th centuries, groups of Roma people migrated from India to Europe, bringing with them a nomadic lifestyle and a belief in mysticism. This put the Roma people at odds with the Catholic church and they were ostracized. The Catholic church was particularly upset about the Roma, or "gypsy" as they came to be known, and their fondness for fortune telling. Predicting the futures of folks in need of desperate situations became a big source of income for these immigrants when traditional employment was hard to come by. Gypsies used crystal balls to predict the fortune of their customers for two reasons — the Europeans were already aware of crystal balls so they bought into the mysticism surrounding them, and they were portable so a gypsy could set up a fortune-telling stand with ease.
"Gypsy Woman" peaked at #6 in Vancouver, Spokane (WA), Chicago and Milwaukee (WI).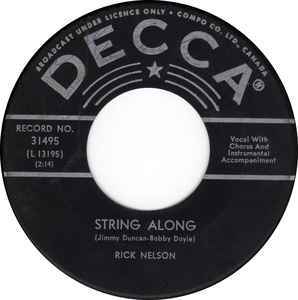 "String Along" was cowritten by Jimmy Duncan and Bobby Doyle. The song had been a Top 40 hit, peaking at #39, for Fabian in 1960. Duncan was born in Houston, Texas, in 1927 and had penned the 1957 Bobby Helms country-pop crossover hit "My Special Angel". Doyle was also born in Houston, in 1939. In 1957, at the age of 17 Doyle joined a doo-wop group named The Slades. They recorded a song titled "You Cheated". However, due to poor distribution the song stalled on the Billboard pop chart at #42. It was successfully covered by the Los Angeles doo-wop group the Shields, whose version climbed to #12 on Billboard. In 1972 Doyle would replace David Clayton-Thomas in Blood, Sweat & Tears.
"String Along" is a song about someone who keeps dating a person they bring with them to parties. While they feign interest in their company, the 'string along' finds themselves alone at the party. By the end of the song the 'string along' is warning that if they're treated "wrong" they'll go find someone whose love is strong. It seems the 'string along' is putting two and two together. And they are ending up with the short end of the stick.
"String Along" peaked at #1 in Stockton (CA), #3 in Toronto, #5 in Vancouver and Redding (CA), #6 in Milwaukee (WI), #7 in Pittsburgh, #8 in Erie (PA), Waco (TX), and Cincinnati, and #9 in San Diego.
In Vancouver "Gypsy Woman"/"String Along" was a C-FUN Twin Pick hit of the week on May 11, 1963. Then "Gypsy Woman" charted on the C-FUNTASTIC FIFTY from May 18th to June 8th on its own. Both sides charted at #6 on June 15th, and then "String Along" charted on its own from June 22nd until July 20th.
By early 1964, Nelson had his last Top Ten hit in the USA that decade titled "For You". His final Top Ten hit in Vancouver (BC), "Your Kind Of Lovin'", was a hit in 1966.
In 1967 Vancouver's premiere supper club was The Cave. Opened in 1938 at 626 Hornby Street, patrons could enjoy a delicious dinner between 5:30 p.m. and 7:30 p.m. A menu at the time offered a choice of appetizers: crab meat cocktail or fruit cocktail, followed by "daily soup" or tomato juice. Entree options included fried filet of sole, roast sirloin of beef, grilled pork chops, filet mignon, fried half spring chicken and roast duckling. With each of these dishes came carrots and peas, and mashed potatoes. And for dessert: jello with whipped cream and milk. At the start of 1967, The Cave printed a poster featuring an upcoming booking with "Mister Entertainment," Wayne Newton. On the bottom of the poster was the following notice: "Opening Wed. Feb. 15th for 10 days only Ricky Nelson." Though Nelson had changed credits on his records in 1961 from Ricky to Rick, in 1967 The Cave (and likely other venues) were still billing him as "Ricky."
In Vancouver (BC) Ricky Nelson managed to chart a single for 208 weeks out of 347 in a six and a half year span, starting in May 1957. His last hit was titled "Garden Party" in 1972. On September 5, 1976, Rick Nelson and the Stone Canyon Band appeared in concert at the Pacific Coliseum in Vancouver. Nelson died in a small plane accident on December 31, 1985.
January 20, 2021
Ray McGinnis
References:
Ricky Nelson and Dean Martin, "My Rifle, My Pony And Me," Rio Bravo, 1959.
The Adventures of Ozzie and Harriet, ABC, 1952-66.
Penny Pagano, "Probe Discounts Drugs as Cause of Air Crash That Killed Rick Nelson," Los Angeles Times, May 29, 1987.
Editors – Rolling Stone. "Rick Nelson – biography," The Rolling Stone Encyclopedia of Rock & Roll, (Simon & Schuster, 2001).
The Burnette Brothers, Rockabilly Legends.com
Rob Grayson, "The Boxing Burnette Brothers Pack A Pop Punch," WKNO-FM, Cordova, TN, November 22, 2011
Frank Hoffman, "Dorsey Burnette," Survey of American Popular Music.
"C-FUNTASTIC FIFTY," CFUN 1410 AM, Vancouver, BC, June 15, 1963.
"C-FUNTASTIC FIFTY," CFUN 1410 AM, Vancouver, BC, June 22, 1963.
For more song reviews visit the Countdown.