#260: Harper Valley PTA by Ricky Page
Peak Month: September 1968
7 weeks on Vancouver's CKLG chart
Peak Position #1
Peak Position on Billboard Hot 100 ~ did not chart
YouTube.com: "Harper Valley PTA"
Lyrics: "Harper Valley PTA"
Ricky Page was born June Evelyn Kuykendall in 1929, in Lindsay, Oklahoma. She was one of five children. She recalled in an interview in 2005 that she began singing from the age of two. She remembers singing along to the radio, as her family couldn't afford a record player. They also had hoe downs. She moved to Fresno, California, and worked at a Jewish Deli. It was there that she met George Motola, an LA producer of R&B singer Jessie Belvin, The Shields and other acts. Motola left her a five dollar tip for serving him a milkshake. They were subsequently married and she began to write songs credited to Riki Page. In 1957 Page was the only singer for a recording act billed as The Georgettes. When the Georgettes appeared in concert, several other women would be hired to perform though they were never at the recording studio. The Georgettes were named after George Motola who cowrote a rockabilly song "Love Like A Fool". It made airplay in San Francisco and Los Angeles in November 1957. And in early 1958 charted to #15 in Buffalo, as well as Top 30 in Phoenix and Houston, and the Top 40 in Toronto.
In 1958 a friend of Page's and George Motola was Eddie Cochran. When Cochran heard a song they had written titled "Johnny, Johnny, Johnny", he asked if he could record it and he changed the song title to "Jeannie, Jeannie, Jeannie". The song charted to #94 on the Billboard Hot 100 in 1958. Page recalls doing some uncredited backup singing on one of Cochran's albums in the late '50s.
In 1961 she recorded a song titled "I Understand Just How You Feel", which was a cover of the Four Tunes #8 hit from 1954. Her cover charted to #15 in San Francisco in the fall of '61. In 1962, Page was a backing singer for Darlene Love's recording of "He's A Rebel". As well, she was a member of the Crypt-Kickers, who backed Bobby "Boris" Pickett on his number-one hit in the fall of 1962 titled "Monster Mash". The Crypt-Kickers also included Leon Russell and Gary S. Paxton.
In late 1962 Rickie Page was the lead vocalist in the Majorettes, backed by her three young daughters. They released "White Levi's (Tennis Shoes…Surfin' Hat and Big Plaid 'Pendleton Shirt')". In early 1963 the song charted to #3 in San Francisco, #5 in San Jose (CA), #9 in Modesto (CA), and the Top 20 in several radio markets in Texas and New Hampshire.
In 1964 Ricky Page sang backup for The Bermudas, a girl group comprised of her three daughters: Rebecca "Becky," Joanna, and Sheilah. Her daughters appeared on American Bandstand in 1964 to perform "Donnie", a #12 hit in Vancouver in May '64. In the fall of 1964 Ricky Page and her three daughters recorded as Becky And the Lollipops a song titled "I Don't Care (What They Say)". It made the Top 20 in Fresno, California. As well, Ricky Page did some work in the studio with the Righteous Brothers.
In the fall of 1965 Ricky Page and George Motola moved with their family to Nashville. At that point Page started to record some country songs. She appeared on Hee Haw in 1967 and in 1968 did a cover of the Jeannie C. Riley song "Harper Valley P.T.A."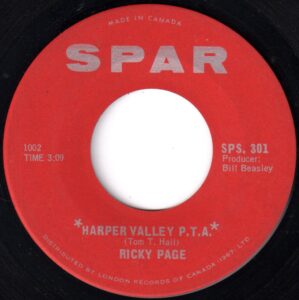 "Harper Valley P.T.A." is a song written by country singer-songwriter Tom T. Hall. He was born Thomas Hall in 1936 in rural northeastern Kentucky. In his teens, Hall formed a band called the Kentucky Travelers that warmed up audiences before movies for a traveling theater. While with the United States Army, Hall was heard on the Armed Forces Radio Network where he performed comic songs he'd written about life in the Army. After serving time in the Army, he studied in college and went on to become a DJ at several radio stations in rural West Virginia. In 1964 country singer Jimmy C. Newman recorded Hall's song "D.J. for a Day". The song climbed to #9 on the Billboard Hot Country Songs chart. Hall moved to Nashville in '64, began working for a publishing company and added "T." to his name, becoming Tom T. Hall.
"Harper Valley P.T.A." is a song about Mrs. Johnson, a "Harper Valley widowed wife." Her teenage daughter is a student at the junior high school. The daughter comes home one day with a note for her mother signed by the PTA secretary, in which they scold her for "wearing your dresses way too high." The PTA also takes exception to Mrs. Johnson for her reportedly drinking excessively and running around with scores of men. The PTA objects that she shouldn't be raising her daughter in this environment. Indignant, Mrs. Johnson decides to pay an unannounced visit to the PTA, who just happened to be holding a meeting the afternoon she received their letter.
Tom T. Hall recalls that the inspiration for the song was a request by country singer Margie Singleton for him to write a story song similar to "Ode To Billie Joe", a big hit for Bobbie Gentry. After driving past a school called Harpeth Valley Elementary School in Bellevue, Tennessee. This was near Hall's hometown of Franklin, Tennessee. Hall noted the name "Harpeth Valley" and changed it when he started to compose his song to "Harper Valley." Hall reportedly first offered the song to Skeeter Davis (singer of the 1963 hit "The End Of The World"), who declined.
In 2005, Hall noted that he had witnessed a similar scenario when he was a child in Olive Hill, Kentucky, in the mid-1940s; the mother of one of Hall's classmates had drawn the ire of local school board members for her modern ways, and the school was taking out their frustrations on her daughter. The mother gave a verbal tongue-lashing at the school, an iconoclastic move that was unheard of at the time.
To the PTA's surprise, Mrs. Johnson, again wearing a miniskirt, walks in and addresses the meeting, exposing a long list of indiscretions on the part of the members, most of whom were in attendance:
Bobby Taylor, who, aroused by her mini-skirt, had asked Mrs. Johnson for a date seven times (Mrs. Johnson also mentions Bobby's wife, who "seems to use a lot of ice" in his absence, the implication being that she is entertaining her own lover while her husband is out);
Mr. Baker, whose secretary had to leave town for an undisclosed reason (the implication being that she was pregnant with his child);
Widow Jones, who leaves her window blinds wide open and little to onlookers' imaginations;
Mr. Harper, who was absent from the meeting because "he stayed too long at Kelly's Bar again"; and
Shirley Thompson, who also has a drinking problem, as evidenced by gin on her breath.
Mrs. Johnson then rebukes them for having the audacity to declare her an unfit mother, referring to the town as "a little Peyton Place" and labeling the PTA a bunch of hypocrites.
In the final stanza of the song, Riley states that the story is true, and in the final line identifies herself as the daughter of Mrs. Johnson when she sings, "…the day my mama socked it to the Harper Valley PTA".
For his part, Tom T. Hall went on to record over twenty Top Ten hits on the Billboard Hot Country Songs chart. These include his number-one hits "A Week in a Country Jail", "(Old Dogs, Children, and) Watermelon Wine", "I Love", "I Care", "Faster Horses (The Cowboy and the Poet)" and his hit "I Like Beer".
Though Jeannie C. Riley had the bigger hit, Ricky Page's version of "Harper Valley PTA" peaked at #1 in Vancouver (BC), #2 in Seattle, and #4 in Spokane (WA).
In 2005 when she was interviewed by blogger Dik de Heer, Ricky Page said she was "still writing and singing sporadically." She had collaborated with her two sisters to record some "inspirational" music between 2000 and 2005. And more recently were performing on occasion doing A cappella songs from the 19th and early 20th centuries.
September 8, 2021
Ray McGinnis
References:
Craig Shelburne, "In the Words of Tom T. Hall … The Storyteller" Comes Out of Retirement for Concerts at Country Music Hall of Fame and Museum," Country Music Television, August 2, 2005.
Dik De Heer, "Ricky Page Interview: This Is My Story," 2005.
The Georgettes, "Love Like A Fool", Ebb Records, 1957.
Rickie Page, "I Understand Just How You Feel", Colin Records, 1961.
The Majorettes, "White Levi's (Tennis Shoes…Surfin' Hat and Big Plaid 'Pendleton Shirt')" Troy Records, 1962
The Bermudas, "Donnie", American Bandstand, May 2, 1964.
"Boss 30," CKLG 730 AM, Vancouver, BC, September 13, 1968.
For more song reviews visit the Countdown.