#877: Help Me Girl by the Animals
Peak Month: December 1966
8 weeks on Vancouver's CKLG chart
Peak Position #4
Peak Position on Billboard Hot 100 ~ #29
YouTube: "Help Me Girl"
Lyrics: "Help Me Girl"
Eric Victor Burdon was born in 1941 in Newcastle Upon Tyne, England. He was born into a working class family. Due to the river pollution and humidity in Newcastle he suffered asthma attacks daily. During primary school, Burdon writes in his memoir, Don't Let Me Be Misunderstood, he was "stuck at the rear of the classroom of around 40 to 50 kids and received constant harassment from kids and teachers alike". He goes on to say his primary school was "jammed between a slaughterhouse and a shipyard on the banks of the Tyne. Some teachers were sadistic…and sexual molestation and regular corporal punishment with a leather strap was the order of the day." In his song "When I Was Young", he states he met his first love at 13, who was very experienced while he was not. He also says he smoked his first cigarette at 10 years old and would skip school with his friends to drink.
Eric Burdon got turned on to jazz and blues and went to an art school. In 1962 he joined the Alan Price Rhythm and Blues Combo, which Price (on keyboards) had formed in 1958. The other bandmates had joined in 1959: Chas Chandler on bass guitar, John Steel on drums, and Hilton Valentine on guitar. Burdon now offered lead vocals.
The Animals had a huge international hit in 1964 with "House Of The Rising Sun". That year the band also appeared in the teen flick Get Yourself a College Girl, along with Nancy Sinatra, Donnie Brooks, the Standells, the Dave Clark Five, Stan Getz and Astrud Gilberto. The Animals were featured in the 1965 film Pop Gear (titled Go Go Mania in North America), where they sang "House Of The Rising Sun". The film was about the British Invasion and Beatlemania, featuring footage of the Beatles, Herman's Hermits, Billy J. Kramer and the Dakotas, the Honeycombs, Peter and Gordon, the Spencer Davis Group, the Nashville Teens and others.
Later in 1964 the Animals had a #7 hit with "I'm Crying" (#19 in the USA) and then #9 hit in Vancouver (BC) with "Boom Boom", which stalled at #43 on the Billboard Hot 100. In early 1965, fourth single in a row, "Don't Let Me Be Misunderstood", climbed into the Top Ten in Vancouver at #8 (and #15 on the Billboard Hot 100). Then, "Bring It On Home To Me" peaked at #12 in Vancouver in June '65, but failed to crack the Top 30 on the Billboard charts.
Alan Price, frustrated by his bandmates focus on sex and drugs, recalls "I couldn't get them to rehearse and I kept bugging them, which they didn't like at all." Price left the Animals in the spring of 1965. In the summer of 1966 the Alan Price Set had a #12 hit with a cover of Screaming Jay Hawkins' "I Put A Spell On You".
The Animals single releases continued to outperform their chart runs in the USA with Vancouver taking "We Gotta Get Out Of This Place" too #5 in September '65. While "It's My Life" also peaked in Vancouver at #5, but stalled at #23 on the Billboard Hot 100.
Chas Chandler and Hilton Valentine left the Animals in September 1966. As the band reformed, Burdon shifted their sound from blues-rock to psychedelic rock. The first new edition to the band was Barry Jenkins, who replaced John Steel on drums in March '66. Steel left due to exhaustion from the concert schedule. Colin Ernest "Barry" Jenkins was born in Leicester, England, in December 1944. In 1963, at the age of 18, Jenkins joined the Nashville Teens which had formed in Surrey in September '62. The band went on to have a #6 hit on the UK singles chart in 1964 titled "Tobacco Road", penned by John D. Loudermilk. Jenkins was in the recording studio with the Animals for sessions on their Animalization album which featured the hit singles "Don't Let Me Down" (#6 in Vancouver, #12 Billboard) and "See See Rider" (#5 in Vancouver, #10 Billboard). Jenkins was also in the studio for the album Animalism.
Before other new members of the band joined, Jenkins was in the studio with Eric Burdon to record "Help Me Girl" (#4 in Vancouver, #29 Billboard).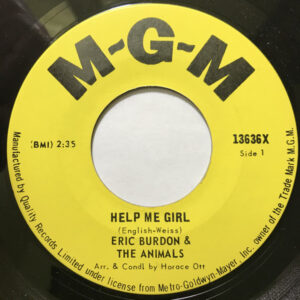 "Help Me Girl" was cowritten by Scott English and Larry Weiss. English was born in Brooklyn, New York, in 1937. He released his first single when he was 17 years old in 1960 called "4,000 Miles Away". It didn't crack the Billboard Hot 100. In the winter of 1963 he had a regional hit that reached the Top Five in Los Angeles, San Bernardino, San Francisco, Pittsburgh, Columbus (OH) and Springfield (MA). It was called "High on a Hill". In 1967 English and Weiss cowrote "Bend Me, Shape Me", a #5 hit for the American Breed in the USA. It was covered by the Amen Corner and peaked at #3 in Britain. English produced the debut self-titled album by the Irish rock band, Thin Lizzy, in 1971. The same year he released a single he co-wrote called "Brandy". Four years later English got lots of royalties from record sales of a Barry Manilow cover of "Brandy" retitled "Mandy". He died in England in November 2018 at the age of 81, due to hip surgery complications.
Larry Weiss was born in Newark, New Jersey, in 1941, and was raised in Queens. He had his first major success as a songwriter when Nat "King" Cole recorded "Mr. Wishing Well" in 1963. At the time Weiss was also penning songs recorded by Baby Washington, The Shirelles, Chuck Jackson, Dionne Warwick, Lenny Welch, Gene Pitney, The Toys, O.C. Smith, Paul Anka, P.J. Proby, Pete Flint Quintet, Dusty Springfield, Ike & Tina Turner, Ruby and the Romantics, and "Trying To Forget You" – the B-side to "That Greasy Stuff" by Janie Grant. Weiss' biggest success was penning "Rhinestone Cowboy", a number-one hit for Glen Campbell in 1975.
"Help Me Girl" is a song about a guy who has a "biting, gnawing deep inside". He tells the female he's wild about to help him because he's "going insane." The "help" he needs is to have someone steady in his life who can "be my reality" and comfort him. Also on the pop charts in December 1966 was "I Need Somebody" by Question (?) Mark and the Mysterians. The song also conveyed the urgency a single and sexually virile young man feels when he's without a partner to make love with.
"Help Me Girl" climbed to #3 in Los Angeles and Burbank (CA), #4 in Vancouver (BC), Bakersfield (CA), San Jose (CA), San Antonio, Sacramento, Denver and San Francisco, #5 in Portsmouth (NH) and Providence (RI), #6 in San Bernardino (CA) and Lowell (MA), #7 in San Diego and Rapid City (SD), #8 in Eugene (OR) and Phoenix, and #9 in Boston and Las Vegas.
Other tracks on the Eric Is Here album included the Randy Newman penned "Mama Told Me Not To Come" – a hit for Three Dog Night in 1970 – and "I Think It's Going To Rain Today", a hit for Tom Northcott in early 1971.
Vic Briggs joined the band in November 1966 on guitar and piano. Victor Harvey Briggs III was born in 1945 in suburban south west London. He learned guitar in his youth and was part of a backing band for Jerry Lee Lewis when the American rock 'n roll star was on tour in the UK in 1962. Later the Echoes, which he rejoined in 1965, were a backing band for Dusty Springfield. Briggs and others in the band were in the studio for the recording of the 1965 album Ev'rything's Coming Up Dusty.
Late in 1965 Vic Briggs joined Steampacket, at the invitation of Long John Baldry. Also in the band were Rod Stewart and Julie Driscoll. After Stewart was fired from the band, and Baldry left, it continued as Brian Auger's Trinity. In 1966 they backed Johnny Hallyday on an album that resulted in a French cover of the Los Bravos song "Black Is Black". In the fall of '66, at a concert at the Paris Olympia, Brian Auger's Trinity were on stage, along with Jimi Hendrix. Michael Jeffrey, who managed Hendrix, also managed Eric Burdon, and invited Vic Briggs to join Burdon's reformed band.
Another new bandmate with Eric Burdon was John Weider. He was born in London in 1947 and was raised Jewish. Weider joined the Steve Laine Combo in his teens, who were a backing band at the Flamingo in Soho, for Georgie Fame and others. In 1964-65 Weider was a member of Johnny Kidd & the Pirates, a band with the number-one UK hit in 1960 titled "Shakin' All Over". Later in 1965 Weider joined John Mayall & the Bluesbreakers. And in 1966 Weider was with Jimmy Winston and His Reflections. He was invited to join Eric Burdon and the Animals in November 1966, on guitar and violin.
Rounding out the new lineup was Daniel Joseph "Danny" McCulloch. He was born in London in 1945 and by age eleven in the fall of 1956, was playing skiffle music. He appeared in public at The Carroll Levis Talent Show. His first band was The Avro Boys, from Shepherd's Bush (West London), who became Tony Craven & The Casuals in the late 1950s. In 1960, The Casuals linked up with new singer Frankie Reid. McCulloch stayed with the band until October 1962. During his time with Frankie Reid & The Casuals, one of the band's drummers was Mitch Mitchell, who became part of Jimi Hendrix's band. McCulloch was part of several bands into the mid-60s, and was playing with the Carl Douglas Set (Carl Douglas of "Kung Fu Fighting") until Eric Burdon invited him to join the Animals later in '66.
Eric Burdon and the Animals released "When I Was Young", cowritten by the bandmates. It became a Top 20 hit for the band in the USA and Canada in the spring of '67.
In April 1967 Eric Burdon and the Animals appeared in the film It's a Bikini World. In the film they performed "We Gotta Get Out Of This Place". Other recording acts in the movie were the Gentrys performing "Spread It On Thick", the Toys singing "Attack", and the Castaways singing "Liar Liar".
From June 16 to 18, 1967, Eric Burdon and the Animals appeared in concert at the Monterey International Pop Music Festival. Sharing the stage were The Who, Jimi Hendrix, Jefferson Airplane, the Grateful Dead, Big Brother and the Holding Company featuring Janis Joplin, Otis Redding, The Mamas & the Papas, Simon & Garfunkel, Country Joe & the Fish, Canned Heat, Buffalo Springfield, Booker T. & the M.G.'s and more.
At the Monterey Pop Festival, Eric Burdon and the Animals performed "San Franciscan Nights". The single became a Top Ten hit, peaking at #9 on the Billboard Hot 100 and #2 in Vancouver. The B-side was "Good Times". Both "San Franciscan Nights" and "Good Times" subsequently were included as tracks on the October '67 album release Winds of Change.
"Monterey" was written by Eric Burdon about his experience of at the Monterey Pop Festival. It became another Top 20 hit in both Canada and the USA in the winter of 1967-68. From February 18 to 24, 1968, Eric Burdon & the Animals performed in concert in Vancouver (BC) at The Cave on seven consecutive nights.
In May 1968 Eric Burdon and the Animals released The Twain Shall Meet. The album contained the singles "Monterey" and "Sky Pilot". The latter song was a Top Ten hit in a number of Canadian radio markets and peaked at #14 on the Billboard Hot 100. Though it received airplay on CKLG in Vancouver – sometimes in its full length LP version – the song did not chart on the Boss 30.
In July 1968 Eric Burdon and the animals appeared in the documentary Tonite Lets All Make Love in London. The film included the Rolling Stones singing "Have You Seen Your Mother, Baby, Standing In The Shadow" and "Lady Jane". Chris Farlowe sings "Out Of Time"; And there are performances by Pink Floyd, the Small Faces, and interviews including with Michael Caine, Julie Christie and Allen Ginsberg.
In August 1968 Eric Burdon and the Animals released the album Every One of Us. The single "White Houses" cracked the Top 30 on the CKLG Boss 30 in Vancouver in December '68. And a double-album, titled Love Is, featured a cover of "River Deep – Mountain High". The song was the B-side to "White Houses", and separately charted into the Top 30 on the CKLG Boss 30 in November '68.
By early 1969 the band split up after the documentary Monterey Pop was released. In March '69 the band released a compilation album The Greatest Hits of Eric Burdon and The Animals, showcasing their hits from the 1966-68 lineup.
After the band split, Eric Burdon settled in California and joined forces with the funk band War. In 1970 they had a hit single titled "Spill The Wine". The song has been featured in the films Boogie Nights (1997), Deuce Bigalow: Male Gigolo (1997), and Remember the Titans (2000). Burdon left War in 1971. (Burdon reunited with War to perform in concert at Royal Albert Hall in 2008).
In '71 he formed the Eric Burdon Band and has released 18 studio albums, with the most recent in 2013 titled 'Til Your River Runs Dry. His last album to appear on the UK, American or Canadian album charts is Stop from 1975. In 1982 Burdon appeared in a semi-autobiographical film titled Comeback. And for three nights in a row Burdon gave concerts in the Commodore Ballroom from August 22-24, 1974.
Over the years Eric Burdon has appeared in collaboration variously with Bon Jovi, Ringo Starr, Billy Preston, Carl Carlton and others. In 2008 Rolling Stone ranked Eric Burdon at #57 on the list of the 100 Greatest Singers of all Time. Eric Burdon was also a friend of Jimi Hendrix, and had been married to Angie "Angela" King (Angela Burdon). She had left Eric Burdon for Jimi Hendrix and after their brief affair continued to socialize with Hendrix. Angela Burdon and Jimi Hendrix had an argument on his return from touring on August 27th, 1970. She and Eric Burdon were among the first to learn of Hendrix's death on September 18, 1970.
Vic Briggs was fired from Eric Burdon and the Animals in the summer of '68. He went on to produce records until 1970 when he left the music business to pursue a spiritual lifestyle. He changed his name to Antion Meredith, and began the study of Kundalini and Naad Yoga (the yoga of sound), as well as Sikh sacred music. From 1977 to 1990 he and his wife were directors of the Kundalini Yoga Ashram of San Diego, California. In 1993 the couple moved to the island of Kauai to study Hawaiian music and chanting.
Barry Jenkins did some session work after Eric Burdon and the Animals dissolved. For many years, Jenkins' principal occupation has been as the owner of Lukes Guitars. In 1992, he joined a reconstituted version of the Animals, including "New Animals" members Vic Briggs and Danny McCulloch.
Danny McCulloch was also fired from Eric Burdon and the Animals in late summer 1968. In the 1980s, McCulloch worked as a psychiatric nurse. He was part of Animals reunion bands in the 90s, and involved in a dispute with Mott the Hoople over licensing. Between 2000 and 2010, Danny McCulloch toured with a new Animals lineup called Animals and Friends. It was led by original drummer John Steel and organist Dave Rowberry (with the Animals from 1965-66). In 2015, at the age of 69, Danny McCulloch died from heart failure.
John Weider went on to join several bands and by 1976 released a self-titled solo album. To date he has released four solo albums. His more recent recordings have become associated with New Age music.
On April 18, 2015, Eric Burdon & the Animals appeared in concert at the Hard Rock Casino in the Vancouver suburb of Coquitlam.
May 1, 2021
Ray McGinnis
References:
Carinthia West, "How We Met: 46. Georgie Fame and Alan Price," Independent, October 22, UK, 2011.
"Dave Rowberry: Keyboard player with the Animals and the Mike Cotton Sound," Independent, UK, October 1, 2013.
"RIP The Animals' Danny McCulloch: Read A Moving Family Tribute," New Music Express, February 11, 2015.
Patrick Little, "John Weider Interview," Family Bandstand.com.
Eric Burdon, I Used To Be An Animal, But I'm Alright Now, (Faber & Faber, 1986).
Jeff Kent, Last Poet: Story of Eric Burdon, (Witan Books, 1989).
Concert at The Cave, Vancouver, BC, February 20, 1968, "Eric Burdon & the Animals," setlist.fm.
Lizza Connor Bowen, "Larry Weiss – Cuts and Scratches," Nashville Arts Magazine, November 2009.
"Scott English," Wikipedia.org.
"Boss 40," CKLG 730 AM, Vancouver, BC, December 17, 1966.
For more song reviews visit the Countdown.