#529: I Think It's Gonna Rain Today by Tom Northcott
Peak Month: January 1971
8 weeks on Vancouver's CKVN chart
Peak Position #4
Peak Position on Billboard Hot 100 ~ did not chart
YouTube.com:"I Think It's Going To Rain Today"
Lyrics: "I Think It's Going To Rain Today"
Tom Northcott is a Vancouver folk-rock singer with hits on the local pop charts from the mid-60s into the early 70s. He became known to a Canadian audience by his regular appearances on CBC Television's Let's Go music program in 1964-68. He was nominated as best male vocalist for a Juno Award in 1971. Later he co-founded Mushroom Studios in Vancouver and produced records. His hits are played regularly on Canadian oldies music stations.
Born in Vancouver in 1943, when he was in his teens Tom Northcott was gaining a reputation performing on the Vancouver coffeehouse circuit in the early '60s. In particular, he was a regular in the Kitsilano neighborhood, the nexus of the hippie scene north of San Francisco. In 1965, Northcott took over from Ronnie Jordan as the lead singer for the Vancouver Playboys, a group that wore identical suits. The Vancouver Playboys were an exciting new band that fused the Beatles look with music resembling of The Ventures (of "Walk Don't Run" fame). Northcott founded one of Vancouver's first labels, Syndrome Records. Warner Record executives in Los Angeles were amazed at Northcott's savvy and offered him distribution. While the Playboys toured the country that summer and fall, the label served home to their first single, "Cry Tomorrow". It was the first of eleven Top 30 hits on local AM radio stations in Vancouver.
But by the end of the year Northcott left the band. With a 12-string guitar, Northcott formed The Tom Northcott Trio with drummer Chris Dixon and Rick Enns on bass. They were soon regulars on CBC TV's Let's Go program. Meanwhile they were selling out the top clubs in the area like The Afterthought in Kitsilano. The Tom Northcott Trio traveled to California and played gigs in San Fransisco and Los Angeles. This exposure got them further performances as and they opened for The Who, The Doors and Jefferson Airplane. In December 1965 they released "Just Don't" to overall good reviews. It charted on both CKLG and CFUN peaking in January 1966. His next song, "Goin' Down", with the Tom Northcott Trio, has been reviewed at position #1138 on this Countdown.
His biggest hit song was the sunshine pop psychedelic tune, "Sunny Goodge Street" from 1967. The song, written by Donovan and first recorded on his album, Fairytale, became Tom Northcott's signature tune. (Donovan's signature tune, according to Wikipedia, is "Mellow Yellow" not "Sunshine Superman".)
For a follow up to his local success Northcott drew from American folk-singer, Harry Nilsson, and his song "1941", from his December 1967 album Pandemonium Shadow Show. Northcott quickly made his own recording. "1941" first appeared on the CKLG Boss 30 in Vancouver on January 13, 1968. Tom Northcott's subsequent hit single in Vancouver was "Girl From The North Country", written by Bob Dylan. He had more success in 1969 with "The Rainmaker". In 1970, he had another Top Ten hit in Vancouver titled "Crazy Jane". His next single release was "I Think It's Going To Rain Today".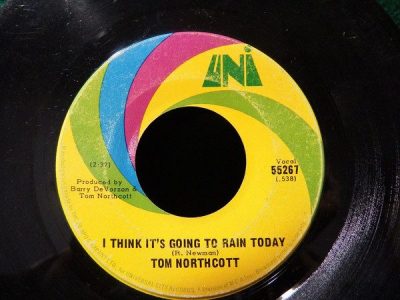 "I Think It's Going To Rain Today" was written by Randy Newman. He told Rolling Stone "This might have been 1964 or '63. I may have had the first two chords of the tune, where the voice starts. I have always loved those vanilla-kind of chords, straight-ahead Stephen Foster. And once I had a style, I crystallized it: The music is emotional – even beautiful – and the lyrics are not. The honest truth is the song bothered me because of the darkness – it felt sophomoric, too maudlin. But Judy Collins did a great version in 1966. UB40's 1980 cover was interesting. And I played piano for Barbara Streisand when she recorded it in 1970. Boy she had a great voice."
Maybe Randy Newman is correct about his lyrics. He offers listeners images in the first verse of "broken windows," "empty hallways", a "pale dead moon" and "sky streaked with grey." As the song moves into the second verse we hear about scarecrows with frozen smiles chasing love away. The third verse is about kicking a tin can down the street, a simile for how people treat their friends. A final verse introduces signs asking people to help the needy. Scattered throughout the song is the phrase "human kindness overflowing." Is this ironic? After the phrase appears we are left with "I think it's going to rain today." And so the human kindness that's overflowing, is also overflowing with human tears, like rain.
Sacred texts from antiquity advise followers to help the needy, the widow, the orphan. In the 15th century, the Scottish Parliament put vagrants into two categories: those fit for work and those who were not able-bodied. Beggars could be expelled from the area or jailed from 1449; and in further legislation passed during 1455 and 1477 beggars could be classified as thieves and executed. In 1579 the Scottish Poor Law Act of 1579 was put in place. The Act prevented paupers who were fit to work from receiving assistance and was reasonably successful.
In the following two centuries, when people fell upon hard times in Great Britain, and members of their family, friends or members of their church congregations could not provide enough assistance to tide them over, they made application to an elected local official called the Overseer of the Poor. Within a budget of tax money, he might provide them with food, fuel, clothing, or even permission to get medical treatment to be paid out of tax funds.From 1642 vagabonds were placed in poorhouses in cities like Aberdeen, Edinburgh and Glasgow, London, York, and Manchester. These poorhouses were funded by wealthy merchants or trade associations. It was here that vagrants were required to do work in return for accommodation and meals.
In the United States it was common to auction off the poor. People who could not support themselves, or their families, were put up for bid at public auction. In an unusual type of auction, the pauper was sold to the lowest bidder (the person who would agree to provide room and board for the lowest price) — usually this was for a specific period of a year or so. The person who got the contract got the use of the labor of the pauper for free in return for feeding, clothing, housing and providing health care for the pauper and his/her family. This was actually a form of indentured servitude. It resembled slavery. However, the arrangement was not for the pauper's entire lifetime.
Randy Newman was born to a Jewish family in 1954 and raised in New Orleans and Los Angeles. He wrote "Mama Told Me Not To Come", a huge hit for Three Dog Night in 1970. Newman went on to record his own hit single, "Short People" in 1976. He has released eleven studio albums.Newman has written scores for twenty-eight films between 1970 and 2019. Over the years Randy Newman has been nominated on twenty occasions for Academy Awards and won two of these. Both were for Best Original Song: in 2002 for "If I Didn't Have You" from the animated comedy Monsters Inc., and in 2011 for "We Belong Together" from Toy Story 3. Randy Newman has also been nominated on sixteen occasions for a Grammy Award. He has won twice for Best Instrumental Composition, three times for Best Song Written for a Motion Picture, Television or Other Media, once for Best Score Soundtrack Album and once for Best Arrangement, Instrumental and Vocals. In 2002 he was inducted into the Songwriters Hall of Fame.
"I Think It's Going To Rain Today" climbed to #4 in Vancouver (BC).
In 1971 Tom Northcott had his final Top 30 hit in Vancouver, "Spaceship Races", which missed the Top Ten peaking at #15. The song was written by the songwriting team of Gerry Goffin and Carole King. The week "Spaceship Races" peaked on the CKLG and CKVN charts, Carole King's double-sided single "It's Too Late/"I Feel the Earth Move Under My Feet", and her album, Tapestry, were number one single and album on those local charts.
Northcott changed careers in the early 1970s and got a license to become a commercial fisherman in British Columbia. At the end of the decade Northcott ran for public office under the banner of the Social Credit Party of British Columbia in the New Democratic Party stronghold of East Vancouver. He lost the campaign. Once again he switched careers and, after studying law at university, he specialized in maritime and admiralty law. Northcott is now retired and living in Kamloops, British Columbia.
November 22, 2019
Ray McGinnis
References:
Mark Allan, Ron Grahame, Susan Jacks, Dennis McFadden, Fred Robinson, Tom Northcott, Canadianbands.com
Dennis MacFadden, Vancouver Playboys ~ Pacific Northwest Bands, October 2008.
David Fricke, "Randy Newman: My Life in 15 Songs," Rolling Stone, September 15, 2017.
Jean Lindsay, The Scottish Poor Law, (Stockwell, 1975).
"Randy Newman: Award-winning Film Composer, Arranger, Pianist with Distinctive Style," Songhall.org.
"Your Average Rock & Roll Radio Survey," CKVN 1410 AM, Vancouver, BC, January 22, 1971.
For more songs reviews visit the Countdown.