#380: Hot Love by T. Rex
Peak Month: May 1971
7 weeks on Vancouver's CKVN chart
Peak Position #2
Peak Position on Billboard Hot 100 ~ #72
YouTube: "Hot Love"
Lyrics: "Hot Love"
Marc Bolan was born Mark Feld in 1947 – in Stoke Newington, a town in the borough of Hackney, in northeast London. His father, Simeon Feld, was an Ashkenazi Jew whose roots went back to Russia and Poland. His mom's heritage was English. In September 1956, when he turned nine, Mark Feld was given a guitar and started a skiffle band. By around November of 1958 Feld played guitar in a trio called "Susie and the Hula Hoops", inspired by a fad that began in July '58 when 100 million plastic hoops were sold worldwide by mid-December '58. Their singer was a 12-year-old girl named Helen Shapiro, who at the age of 14 had her first Top Ten hit in the UK in February 1961 with "Don't Treat Me Like A Child" – followed by others including "Walking Back To Happiness" and "Tell Him What He Said". In 1962 Mark Feld was interviewed by Town magazine and featured in a number of photos – along with several of his friends – about the new mod scene.
By early 1963, Feld was expelled from school for bad behavior. He started wearing make-up, hanging out at Scene Club in Soho. The Rolling Stones and The Who both performed at the Scene Club early on, and Pete Townsend said in an interview "I remember Marc Bolan with full make-up on, working as a rent boy to buy clothes, in and around the Scene Club. He was about 15." In 1964 Feld did some modeling for Littlewood's Catalogue for a brochure for menswear retailers John Temple. He is reported as saying that he was also a cutout model for the John Temple shop window displays too. He was soon known around town as a "John Temple Boy", with his recognizable face.
In 1964 he recorded a song titled "All at Once" that was released posthumously in 2008. The song was in the style of UK hit-maker Cliff Richard. Feld dressed as an elegant hippie in an emerging fashion-style being called Boho-chic. He wore a corduroy peaked cap, like he'd seen Bob Dylan wear in magazines. For awhile Feld became known as Toby Tyler and recorded more material – including a cover of Dylan's "Blowin' In The Wind" – that was released in 1993. In 1965 Toby Tyler (aka Mark Feld) got a record contract with Decca Records. He was so taken with Bob Dylan that it was decided at Decca to give him the stage name Marc Bolan – "Bo" from "Bob," and "lan" from "Dylan."
In the spring of 1965 Bolan appeared as an extra in the British TV series Orlando as a mod. In November 1965, Marc Bolan released his first single with Decca titled "The Wizard". Several more singles followed with little commercial success. In 1967 Bolan joined John's Children – a psychedelic rock band who had a Top 20 hit in Vancouver in the winter of 1966-67 titled "Smashed Blocked" – and wrote their 1967 single "Desdemona". John's Children got airplay on the pirate ships Radio Caroline and Radio London, but were banned on the BBC.
John's Children split up in May 1967 after a disastrous April tour to Germany with The Who, when they were fired part way through. Later in 1967 Bolan founded a psychedelic folk group called Tyrannosaurus Rex, influenced by Donovan, Bob Dylan and others. The lyrics to the band's songs were otherworldly, as evidenced on their first album released in July 1968 titled My People Were Fair and Had Sky in Their Hair… But Now They're Content to Wear Stars on Their Brows. Productive in their artistry, the band released a second album in October 1968 titled Prophets, Seers & Sages: The Angels of the Ages. A third album, Unicorn, began to be recorded in November '68, and was released in May 1969. Billed as Tyrannosaurus Rex, a final album was released in 1970 – A Beard of Stars – featuring electric guitar.
While there were a few lineup changes in Tyrannosaurus Rex, by the third album Bolan's band included Mickey Finn. Finn was born Thornton Heath in Surrey, England, in 1947. From 1967 to 1969 he was a sideman with the avant-garde band Hapshash and the Coloured Coat. After A Beard of Stars, the band changed its name to T. Rex. With the name change came more lineup changes.
Steve Currie was born in 1947 in Grimsby, England. After high school he got work at a local tax office, and joined a The Rumble Band. He joined T. Rex in November 1970. Currie played bass guitar. In addition their was new bandmate Bill Legend. Legend was was born William Arthur Fifield in 1944 in the East London district of Barking. After high school, Bill Fitfield worked as a commercial artist and was a drummer in several bands. One of these bands was named Legend. Marc Bolan heard Bill Fitfield perform at a Legend concert, and soon arranged for the drummer to audition for T. Rex. It was Bolan who suggested Bill go with Legend as his surname on stage.
In 1970 T. Rex had a #2 hit non-album single on the UK chart titled "Ride A White Swan". It was featured in the 2000 film Billy Elliot. They followed up in 1971 with another non-album single released titled "Hot Love".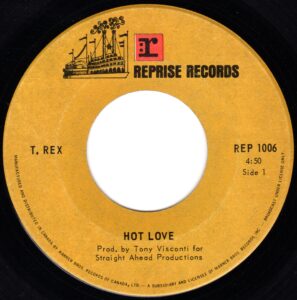 "Hot Love" was written by Marc Bolan. The song is about a guy's "woman of gold." In the song we learn the following about her: a) she's not very old, b) he loves "the way she twitch," c) she's "faster than most," and d) she lives on the coast. In addition we learn these things about the boyfriend in the song: a) he's a "two-penny prince," b) he's a labourer of love, and c) he has Persian gloves. Of the later detail, "gloves" are urban slang for condoms. But, many listeners may have taken the reference to literally mean a pair of Persian gloves: Persian/Iranian gloves knit by shepherds from the fingertips down to cuffs (or for those with more expensive taste, Persian lamb gloves). Of course, when labouring in the art of lovemaking, it is a bit challenging in bed having on a pair or wool or lambs wool gloves.
Also appearing as backing vocalists on "Hot Love" were Howard Kaylan and Mark Volman, formerly of the American pop group The Turtles. Kaylan and Volman would also provide backing vocals for all of the hit singles by T. Rex from "Hot Love" in 1971 to "Solid Gold Easy Action" in late 1972.
"Hot Love" peaked at #2 in Vancouver (BC), #5 in Chilliwack (BC), #6 in Winnipeg (MB), and #7 in Seattle. Internationally, "Hot Love" peaked at #1 in the UK, Ireland, #3 in Lourenco Marques, Mozambique, and #4 in Australia.
In 1971, T. Rex released their first album billed as T. Rex titled Electric Warrior. From the album came the debut single "Get It On". It peaked at #1 on the charts in the UK and Ireland, climbed to #3 in West Germany and Switzerland, and #6 in Norway. However, as there was a jazz-rock band in America in 1971 named Chase who had a Top 30 single titled "Get It On", T. Rex changed the song title for North American distribution to "Bang A Gong (Get It On)". In Canada the single was a Top Ten hit in Toronto, Windsor (ON), and stalled in Vancouver (BC) at #12. While in the USA the single peaked at #10 on the Billboard Hot 100. The single was featured in the 2000 film Billy Elliot, the 2005 war drama Jarhead and the 2008 heist thriller film The Bank Job. But a second track released as a single from the album – "Jeepster" which became a #2 hit in the UK – barely registered in North America. It was later featured in the 2007 exploitation slasher film Death Proof.
In January 1972 T. Rex released a single from their album The Slider titled "Telegram Sam". It quickly rose to number-one in both the UK and Ireland. But it too barely registered on the charts in North America. Another album track, "Metal Guru", repeated the chart-topping feat of its predecessor – as well as peaking at #10 in Australia. However, it also was off the radar in North America, though it managed to crack the Top 30 on CKLW in Windsor (ON) in July '72. The single was featured in the 2005 sports-comedy film Herbie: Fully Loaded. Then in September '72 T. Rex released a non-album single titled "Children Of The Revolution" which climbed to #1 in Ireland, #2 in the UK, #4 in West Germany, #11 in Australia and #14 in Spain. But in North America the single was kept off-the-grid. The song was later featured in the 2000 dance-drama film Billy Elliot, the 2001 film Moulin Rouge! and 2005 comedy-drama Breakfast on Pluto. The year ended with another #2 hit in the UK titled "Solid Gold Easy Action". It climbed to #2 in the UK, #4 in Ireland, #5 in Norway, #6 in West Germany, and #13 in Austria. Once again North America DJ's didn't program the single on their airwaves. In 2007 "Solid Gold Easy Action" was featured in the British crime-comedy Hot Fuzz.
T. Rex continued to be popular in Europe in 1973 with "20th Century Boy" peaking at number-one in Ireland, #3 on the UK singles chart, #8 in West Germany and #9 in Norway. The single was featured in the 2005 skateboarding film Lords of Dogtown, and the 2006 fantasy-comedy film Click. Later that year T. Rex had their last Top Ten hit in the UK with "The Groover". This was followed with another non-album single titled "Truck On (Tyke)". It stalled on the UK charts at #12. In 1974 T. Rex released the album Zinc Alloy and the Hidden Riders of Tomorrow. A single titled "Teenage Dream" made it to #13 in the UK. In 2010 "Teenage Dream" was featured in the film Scott Pilgrim vs. the World.
On October 21, 1974, T. Rex performed in concert in Vancouver at the Pacific Coliseum.
Though Bill Legend and Mickey Finn left the band in 1974, the early 1975 release of Bolan's Zip Gun (Light Of Love in North America) included all of the classic T. Rex lineup. A seventh studio album, Futuristic Dragon, included the UK Top 20 hit single "New York City". And in 1976 the band had a final Top 20 on the UK charts titled "I Love To Boogie". It was featured in the 2000 film Billy Elliot.
On September 16, 1977, Marc Bolan was driving home after a late night with his girlfriend Gloria Jones in his Mini 1275GT. They'd been at Morton's Club in Berkeley Square and she was driving. Jones struck a fence post after crossing a small bridge, and then crashed into a tree. Bolan died at the scene of the accident, while Gloria Jones survived. Marc Bolan was 29 years old. The car crash site has subsequently become a shrine to his memory, where fans leave tributes beside the tree. It is known as the Marc Bolan's Rock Shrine.
T. Rex was a glam rock group and have been cited as influential by the New York Dolls, the Ramones, Kate Bush, Siouxsie and the Banshees, Joy Division, the Smiths, and R.E.M. among others.
Steve Currie left T. Rex at the end of '76. On April 28, 1981, he died in a car crash near his Vale de Parra home in the Algarve in Portugal. Currie was 33 years old.
After Mickey Finn left T. Rex in 1975, he formed another band. He also worked as a session musician, including for the Blow Monkeys and the Soup Dragons. He was part of several bands into the 90s, and in 1998 formed Mickey Finn's T-Rex. In that band Finn showcased the hits of T. Rex. Finn died at the age of 55 in 2003, with alcohol-related liver and kidney problems as a catalyst.
As the only original surviving member of the classic lineup, Bill Legend formed a T. Rex tribute band in 2014 named X-T. Rex.
December 2, 2020
Ray McGinnis
References:
Paul Du Noyer, "Pop Napoleon: Mark Bolan of T. Rex," The Word, 2005.
"T Rex Band Member Dies," BBC, January 13, 2003.
Branden C. Potter, "The Untold Truth of T. Rex," Grunge.com, October 27, 2020.
"John Temple Boy," Marcbolanphotos.com.
"Hula Hoop," made how.com.
"Your Average Rock & Roll Radio Survey," CKVN 1410 AM, Vancouver, BC, May 28, 1971.
For other reviews on this website visit the Countdown.