#225: I Am The Walrus by the Beatles
Peak Month: December 1967
7 weeks on Vancouver's CKLG chart
1 week Preview
Peak Position #1
Peak Position on Billboard Hot 100 ~ #56
YouTube: "I Am The Walrus"
Lyrics: "I Am TheWalrus"
Paul McCartney was born in Liverpool in 1942. He attended the Liverpool Institute High School for Boys and met fellow classmates George Harrison on a school bus. When Paul was 14 his mom died from a blockage in one of her blood vessels. In his early teens McCartney learned to play trumpet, guitar and piano. He was left-handed and restrung the strings to make it work. In 1957, Paul met John Lennon and in October he was invited to join John's skiffle band, The Quarrymen, which Lennon had founded in 1956. After Paul joined the group his suggested that his friend, George Harrison, join the group. Harrison became one of the Quarrymen in early 1958, though he was still only 14. Other original members of the Quarrymen, Len Garry, Rod Davis, Colin Hanton, Eric Griffiths and Pete Shotton left the band when their set changed from skiffle to rock 'n roll. John Duff Lowe, a friend of Paul's from the Liverpool Institute, who had joined the Quarrymen in early 1958 left the band at the end of school. This left Lennon, McCartney and Harrison as remaining trio. On July 15, 1958, John Lennon's mother died in an automobile accident.
John Winston Lennon was born in Liverpool in 1940. His middle name was after Britain's current Prime Minister Winston Churchill, during World War II. In 1957, Lennon wrote his first song titled "Hello Little Girl". It became a Top Ten hit in the UK in 1963 for the Merseybeat band the Fourmost. George Harrison was born in Liverpool in 1943. His father bought him his first guitar in 1956 when Harrison was 13 years old.
Richard Starkey was born in Liverpool in 1940. As a child he was sick with appendicitis, peritonitis and finally tuberculosis. The latter illness had him spend two years in a sanitorium from 1953 to 1955. Out of school for this duration, Starkey remained at home after his return from the sanatorium. He got involved with a skiffle band initially called the Eddie Miles Band which morphed into Eddie Clayton and the Clayton Squares. Starkey next joined Al Caldwell's Texans which eventually became Rory Storm & The Hurricanes. By the fall of 1959, Starkey changed his professional name to Ringo Starr and his drum solos during their concerts were billed as 'Starr Time.' Beginning October 1, 1960, Rory Storm & The Hurricanes began a gig at the Kaiserkeller club in Hamburg, Germany. They alternated sets with The Beatles. On October 18, 1960, with Pete Best on an errand to find drumsticks, Ringo Starr stood in for Best to play a set with McCartney, Lennon and Harrison. This was the first time the Fab Four performed together.
The Quarrymen went through some name changes, including Johnny and the Moondogs. In January 1960, Stuart Sutcliffe joined the band and suggested they name themselves the Beatals as a tribute to Buddy Holly and The Crickets. The name changed to the Silver Beetles in May and in August 1960 they became the Beatles. The name was a cross between the insect cousin of a cricket and a nickname for rock 'n roll: 'the beat'. That same month the Beatles hired Pete Best to become the bands drummer. Now a five-piece band, they headed to Hamburg, Germany, on August 17, 1960, for a three-and-a-half month stint. In early 1961 Sutcliffe left the Beatles as they continued to return for more engagements in Germany. On June 22, 1961, Bert Kaempfert produced "My Bonnie", "Ain't She Sweet" and eight other songs. Later in 1961, "My Bonnie" climbed to #4 on the Hamburg pop charts and #32 on the German pop charts.
Meanwhile, the Beatles were developing a following back in Liverpool. Between February 9, 1961, and August 3, 1963, the group played at The Cavern Club 292 times. The group got a recording contract with EMI's Parlophone label in the UK. At the June 6, 1962, studio session, producer George Martin objected to Pete Best remaining with the Beatles due to his poor drumming skills. In August Ringo Starr from Rory & The Hurricanes accepted Paul McCartney and John Lennon's invitation to became the Beatles new drummer. The first EMI Parlophone single "Love Me Do"/"PS I Love You" climbed to #17 on the UK charts in the fall of 1962. "Please Please Me" climbed to #2 on the UK pop charts in early 1963. And in April 1963 "From Me To You" became the bands first #1 hit on the UK charts staying on top for seven weeks in a row. It became the first Beatles song on the Vancouver pop charts was in June 1963. It charted on C-FUN together with the cover version by Del Shannon. The song stalled at #116 on the Billboard Hot 100, but the Beatles climbed to #14 in Vancouver in July '63.
In 1963 "She Loves You" topped the UK charts for six weeks and "I Want To Hold Your Hand" wrapped up the year on top for five weeks in the British Isles. Beginning on December 21, 1963, "She Loves You" topped the C-FUN charts for four weeks. It was replaced on January 18 by "Please Mr. Postman", and on January 25 by "I Wanna Hold Your Hand" for six weeks. On March 7 "All My Loving" took over the #1 spot, subsequently sharing the #1 spot with the B-side "This Boy" through to April 4. After sixteen weeks at #1 the Beatles were knocked out of the top spot by the Dave Clark Five's "Bits And Pieces". During their streak at #1 in Vancouver from December 21, 1963, to April 4, 1964, "All My Loving"/"This Boy" kept the #1 hit in the USA, "Can't Buy Me Love" stalled at #2 here on the west coast. Between December 14, 1963, and September 17, 1966, the Beatles had up to five songs in the Top Ten in Vancouver for 107 out of 146 weeks.
Beatlemania reached North America with three appearances on the Ed Sullivan Show in February 1964. But in Vancouver they were already a craze by December '63. In April 1964 the Beatles released The Beatles' Second Album. It featured a number of tracks that were hit singles. These included "Thank You Girl", "She Loves You", "Please Mr. Postman", "You Can't Do That" (also released as a track on A Hard Days Night). In June the German version of "She Loves You" titled "Sie Liebt Dich" began to chart, and became a Top Ten hit in Vancouver in July.
In June the band released the film and soundtrack album A Hard Days Night. The theme song from the film climbed to number one in August. The B-side in North America to "A Hard Day's Night" was "I Should Have Known Better". (In the UK the B-side was "Things We Said Today"). Then in July the Beatles released Something New. The album contained the following single releases: "I'm Happy Just To Dance With You", "I'll Cry Instead", "Things We Said Today", "Matchbox", "Tell Me Why", "And I Love Her", and "If I Fell".
The Beatles appeared in concert in Vancouver at Empire Stadium on August 22, 1964. The followup hit for the Beatles in September was "Slow Down"/"Matchbox", which peaked at #4 on the C-FUN chart in Vancouver.
In December 1964 the Beatles were back on the top of the charts with "I Feel Fine". In the winter of 1964 the Beatles released their Beatles For Sale album in the UK. It contained the track "I Don't Want To Spoil The Party". The track was later included in the June 1965 North American release of the Beatles VI album.
Over the next year the Beatles had more big hit records including "Eight Days A Week", "Ticket To Ride", "Help", "Yesterday", "Day Tripper", "We Can Work It Out", and "Michelle"/"Norwegian Wood". Their next chart-topper in Vancouver was "Nowhere Man". The B-side, "What Goes On", was also a hit in the city.
In March 1966, John Lennon had an an interview with Evening Standard reporter Maureen Cleave. Lennon commented, "Christianity will go. It will vanish and shrink … We're more popular than Jesus now—I don't know which will go first, rock and roll or Christianity. Jesus was all right but his disciples were thick and ordinary." The comment was yawned at in Britain, but it caused a furore when it was reported in Datebook's August edition in America. Suddenly there were protests that involved the burning of Beatles records. The Ku Klux Klan staged protests against the Beatles and nailed their albums to a wooden cross. There were also death threats against Lennon. This development was a catalyst for the band's decision to cease touring. On August 19th two concerts were scheduled in Memphis, Tennessee. Both were cancelled by the city council who wouldn't let municipal facilities be used by people who were trying to "ridicule anyone's religion." Meanwhile, the Fab Four had more hit records including "Nowhere Man" and "Paperback Writer". The B-side to "Paperback Writer" was "Rain".
Next up, the Beatles released "Yellow Submarine"/"Eleanor Rigby". In 1967 the band enjoy Top Ten hits with "Penny Lane"/"Strawberry Fields", "All You Need Is Love" and "Hello, Goodbye"/"I Am The Walrus".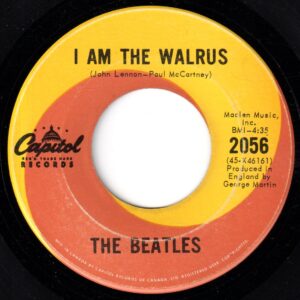 "I Am The Walrus" was cowritten by John Lennon and Paul McCartney. The song was the B-side to "Hello, Goodbye". The A-side was a non-album singe, while the B-side appeared in the Beatles' film Magical Mystery Tour.
The song begins with this bit of wisdom: "I am he, as you are he, as you are me, and we are all together." The lyric is a comment on the tension between individuality and universality. We are each individuals, and at the same time bound together as part of a larger "all." This is not just a matter of humans being "all together." We are also connected to all created beings, as the song title attests: "I Am The Walrus": humans and walrus are "all together" too.
In the next stanza "they run" – they being we who are all together – "like pigs from a gun." Though they are writing in the UK, the slang for police in much of Western culture, and certainly in North America, was "pigs." In a stanza further down, Lennon and McCartney write "Mister city p'liceman sitting pretty little p'licemen in a row." In any event, "they" [all of us who are together] run likes pigs from a gun, that is we rapidly scatter. Hold that thought for now. On to the next verse.
In the next verse someone is "sitting on a Cornflake, waiting for the van to come." Cornflakes are a cereal first created in 1894 by William Kellog in Battle Creek, Michigan. Cornflakes were the only cereal eaten by the astronauts on the Apollo 11 space landing on the moon in 1969, a reflection of it being one of the most popular breakfast cereals. A single cornflake is too small for any one person to fit onto. It a person thinks they are sitting on a cornflake, are they having a "trip" on acid or some other drug? And while seated on a cornflake, what kind of van is coming? A van filled with friends to head out on an adventure? Or a van with staff from a psychiatric hospital about to take the person "sitting on a Cornflake" off for observation? Perhaps asking "for how long have you been under the impression that you've been sitting on a Cornflake?" But, it is also plausible that the van about to come is a police van. So, the person sitting on a Cornflake is about to be arrested.
The Beatles next sing "Stupid Bloody Tuesday, man, you've been a naughty boy…" Bloody Tuesday was a march that occurred on June 9, 1964, in Tuscaloosa, Alabama, during the Civil Rights Movement. It was a march to protest segregated drinking fountains and restrooms in the county courthouse. The marchers were beaten and tear gassed by police and met by a mob of angry white pro-segregationists. The Bloody Tuesday march, along with the march from Selma to Montgomery in 1965, got extensive media coverage around the world. Of course, Lennon and McCartney may not have have the Bloody Tuesday march of 1964 in mind. However, in 1967, the events of 1964 were well remembered and on the mind of radio listeners.
The chorus of the song goes "I am the egg man, I am the egg man, I am the walrus, goo goo g joob." It has been suggested by some commentators at the Songfacts website that the egg man reference may be to Humpty Dumpty. Humpty Dunmpty was the man who was egg shaped. In Lewis Carroll's Through The Looking Glass, Alice in Wonderland meets Humpty Dumpty. Carroll writes:
HOWEVER, the egg only got larger and larger, and more and more human: when she had come within a few yards of it, she saw that it had eyes and a nose and mouth; and, when she had come close to it, she saw clearly that it was HUMPTY DUMPTY himself. 'It can't be anybody else!' she said to herself."
'And how exactly like an egg he is!' she said aloud, standing with her hands ready to catch him, for she was every moment expecting him to fall. 'It's very provoking,' Humpty Dumpty said after a long silence, looking away from Alice as he spoke, 'to be called an egg — very!' 'I said you looked like an egg, Sir,' Alice gently explained.
Alice…softly repeated to herself:
'Humpty Dumpty sat on a wall:
Humpty Dumpty had a great fall.
All the King's horses and all the King's men
Couldn't put Humpty Dumpty in his place again.'
Later in his conversation Lewis Carroll writes:
"When I use a word," Humpty Dumpty said in a rather scornful tone, "it means just what I choose it to mean – neither more nor less." And in "I Am The Walrus" John Lennon is asking 'what is the meaning of meaning'? Ironically, Lewis Carroll's Humpty Dumpty – who gets to decide what a word means whenever he uses it – crashes to the ground, breaking into pieces, just after Alice in Wonderland walks away. In "I Am The Walrus" there is no answer to the question of the meaning of meaning, but listeners are left to wonder what things mean, like the purpose of singing "goo goo g joob." In singing "I am the egg man," Lennon and McCartney are part of a "we" that is "all together" with the character and personality of Humpty Dumpty. All of us can become as certain of ourselves as Humpty Dumpty, and can decide when we use a word to have it mean whatever we want it to mean. As well, we like Humpty Dumpty can metaphorically have "a great fall."
In the next verse, the "pretty little p'licemen" all "fly like Lucy in the sky." This is in reference to the Beatles' "Lucy In The Sky With Diamonds." Some music critics have contended the song was intended to recommend that fans to try LSD. But John Lennon said the song title was inspired by his son Julian's nursery school drawings "Lucy," which Julian had thought of due to his childhood affection for his classmate Lucy O'Donnell. Ringo Starr witnessed the moment and said that Julian first uttered the song's title on returning home from nursery school. And Lennon told reporters he drew further inspiration for the song's lyrics after reading Lewis Carroll's Through The Looking Glass. This adds credence to the suggestion that the egg man in "I Am The Walrus" is in reference to Humpty Dumpty from Through The Looking Glass, as John Lennon had months earlier drawn on the book to inspire lyrics for "Lucy In The Sky With Diamonds".
The "boat on a river" reference in "Lucy In The Sky With Diamonds" is taken from Lennon's reading of Alice in Wonderland floating in a "boat beneath a sunny sky." Lennon explained to a reporter in 1980, "It was Alice in the boat. She is buying an egg and it turns into Humpty-Dumpty. The woman serving in the shop turns into a sheep and the next minute they are rowing in a rowing boat somewhere and I was visualizing that."
In "I Am The Walrus" the "p'licemen" fly like Lucy in the sky. Perhaps as they fly, the p'licemen encounter rocking horse people eating marshmallow pie, newspaper taxis on the seashore, plasticine porters at a train station, giant cellophane flowers, tangerine trees and marmalade skies.
Lennon has told the press that his idea to give the song its title came from reading Lewis Carroll's poem "The Walrus and the Carpenter," from Through The Looking Glass.
Another fantastic image appears in the next verse. Lennon has said he asked his childhood friend Pete Shotton to remind him the words to a nursery rhyme they learned when they were small. The rhyme went like this:
Yellow matter custard, green slop pie
All mixed together with a dead dog's eye
Slap it on a butty, ten foot thick
Then wash it all down with a cup of cold sick
Lennon adapted it for the song with these words: "Yellow matter custard, dripping from a dead dog's eye."
His next line in this verse got the song banned by the BBC: "Crabalocker fishwife pornographic priestess, boy you been a naughty girl, you let your knickers down." This is the second time in the song where there is a naughty boy or naughty girl. There is an understanding that in the modern world adults view of children is often that they are in need of correction.
Lennon and McCartney continue in an English garden, waiting for the sun. As sunshine is in short supply in England, those trying to get a tan will have to get one in the English rain, which is highly unlikely. A subsequent verse about the "expert textpert choking smokers" is a line perhaps reminding listeners that the Surgeon General in the USA had just a year prior to "I Am The Walrus" warned that smoking cigarettes caused cancer. The Joker laughs at the choking smokers" perhaps a reference to the villain in Batman called 'The Joker,' as the top-rated TV show was just a year old when "I Am The Walrus" was released.
Commentators at the Songfacts website state "Semolina Pilchard" was Detective Sergeant Norman Pilcher, head of the Scotland Yard Drugs Unit. He led the arrests of both John Lennon and Brian Jones before being investigated himself for blackmail and bribery in the '70s."
John Lennon told Playboy in 1980 "The reference to 'Element'ry penguin' is the elementary, naive attitude of going around chanting, 'Hare Krishna,' or putting all your faith in any one idol." The Hare Krishna in "I Am The Walrus" are kicking Edgar Allan Poe, the early 19th Century American poet and Gothic novelist who wrote "A Dream Within A Dream" whose final line asks "Is all that we see or seem, but a dream within a dream?"
Finally, "I Am The Walrus" included spoken lines from the death scene in Shakespeare's King Lear at the end of "I Am The Walrus". It was added to the song on September 29, 1967, and recorded directly from an AM radio Lennon was fiddling with. King Lear is the ultimate drama about identity. Lear is a King who has his identity reduced to just a consciousness. He is stripped of all his powers, of his family and of all support. We hear this dialogue from King Lear above the instruments at the fade of the song:
Edgar: "I know thee well: a serviceable villain, As duteous to the vices of thy mistress As badness would desire."
Gloucester: "What, is he dead?"
Edgar: "Sit you down, father. Rest you."

"I Am The Walrus" peaked at #1 in Vancouver (BC), Detroit, Akron (OH), Seattle, Philadelphia, Battle Creek (MI), Oshawa (ON), Toledo (OH), Lansing (MI), Minneapolis/St. Paul, Boston, Worcester (MA), Cleveland, Bakersfield (CA), Phoenix, Reno (NV), Tucson (AZ), Miami, Oxnard (CA), New Haven (CT), Cincinnati, San Jose (CA), Los Angeles, Grand Rapids (MI), San Francisco, San Diego, Hartford (CT), San Bernardino (CA), Bellingham (WA), Honolulu, Chicago, Missoula (MT), and Dayton (OH), #2 in Mount Vernon (WA), Providence (RI), Sudbury (ON), Reading (PA), Fort Wayne (IN), Columbus (OH), Sault Ste. Marie (ON), Regina (SK), Lakeland (FL), Toronto, and Escondido (CA), #3 in Fresno (CA), Quesnel (BC), Windsor (ON), Charlottesville (VA), and Sacramento (CA), #4 in Vancouver (WA), Troy (NY), and Kingston (ON), #5 in Rochester (NY), #6 in Flint (MI), #7 in Springfield (MA), #8 in Denver, and Pocatello (ID), #9 in Birmingham (AL), and Louisville (KY), and #10 in Calgary (AB).
In early 1968 the band had another hit single with "Lady Madonna". The B-side, "The Inner Light", also charted in Vancouver.
The Beatles charted dozens of singles onto the pop charts in Vancouver between the summer of 1963 and the spring of 1970. One of the features of The Beatles was that they mostly recorded singles and tracks from their albums they wrote themselves. The exceptions were songs like "My Bonnie", "Please Mr. Postman", "Roll Over Beethoven" and "Ain't She Sweet."
The Beatles would become the most influential rock 'n roll band of the 20th Century. They have sold over one billion records. They began recording upbeat love songs like "I Want To Hold Your Hand" and later composed more complex songs, including on their award-winning 1967 album, Sgt. Pepper's Lonely Hearts Club Band. The Beatles were on the cusp of whatever was new and were often the trend-setting reason for the next new thing. In 1967 they got involved with Transcendental Meditation. When they released "Hey Jude," they had one of those rare singles that was longer than 7 minutes climb to the top of the charts. At the time, the standard formula for singles was around two to three minutes in length.
Before the group broke up they enjoyed more hit records with "Get Back", "The Ballad of John & Yoko", "Something"/"Come Together", "Let It Be" and "The Long And Winding Road". The Beatles split in 1970 after the release of the Let It Be album. Paul McCartney told Howard Stern in 2018 that John Lennon walked into a room one day in 1970 and announced that he was leaving the Beatles.
After the split in 1970 Ringo Starr had a number of Top Ten hits including "Photograph", "It Don't Come Easy", "You're Sixteen" and the "No No Song". Since 1970 Ringo has released 19 studio albums and 11 live albums. Beginning with A Hard Day's Night, Starr has also appeared in 38 films, including several as a voice for animation. He has also authored three books: Postcards From The Boys, featuring reproductions of postcards sent to Starr by Paul McCartney, John Lennon and George Harrison, along with his commentary; Octopus' Garden which is a children's book based on the song from the album Abbey Road; And Photograph, a collection of 240 photographs of Starr's that expresses a visual autobiography together with photo captions.
Paul McCartney had the most successful solo career of the four. His that included "Uncle Albert/Admiral Halsey", "My Love", "Band On The Run," "Live And Let Die", "With A Little Luck", "Coming Up" and "Silly Love Songs". He has topped the charts in duets with Stevie Wonder and with Michael Jackson. His most recent international Top Ten hit was with Kanye West and Rihanna in 2015 titled "FourFiveSeconds". Between 1971 and 2015 McCartney has had forty-eight of his single releases reach the Top Ten in one or more countries internationally. Over the years Paul McCartney had produced records for other recording artists. This includes "A World Without Love" for Peter and Gordon, "You've Got To Hide Your Love Away" for Silkie, "Mellow Yellow" for Donovan, "Those Were The Days" for Mary Hopkin, James Taylor's self-titled debut album James Taylor, Ringo Starr's self-titled 1973 album Ringo and George Harrison's 1981 album Somewhere In England.
George Harrison had hits with "My Sweet Lord" and "Give Me Love". After "My Sweet Lord" appeared on the pop charts in 1970 Bright Tunes sued him for copyright infringement of the song "He's So Fine" by the Chiffons. Harrison told Rolling Stone in 1979 "The guy who actually wrote 'He's So Fine' had died years before, Ronnie Mack. Bright Tunes Music, his publisher, was suing me. So we went through the court case, and in the end the judge said, yes, it is similar, but you're not guilty of stealing the tune. We do think there's been a copyright infringement, though, so get your lawyers together and work out some sort of compensation. But Bright Tunes wouldn't settle for that; they kept trying to bring the case back into court. They even tried to bring it back into court when I did "This Song." Harrison released "This Song" as a single describing his frustrations with the plagiarism lawsuit. In 1979 Harrison helped finance with Monty Python film Life of Brian.
John Lennon recorded a number of hits in the early '70's, which included "Instant Karma", "Power To The People", "#9 Dream", "Whatever Gets You Through The Night" and "Imagine". "Imagine" went on to become an inspirational anthem for decades of pop music aficionados. In 1975 Lennon retreated from the music world to raise his new son, Sean.
In 1980 he returned to the recording studio to release his album Double Fantasy. Hopes for a Beatles reunion were dashed when John Lennon was murdered by Mark David Chapman on December 8, 1980, outside his New York City Dakota apartment near Central Park West and 72nd Street. Two and a half weeks later his single "(Just Like) Starting Over" climbed to #1 on December 26, 1980; And "Woman" peaked at #2 on the Billboard Hot 100 in late March 1981. Both songs peaked at number-one in Vancouver. A third single from Double Fantasy, "Watching The Wheels", peaked at #3 in Vancouver and #10 on the Billboard Hot 100. And in 1984 "Nobody Told Me" climbed to #3 in Vancouver and #5 on the Billboard Hot 100. Meanwhile, "Imagine", which had climbed to #1 in the UK in 1971, re-charted in the UK to #6 in 1975 and #3 in 1999.
George Harrison died of lung cancer in 2001. Starr and McCartney have continued to tour.
December 13, 2021
Ray McGinnis
References:
"I Am The Walrus," songfacts.com.
David Fricke, "Paul McCartney Looks Back: The Rolling Stone Interview," Rolling Stone, August 10, 2016.
Ben Quinn, "Paul McCartney 'saw God' After Taking Drugs During Beatles Heyday," Guardian, September 2, 2018.
Stephen Rodrick, "Being Ringo: A Beatle's All-Starr Life," Rolling Stone, April 15, 2015.
"Interview: John Lennon and Ringo Starr in Los Angeles," Los Angeles Times, August 23, 1964.
Mick Brown, "A Conversation With George Harrison: The 'Fab Four' is Done For, and George Couldn't be Happier Doing his Own Thing," Rolling Stone, April 19, 1979.
Dave Laing and Penny Valentine, "George Harrison: The Most Handsome but Underrated Beatle, he Came into his Own as a Solo Artist and Film Producer," Guardian, December 1, 2001.
"John Lennon Died 35 Years Ago Today: Read Original Associated Press Story," Billboard, December 8, 2015.
Johnathan Cott, "John Lennon: The Last Interview: Three days before he died, John Lennon talked with 'Rolling Stone' for nine hours. For the first time, we present this extraordinary interview," Rolling Stone, December 23, 2010.
"Bloody Tuesday (1964)," Wikipedia.org.
Lewis Carroll, Through The Looking Glass, Chapter Six, 1872.
John Lennon and Paul McCartney, "Lucy In The Sky With Diamonds", Sgt. Pepper's Lonely Hearts Club Band, 1967.
Edgar Allan Poe, "A Dream Within A Dream", 1849.
"Boss 30," CKLG 730 AM, Vancouver, BC, December 9, 1967.
For more song reviews visit the Countdown.