#266: I Missed Again by Phil Collins
Peak Month: May 1981
13 weeks on Vancouver's CFUN chart
Peak Position #2
Peak Position on Billboard Hot 100 ~ #19
YouTube: "I Missed Again"
Lyrics: "I Missed Again"
Philip "Phil" Collins was born in 1951 in Middlesex, England. From the age of five he began to play drums. He never learned to read and write conventional musical notation, and instead used a system he devised himself. He later regretted this, saying: "I never really came to grips with the music. I should have stuck with it. I've always felt that if I could hum it, I could play it. For me, that was good enough, but that attitude is bad. He formed a band at the age of 14, and was an extra in the Beatles film A Hard Days Night. Collins played one of the screaming teenagers in the audience for a concert at a TV station. In 1967 Collins played a lead role as one of Farmer Grant's children in the film Calamity the Cow. Also in 1967, he acted in a scene in Chitty Chitty Bang Bang, where children storm a castle, but the scene was cut to shorten the film.
Other auditions for film roles led to disappointment. And in 1969, Phil Collins became part of the backing band for John Walker (of the Walker Brothers). Walker and his band went on a tour of Europe. On return to England, the four members of the backing band eventually became the Flaming Youth. And in 1969 they recorded an album. Though not commercially successful, it is noted as Phil Collins first experience with having record contract.
In August 1970, Phil Collins successfully auditioned to join the rock band Genesis. Peter Gabriel was the lead vocalist in the band, but he left in 1975. As a result, Phil Collins became the lead vocalist for Genesis starting with the release in 1976 of A Trick of the Tail. In the years that followed, Collins lead vocals were heard on radio stations playing many Genesis singles. These included "Follow You, Follow Me" (1978), "Misunderstanding" (1980), "Abacab" and "No Reply At All" (1981).
Meanwhile, Phil Collins released a solo album in 1981 titled Face Value. It featured the single "I Missed Again".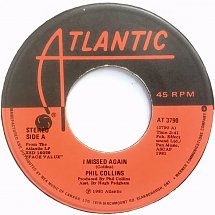 "I Missed Again" is a song about Phil Collins's anger and frustration about his first wife leaving him. The lyrics reveal that his first wife finally comes out and tells him that the relationship is over. Though, the look in her eyes has been there for a long time. Collins sings "Well it feels like something you want so bad. Then you think you've got it, but it's something you already had. And you can feel it all around you, but it's something you just can't touch." Collins later received a Grammy nomination for "I Missed Again" in the category for Best Video, Short Form.
"I Missed Again" climbed to #2 in Vancouver (BC) and Toronto, #3 in Ottawa (ON), #4 in Halifax (NS), #5 in St. Cloud (MN) and Peoria (IL), #6 in Regina (SK), #7 in San Jose (CA), #8 in Cincinnati, and #10 in Windsor (ON), Hartford (ON), and Chicago. "I Missed Again" had some significant chart action across 20 states in the USA, but was passed over in about 30 states. It stalled at #19 on the Billboard Hot 100. Elsewhere, nationally in Canada "I Missed Again" peaked at #6 on the Canadian RPM singles chart, #12 in Ireland, #14 in the UK, and #23 in West Germany.
Collins' next single was "In The Air Tonight", which climbed to #1 in Vancouver in the summer of 1981.
In 1982 Collins released his second solo album, Hello, I Must Be Going! It featured his number-one cover of the Supremes' 1966 #1 hit "You Can't Hurry Love". His version topped the charts in Belgium, Ireland, the Netherlands, and the UK. The song made it to #3 in Australia, Austria, West Germany, and Switzerland, #6 in Sweden, #9 in Canada, New Zealand, and South Africa, #10 in the USA, #11 in Poland and Spain, and #13 in France. Then in 1984, Phil Collins recorded the theme song for the film Against All Odds: "Against All Odds (Take a Look at Me Now)". Collins topped the charts in Canada, Ireland, Israel, Norway, and the USA. The song peaked at #2 in Denmark and the UK, #3 in Australia, New Zealand and Sweden, #4 in Belgium and Switzerland, #5 in Finland, #9 in South Africa and West Germany, and #10 in the Netherlands.
In late 1984 Collins released Chinese Wall and the single "Easy Lover" in a duet with Philip Bailey of Earth, Wind & Fire. The single made the Top Ten in a dozen countries, and included Top 20 chart runs in France, Italy, Japan and Spain. Collins was also a featured soloist on the charity fundraiser "Do They Know It's Christmas?" by Band Aid.
His subsequent album in 1985, No Jacket Required, included the number-one hits "Sussudio" and "One More Night". As well, there were Top Ten hits from the album "Don't Lose My Number" and "Take Me Home". In addition, Collins recorded a duet with Marilyn Martin for the film White Nights titled "Separate Lives". The song topped the charts in Canada, Ireland and the USA. It also made the Top Ten in Norway, the UK and Zimbabwe.
In 1988, Phil Collins recorded a cover of the Mindbenders 1966 hit "A Groovy Kind of Love". It was included in the soundtrack for the film Buster. Collins version topped the pop charts in Canada, Ireland, Italy, the Netherlands, South Africa, Switzerland, the UK and the USA. It also charted into the Top Ten in almost a dozen other nations. A second track from Buster, "Two Hearts", climbed to #1 in Canada, Denmark, Japan, and the USA. The single also reached the Top Ten in eight other countries.
Phil Collins ended the decade with his release in 1989 of the album …But Seriously. It featured his chart-topping singles "Another Day In Paradise", "I Wish It Would Rain Down", "Something Happened On The Way To Heaven" and "Do You Remember?"
As a member of Genesis, Phil Collins continued to be the familiar lead vocalist on the band's hits in the 80s into the early 90s. These include "Man On The Corner", "Paperlate", "That's All", "Invisible Touch", "Throwing It All Away", "In Too Deep", "Land Of Confusion", "Tonight, Tonight, Tonight", and "I Can't Dance".
Into the 1990s Phil Collins, as a solo artist and with Genesis, had less chart successes. His 1993 album Both Sides featured "Both Sides Of The Story", a single that climbed to #2 in Canada, but stalled at #25 on the Billboard Hot 100. And in 1994 "Everyday" peaked at #8 in Canada, but stalled at #24 in the USA. While his title track from his 1996 album Dance Into the Light made the Top Ten in both Canada and the UK, it failed to crack the Top 40 in America.
In 1999 Phil Collins was featured on several tracks from the soundtrack for Tarzan. But "You'll Be In My Heart" struggled to make the Top 20 in most countries, with its best chart run in New Zealand at #13. In 2002 Collins released Testify. The debut single "Can't Stop Loving You" made the Top Ten in France and Germany, but failed to reach the Top 30 in most nations.
In 2010 Phil Collins released his eighth and most recent studio album, Going Back. Like each of his seven previous albums, this one climbed to number-one on the album chart in at least one country, and the Top Ten on album charts in many others. The title track was a song written by Carole King and Gerry Goffin, first recorded by Dusty Springfield.
August 23, 2021
Ray McGinnis
References:
"C-FUN Top Thirty," CFUN 1410 AM, Vancouver, BC, May 16, 1981.
For more song reviews visit the Countdown.