#373: I Think I Love You Too Much by Jeff Healey Band
Peak Month: July 1990
13 weeks on CKLG's Vancouver Chart
Peak Position ~ #6
Peak Position on Billboard Hot 100 ~ did not chart
YouTube: "I Think I Love You Too Much"
Lyrics: "I Think I Love You Too Much"
Norman Jeffrey Healey was born in 1966 in Toronto. He was adopted and at age one lost his eyesight due to a rare cancer of the eyes. At age three he began to play guitar with the instrument on his lap, and attend a school for the blind. At age nine Healey appeared on a children's show on TV Ontario. In 1980 he began hosting a jazz segment for the CBC after attending an open house for the broadcaster where vibraphonist Peter Appleyard convinced the people at the radio program Fresh Air to put the then-14-year-old Healey on the air after discussing jazz with him. Young Jeff showcased his extensive collection of 78RPM records – about 10,000 at the time- and musical knowledge. By age 15 Jeff Healey formed a band called Blue Direction. On July 27, 1985, Jeff was invited to join Albert Collins and Stevie Ray Vaughan on stage at Albert's Hall, an iconic blues club in Toronto. Then in September 1985, Jeff first met drummer Tom Stephen. The pair decided to form a band, and later got introduced to bass player Joe Rockman at legendary Toronto blues club, Grossman's Tavern. The trio of musicians became the Jeff Healey Band.
Tom Stephen was born into a Lebanese-Canadian family in Saint John, New Brunswick, in 1955. After getting an undergraduate degree in Nova Scotia, he moved to Toronto to attend York University to earn a graduate degree in urban planning. However, he soon found himself playing drums for a local blues band named Buzz Upshaw. Joseph "Joe" Rockman was born in Toronto on New Year's Day in 1957.
Tom Stephen recalled in an interview with Q104.3 FM in Toronto, "I met Jeff a couple times, and I sort of had the feeling that he had some issues in terms of getting around. But it wasn't until that night at Grossman's, he leaped out of his chair — 'cause he played [with the guitar] on his lap. … But he didn't just sit there with the guitar on his lap; he could jump out of the chair, literally hold his guitar against his thighs, he jumped all over the room. Somehow he got on a chair, got on a table, knocked everything over, made it back to the chair, sat down. [He said into the mic] 'Goodnight. Don't drink and drive. I know I don't.' And then he went back to this little room."
While this was going on Tom Stephen was sitting at his drum kit and puzzled by what he was seeing in Grossman's Tavern. He went over to speak with Jeff, where Healey asked him to join his band. Stephen said he wasn't sure what was going on, so he was candid. Stephen recalls, "I said, 'Well, I'd like to start a band with you, that'd be cool. But I'm just finishing a degree, I'm taking life seriously; we gotta have a plan. And by the way, man, you're drinking a fair bit by the looks of things there.'"
"He goes, 'What do you mean?'"
"I said, 'Man, you're knocking everything over.'"
"He goes, 'Tom, I'm blind!'"
Healey also played trumpet and clarinet in Dixie bands, and was a fan of vintage jazz from the 1920s.
In 1986 the band released its first singles on an independent record label. In the summer of 1986 Vancouver was hosting Expo '86, which featured many recording artists including B.B. King. Healey was asked to come backstage to do a jam with B.B. King and his band. This began a long friendship. And at the Commodore Ballroom in Vancouver (BC) on November 12th, the Jeff Healey Band opened a concert headlined by The Band.
The first few years they performed in concert about 300 times a year. In 1988 Jeff Healey began hosting a jazz program on the University of Toronto radio station CIUT. In 1988 they released an album titled See The Light. Internationally, the album charted into the Top 20 in New Zealand and Switzerland. The Jeff Healey Band flew to London, England, and performed to a sold out show at the Marquee Club. In attendance was musician Jeff Beck, who met the band backstage. And on network TV, the Jeff Healey Band appeared on the David Letterman Show on October 14, 1988. Subsequently, the appeared in February 1989 on The Tonight Show with Johnny Carson. And in February 1989 the Jeff Healey Band received a Grammy Award nomination for Best Rock Instrumental Performance for the song "Hideaway". Then in April '89, the Jeff Healey Band was filmed in London, UK, in a documentary titled See The Light: Live In London.
In 1989 the Jeff Healey Band released several single from the album. The second of these, titled "Angel Eyes", climbed to #5 on the Billboard Hot 100. In 1989 the Jeff Healey Band performed the soundtrack for Road House, a movie starring actor Patrick Swayze. The single "Raising Heaven / Hoochie Coochie Man", featured both Swayze and the Jeff Healey Band. The band also was featured in the film as the house band for the Double Deuce. Soon the Jeff Healey Band was getting booked in stadiums.
In early 1990 the Jeff Healey Band won a Juno Award for Canadian Entertainer of the Year. They were also nominated for two other Juno Awards. In 1990 the band released their second studio album, Hell to Pay. The lead single from the album was "I Think I Love You Too Much".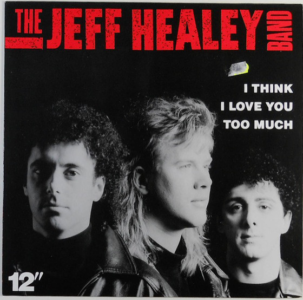 "I Think I Love You Too Much" was written by Mark Knopfler, who also provided guitar and backing vocals on the track. Knopfler was born in Glasgow, Scotland, in 1949 to a Scottish mother and a Hungarian-Jewish father. He learned to play guitar when he was a child and appeared on a local TV station in 1965 as part of a duo. Mark was influenced by Django Reinhardt, Hank Marvin of The Shadows, B.B. King, Chet Atkins and others. He studied journalism and kept his hand in music playing in the Duolian String Pickers and the Café Racers. He and his brother David formed the nucleus of the band Dire Straits in 1977.
In 1977 Dire Straits made a demo that included a song titled "Sultans Of Swing". The song broke out onto the pop charts in the UK in 1978 and Dire Straits went on tour with the Talking Heads. Bob Dylan saw the band play in Los Angeles and invited Mark Knopfler and Pick Withers to play on his 1979 album, Slow Train Running, which featured the single "Gotta Serve Somebody". Meanwhile, "Sultans Of Swing" became a Top Ten hit in North America and Australia in 1979. Subsequently, Dire Straits was nominated for two Grammy Awards at the 1980 ceremonies for Best New Artist and Best Rock Vocal Performance by a Duo or Group.
Their fourth album, Love Over Gold, featured the single "Industrial Disease". While it climbed to #16 for three weeks on the CFUN chart in Vancouver, it stalled on the Billboard Hot 100 at #75. The album also featured "Private Investigations", a #2 hit in the UK that missed most of the radio markets in North America. In 1983, their next single release was "Twisting By The Pool".
In 1984 Dire Straits released a live album titled Alchemy: Dire Straits Live. The album contained many reworked versions of tracks from their first four albums. In 1985 Dire Straits had their biggest international hit on the album charts with Brothers In Arms. The album climbed to #1 on the album charts in the Australia, Austria, Canada, Germany, the Netherlands, New Zealand, Norway, Spain, Sweden, Switzerland, the UK and USA. The album contained their most commercially successful single, "Money For Nothing", as well as "So Far Away" and "Walk Of Life".
In 1988 Dire Straits headlined the Nelson Mandela 70th Birthday Tribute on June 11, 1988. This was broadcast to over 600,000,000 viewers across 67 nations. In the late 80s Mark Knopfler was a household name and much sought-after musician. The Jeff Healey Band were fortunate to add his talents to the single and to the album. Another star in the music industry who was featured on "I Think I Love You Too Much" was former Derek and the Dominoes organist and guitarist, Bobby Whitlock. In addition to "Layla", Whitlock had been a studio musician on George Harrison's 1970 album All Things Must Pass. And in 1972 Whitlock was an uncredited musician on the Rolling Stones album Exile On Main Street. As well, George Harrison of the Beatles contributed backing vocals and guitar on the cover of "While My Guitar Gently Weeps".
"I Think I Love You Too Much" is a song where the relationship is out of balance. The guy loves his "baby" too much. Some indicators are i) he gives her "a mile or two," while she "never gives (him) an inch," ii) even when they're together he gets the feeling she "could vanish into air," iii) he thinks she's "gonna hurt me more than anybody, and iv) he's so into her (but it isn't clear she is reciprocating). In the music video young alluring women offer a variety of glances. While others emerge from a residential pool and walk down hallways in soaked gowns.
"I Think I Love You Too Much" peaked at #4 in Atmore, Alabama, #6 in Vancouver (BC) and #15 in Hamilton (ON). While the single was on the pop charts, the Jeff Healey Band returned to perform again on Late Night With David Letterman.
In early 1991 a followup single, "How Long Can A Man Be Strong", climbed into the Top 30 in both Vancouver (BC) and Hamilton (ON). That year Healey began hosting a CBC radio show titled My Kinda Jazz.
A third album, Feel This, was released in 1992. The Jeff Healey Band appeared for the third time on Late Night With David Letterman. It included the track "Lost In Your Eyes" which became a Top Ten hit in Canada in 1993. Then in 1995 the Jeff Healey Band released an album of covers titled Cover To Cover. Among the tracks are covers of the Yardbirds "Shapes Of Things", "Freedom" by Jimi Hendrix, "Badge" by Cream. After the album was released, The Jeff Healey Band earned a Grammy Award nomination for Best Rock Instrumental Performance for the song "Shapes Of Things".
In 1999 Jeff Healey In 2000 the band released their fifth studio album, Get Me Some. After the album Both Joe Rockman and Tom Stephen left the Jeff Healey Band, and the band disbanded in December 2001. Jeff Healey went back to the studio and released a solo album in 2002 titled Among Friends. This was the first of eight albums Healey released on his own or with the Jazz Wizards. Four of these were released posthumously.
In 2002 Healey formed the Jazz Wizards. Jeff Healey played one last concert in Goderich, Ontario, on February 2, 2008. He died at age 41 in March 2008 of cancer. Prior to his death he had recorded Mess Of Blues, which was released in mid-April 2008. Conflicts over the rights of the archival recordings of the Jeff Healey Band frayed the bonds between the remaining former bandmates and Healey's widow, Cristie.
On June 4, 2011, Woodford Park in Etobicoke, Ontario, was renamed Jeff Healey Park.
Tom Stephen published a memoir in 2018 titled Best Seat in the House: My Life in the Jeff Healey Band. In the book he describes many highlights outside the recording studio. These include Jeff Healey challenging ZZ Top to a bowling competition ― and winning; Bill Clinton inviting the band to the White House, and enjoying a special audience with Queen Elizabeth II. As well, the memoir details Healey's interactions with Bob Dylan, George Harrison, Keith Richards, and others.
December 21, 2020
Ray McGinnis
References:
Andrew Magnotta, "Former Jeff Healey Band Drummer Describes Hilarious First Jam Session," Q104.3 FM, New York City, January 3, 2019.
Tom Stephen and Keith Elliot Greenberg, Best Seat in the House: My Life in the Jeff Healey Band, ECW Press, 2018.
Stephen Cooke, "From Maritimer to Million-seller, Jeff Healey Drummer Tells his Tale of Rock Glory," Chronicle-Herald, Halifax, NS, January 2, 2019.
Graham Reid, "Jeff Healey Interviewed," Elsewhere, NZ, 1989.
"Interview With Jeff Healey," Angelfire.com, May 2000.
Douglas Martin, "Jeff Healey, Guitarist and Singer, Dies at 41," New York Times, March 4, 2008.
Paul Sexton, "I Get The Same Buzz I Had As A Kid": Mark Knopfler Talks 'Down The Road Wherever'," UDiscoverMusic.com, November 15, 2018.
Paul Rees, "Sultans Of Swing: The Untold Story Of Dire Straits," Louder Sound.com, April 17, 2015.
Rog, "When JH Met B.B.," Jeffhealey.com, October 6, 2018.
"CKLG Top 40," CKLG 730 AM, Vancouver, BC, July 30, 1990.
For more song reviews visit the Countdown.