#348: I Wanna Live by Glen Campbell
Peak Month: June 1968
7 weeks on CKLG's Vancouver Chart
Peak Position ~ #1
1 week Hit Bound
Peak Position on Billboard Hot 100 ~ #36
YouTube: "I Wanna Live"
Lyrics: "I Wanna Live"
Glen Travis Campbell was born in 1936 in the village of Billstown, Arkansas. His dad was a sharecropper. He moved to Albuquerque, New Mexico, and at the age of 18 joined his uncle's band, Dick Bills and the Sandia Mountain Boys. Campbell also had guest spots on a local KOB children's TV show, K Circle B Time. In 1958, Campbell formed the Western Wranglers. In 1960 he moved to LA and joined The Champs of "Tequila" fame. Campbell also became a session musician in a group that would become known as The Wrecking Crew. During this time Glen Campbell played on recordings for Bobby Darin, Ricky Nelson, Dean Martin, Nat King Cole, The Monkees, Nancy Sinatra, Merle Haggard, Jan and Dean, Elvis Presley, Frank Sinatra and others. He recorded his first single in 1961 titled "Turn Around Look At Me."
In the mid-60's Campbell appeared as a regular on Shindig!and Hollywood Jamboree. He also was a studio musician for The Beach Boys 1966 album, Pet Sounds, and for four months was a member of The Beach Boys and went on tour with them when Brian Wilson was ill. That same year Campbell was part of a backing band for Rick Nelson on a tour of the Far East.
In 1965, Campbell appeared as part of a band in the film drama Baby The Rain Must Fall, starring Lee Remick and Steve McQueen. The film, concerning a rockabilly singer who goes to jail after stabbing a man in a bar during a drunken brawl, featured the Glen Yarborough Top 20 hit "Baby The Rain Must Fall". That year he also recorded a song titled "The Universal Soldier".
In 1967, Campbell appeared in The Cool Ones, a film concerning a millionaire rock promoter who teams up with a pop singer and a dancer in a romantic match as a publicity stunt for a new television series.
By 1967 Glen Campbell had his first song climb into the Top 30 of the Billboard Hot 100, "By The Time I Get To Phoenix," which peaked at #26. He won several Grammy Awards in 1968 for the song: Best Contemporary Male Solo Vocal Performance and Best Vocal Performance, Male. In addition, he won two Grammy Awards for "Gentle On My Mind". These were for Best Country & Western Solo Vocal Performance, Male, and Best Country & Western Recording.
In March 1968 Campbell released the album Hey Little One. It featured his cover of the Dorsey Burnette song "Hey Little One". Campbell's cover went to #13 on the Billboard Country charts in the spring of '68. It had also been a track on By The Time I Get To Phoenix. Campbell's next single release was from his Hey Little One album, titled "I Wanna Live".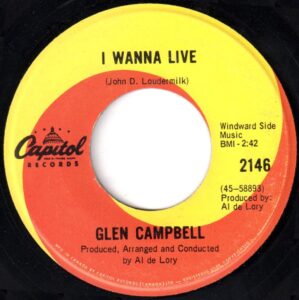 "I Wanna Live" was written by John D. Loudermilk. He was born in Durham, North Carolina, in 1934. Although he had a middle initial, D, the "D" wasn't short for any middle name. His father was an illiterate carpenter, John D Loudermilk Sr. When John D. Jr. was, seven his dad gave him a ukulele made from a cigar box. Young John D Jr. learned to play guitar in his youth and began to write poems and songs. His poetry was inspired after he began to read the works of Kahlil Gibran. In his late teens, in the early 50's, John D Jr. wrote a poem titled "A Rose And A Baby Ruth." It concerned a teenage couple who have a quarrel and the boy gives his girlfriend a rose and a Baby Ruth candy bar to make up. Loudermilk put notes to the poem and played the sung version on a local TV station. This caught the attention of country singer, George Hamilton IV. The song was published in 1956 and became a Top Ten hit on both the Country and Pop charts on Billboard Magazine. The following year, Loudermilk penned "Sittin' In The Balcony" for Eddie Cochran. Once that became a hit, Loudermilk's songwriting career was launched. He co-wrote "Waterloo," a #1 country hit and #4 pop hit in 1959 for country singer, Stonewall Jackson.
In the early 60's Loudermilk continued to have success as a songwriter. Sue Thompson had two Top Ten hits on the pop and country charts in 1961 written by Loudermilk: "Sad Movies (Make Me Cry)" and "Norman." The Everly Brothers also scored a Top Ten hit in 1961 by John D. Loudermilk, titled "Ebony Eyes." And Bob Luman had a Top Ten hit in Vancouver in 1961 by Loudermilk called "The Great Snowman." The singer of "Teen Angel," Mark Dinning, had a #6 hit in Vancouver in '61 with "Top 40, News, Weather And Sports," another Loudermilk composition. Loudermilk also had a Top 40 hit on the Billboard Hot 100 titled "Language Of Love".
In 1962, Loudermilk had several more hits recorded by other singers, including "If The Boy Only Knew" by Sue Thompson. Kris Jensen had a hit with "Torture". Loudermilk also recorded several more songs he penned: "Angela Jones", "Calling Dr. Casey" and "Road Hog".
John Loudermilk had other songs on the US charts in 1962. "Thou Shalt Not Steal" was a minor hit in the USA and did not chart in Vancouver. However, in 1964 it was a Top 20 hit for Dick and Dee Dee. That same year Loudermilk's 1960 composition, "Tobacco Road", became a Top Ten hit in the UK for the Nashville Teens. Johnny Tillotson had a Top Ten hit in early 1964 with "Talk Back Trembling Lips" written by Loudermilk. And in 1965, another one of his songs, "This Little Bird", became a Top Ten hit in Vancouver and the UK for Marianne Faithfull.
In 1967, Loudermilk won a Grammy Award for Best Liner Notes for his album Suburban Attitudes in Country Verse. And a song he wrote in 1962, "Then You Can Tell Me Goodbye", became a Top Ten hit for The Casinos in 1967. In 1968 another of Loudermilk's songs got critical acclaim when Don Fardon released "Indian Reservation". (The song was a #1 hit for Paul Revere And The Raiders in 1971).
"I Wanna Live" is a song that offers some simple observations about life:
Flowers have blooms,
The oceans have waves,
The sky has clouds,
People have babes.
From flowering blooms to newborn babies, there is a yearning to live. And the natural world is full of unfolding creation. In the second verse, Loudermilk continues by noting that a dog named "Rover is big," and a cat named "Tabby is small." While a girl named "Betty is short," and a boy named "Jimmy is tall." Optimistically, the lyrics tell us "they want to smile and be friendly with you." The children are not capricious or anti-social, the animals are not feral or rabid. Everything plays out in innocent bliss. "I Wanna Live" was on the radio in the middle of the Vietnam War. Its chart run began a month after the assassination of Martin Luther King Jr. on April 4th, and overlapped the assassination of Senator Robert Kennedy on June 5, 1968.
Jack Newfield, a reporter with Robert Kennedy's presidential election campaign wrote: "Now I realized what makes our generation unique, what defines us apart from those who came before the hopeful winter of 1961, and those who came after the murderous spring of 1968. We are the first generation that learned from experience, in our innocent twenties, that things were not really getting better, that we shall not overcome. We felt, by the time we reached thirty, that we had already glimpsed the most compassionate leaders our nation could produce, and they had all been assassinated. And from this time forward, things would get worse: our best political leaders were part of memory now, not hope."
Both the assassinations of Martin Luther King Jr. and Senator Kennedy (and previously President John F. Kennedy and Malcolm X) were viewed as blows to optimism for a brighter and better future – in America – but also among liberals in Canada and elsewhere. Perhaps, in reaction to the violence and political trauma from these events, there was a lure among some radio listeners to embrace a simple message about living and getting along. Enter "I Wanna Live".
On Top 40 AM radio, "I Wanna Live" climbed to #1 in Vancouver (BC) and Fredericton (NB), #2 in Memphis, #3 Oklahoma City, Jamestown (ND) and Stevens Point (WI), #4 in Denver, #5 in Omaha (NE), #6 in Hamilton (ON), #7 in Toronto, Little Rock (AR) and La Crosse (WI), #8 in Houston, and #9 in Birmingham (AL). On the Billboard Country chart the single climbed to number-one.
Glen Campbell's twelfth album, Witchita Lineman, was highly anticipated. It included the title track and "Dreams Of The Everyday Housewife," as the two single releases from the album.
In October 1968, Campbell released "Wichita Lineman", which climbed to #1 on the Billboard Country chart and on CKLG in Vancouver (BC), and #3 on the Billboard Hot 100. The single received two Grammy Award nominations, one for Record of the Year and the other for Best Contemporary Pop Vocal Performance – Male. "Wichita Lineman" received a Grammy Hall of Fame Award in 2000 for its historical significance and lasting quality.
In 1969, Campbell had a Top 20 duet with Bobbie Gentry titled "Let It Be Me". Next he recorded a Vietnam War protest song called "Galveston", written by Jimmy Webb. The song originally had the lyrics "Wonder if she could forget me/I'd go home if they would let me/Put down this gun/And go to Galveston." But Glen Campbell altered "Put down this gun" to "I clean this gun," connoting a soldier more content to remain at his post. The song climbed to #1 on CKLG in early April 1969 in Vancouver and #4 on the Billboard Hot 100. In June '69, Glen Campbell had a #7 hit in Vancouver with "Where's The Playground Susie". The tune stalled at #26 in the USA. And on June 20, 1969, Glen Campbell appeared in concert at the Pacific Coliseum in Vancouver. (Setlist.fm also indicates Glen Campbell performed at the Pacific Coliseum on May 24th, 1969. While that may have happened, I can't confirm it definitely).
In the summer of 1969, Campbell starred opposite John Wayne and Kim Darby in the Western drama True Grit. The title song from the film was Glen Campbell's next Top 40 hit, debuting on July 18th on the CKLG Boss 30. It peaked at #3 in Vancouver on August 15, 1969, kept out of the #1 spot by the Rolling Stones "Honky Tonk Woman" and Jackie DeShannon's "Put A Little Love In Your Heart". "True Grit" received both a Golden Globe and an Academy Award nomination for Best Song. Glen Campbell's follow up hit was "Try A Little Kindness", which peaked at #16 in Vancouver in November of '69.
The pinnacle of his career was his #1 hit in 1975 called "Rhinestone Cowboy". On August 30, 1976, Glen Campbell gave a concert in Vancouver at the Pacific Coliseum.
In 1980, Campbell starred alongside Clint Eastwood and Ruth Gordon in Any Which Way You Can. In 1986, Glen Campbell appeared in the role of Capt. Hazeltine, in the comedy-western Uphill All The Way, alongside Frank Gorshin, Sheb Wooley, Roy Clark, Mel Tillis and Burl Ives.
On July 23, 2000, Glen Campbell appeared three hours drive northeast of Vancouver at the Merritt Mountain Music Festival.
In 2008, Campbell appeared as himself in the documentary film, The Wrecking Crew, about a group of studio musicians in L.A. who were featured on hundreds of Top 30 hits in the '60's. Glen Campbell died on August 8th, at the age of 81 after being diagnosed with Alzheimer's disease since 2011.
February 15, 2010
Ray McGinnis
References:
Petticoat Junction, CBS, January 4, 1969.
Dave Laing, "Glen Campbell Obituary," Guardian, UK, August 8, 2017.
Jeff Gage, "Flashback: Watch Glen Campbell's Nimble Medley of Beach Boys Hits: Country Great Blazes Through "Good Vibrations," "Surfin USA," "California Girls" and more," Rolling Stone, August 9, 2017.
Roger Ebert, "True Grit Movie Review," Roger Ebert.com, July 1, 1969.
Jack Newfield, Robert Kennedy: A Memoir, (E.P. Dutton, 1969).
"Glen Campbell: Concert Dates in Canada," setlist.fm.
"Boss 30," CKLG 730 AM, Vancouver, BC, June 15, 1968.
For more song reviews visit the Countdown.