#657: (I Wanna) Love My Life Away by Gene Pitney
Peak Month: January 1961
10 weeks on CFUN's Vancouver Charts
Peak Position ~ #5
Peak Position on Billboard Hot 100 ~ #39
YouTube.com: "(I Wanna) Love My Life Away"
Lyrics: "(I Wanna) Love My Life Away"
Gene Pitney was born in 1940 in Hartford, Connecticut. He was a songwriter who became a pop singer, something rare at the time. Some of the songs he wrote for other recording artists include "Rubber Ball" for Bobby Vee, "He's A Rebel" for The Crystals and "Hello Mary Lou" for Ricky Nelson. Pitney was more popular in Vancouver than in his native America. Over his career he charted 14 songs into the Top Ten in Vancouver, while he only charted four songs into the Top Ten on the Billboard Hot 100. Curiously, only two of these songs overlap: "(The Man Who Shot) Liberty Vallance" and "I'm Gonna Be Strong". Surprisingly "Only Love Can Break A Heart", which peaked at #2 in the USA, stalled at #14 in Vancouver, and "It Hurts To Be In Love" stalled at #11 in Vancouver while it peaked at #7 south of the border.
Pitney fronted a doo-wop group in his teens at high school called Gene & The Genials and for his next group called The Embers. He was influenced by the doo-wop group, The Crows, and by R&B singer Clyde McPhatter who was the lead singer for The Drifters.
He was signed up with to songwriter Aaron Schroeder's new label, Musicor, in 1961, Pitney scored his first chart single. The disc climbed to #39 on the Billboard Hot 100. The self-penned "(I Wanna) Love My Life Away", on which he played several instruments and multi-tracked the vocals, climbed to #5 in Vancouver.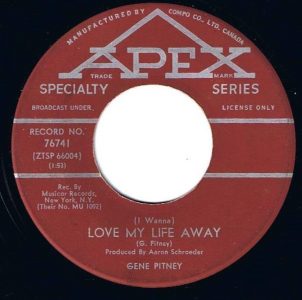 "(I Wanna) Love My Life Away" is a song about a romantic couple building dreams together and making love the core of their relationship. In his lyrics, Pitney makes clear that the love will continue all four seasons of the year. He sings that "in spring bells will chime." That line is suggestive of a wedding in the future. Although there are troubles in the world, the couple set those aside and let the love they share just grow and grow. In his Psychology Today article, "Can Love Conquer All?," Mark D. White cautions that fairytale notions of falling in love can impede a mature love. Nonetheless, he writes that people can grow to love each other in powerful and transformative ways. He states that in the faces of troubles and problems in the world "a great love can inspire us to work to overcome these problems, changing the world to make it fit our love rather than letting the world say no."
"(I Wanna) Love My Life Away" had other notable chart runs to #1 in Minneapolis/St. Paul, #2 in Nashville, San Antonio, and Farmington (NM), #3 in Tucson and Rochester (NY), #6 in Hartford and #7 in Cleveland.
Next, Gene Pitney scored a #5 hit on CFUN with "Town Without Pity" in the winter of 1961. He followed up in the spring of 1962 with "(The Man Who Shot) Liberty Valance," which peaked at #4. The song shares a title with a 1962 John Ford western with the same title, The Man Who Shot Liberty Valance, starring John Wayne. However, Gene Pitney's "Liberty Vallance" wasn't used in the film due to a publishing dispute between Famous Music and Paramount Pictures.
In 1962, Pitney's highest-charting hit in the USA, "Only Love Can Break a Heart", was kept out of the #1 position by The Crystals recording of Pitney's composition, "He's A Rebel". And in the spring of 1963, Gene Pitney had his highest charting song in Vancouver titled "Mecca". (It would later be equalled in 1964 with "I'm Gonna Be Strong".) The next single release was the double-sided "True Love Never Runs Smooth"/"Donna Means Heartbreak".
While he enjoyed a string of Top 40 hits in both Canada and the USA between 1961 and 1965, his star began to fade. Pitney was very much identified with the Brill Building sound and increasingly seen as a pre-British Invasion pop singer out of step with the times. One of the Top 20 hits Pitney enjoyed in Vancouver in 1964 was "Who Needs It". Another was "Hawaii". Pitney tended to get better chart runs in Vancouver than in his native home in America. Another song that did very well for him here on the Canadian West Coast was a psychedelic tune in 1968 titled "Animal Crackers (In Cellophane Boxes)". Also in 1968, "She's A Heartbreaker", reached #16 on the Billboard charts and #5 in Vancouver. After that Gene Pitney faded from view, at least in North America.
In 1974, he had a #2 hit with a song called "Blue Angel" in Australia. This was not a remake of Roy Orbison's "Blue Angel" from 1960. Pitney's last hit on the UK charts came in 1989, after an absence of 15 years, when he and Soft Cell singer Marc Almond recorded a duet version of "Something's Gotten Hold of My Heart" by British writers Roger Cook and Roger Greenaway. The song had been a #5 hit for Pitney in 1967. Pitney's duet with Almond brought him his first #1 hit in the United Kingdom, in January 1989. The single remained at the top for four weeks, and also went to #1 elsewhere in Europe.
Pitney died of a heart attack in 2006, at the age of 66.
December 20, 2018
Ray McGinnis
References:
Gene Pitney bio, Gene Pitney.com
Adam Sweeting, "Gene Pitney: Chart-topping Singer…," Guardian, UK, April 6, 2006.
"Hello Mary Lou," Song Facts.com
Gene Pitney, Rock and Roll Hall of Fame.com
Alex Petridis, "Life After Tulsa," Guardian, UK, 2003.
Gene Pitney, Only Love Can Break A Heart, track listing, Discogs.com
Tarling, Brian. Vancouver's Charted Songs. vancouverschartedsongs.ca, 2014, pp. 216-217.
Mark D. White, "Can Love Conquer All?," Psychology Today, August 12, 2012.
"The C-FUN-Tastic 50," CFUN 1410 AM, Vancouver, BC, January 21, 1961
For more song reviews visit the Countdown.