#1274: I'm A Dreamer, Aren't We All by Marcy Jo
Peak Month: September 1962
7 weeks on Vancouver's CFUN chart
Peak Position #13
Peak Position on Billboard Hot 100 ~ did not chart
Lyrics: "I'm A Dreamer, Aren't We All"
In 1944, Marcy Rae Sockel was born in Pittsburgh. She grew up in the Oakland neighborhood of Pittsburgh. In her teens, each Saturday, for four consecutive years she took transit to the city center. At the Carlton House Hotel she'd take singing lessons from songwriter and co-owner of Robbee Records, Lennie Martin. The year before Martin had produced the Top 30 hit "Pennies From Heaven" by The Skyliners. When she turned seventeen, Marcy Joe wrote a song about her boyfriend Howard. She called it "Ronnie". Martin was impressed with the song and quickly composed an arrangement for the tune. He produced a recording session of "Ronnie" at Pittsburgh's United Recording Service studio and got local Robbee Record artists Lugee & the Lions to sing back up. Lugee & the Lions were comprised of Lou "Lugee" Sacco (later known as Lou Christie), Amy Sacco (Lou's older sister), Kay Chick and Bill Fabec. In March 1961 the song was released.
"Ronnie" quickly became a Top Ten hit in Pittsburgh hit, reaching #7 on the National Record Mart sales rankings. National Record Mart was a record store chain that operated twenty Pittsburgh-area record stores in the 1960s. Though the chain expanded elsewhere in the 70's, reaching #7 on the National Record Mart sales in Pittsburgh gave local deejays a good indication of just how well "Ronnie" was doing. Next Robbee Records approached Liberty records who gave "Ronnie" national distribution.
Grateful for the backing vocals on her single, Marcy Joe signed a photograph for Lou "Lugee" Alfredo Giovanni Sacco with these words: "I can only say that I wish you all the luck in the world with your career. I'm sure that someday soon I'll be hearing records by Lugee on the radio." By the end of May 1961 "Ronnie" spent three weeks on the Billboard Hot 100, peaking at #81 and on Cash Box magazine's singles chart at #64. In addition to the initial push local Pittsburgh teens gave to their local teen queen Marcy Joe, "Ronnie" owed its American chart success to it's climb up the charts into the Top Ten in Franklin, Pennsylvania (#1), Springfield, Massachusetts (#4), Worcester, Massachusetts (#3), San Francisco (#3), San Diego (#2), Cleveland (#6), Seattle (#6), Minneapolis/St. Paul (#7), Tampa (#3), Tucson (#4) and Los Angeles (#9). In Vancouver the song climbed up the CFUN chart to #14.
Her followup was "Since Gary Went In The Navy". The song was dedicated to Gary Troxel, lead singer of The Fleetwoods ("Mr. Blue", "Come Softly To Me"). The song climbed to #10 in Manchester (NH), #17 in Worcester (MA) and #21 in Vancouver (BC). In the case of Vancouver, "Since Gary Went In The Navy" appeared on the CKWX chart just one week after "Ronnie" dropped off CFUN chart. In Pittsburgh, Robbee Records hosted a Marcy Jo Picnic in honor of the release of "Since Gary Went In The Navy". A local Pittsburgh paper ran a photo of Marcy Jo feeding Robbee Record label owner, Lenny Martin, a hot dog.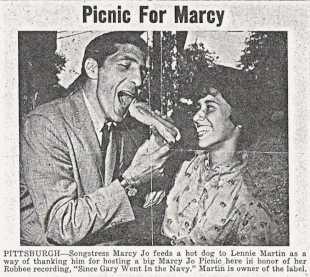 She had another release with the label titled "Jumping Jack", but the song was a commercial failure. After Robbee Records went out of business at the end of 1961, Marcy Joe signed with Swan Records in 1962. Swan decided to drop the "e" off of her first stage name, billing her now as Marcy Jo. Swan released the singles "I'm A Dreamer, Aren't We All" and "How Softly A Heart Breaks". The former was a remake of a Top Ten Bing Crosby & Paul Whitman Orchestra hit from 1929 in the film Sunny Side Up.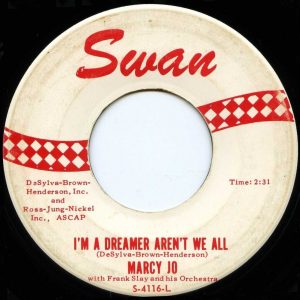 "I'm A Dreamer, Aren't We All" is a song that appeared in the talking film from 1929 Sunny Side Up, and sung by Janet Gaynor. The song was co-written by George Gard "Buddy" DeSylva, Lew Brown (born Louis Brownstein) and Ray Henderson. Buddy DeSlyva was born in 1895 in New York City. He is credited with writing over twenty Broadway musicals between 1919 and 1932. He founded Capitol Records. Brown was born in 1893 in Odessa, Russian Empire. His Jewish family immigrated to the United States in 1898, and settled in New York City. He started working for Tin Pan Alley in 1912. Henderson was born in 1896 in Greenwich, Connecticut.
Lew Brown wrote "Don't Sit Under The Apple Tree (With Anyone Else But Me)" the English lyrics to the "Beer Barrel Polka", and many others. The trio collaborated on "The Birth Of The Blues", "Button Up Your Overcoat", Al Jolson's 1928 million seller "Sonny Boy", Paul Whiteman's #1 1928 hit "Together", and "You're The Coffee In My Cream". Brown and Henderson wrote "Life Is Just A Bowl Of Cherries" a #3 hit in 1931 for Rudy Vallee and His Connecticut Yankees, and "That's Why Darkies Were Born" for Kate Smith the same year. Henderson also wrote "Bye Bye Blackbird", "I'm Sitting On Top Of The World" a hit for Al Jolson in 1925; "Has Anybody Seen My Gal (Five Foot Two, Eyes Of Blue)" a #1 hit for Gene Austin in 1926; "The Best Things In Life Are Free", "You Are My Lucky Star" and "The Varsity Drag".
In the original version of "I'm A Dreamer, Aren't We All" there was an intro, as was common in pre-World War II pop standard lyric. The song began "Aren't we all in search of happiness/To each one it means a different thing/To some it's wealth, to some it's health/To some it's only what love can bring/Please don't blame me if I'm human, too/I'm the same as you and you and you."
Marcy Jo's cover begins with the first verse after the intro. In her cover every night her "sweetheart" comes to call. In the original sung by Janet Gaynor, it is her "lover" who comes to call. Marcy Jo was not the first to tame down the lyric. In the early 1930's Earl Burtnett and His L.A. Biltmore Hotel Orchestra inserted the word "sweetheart" in place of "lover." In 1929, jazz singer Annette Hanshaw also sang a version with alternate lyrics. In her case she inserted "He's divine, but then he can't be mine" in place of "He's ideal, but then he isn't real." Marcy Jo stuck to the original lyrics in this case, where the boy she's dreaming about actually doesn't exist. The song is just a female fantasy about an imaginary, ideal, boy who is charming, strong and tall. This fantasy boyfriend has also formed a habit of coming to call for her nightly. Given she's only dreaming about a guy who doesn't actually exist, she makes this concession in the song: "I'm a fool."
"I'm A Dreamer, Aren't We All" climbed to #8 in Portland, Maine, and #13 in Boston and Vancouver (BC). It also got a bit of airplay in New Jersey, Washington State and Delaware. But Marcy Jo got nothing beyond a few regional break-outs with this cover of a pop standard from the 1920's.
Next Marcy Jo teamed up with singer Eddie Rambeau, who was from Hazelton, Pennsylvania, four hours east of Pittsburgh. They released the duet "Those Golden Oldies". "Six Great Oldies In One New Hit," ran the trade ads in Billboard Magazine. The song featured clips from "Sincerely" by The Moonglows from 1954, "Silhouettes" by The Rays from 1957, "Sweet Little Sixteen" by Chuck Berry from 1958, "Happy, Happy Birthday Baby" from 1957 by The Tuneweavers, "La De Dah" by Billie and Lillie from 1958 and "Over The Mountain, Across The Sea" by Johnnie & Joe from 1957. The song went Top Ten in Redding, Pennsylvania.
A second duet by Eddie Rambeau and Marcy Jo, "Lover's Medley", fell just shy of the Billboard Hot 100 in 1963. The song was a medley of "The More I See You" and "When I Fall In Love". It had regional success in Baltimore where it climbed to #5. Lennie Martin remained Marcy Jo's business manager until he died in 1963. Marcy released "The Next Time" on Swan in 1963, which was a cover of the Cliff Richard hit in the UK. But her cover version got next to no airplay. She was soon dropped from Swan. After her brief fling with fame, she got married to her sweetheart Howard aka Ronnie. She never recorded again. Although she did record more than one single, in most radio markets she is remembered as a one-hit-wonder for "Ronnie". The exception being numbers of radio markets in Pennsylvania, in Tucson, Arizona, and in Vancouver, BC, where she had more than one hit on the local pop charts.
Although Marcy Joe (Marcy Jo) had a brief involvement with the recording industry, her backup singer, Lou Sacco went on to fame under his stage name, Lou Christie. Marcy Jo indeed did get to hear his records on the radio, but as Lou Christie. He went on to score a Top 30 hit in the USA in 1962 called "The Gypsy Cried". Then he had a #6 hit on the Billboard Hot 100 called "Two Faces Have I" in August '63. His biggest hit was a #1 hit in 1966 called "Lightning Strikes". Christie was one of a new breed of teen idols as he was not only singing but also writing the songs he recorded. Lou Christie shared the stage with numerous hit makers of his era including The Rolling Stones, The Who, Neil Diamond, Roy Orbison, Jerry Lee Lewis, and Little Richard. He also toured extensively on Dick Clark's Caravan of Stars.
In 2015 Christie wrote the forward to the book, Pittsburgh's Golden Age of Rock 'n' Roll by Ed Salamon. Recently, Christie lent his voice to a CD fundraiser for American veterans called "The Soldier", along with other pioneers of rock 'n roll from the Pittsburgh area. In 2019 Lou Christie has a number of upcoming concert in Easton, Pennsylvania, on October 19th, with Brian Hyland ("Sealed With A Kiss"), The Capris ("There's A Moon Out Tonight") and The Happenings ("See You In September") and The Crystals Dolores "La La" Brooks – who sang lead vocals on "Then He Kissed Me" and "Da Do Ron Ron".
As for Marcy Jo, she quit the music business in 1963 and ended up marrying her teenage sweetheart, Howard, the inspiration for her song "Ronnie".
August 31, 2019
Ray McGinnis
References:
"Marcy Jo," Old Mon Music, November 13, 2009.
"Marcy Jo Hit the National Charts with her Ode to her Boyfriend "Ronnie", Pittsburg Music History.
Ed Salamon, Pittsburgh's Golden Age of Rock 'n' Roll, (Archer Books, 2015).
Sunny Side Up, Wikipedia.org.
"Ray Henderson: Top Film Songwriter of 1920's and '30's," Songwriters Hall of Fame.org.
"B.G. De Sylva: Founded Capitol Records," Songwriters Hall of Fame.org.
"Lew Brown: Top Tin Pan Alley Lyricist in New York and Hollywood," Songwriters Hall of Fame.org.
"Sunny Side Up (1929 Film)," Wikipedia.org.
"C-FUNTASTIC FIFTY," CFUN 1410 AM, Vancouver, BC, September 22, 1962.
For more song reviews visit the Countdown.