#1326: Judy Loves Me by Johnny Crawford
Peak Month: February 1964
7 weeks on the CFUN chart
Peak Position: #12
Peak Position on Billboard Hot 100 ~ #95
YouTube.com link: "Judy Loves Me"
Lyrics: "Judy Loves Me"
John Ernest Crawford was born in 1946 in Los Angeles. He got into acting as a child star and by the age of nine was one of the Mouseketeers in the first season caste of the The Mickey Mouse Club in 1955. Crawford was asked in 1982 about how he got picked for the show. He recalled, "I went on the audition and I did a tapdance routine with my brother, and we also did a fencing routine. Then they asked if we had anything else we could do. My grandmother told me to tell them that I imitated '50s singer Johnny Ray. I stepped forward and did my imitation of him singing "Cry" and that was what got me into the Mouseketeers." Though he was cut from the show in 1956 after Disney cut the caste from 24 to 12, Crawford continued to get acting roles. Between 1956 and 1958 he appeared in episodes of The Lone Ranger, The Loretta Young Show, Sheriff of Cochise, Wagon Train, Crossroads, Whirlybirds, Mr. Adams and Eve and Dick Powell's Zane Grey Theater. The latter featured an episode that became a syndicated TV show called The Rifleman. Johnny Crawford played Mark McCain, son of Lucas McCain (Chuck Connors). In 1959 Crawford was nominated for an Emmy Award for his role in The Rifleman. The show ran from 1958 to 1963.
In Vancouver Johnny Crawford consistently outperformed on the local charts compared t0 the Billboard chart. His next release, "Your Love Is Growing Cold", climbed to #16 in Vancouver, while the song didn't crack the Hot 100. Others that did better in Vancouver included his 1961 hit "Daydreams" (#2 in Vancouver/#70 Billboard), and 1962 hits, "Patti Ann" (#5 Vancouver/#43 Billboard) and "Cindy's Birthday" (#3 Vancouver/#8 Billboard). Crawford did better in Vancouver again in 1963 with "What Happened To Janie" (#7 Vancouver/did not chart ~ Billboard), and "Cindy's Gonna Cry" (#3 Vancouver/#72 Billboard). In 1964 Crawford charted "Sandy" (#15 Vancouver/#108 Billboard) and "Judy Loves Me" (#12 Vancouver/#95 Billboard).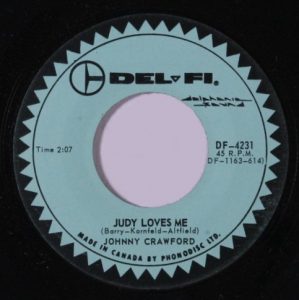 "Judy Loves Me" was written by Jan Barry and Artie Kornfield. Artie Kornfield was born into a working class Jewish family in Brooklyn in 1942. He co-wrote "Dead Man's Curve" for Jan and Dean, "The Pied Piper" for Crispian St. Peters, and "The Rain, The Park and Other Things" for The Cowsills. In his mid-20s he became the president of Capitol Records, the youngest person at the time to become head of a record company. In 1969 he was instrumental in staging the Woodstock Music Art & Fair in August 1969.
William Jan Barry was one half the singing surf music duo Jan And Dean. Barry was born in Los Angeles in 1941. Jan's father worked for Howard Hughes as a project manager of the "Spruce Goose" and flew on its only flight with Hughes. Jan Barry and Dean Torrence met in 1957 and had a string of minor hits between 1958 and 1962, which were mostly rock 'n roll covers of older pop standards. Then in 1963 they began to have a series of hits identifying them with the Surfing Sound. Of their Top 30 hits, they had three prior to "Surf City" in the USA. But in Vancouver they had nine Top 30 singles. Prior to their surfing craze, Jan and Dean already were a hit in Vancouver. From "Surf City" onward they charted ten singles into the Top 30 on the Billboard Hot 100 and twelve singles into the Top 30 in Vancouver. These included "Little Old Lady From Pasadena" and "Dead Man's Curve".
"Judy Loves Me" refers to the statement found on a blackboard in the first period in school, outside the school on the grass, on sidewalks and store (windows) in town. The guy who is the author of these boasts is Johnny. He phones up the DJ at the local radio station to dedicate the next song "to Judy, my heart's sensation." Earlier on, Judy was still available and all the guys wanted her. Now that Judy is kissing Johnny, all the other guys have their "hearts undone." The song is a snapshot of what a guy might do when his heart is full and he wants to tell the world he is so lucky to be loved by his sweetheart.
The choice by Jan Barry and Artie Kornfield to select Judy as the name of the female in the song may be due to the popularity of two songs in June and August of 1963. Leslie Gore's "It's My Party" and "Judy's Turn To Cry" both had a girl named Judy as their subject. And both songs concerned a guy named Johnny. In "It's My Party" two guests at a party are Johnny and Judy. Johnny is supposed to be the boyfriend of the birthday girl. But Judy and Johnny have been seen holding hands, disappear and then Judy comes back wearing his ring. In "Judy's Turn To Cry", the ex-girlfriend decides to kiss another guy at a party. This results in Johnny coming over and hitting the guy to show he still loves her, and not Judy after all. Although "Judy Loves Me" by Johnny Crawford is free of the specific references in the Leslie Gore songs in '63, they were still ear worms for many teen radio listeners.
"Judy Loves Me" was a hit in several radio markets. Notably, it climbed to #2 in Sacramento, #3 in San Bernardino and Edmonton, #7 in Toronto, #8 in Des Moines (IA), #9 in Phoenix, #10 in Halifax and #12 in Vancouver, British Columbia. But with little chart action across America the song only reached #95 on the Billboard Hot 100. Between 1961 and 1964 Johnny Crawford charted nine songs into the Top 20 in Vancouver and just 3 songs into the Top 20 on the Billboard Hot 100.
In subsequent years Johnny Crawford appeared as a guest star in Mr. Ed, The Big Valley, Little House On The Prairie, Hawaii Five-O and Murder, She Wrote. Starting in 1992 he formed the Johnny Crawford Dance Orchestra, playing vintage tunes from the 1920's and 1930's. For fifteen consecutive years his band played at the Beverly Hills Hilton for the Director's Guild Awards. In 2011 his band released an album titled Sweepin' The Clouds Away. In 2019 it was disclosed that at the age of 72 Johnny Crawford was suffering from Alzheimer's.
Update: Johnny Crawford died at the age of 75 on April 29, 2021.
August 10, 2019
Ray McGinnis
References:
David Weigand, "Johnny Crawford: Western Star to Vintage Singer," SF Gate, June 7, 2009.
"A Johnny Crawford Interview," TV Collector, December 14, 1982.
"Johnny Crawford," Mickey Mouse Club Cast.
Carl Arrington, "Having Survived a Tumor and The Jazz Singer, Neil Diamond Eases His Life Back into Shape," People, April 5, 1982.
"Johnny Crawford has Alzheimer's. Played Chuck Connors' son Mark McCain on The Rifleman," Life & Times of Hollywood.com, March 2, 2019.
"The Woodstock Music & Art Fair," Artiekornfield-woodstock.com.
Mike Barnes, "Johnny Crawford, Young Star of 'The Rifleman,' Dies at 75," Hollywood Reporter, April 29, 2021.
"C-FUNTASTIC FIFTY," CFUN 1410 AM, Vancouver, BC, February 15, 1964.

For more song reviews visit the Countdown.