#1042: What Happened To Janie by Johnny Crawford
Peak Month: August 1963
8 weeks on the C-FUN-TASTIC FIFTY
Peak Position: #7
Peak Position on Billboard Hot 100 ~ did not chart
YouTube.com link: "What Happened To Janie"
John Ernest Crawford was born in 1946 in Los Angeles. He got into acting as a child star and by the age of nine was one of the Mouseketeers in the first season caste of the The Mickey Mouse Club in 1955. Crawford was asked in 1982 about how he got picked for the show. He recalled, "I went on the audition and I did a tapdance routine with my brother, and we also did a fencing routine. Then they asked if we had anything else we could do. My grandmother told me to tell them that I imitated '50s singer Johnny Ray. I stepped forward and did my imitation of him singing "Cry" and that was what got me into the Mouseketeers." Though he was cut from the show in 1956 after Disney cut the caste from 24 to 12, Crawford continued to get acting roles. Between 1956 and 1958 he appeared in episodes of The Lone Ranger, The Loretta Young Show, Sheriff of Cochise, Wagon Train, Crossroads, Whirlybirds, Mr. Adams and Eve and Dick Powell's Zane Grey Theater. The latter featured an episode that became a syndicated TV show called The Rifleman. Johnny Crawford played Mark McCain, son of Lucas McCain (Chuck Connors). In 1959 Crawford was nominated for an Emmy Award for his role in The Rifleman. The show ran from 1958 to 1963.
While he was starring on The Rifleman, he also appeared in an episode in 1961 of The Donna Reed Show alongside child stars Paul Petersen and Shelley Fabares. Paul Petersen had also been a Mouseketeer with Johnny Crawford. That same year Johnny Crawford released his first single, hoping to become a teen pop star. The song was titled "Daydreams".
In Vancouver Johnny Crawford consistently outperformed on the local charts compared t0 the Billboard chart. His next release, "You Love Is Growing Cold", climbed to #16 in Vancouver, while the song didn't crack the Hot 100.
Others that did better in Vancouver included his 1961 hit "Daydreams" (#2 in Vancouver/#70 Billboard), and 1962 hits, "Patti Ann" (#5 Vancouver/#43 Billboard) and "Cindy's Birthday" (#3 Vancouver/#8 Billboard). Crawford did better in Vancouver again in 1963 with "Cindy's Gonna Cry" (#3 Vancouver/#72 Billboard).
Another single Crawford released in 1963 was "What Happened To Janie".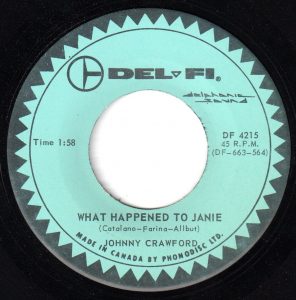 "What Happened To Janie" was co-written by Barbara Allbut, one of the members of the girl group called The Angels who had a #1 hit with "My Boyfriends Back" in August 1963. Another co-writer of the song was Tom Catalano who went on to produce many of Neil Diamond's early songs including "Cherry Cherry". Catalano also produced songs for Peggy Lee, Ruby & The Romantics, Anne Murray and Helen Reddy. A third co-writer of "What Happened To Janie" was Peggy Farina who later co-wrote "Beggin'" with Frankie Valli for the Four Seasons.
"What Happened To Janie" is a song about a guy who is jealous of Janie and Bobby's relationship. Bobby and Janie are so happy together. So this other guy starts a rumors about her. Presto, the rumors upset Bobby who breaks up with Janie. Now the jealous guy who loves Janie decides he has to fess up to Bobby that he was the one who started spreading rumors. In the song are female back-up singers who sing "look at Janie cry," repeatedly, as if they are enjoying Janie's misery. The suggestion is that girls at school are now whispering about Janie when she walks toward them in school.
In an OM Times Magazine article Judi Lynch writes "Gossip can destroy lives, the trust of others, and life-long friendships. It is like a spiritual assault on our souls to discuss others without their input or understanding of their privacy. We open the door to being under scrutiny ourselves, even worse, we hurt someone deeply by repeating things we know or hear. It doesn't matter if the gossip is true or not it only matters that we use discretion and integrity with any information we receive. Is it true? Is it kind? Will this knowledge help someone from being hurt? Is it based on hatred or jealousy for this person that is not justified?" In the case of the guy in "What Happened To Janie", we learn that he's feeling badly about the hurt he's caused Janie, and by ruining her reputation causing Bobby to lose trust in her. We also know that since all Janie does now is "cry," she's been hurt by the rumors the jealous guy spread about her.
"What Happened To Janie" climbed to #4 in Sacramento, California, #7 in Vancouver, British Columbia, and #8 in Phoenix, Arizona. The following month Johnny Crawford was again in the Top Ten on CFUN in Vancouver in September 1963 with "Cindy's Gonna Cry". In 1964 Crawford charted "Sandy" (#15 Vancouver/#108 Billboard) and "Judy Loves Me" (#12 Vancouver/#95 Billboard). Between 1961 and 1964 Johnny Crawford charted nine songs into the Top 20 in Vancouver and just 3 songs into the Top 20 on the Billboard Hot 100.
In subsequent years Johnny Crawford appeared as a guest star in Mr. Ed, The Big Valley, Little House On The Prairie, Hawaii Five-O and Murder, She Wrote. Starting in 1992 he formed the Johnny Crawford Dance Orchestra, playing vintage tunes from the 1920's and 1930's. For fifteen consecutive years his band played at the Beverly Hills Hilton for the Director's Guild Awards. In 2011 his band released an album titled Sweepin' The Clouds Away. In 2019 it was disclosed that at the age of 72 Johnny Crawford was suffering from Alzheimer's.
Update: Johnny Crawford died at the age of 75 on April 29, 2021.
July 20, 2019
Ray McGinnis
References:
David Weigand, "Johnny Crawford: Western Star to Vintage Singer," SF Gate, June 7, 2009.
"A Johnny Crawford Interview," TV Collector, December 14, 1982.
"Johnny Crawford," Mickey Mouse Club Cast.
Carl Arrington, "Having Survived a Tumor and The Jazz Singer, Neil Diamond Eases His Life Back into Shape," People, April 5, 1982.
"Johnny Crawford has Alzheimer's. Played Chuck Connors' son Mark McCain on The Rifleman," Life & Times of Hollywood.com, March 2, 2019.
Judi Lynch, "The Destructive Nature Of Gossip: Gossip Will Damage You as Much as Others," OM Times Magazine, February 3, 2018.
Mike Barnes, "Johnny Crawford, Young Star of 'The Rifleman,' Dies at 75," Hollywood Reporter, April 29, 2021.
"C-FUNTASTIC FIFTY," CFUN 1410 AM, Vancouver, BC, August 10, 1963.
For more song reviews visit the Countdown.