#1239: Just Young by Andy Rose/Paul Anka
Peak Month: October 1958
9 weeks on Vancouver's CKWX chart
Peak Position #5 ~ Red Robinson's Teen Canteen
Peak Position on Billboard Hot 100 ~ #69 (Andy Rose)/ #80 (Paul Anka)
YouTube: "Just Young" Andy Rose
YouTube: "Just Young" Paul Anka
Lyrics: "Just Young"
Andy Rose was born Andrew Gattuso in Brooklyn, New York. His mother was an Italian immigrant from Sicily. Andy Rose has only one child a daughter. Andy had two brothers, Roger and Sal, and one sister. In 1958, Rose was signed with Aamco Records, a tiny New York label owned by Carl LeBow at 204 West 49th Street in Manhattan. It was formed on May 19, 1958. It was more of an album outlet during their existence focusing on Carribbean and Calypso music. In fact they only issued four singles, all in 1958, two of which were by Rose. The first release was "Just Young".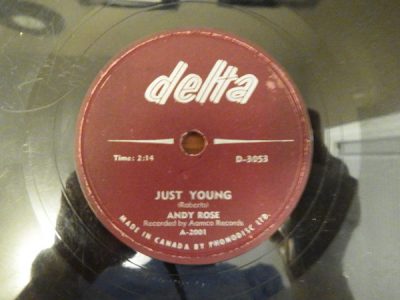 Paul Anka was born in Ottawa, Canada, in 1941. His father was Syrian-American and his mother was Canadian-Lebanese. While growing up in Ottawa he was part of a vocal trio at Fisher Park High School called the Bobby Soxers. His career has included writing songs for others including "It Doesn't Matter Anymore" for Buddy Holly in 1959. He had a #1 hit in 1957 titled "Diana", and performed in concert at the Georgia Auditorium in Vancouver on October 23, 1957. (Diana Ayoub who inspired the song died in December 2022). Others on stage were Buddy Holly and The Crickets, Buddy Knox, Eddie Cochran, and Frankie Lymon and the Teenagers. His next Top Ten hit, "You Are My Destiny", peaked in January 1958.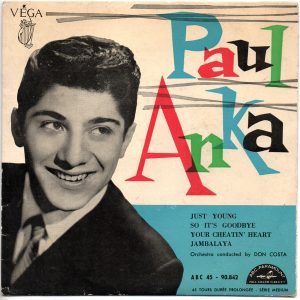 Anka released five more singles before his next big hit in 1959 titled "Lonely Boy". One of these was "Just Young".
"Just Young" was written by Lya Roberts. Little is known about this obscure songwriter. She penned "Lollipops to Lipstick" for a minor recording pop singer named Laurie Leslie in 1958. She also wrote "Christmas Vacation", recorded by Bobby Vee in 1962. Other songs she wrote were recorded by the Four Esquires, among others. "Just Young" was also recorded by the Four Lads, and had covers by singers in both Spain and West Germany. "Just Young" is a song about what other older people say about people who are young and in love: "When they see your picture on my bureau, and they see me kiss it everyday; They'll say it's just because we're young." The sweethearts are seen walking hand in hand. They hear the comments of older people around them. And they conclude: "Til the time we make them understand us, secretly we'll smile about the way they say 'it's just because we're young'."
"Just Young" is one of a number of songs in the early rock era that lamented the challenges of being accepted by the older generation, and have their romantic attractions validated. Other songs at the time include "Why Don't They Understand?" by George Hamilton IV, "Town Without Pity" by Gene Pitney, "I'm Not A Juvenile Delinquent" by Frankie Lymon and the Teenagers, and "Secretly" by Jimmie Rodgers.
"Just Young" by Andy Rose peaked at #5 in Vancouver, #6 in Hamilton (ON), #11 in Memphis (TN), #15 in New York City, #16 in Toronto, and #69 on the Billboard Hot 100 in October 1958. "Just Young" was Andy Rose's only record to chart on the Billboard Hot 100. The version of "Just Young" by Paul Anka charted at #4 in Hull (PQ), #5 in Vancouver and Burlington (VT), #6 in Ottawa, #16 in Chicago, #17 in Buffalo, and #80 on the Billboard Hot 100.
The follow-up "My Devotion (The Promise)"/ "Classroom Cutie" on Aamco did not chart. There were always financial problems and little ability to promote the single releases of Andy Rose. By June 18, 1959, Aamco Records filed for Chapter XI bankruptcy. Andy Rose's modest success with Aamco, especially for a label with limited promotional funds, led to interest from the much larger Decca subsidiary, Coral. They signed him in 1959. But despite releasing 10 singles between 1959 and 1962, and with all their promotional clout, Andy Rose could never nudge himself back into the Billboard Hot 100. All the following singles failed to crack the Billboard Hot 100. They were released in the following order: "I'm Waiting For You" and "With Feelings" (1959); "Lifetime Of Happiness" and "A Rose And A Thorn" (1960), "I'm Right Behind You", "This Is The Nite", "You Weren't There" and "I Was The One" (1961), "Same Old Orange Peels (On The Tabbi)" and "Being Young" (1962).
In 1961, Andy Rose was the lead singer on a doo wop tune titled "Crazy For You". The song was credited to Andy Rose and the Exotics. A year later he recorded "Perfidia" credited to Andy Rose and the Thorns. The 1940 hit by Xavier Cugat didn't help Andy Rose have a comeback hit and he remained a one-hit wonder with "Just Young" as his only song on the Billboard Hot 100. Subsequently, he also recorded at least one single credited to Andy Rose and the Sandmen.
In 1964 Andy Rose tried twice more to release singles with different record labels hoping for a break. He released "Everybody But You" on Ember Records and next released "Hey Scooter" on Golden Crest Records. On his last single release he was billed as Andy Rose & The Thorns. But the songs were commercial failures. A final effort was recorded as a duo named Andy & Gino. Their song, "Love Is Love" included a host of title songs in the lyrics that climbed up the pop charts in 1964. Phrases found in "Love Is Love" included "do you want to know a secret," "money can't buy me love," "a world without love," "yeah, yeah, yeah, yeah," "twist and shout," "I want to hold your hand," "thank you girl," "Romeo and Juliet," "bits and pieces," "walk on by," "glad all over" and "chapel of love." Despite the attempt to build on title song familiarity, "Love Is Love" also failed to chart. That's the story of Andy Rose and his foundering recording career as a teen idol. The music career of Andy Rose is just a reminder, a sign meant to warn, you won't necessarily become a chart topper even if you have classic good looks, can sing and write your own songs.
Nonetheless, Andy Rose had several extensive compilations of the songs he recorded between 1958 and 1964. A YouTube.com video comment states that Andy Rose "eventually left the recording industry and started doing local night club singing in the New York area." At some point he moved from New York to Michigan. In 1995, Andy Rose died of lung cancer. In 2017, a CD became available on iTunes featuring 27 songs by Andy Rose. It was titled A Thorn And A Rose. It features an amazing version by Andy Rose of Elvis Presley's "I Was The One".
Paul Anka enjoyed a very commercially successful career. In 1959 he had success with "Lonely Boy" which peaked at number-one on the Billboard Hot 100. His #2 hit in 1959, "Put Your Head On My Shoulder", spent ten weeks in the Top Ten and seven of these in the Top Five. It was kept out of the #1 spot by Bobby Darin's "Mack The Knife". Further Top Ten hits included "It's Time To Cry", "Puppy Love" and "My Home Town".
Anka appeared in his first movie in 1958, Let's Rock, a movie about the new rock 'n roll phenomenon, and in the 1962 army film, The Longest Day. Anka also appeared in the 1960-61 NBC crime series, Dan Raven in a cameo as himself. Anka later would appear in The Red Skelton Hour and the crime series Kojak. In 1982 he hosted his own entertainment series called The Paul Anka Show. Anka also wrote the theme music for The Tonight Show Starring Johnny Carson, which debuted on NBC television in October 1962.
Already famous in Italy as a teenage idol for his songs in English, in 1960 released an Italian version of "Summer's Gone" in 1960, released as "Dove Sei". The record climbed to #4 on the Italian pop charts, advancing a promising foreign career. Anka then underwent an intense collaboration with several Italian musicians including composer/director Ennio Morricone, singer-songwriter Lucio Battisti and lyricist Mogol. In the early Sixties Anka charted a half a dozen songs onto the Italian charts that were sung in Italian. His top hit was a translation of "Love Me Warm And Tender", titled "Ogni Giorno" which scored No. 1 in 1962, followed by "Piangerò per te" and "Ogni Volta", which reached both No. 2, in 1963 and 1964.
While he was piling up Top Ten hits in Italy, back in North America Paul Anka had been shut out of the Top Ten on the Billboard Hot 100 since the June of 1961 with "Dance On Little Girl". While he fared better in Vancouver where he had five Top Ten hits between 1961 and 1963, in the spring of '63 Paul Anka had only his second single release miss the Top 40 in Vancouver. The follow-up he was counting on to get him back into the Top 40 was "Hurry Up And Tell Me".
Paul Anka came to Vancouver in April 1966 and performed on eleven consecutive nights at The Cave between the 16th and 26th of the month. After a drought on the record charts, Anka finally returned, briefly, to the Top 30 with "Goodnight My Love", (#27 Billboard Hot 100) a remake of the 1956 R&B classic by Jessie Belvin. It would take eleven more single releases before he would return to the Top 40 with "You're Having My Baby" in 1974, a #1 hit record. On August 25, 1977, Paul Anka gave a concert at the Pacific Coliseum in Vancouver.
Over the decades Paul Anka has charted more than fifty singles onto the Billboard Hot 100. In 1990 he became a US citizen. On October 4, 2007, Paul Anka appeared in concert at the Centre For Performing Arts in Vancouver. In 2013 Paul Anka published My Way: An Autobiography. On August 28, 2015, Paul Anka performed at the Hard Rock Casino in the Vancouver suburb of Coquitlam. Between mid-June and mid-November of 2017 Paul Anka has over fifteen concerts scheduled. Anka wrote "She's A Lady" which became a signature song for Tom Jones. He also wrote the English lyrics to "My Way" for Frank Sinatra. He became an American citizen in 1990.
October 29, 2022
Ray McGinnis
References:
Just Another Classroom Teen Idol, Amazon.com
Andy Rose – Classroom Cutie, Whitedoowopcollector.blogspot.ca
Barbara Allen, Songfacts.com
Andy Rose With Feeling, YouTube.com, November 17, 2009.
Tribute To Andy Rose, YouTube.com, September 8, 2010.
Andy Rose, "Classroom Cutie," 1958
Andy Rose, "Crazy For You," 1961
Andy Rose and the Thorns, "Perfidia," 1962
Andy & Gino, "Love Is Love," 1964.
Heidi Parker, "He's Married Again! Paul Anka, 75, Weds His Girlfriend of Six Years In Beverly Hills With Mogul Pal Warren Buffet in Attendance," Daily Mail, London, UK, October 29, 2016.
Jay Weston, "Paul Anka's "My Way," Reviewed From the Inside!," Huffington Post, December 6, 2017.
Paul Anka bio, Capitolint.com.
Harry Foster, Let's Rock, Columbia Pictures, 1958.
"Diana Ayoub, Ottawa woman who inspired 1957 Anka hit, dead at 83," CBC, December 6, 2022.
"Red Robinson Teen Canteen Top Songs Survey," CKWX, 1130 AM, Vancouver, BC, October 6, 1958.
For more song reviews visit the Countdown.