#1338: Keep On Running by Spencer Davis Group
Peak Month: March 1966
Peak Position #9
7 weeks on Vancouver's CFUN Chart
Peak Position on Billboard Hot 100 ~ #76
YouTube: "Keep On Running"
Lyrics: "Keep On Running"
Spencer David Nelson Davies was born in 1939 in Swansea, Wales. Davis learned to play harmonica and accordion at the age of six. In 1955, at the age of 16, Spencer formed a group called The Saints with Bill Perkes (later known as Bill Wyman, bass guitarist for the Rolling Stones). Davies dropped the "e" in his surname since, though "Davies" was pronounced "Davis" in Wales, it didn't get pronounced like this elsewhere. In the late 50s, Spencer met Christine Perfect, who he dated and played with in a folk group called the Ian Campbell Trio. She later married John McVie and was a lead singer in Fleetwood Mac. In 1963 he formed the Spencer Davis Group
Stephen Lawrence Winwood was born in 1948 in suburban Birmingham, UK. Winwood began playing piano from the age of four, being raised in a musical family. He joined a boys choir and added drums and guitar to his repertoire. At age 14 he joined The Spencer Davis Group in 1963, with his older brother Muff. Mervyn "Muff" Winwood was born in 1943. He was nicknamed "Muff" after the popular British children's TV character Muffin the Mule, which began appearing on the BBC in 1946 with Annette Mills interacting with the puppet. Growing up, Muff learned to play guitar and then bass guitar. Both Stevie and Muff were playing at the Golden Eagle club as the Muff Woody Jazz Band, when Spencer Davis heard them and immediately approached them about forming a new band. Peter York was born in 1942 and learned to play the trumpet and the drums in school bands. Born in Yorkshire, he was the fourth original bandmate in the Spencer Davis Group.
In 1964 the band covered a John Lee Hooker blues tune titled "Dimples". Though it didn't chart in the UK, it got the band introduced to the recording studio. The single ended up on their debut album titled Their First Album. It contained covers of the Coasters "Searchin'", Ike & Tina Turner's "It's Gonna Work Out Fine", and the Brenda Holloway R&B single "Every Little Bit Hurts". The latter was the band's best effort among their first four single releases, with the song peaking at #41 on the UK Singles chart in 1965.
With their next single release in 1965, the Spencer Davis Group had a number-one hit in the UK with "Keep On Running".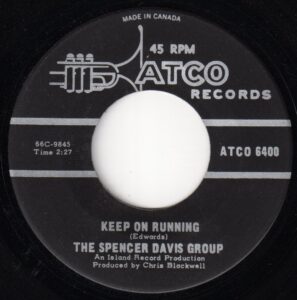 "Keep On Running" was written by Wilfred Gerald Edwards, who was born in Jamaica in 1938. Known professionally as Jackie Edwards, he was performing in concert by the age of 14 in 1952. His experimentation with Latin rhythms in the late 50s resulted in four number-one hits on the Jamaican Singles chart in 1960-61: "Your Eyes Are Dreaming", "Whenever There's Moonlight". "Heaven Just Knows" and "Tell Me Darling". He was influenced by Nat "King" Cole and Johnny Ace. Jackie Edwards was a singer and songwriter and had some of the earliest hits on the Jamaican record label, Island Records with "All My Days" and "One More Week" in 1962. He released an album titled The Most of Jackie Edwards, showcasing hit singles from the start of the decade. In 62′ he moved to the UK and began writing songs for recording artists in Britain. One of these was for the Spencer Davis Group, and intended as a B-side: "Keep On Running". Between 1962 and 1995 Jackie Edwards released 26 studio albums. He died of a heart attack in 1992 at the age of 53.
"Keep On Running" is a song about a guy who is certain to win the love of someone he adores. In fact, he declares "I'm gonna be your man." However, everyone who observes his attempts to win the heart of the one he desires is talking about him, and laughing at him. This makes him feel bad about himself and sad. Nonetheless, he believes "one fine day I'm gonna be the one to make you understand…" So this person he is in love with can run away from him, and hide away from him. But it doesn't matter. Undaunted, he will keep up the chase until they finally stop running from his arms.
A year prior to "Keep On Running" was a song by Martha & The Vandellas titled "Nowhere To Run". The lyrics described how the person wasn't running from love, but the heartbreak they anticipated would follow falling in love. The singer observes "I know you're no good for me. But you've become a part of me." Then they ask, "How can I fight a love, that shouldn't be? When it's so deep, so deep, deep inside of me." The single climbed to #5 in Vancouver (BC) in April '65. It's possible that this song inspired Jackie Edwards to write a sort of answer song with "Keep On Running" in the following months. Another song about running was Del Shannon's Top Ten hit in 1965 "Keep Searchin' (We'll Follow The Sun)". This was a song about a guy whose girlfriend has been hurt a great deal by people who "treat her mean and cruel." So he decides to "keep on the run" from the predatory people who wish to do her harm, until they can find a safe place to stay. In an effort to evade those who are after her, he decides that they'll just follow the sun. "Keep On Searchin'" peaked at #6 in Vancouver (BC), spending six weeks in the Top Ten in January and February '65 on the CKLG Boss 40.
But with "Keep On Running", we encounter a dynamic in a potential relationship. One person runs away and the other person keeps running after them.
"Keep On Running" peaked at #6 in Reno (NV), #8 in San Bernardino (CA) and Phoenix (AZ), #9 in Vancouver (BC) and #10 in Montreal.
A follow up single by the Spencer Davis Group – written by Jackie Edwards – "Somebody Help Me", also topped the UK Singles chart in 1966. It was covered by Vancouver band the Shockers in 1967. The Spencer Davis Group had two more notable hits in both the UK, Ireland, New Zealand and Australia, finally making the Billboard Hot 100 Top Ten with "Gimme Some Loving" (#7) and "I'm A Man" (#10) in 1967. "Gimme Some Loving" climbed to #1 in Vancouver (BC) the last two weeks of January '67, while "I'm A Man" peaked at #12 in early March '67. In each case, Stevie Winwood was the lead vocalist.
In 1967, after the Spencer Davis Group had their fourth Top Ten hit single in the UK, both Winwood left the band. He hooked up with his friend Jim Capaldi and they got in contact with Chris Wood and Dave Mason and began to talk about a new musical project. In April 1967 Traffic was formed, just as "I'm A Man" was climbing the Billboard Hot 100 and before it peaked on May 6, 1967. On May 19, 1967, Traffic released their first single titled "Paper Sun". The song peaked on the UK Singles chart at #5 in early June followed by "Hole In My Shoe", which peaked at #2 in Vancouver (BC) for two weeks in October-November 1967, and #2 in the UK.
A third Top Ten single for Traffic that year on the UK Singles chart was "Here We Go Round The Mulberry Bush", the theme song for a British comedy film. Coincidentally, the Spencer Davis Group was also featured in Here We Go Round The Mulberry Bush. They performed eight of the songs in the film, while Traffic performed three of the songs on the soundtrack. Here We Go Round The Mulberry Bush became the tenth biggest grossing film in the UK in 1968.
The liner notes for the Soundtrack album for Here We Go Round The Mulberry Bush were by the film's director, Clive Donner. He had previously directed What's New Pussycat? in 1965, which spawned a Top Ten hit for Tom Jones. Regarding the Soundtrack for Here We Go Round The Mulberry Bush, Donner exuded "Never before has the musical score for a film been created the way this one was. I decided all the background music would be pop songs, performed by top groups just as if they were regular discs available to the record buying public. Sometimes treating them electronically and mixing in way out sound effects as is the hero's "Daydreams." It was a gamble…. not having a conventional score and an experienced film composer meant I was dependent on their [Traffic and the Spencer Davis Group] responding to the story of the film, digging the characters and situations in it and writing the sort of material I wanted."
Donner continued, "I talked – they may plead I jabbered my head off – to them at fantastic length; they listened – silently, reacting very little – then went away, composed, performed, recorded and delivered…. This group of popular songs of today makes a unique film score and mirrors something of the feelings of those who are young to-day, and for those who have been and will go Round the Mulberry Bush of Love."
UPDATE
As it happens, I planned to post this song review on October 31st back in September. And then news broke on October 21st of Spencer Davis' passing on October 19th. Thanks to readers for their comments below this post.
October 31, 2020
Ray McGinnis
References:
Jonathan Wingate, "Growing Up in Public: An Interview with Steve Winwood," Express, February 22, 2011.
Anthony Decurtis, "Steve Winwood: From Mr. Fantasy to Mr. Entertainment," Rolling Stone, December 1, 1988.
Roy Black, "Wilfred 'Jackie' Edwards, An Unsung Hero Of The 60s," The Gleaner, Kingston, Jamaica, May 21, 2015.
Lloyd Bradley, "Obituary: Jackie Edwards," The Independent, September 2, 1992.
Clive Donner, "Liner Notes:Here We Go Round The Mulberry Bush," United Artists, 1967.
Adam Sweeting, "Spencer Davis Obituary: Founding Member of the Spencer Davis Group, the Band that Enjoyed Success in the 1960s with Hits Including 'Keep on Running' and 'Somebody Help Me'," Guardian, October 21, 2020.
"C-FUNTASTIC FIFTY," CFUN 1410 AM, Vancouver, BC, March 19, 1966.
Number-one single "Gimme Some Loving" – "Boss 40," CKLG 730, Vancouver, BC, January 28, 1967.
For more song reviews visit the Countdown.