#948: King Size by Trials Of Jayson Hoover
Peak Month: January 1969
8 weeks on Vancouver's CKLG chart
Peak Position #8
Peak Position on Billboard Hot 100 ~ did not chart
YouTube.com: "King Size"
Drummer David MacPhail founded The Epics in 1963 after meeting guitarist Jimmy Harmata in Vancouver's Smilin' Buddha Cabaret. In 1964, 15-year old bassist, Bob Kidd, was added and later tenor saxophone player Gunther Klaus and keyboard/organ player Bill Gibson. The Epics first vocalist was Barry Collins. In a YouTube interview posted in 2010, Jayson Hoover says "I came to Vancouver in 1964 after graduating, to come for a visit just to see Vancouver and never returned home." Hoover was an Afro-Canadian musician who helped spearhead a West Coast soul sound, along with other Vancouver acts like Bobby Taylor and the Vancouvers. Hoover first met Bob Kidd and another bandmate with the Epics, Jimmy Harmata, at the Shanghai Junk on Main Street.
Jayson Hoover recalled in an interview posted on YouTube in 2010, "Bob Kidd came up to me and said 'Jayson' – he was a bass player, sixteen years old and working illegally at the Smiling Buddha – 'I got this band, I'm in this band called The Epics. And we've got a singer already, but we'd really like you to come out and sing for us… What happened is they just persuaded me to come to rehearsal. I loved hearing that big band sound, tight and precise. So I said, okay, yeah, let's do it."
The Epics featured Barry Collins and Jayson Hoover under the name "The Soul Brothers." This was a take-off on the Righteous Brothers. Barry Collins left The Epics around 1965.
In an interview posted on YouTube in 2010, Bill Gibson recalled he "got a phone call from Gunther, and Gunther said Bill, 'I've found these three guys, a drummer, a lead guitar player and a bass player.' There names were Dave MacPhail on drums, Jim Harmata on lead guitar and Bob Kidd on bass. And he says, 'I've found these three serious musicians and they're gonna do alright. We're looking for a keyboard player and a good singer. So I told them about you, and how would you like to come for an audition?' Gibson recalls what happened at the audition. "Dave came out and he's a very laidback kinda guy, and he sorta had the habit of putting his mouth up to his wrist. And he says 'well, Bill, I was talking it over with the guys, and you're not very good. But, we think you have some potential. So, if you want in the group, you're in. But, he said, 'you gotta practice constantly, 'cause we practice every night of the week. We practice all day Saturday and we practice all day Sunday. And Friday nights and Saturday nights we go out and listen to other groups.' So he said, 'if you're willing to do that, you're in."
Over time The Epics became promoted as The Epics featuring Jayson Hoover. In a June 1967 appearance on the local CBC variety show Let's Go, Hoover introduced that band as Jayson Hoover & The Epics before singing a cover of "(I Wanna) Testify" by the Parliaments.
Jayson Hoover and The Epics played the concert circuit in Vancouver along with other groups like The Spectres, Howie Vickers and The Vicounts and Little Daddy and The Bachelors. Jayson Hoover and The Epics performed at many venues including The Hollywood Bowl in New Westminster, the Renfrew Community Centre and at Clinton Hall (on East Pender) both in Vancouver. Bruce Fairburn of the Spectres remembers Jayson Hoover and The Epics "always were known for a great feel, always a classic band who had a great groove to them." The Epics were a West Coast Vancouver sound that was an answer to bands in the USA like Booker T. and The MGs and The Funk Brothers.
Jayson Hoover and the Epics quit in the summer of 1968. The Pacific Northwest Band's website (PNWB) states that this was because Jayson "Hoover, Harmata and Kidd decided to do music full time." Jim Hamata and Bob Kidd both remained with Jayson Hoover after the Epics split, to co-found The Trials of Jayson Hoover. Ian Hood, formerly of Blured Vision, became one of the bands two drummers. The other drummer from the New Breed was Randy Busby who was in the band briefly, leaving the drums to Ian Hood. An article in PNWB.com clarifies that "Busby, who was in the original press photo, went back to rejoin Kentish almost immediately, and after auditioning a dozen or so drummers at Diamond Jim's Night Club in September 68, Ian Hood was chosen…. From October 1968 to February of 69 TJH played several local clubs, Diamond Jim's, Lasseter's Den and as the house band at Phaoroh's Retreat." Steve Cartmell also joined the band in August 1968, playing a Hammond B3 organ.
Their first release was "King Size". It was released on local musician, Tom Northcott's, New Syndrome Records in December 1968. It peaked at #8 in Vancouver.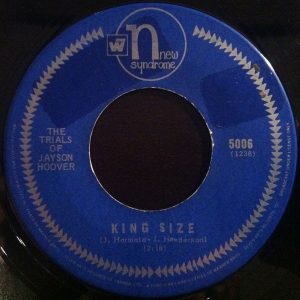 "King Size" is about seizing the moment, dancing to the max and hanging out with someone who is a knock out ("you babe, always knock me down"). It could, plausibly, be interpreted as being knocked down, as synonymous with being criticized. However, the lyrics in the song clarify "come on baby, do it one more time, give it to me." If the singer was complaining about being knocked down, they wouldn't want more of the same. The song is about being infused with soul and being near someone who is sexy to dance with. The lyrics tell us this "baby" brings "trouble when you're around." And that would be the trouble that comes with being sexually attracted to someone. The song was co-written by one of the bandmates, Jimmy Harmata.
The PNWB article notes "The Trials of Jayson Hoover were contracted by promoters" to be the opener for a concert at the Pacific Coliseum in Vancouver on December 28. The headlining band was Vanilla Fudge who was the only act listed on the posters (at least those I can find online).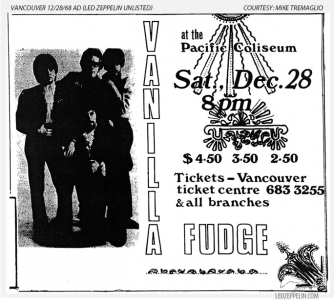 Earlier that fall Vanilla Fudge had a song on in the local Top Ten, a cover of The Supremes "You Keep Me Hanging On." Since The Trials of Jayson Hoover had "King Size" on the CKLG pop chart they were getting a buzz around town. PWNB states "the main reason… for getting the gig was we had to let both groups use my Hammond B3 and leslies."
The Trials of Jayson Hoover opened the concert for Vanilla Fudge. A largely unknown group from England, Led Zeppelin, followed. Vanilla Fudge closed the show. In his printed article on December 29, 1968, Vancouver Sun reporter Jim Allan gave Led Zeppelin a poor review. He wrote "by the time that I was seated The Trials Of Jayson Hoover had finished and Led Zeppelin was just starting the first song of their set." CKLG promoted the concert with clips of "You Keep Me Hanging On" featured in the ads.
PNWB points out that in December 1968 "no one knew…who Led Zeppelin was. The band had only arrived in North America to go on tour just before Christmas Day. FM stations had not yet received "any advance promotional copies of their debut album until 20 days later on January 17, 1969," following the release of Led Zeppelin on January 12, 1969. Consequently, Led Zeppelin received only limited mention on air with no airplay by the local DJs in the week just before the concert. It would be later in January that local FM radio listeners in Vancouver began to hear tracks from the album including "Dazed And Confused", "Good Times, Bad Times", and "Communication Breakdown".
PNWB notes that March and April of 1969 The Trials of Jayson Hoover "played six nights a week at The Palm Gardens in Portland, Oregon. In late spring and the summer of 1969" they performed in concert across British Columbia and Alberta. During this time they shared the stage with Uriah Heep in Vancouver and The Guess Who in Edmonton, Alberta.
After "King Size" PNWB states that "by May of 1969 the R&B songs were reduced to about a third of the material with most of the songs coming from the current music of psychedelic and classic rock. Prime influences on the band were Sly & The Family Stone, Stax, Motown, Booker T, and Traffic. Uriah Heep, Mandala, Vanilla Fudge and Led Zeppelin were a big influence from sharing Vancouver concerts in '68 & '69."
Following "King Size" the band released "We Were Happy", which peaked at #20 in Vancouver in February 1970. From January 1970 t0 November 1970, Trials of Jayson Hoover changed their name to the Anvil Chorus. PNWB clarifies that this was to allow the band to explore a heavy rock 'n roll sound. They changed their lineup and name back to Trials of Jayson Hoover in November 1970. From February 1971 to mid-April '71, the Trials of Jayson Hoover played at a club in Honolulu and were billed as The Night Train Revue. From mid-April and through May, 1971, the band played at the Cirque Electrique night club, in Quebec City.
The final iteration of the Trials of Jayson Hoover lasted until 1971 when they had a final Top 20 hit in Vancouver titled "Freedom Train." Hoover went on to sign with Mushroom Records billed as Jayson Hoover n Stuff in 1975. Hoover released a number of singles including "She's My Lady", a Top 20 hit in Winnipeg in 1975. Another single release was "Ridin' High (Hypnotized)". Jayson Hoover n Stuff disbanded in 1976.
Jason Hoover and the Epics did a re-union concerts at the Commodore Ballroom in Vancouver in 1991, 2001, and on other occasions.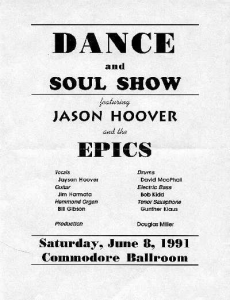 Jayson Hoover has played more recently at the Vancouver Blues Festival in 2010 at The Yale pub, which featured Jayson Hoover Jr. and Christine Best, Jimmy Harmata and David McPhail. The Epics were in concert at the Biltmore Cabaret in 2011.
Bass player, Bob Kidd, died in 2000.
November 27,2017
Ray McGinnis
References:
Interviews with Jayson Hoover, Rock Classic Reunion at the Commodore Ballroom, 1990, documentary, YouTube.com.
Jayson Hoover, "She's My Lady," YouTube.com, Mushroom Records, 1975.
Jayson Hoover, Discogs.com.
Jayson Hoover 45 King Size..., Popsike.com.
"Jayson Hoover Part 1," YouTube.com.
Jim Allan, "But Only 3708 Tasters: Fudge Show Candy Sweet," Vancouver Sun, December 29, 1968.
Steve Cartmell, "Trials Of Jayson Hoover," PNWB.com, December 2013.
Mike Tremaglio, "Vanilla Fudge poster," Pacific Colliseum, December 28, 1968.
"Boss 30," CKLG 730 AM, Vancouver, BC, January 10, 1969.
For more song reviews visit the Countdown.