#121: Let's Have A Party by Wanda Jackson
Peak Month: August 1960
10 weeks on Vancouver's CFUN Chart
Peak Position ~ #1
Peak Position on Billboard Hot 100 ~ #37
YouTube: "Let's Have A Party"
Lyrics: "Let's Have A Party"
Wanda Lavonne Jackson was born in 1937 in Maud, Oklahoma. According to Wolf Kurt in his essay, "You Can't Catch Me: Rockabilly Bursts Through The Door," Jackson's dad was a musician. In search of a better life, he relocated the family to Bakersfield, California, in the 1940's. While in Bakersfield, her dad purchased Wanda a guitar and taught her to play. Tom Jackson also took his daughter to live concerts by Spade Cooley, Tex Williams and Bob Wills, which opened her eyes and ears to the exciting world of country and western music. It was when she was eleven years old that her family returned to Oklahoma in the fall of 1948. In 1954, while she was still sixteen years old, Wanda Jackson started to sing professionally in Oklahoma City. While in high school, Jackson had been discovered by country music recording artist, Hank Thompson, who heard Wanda singing KLPR-AM in Oklahoma City. Thompson asked Wanda to sing with his band, the Brazos Valley Boys. This led to her recording several songs with Capitol Records. Among those was a duet with the Brazos Valley Boys bandleader, Billy Gray titled "You Can't Have My Love". The song climbed to #8 on the Billboard country chart.
From her initial success, Wanda Jackson approached Capitol Records to give her a record contract. However, she was told by producer Ken Nelson that Capitol wasn't interested because "Girls don't sell records." Subsequently, Wanda Jackson got a record deal with Decca Records.
Once she was finished high school, Wanda Jackson went on tour with her dad, Tom Jackson, who was her manager and chaperon. On numbers of occasions, in 1955, she was on the same concert roster as Elvis Presley. It was Presley who persuaded her to switch her sound from country and western to rockabilly. Wanda dated Elvis for a short time while on tour. Meanwhile, Jackson was given a spot on the ABC-TV show Ozark Jubilee, broadcast from in Springfield, Missouri. She stayed with the show from 1955 to 1960. With these developments, Capitol Records reconsidered their decision to turn down Jackson's interest in a record deal. In 1956 she signed with Capitol. Among the recordings to come out of her studio sessions was "I Gotta Know", which climbed to #15 on the national country charts in America.
According to Wolf Kurt, the stage outfits Wanda Jackson wore in concert were mostly made and designed by her mother, Nellie Jackson. Instead of the peasant clothing worn by female country music singers of the time, she wore fringed dresses, high heels and long earrings. Wanda Jackson would later remark that she was the first woman to put "glamor into country music."
Wanda Jackson recorded more rockabilly singles into the late 50's with producer Ken Nelson. She wanted her sound to resemble Gene Vincent and the Blue Caps. Among the session musicians playing on her recordings was the then unknown Buck Owens. Owens went on to chart 21 songs to #1 on the Billboard Country chart and co-host a country music show beginning in 1969 called Hee-Haw. Among the singles Jackson released was "Fujiyama Mama", which became a #1 chart topper in Japan. In February and March 1959 she went on tour in Japan.
In 1960, Jackson had a crossover #37 rockabilly hit on the Billboard Hot 100 with "Let's Have A Party".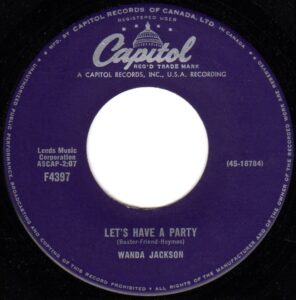 This song had been recorded in December 1956 as part of what came to be known as the Million Dollar sessions where Elvis Presley, Carl Perkins, Johnny Cash and Jerry Lee Lewis jammed together. Elvis then recorded "Party" in early January 1957 as a track for the upcoming soundtrack for the film Loving You. The song became a #2 hit for Presley in on the UK pop chart.
"Party" was written by Jessie Mae Robinson (nee Booker), born in southeastern Texas in 1918. As a teenager, she wrote a column for the California Eagle newspaper. She earned an Actor's Equity card, performing in WPA musicals like Show Boat. Robinson began writing songs at the age of 22 in 1940. Her first significant song was in 1945 when Dinah Washington recorded "Mellow Mama Blues".
A self-taught musician, Jessie Mae Robinson wrote songs even when she had no access to an instrument. She'd hum melodies into a tape recorder, and scribble lyrics on random pieces of paper. She didn't learn to drive until age 30, so early in her career, she'd take a bus to Hollywood, and have her songs transcribed onto sheet music that the studio musicians could read.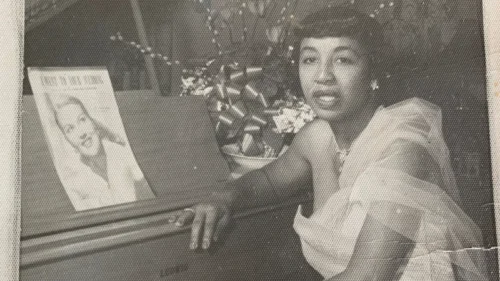 Jessie Mae Robinson with sheet music for "I Went To Your Wedding"
In 1947 her songs "Luxury Tax Blues", "Railroad Porter Blues" and "Old Maid Boogie" were recorded by Eddie Vinson and his Orchestra. The last of these climbed to #1 on the R&B chart. In 1949 Amos Milburn had R&B hits written by Robinson: "In The Middle Of The Night" (#3 R&B) and "Roomin' House Boogie" (#1 R&B). Also that year Rudy Render had a #2 R&B hit with Jessie Mae Robinson's "Sneakin' Around". In 1950, Robinson penned a number-one R&B hit for Little Esther titled "Double Crossing Blues". She also penned a #1 hit titled "Blue Light Boogie" for Louis Jordan, the #8 song of the year on the 1950 Billboard R&B chart.
Jessie Mae Robinson's biggest R&B songwriting success was in 1951 with Charles Brown's recording of "Black Night". The song topped the R&B chart for 14 weeks. Later that year Charles Brown took "Seven Long Years" by Jessie Mae Robinson to #2 on the R&B chart. She also penned a #5 R&B for Amos Milburn that year titled "Tears Tears Tears", and #3 hit for Joe Morris titled "Don't Take Your Love Away From Me". Another Top Ten hit Jessie Mae Robinson penned in 1951 was "Once There Lived A Fool" for Jimmy Grissom.
In 1952 Jo Stafford took Robinson's "Keep It A Secret" to #4 in 1952. That year Patti Page had a #1 pop hit with Robinson's song "I Went To Your Wedding". It was Jessie Mae Robinson's biggest songwriting hit of her career. Jessie Mae Robinson also penned songs recorded by Dinah Shore, Rosemary Clooney ("When I See You"), Judy Garland ("Without A Memory"), jazz singer Rose "the chee chee girl" Murphy, Juanita Hall and the Four Tunes, Erskine Hawkins, Anita O'Day ("Once There Lived A Fool"), Johnny Mathis ("I Look At You"), Nina Simone "(The Other Woman") and many others. In 1966, Jessie Mae Robinson died at the age of 48 after a short illness.
"Let's Have A Party" is a song about having a party. Early on the lyrics involve some planning: "Let's send him to the store, let's buy some more. Let's have a party tonight." As the party starts, the narrator of the song may not have much history smooching, but they sure can dance: "I never kissed a bear. I never kissed a goon. But I can shake a chicken in the middle of the room."
In December 1921 American humorist Frederick J. Allen's wrote in Harper's Monthly Magazine an article titled "The Goon and His Style". A goon was defined as "a person with a heavy touch," one who lacks "a playful mind." The word was derived from "simpleton" (1580s), which was applied by sailors to the albatross and similar big, clumsy birds. The goons were characters in the "Thimble Theater" comic strip (starring Popeye) by U.S. cartoonist E.C. Segar (1894-1938); they appeared in Segar's strips from mid-1930s and, though they reportedly gave children nightmares, enjoyed a burst of popularity when they appeared in animated cartoons in 1938. The most famous was Alice the Goon, slow-witted and muscular (but gentle-natured) character who began as the Sea Hag's assistant on Popeye. So, in "Let's Have A Party", when Wanda Jackson sings "I never kissed a goon," she's saying she never kissed a dim-witted person.
The setting for the party is suggestive of the rural south in the USA: "The meat is on the stove, the bread is getting hot. Everybody run, they got a 'possum in the pot." An opossum is a solitary, nocturnal animal of similar size to a cat.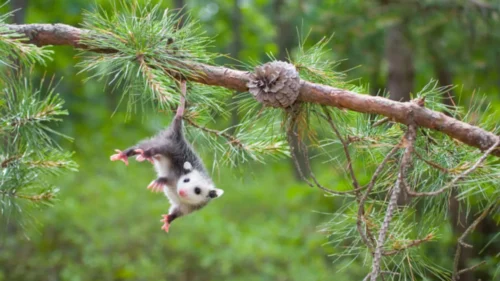 The opossum was once a favorite game animal, particularly in southern USA. On a Kentucky website it is reported "in most hillbilly homes you'd be lucky to see possum on the table two or three times a week." The 1960s sitcom, The Beverly Hillbillies, on some episodes Granny referred to making possum innards and possum stew.
After skinning and cleaning the opossum, place it in a frying pan with bacon and sear the possum. Put the possum in a pot with 2/3 water and salt. Bring to a boil and after 15 minutes toss the water. Repeat with a new pot of water and salt. Together with the possum, place potatoes and onions along the sides of the possum. Mix in sugar, salt, thyme, marjoram and pepper to taste. Every 15 minutes or so take off the lid and baste the possum with the juices. By now the possums own fat will have rendered and the water will now make some delicious possum gravy. When the possum is tender and the meat falls off the bones, remove the possum meat and set on a board to stand for 15 minutes. Meanwhile, mix a little flour set aside juices to make a possum gravy.
(If threatened, an opossum will either flee or take a stand. To appear threatening, an opossum will first bare its 50 teeth, snap its jaw, hiss, drool, and stand its fur on end to look bigger. If this does not work, the Virginia opossum is noted for feigning death in response to extreme fear. This is the genesis of the term "playing possum," which means pretending to be dead or injured with intent to deceive).
In "Let's Have A Party" word is getting around that there's a party. In one of the verses "Honky-Tonky Joe is knocking at the door. Bring him in an' fill 'I'm up an' sit 'I'm on the floor." This is a party where the liquor will flow freely. If people get filled up with booze, they don't have to stand. They can just sit down (with a bottle) on the floor (presumably leaning against a wall).
"Let's Have A Party" peaked at #1 in Vancouver, #4 in York (PA), #6 in Milwaukee (WI) and Ottawa (ON), #7 in La Crosse (WI), and Minneapolis/St. Paul, #8 in Akron (OH), #9 in Waterloo (IA), #11 in Boston and Duluth (MN), #12 in Tulsa (OK) and Baltimore, and #13 in Denver and Indianapolis (IN).
In 1960 Wanda Jackson was a concert headliner traveling with her band the Party Timers. Among her bandmates was guitarist new to the scene named Roy Clark. Jackson's followup single release was titled "Happy Happy Birthday". This was a shortened song title from a hit three years earlier by an R&B doo-wop group from Woburn, Massachusetts, named The Tune Weavers.
In 1961 Wanda Jackson got into the Top Ten on the Billboard Country charts with a #9 hit titled "Right or Wrong", followed by a #6 hit titled "In The Middle Of A Heartache". The latter tune stalled at #27 on the Billboard Hot 100, but climbed to #9 on CKWX in Vancouver. Jackson also had a Top 20 hit in 1961 with "Riot In Cell Block Number Nine", a cover of a song by the R&B group the Robbins who later became The Coasters.
Between 1954 and 1974 Wanda Jackson had nearly 30 singles make the Billboard country chart in the USA. Most country and western fans are unaware of her earlier rockabilly roots and impact on rock 'n roll. In 2009 she released a tribute album titled I Remember Elvis.
In November 2017, Wanda Jackson's autobiography, Every Night Is Saturday Night: A Country Girl's Journey to the Rock and Roll Hall of Fame was published. In her eightieth year, in 2017, some of the cities Wanda Jackson has played in concert are Nashville, Chicago, Toronto, Long Beach, Los Angeles and Santa Ana, California.
Now at the age of 84, the Queen of Rockabilly is still in the music business. In August 2021, she recorded her thirty-second and final studio album, Encore.
August 31, 2022
Ray McGinnis
References:
Jackson, Wanda, with Bomar, Scott. Every Night Is Saturday Night: A Country Girl's Journey to the Rock and Roll Hall of Fame. BMG Books, Berlin, Germany, 2017.
Margo J. Sylvia, Variety Magazine, Los Angeles, CA, November 10, 1991.
All Things Considered, "The Women Behind The Songs: Jessie Mae Robinson," NPR, January 31, 2019.
Michelle Debczak, "13 Facts About Opossums," MentalFloss.com, June 8, 2018.
"The Fantastic Fifty at the Fair," CFUN 1410 AM, Vancouver, BC, September 3, 1960.
For more song reviews visit the Countdown.