#118: Looking For Clues by Robert Palmer
Peak Month: January 1981
10 weeks on Vancouver's CKLG Chart
2 weeks Playlist
Peak Position #3
Peak Position on Billboard Hot 100 ~ #105
YouTube.com: "Looking For Clues"
Lyrics: "Looking For Clues"
Robert Allen Palmer was born in the market town of Batley, in West Yorkshire, about 9 miles southwest of Leeds, England. Palmer's father was a British naval intelligence officer stationed in Malta. Growing up Palmer heard jazz, blues and soul music on American Forces Radio. At the age of 15, Robert Palmer joined a band called the Mandrakes. At the age of 20 he was invited to be a backing vocalist for a single by The Alan Bown Set in 1969 titled "Gypsy Girl". In 1970 he joined a 12-piece-jazz fusion group named Dada that included Elkie Brooks. In 1971 Palmer, Brooks and her husband guitarist Peter Gage, formed a band called Vinegar Joe. Dada once opened for Jimi Hendrix, and Vinegar Joe once opened a concert for The Who. After they disbanded in 1974, Brooks went on to have a number of Top Ten hits on the UK singles chart including "Pearl's a Singer", "Sunshine After the Rain", and "No More the Fool".
Robert Palmer released his first album in 1974 titled Sneakin' Sally Through the Alley. A track from the album, "Get Outside" stalled at #105, just below the Billboard Hot 100. In 1976, Palmer's album Pressure Drop featured the single "Give Me An Inch", which stalled at #106 on the Hot 100. A second album in '76, Some People Can Do What They Like, featured a cover of the calypso song by Harry Belafonte from 1957 titled "Man Smart, Woman Smarter". It climbed to #63 on the Billboard Hot 100. His fourth studio album, Double Fun, contained his best single effort to date with "Every Kinda People". The single peaked at #16 on the Billboard Hot 100, and #6 in France. Another track from the album, "Best Of Both Worlds", climbed to #4 in Belgium.
In 1979 the album Secrets earned Robert Palmer a second Top Ten hit in France with "What's It Take". A second track from the album, "Bad Case Of Loving You", went to #1 in Canada, #9 in France and #14 on the Billboard Hot 100.
At the end of September 1980, Palmer released his sixth studio album Clues. The debut single from the album was "Johnny And Mary". A second release from Clues was "Looking For Clues".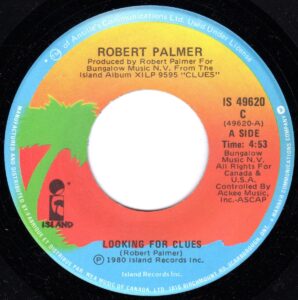 "Looking For Clues" is a song written by Robert Palmer. It was a new wave pop song with a xylophone solo. The lyrics describe an anxious time, not only in the narrators life, but in society in general: "Everytime I pick a paper up it's harder to believe the news." The guy is worried that if he answers the phone it will be bad news from a caller. His girlfriend insists that nobody showed her "how to use a telephone." Meanwhile, they both fret about how fast "the money goes." As well, she's not sure how "to keep relationships." They're both "looking for clues."
"Looking For Clues" peaked at #3 in Vancouver, Saskatoon (SK), and Hamilton (ON), and #5 in Toronto. Internationally, the single peaked at #3 in West Germany, #6 in France and Switzerland, #7 in Canada, #9 in Belgium, #14 in Sweden and #17 in the Netherlands.
In 1982 Palmer released a live album titled Maybe It's Live. The following year his seventh studio album, Pride, and was a minor sales success. A subsequent album released in 1985, The Power Station, included Palmer's first two Top Ten singles on the Billboard Hot 100: "Some Like It Hot" and a cover of the T. Rex song "Get It On (Bang A Gong)". The first of these singles also charted into the Top Ten in Australia, Canada, France, and New Zealand.
In 1986 Robert Palmer released Riptide, with his huge hit singles "Addicted To Love" and "I Didn't Mean to Turn You On". The first was a number-one hit in Australia and the USA, and a Top Ten hit in Canada, Ireland, New Zealand, South Africa and the UK. In 1987, the single won Palmer a Grammy Award for Best Male Rock Vocal Performance. The latter was a Top Ten hit in both the USA and the UK, though it didn't chart in Vancouver.
His 1988 Palmer's release of the studio album, Heavy Nova, contained the hit single "Simply Irresistible". It was a number-one hit in Vancouver, the USA, Australia, and a Top Ten hit in France and New Zealand. However, it stalled on the UK singles chart at #44. The single earned Palmer his second Grammy Award for Best Male Rock Vocal Performance. It ended up in the Broadway musical Contact (1999-2002). On November 20, 1988, Robert Palmer appeared in concert in Vancouver (BC) at the Orpheum.
In 1990 Robert Palmer teamed up with UB40 to record "I'll Be Your Baby Tonight". Though the single was not a hit in North America, it charted to #1 in New Zealand, #4 in Australia and the Netherlands, #5 in Austria and Switzerland, #6 in Ireland and the UK, #11 in Sweden and #12 in Belgium. The single was on Palmer's studio album Don't Explain. A second single "You're Amazing" climbed to #17 in Vancouver, while Palmer's cover of the Marvin Gaye songs "Mercy, Mercy Me (The Ecology)"/"I Want You" was a Top Ten hit in France, Ireland, Canada and the UK, and a Top 20 hit in the USA.
Through the 1990s Robert Palmer released more studio albums: Ridin' High, Honey, Living in Fear, and Rhythm and Blues. Ridin' High was a tribute album to the music of the classic pop era of the 1930s to 1950s. The album tracks included Palmer's cover of "Goody Goody". These albums were minor achievements compared to his pinnacle of success in the 1980.
On September 26, 2003, Robert Palmer died of a sudden heart attack while he was in Paris, France. He had just completed recording a TV appearance in London for Yorkshire TV, a retrospective titled My Kinda People. His 14th studio album, Drive, had been released in May 2003.
September 7, 2022
Ray McGinnis
References:
"Robert Palmer dies aged 54," Guardian, September 26, 2003.
Georgia Dehn, "Elkie Brooks Remembers Singing With Robert Palmer," Telegraph Magazine, 2010.
Glyn Brown, "Music: Some Guys Have all the Luck," Independent, March 19, 1999.
"Robert Palmer – Concerts – Canada," setlist.fm.
"CKLG Top 20," CKLG 730 AM, Vancouver, BC, January 28, 1981.
For more song reviews visit the Countdown.