#1118: With Your Love by Jack Scott
Peak Month: January 1958
3 weeks on Teen Canteen chart
Peak Position #3
Peak Position on Billboard Hot 100 ~ #28
YouTube.com: "With Your Love"
Lyrics: "With Your Love"
Giovanni Dominico Scafone Jr. was born in 1936 in Windsor, Ontario, and spent some of his years growing up in the Detroit suburb of Hazel Park, Michigan. In 1954 he formed a band called the Southern Drifters. In 1957 he got a record deal with ABC-Paramount. He scored four Top Ten hits on the Billboard Hot 100 and two more in the Top 30 in the USA. In Vancouver Jack Scott was a teen idol with his good looks and classic rock 'n roll. He enjoyed eight Top Ten hits on the Vancouver charts including "What In The World's Come Over You" and his most successful hit in town, "Goodbye Baby" that peaked at #2 and spent 17 weeks on the CKWX charts in 1958. At the time, Scott had more US singles in the Billboard Hot 100 (19), in a shorter period of time (41 months), than any other recording artist – with the exception of The Beatles, Elvis Presley, Fats Domino and Connie Francis. Scott charted twenty songs on the local record surveys in Vancouver between July 1958 and November 1962.
Jack Scott wrote all but one of his hits, that being "Burning Bridges" One song would be a ballad, the next a rockabilly hit, a third a doo-wop tune, and then he'd release a pop-country song. Scott was versatile and his deep bass voice was always on the airwaves in that four year period along with Elvis Presley, Ricky Nelson and Roy Orbison who were also putting out a lot of singles at the time. In 1958 his first Top 40 hit was "My True Love" which showcased his bass voice. His follow up single, also on a love-related theme was "With Your Love".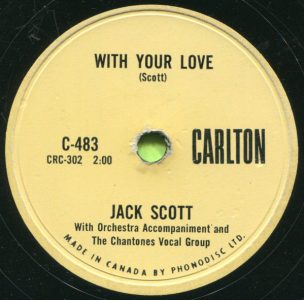 "With Your Love" is another romantic love song that evokes the feeling of serenity in the sensuality of one's girlfriend or boyfriend. The song's intended audience, where it resonated the mostest, was with those who were going steady or wanted to start dating. One can imagine a guy singing this to his girlfriend in 1958 to impress upon her how serious he is about her. It is less likely that this is a song someone would sing to their marriage partner of 40 years (unless it was "their song"). While love can grow old and there can still be fire in the furnace, rhapsodizing about the touch of your spouse's hands and kiss of their lips might seem cheesy or juvenile. But for a guy in his teens who is newly excited about the touch of his girlfriends hands and kiss of her lips, these sentiments can be sincere and believable. And when you are dating it is helpful, if your date asks what you like about them, to tell them a few specifics instead of drawing a blank. Being present to the person you are dating is a good sign. And knowing what some of the things are that you like, that make you feel confident about them, is important to express. Aside from physical attributes, Scott mentions that his love is "here to guide me." While this could be simply a physical cue, it can also imply that this person could also be trustworthy, wise, practical, sensible. Being with someone whose guidance is beneficial is a plus in a world where there is always the risk of discovering that the person you are dating lacks common sense and doesn't know how to exercise good judgment.
Jack Scott had a few more hits on the Vancouver pop charts, including "If Only" in the fall of 1962. Over the decades, Jack Scott has continued to perform. In 1977, Jack Scott toured Europe with Buddy Knox and others during a rockabilly revival. On June 1, 1986, Jack Scott appeared in concert at the Expo Theatre during Expo '86 in Vancouver. In early February 1991, Jack Scott performed at the Tribute to Buddy Holly, Ritchie Valens and the Big Bopper, in Clear Lake, Iowa. Others on the bill were Carl Perkins and Wanda Jackson. In 2007, he performed at the five-day Rockin' 50's Fest in Green Bay, Wisconsin. Among the other performers was Little Richard.
Jack Scott has been inducted into the Rockabilly Hall of Fame and the Canadian Music Hall of Fame. Into his 81st year, Jack Scott performs infrequently and lives in suburban Detroit. (Update: Jack Scott died in December 2019 at at 83).
June 18, 2017
Ray McGinnis
References:
Jack Scott bio, Michigan Rock n Roll Legends.com.
Jack Scott bio, Rockabilly Hall of Fame.com.
For more song reviews visit the Countdown.