#302: Man On The Corner by Genesis
Peak Month: April 1982
13 weeks on Vancouver's CFUN chart
Peak Position #4
Peak Position on Billboard Hot 100 ~ #41
YouTube.com: "Man On The Corner"
Lyrics: "Man On The Corner"
Genesis formed in Surrey, UK, in 1967. The band consisted of keyboard player Tony Banks, bass and guitar player Mike Rutherford, Phil Collins on drums and vocals, and Peter Gabriel as lead vocalist. Peter Gabriel left the band in the mid-70's. However, with Gabriel's departure, Phil Collins became the primary lead vocalists. The bands name was suggested by their producer, Jonathan King, of "Everyone's Gone to the Moon" fame on the pop charts in 1965. King had earlier suggested the band go by the name of Gabriel's Angels. Though the band initially adopted that name, they soon changed their name to From Genesis to Revelation. Soon, they shortened their name to Genesis. It was a band name that led to many possibilities, including a riff off of their name on their first album, Genesis to Revelation.
Band member, Phil Collins, chose to live in Vancouver for awhile, beginning in December 1978. Extensive touring with Genesis had created a strain in his marital relationship. When the marriage ended in April 1979, Collins returned to the UK.
By 1980, Genesis had released ten studio albums, two live albums and one extended play. In 1981, they released their album, Abacab, which included the hit single "No Reply At All". Abacab was the first album by Genesis to crack the Top 10 of the Billboard 200 album chart. While in the UK, the album was the seventh for Genesis to make the Top 10 UK album charts. While former Genesis bandmate, Peter Gabriel, had a hit in Vancouver in 1980 titled "Games Without Frontiers".
The fourth single from Abacab was "Man On The Corner".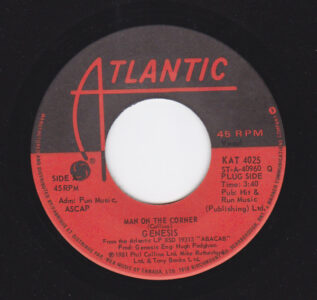 "Man On The Corner" is a song written by Phil Collins. The song concerns a lonely man who shows up on the same corner every day. No one knows exactly why he waits. But Phil Collins writes the waiting persists, as the man is "waiting for that something to show." We don't know what that "something" is. The man spends his days on a street corner, shouting at passersby. But we learn in the song that "when he shouts nobody listens."
We learn in the song that "nobody knows him, nobody cares." In "Man On The Corner" we encounter an echo of The Beatles 1966 single "Eleanor Rigby". In that song Eleanor Rigby dies in a church and when she is buried no one comes to her graveside service. Father McKenzie, who does the service for Eleanor Rigby, gives a sermon that no one hears. The refrain in "Eleanor Rigby" is "All the lonely people, where do they all come from. All the lonely people, where do they all belong." "Eleanor Rigby" was considered a commentary on post-World War II life in Britain.
In the case of "Man On The Corner", Phil Collins was writing a song commenting on the growing homeless epidemic and British society's reluctance to help the homeless or find a resolution. He would later revisit the theme in his solo hit in 1990 "Another Day In Paradise". In "Man On The Corner" Phil Collins wonders if the reason nobody sees or cares about the man on the corner is because of British society is full of restless individuals.
In the song Phil Collins sings that the situation with the man on the corner is "like a monkey on your back." To have a monkey on one's back means to have a terrible burden that one can not get rid of, to grapple with a problem that will not go away. Often, to have a monkey on one's back means to have an addiction that one can not control. In the case of "Man On The Corner", the monkey on British society's back is what to do with homelessness. The origin of monkey on one's back may be the stories of Sinbad. The earliest known works of the stories of Sinbad are from the seventeenth century. In one story, a creature described somewhat like an ape jumps on Sinbad's back and will not get off.
In the UK labels that have historically been used to describe homeless people include vagrant, squatter, loafer, beggar, of no fixed abode, and tramp – as well as more recently "homeless." BBC History Magazine reports that from Victorian times, based on interviews of Victorian "vagrants," "many were incapable of holding down jobs because they disproportionately experienced, what today would be termed 'complex trauma' – ill health (physical and mental) disability, addictions and relationship breakdowns. Their homelessness was not a lifestyle choice. Their individual fragilities were compounded by structural issues, such as employment cycles, that could be enough to tip these vulnerable individuals from mere poverty into the abyss of the underclass."
In 1966 Britain's Ministry of Social Security issued a report on Homeless Single Persons. The BBC further reports that in Britain "It was not until the 1977 Housing (Homeless Persons) Act that homelessness was legally defined. It prioritised the state's responsibility to rehouse 'deserving' families (the statutory homeless) in preference to the single person (non-statutory homeless) and continued the link between local connection and a council's responsibility to house. The burden for looking after the single homeless fell upon charitable concerns or the state's limited network of Reception Centres (whose closure was announced in 1985)."
"Man On The Corner" peaked at #4 in Vancouver (BC), #6 in San Jose (CA), #7 in Winnipeg (MB), and #10 in Pittsburgh (PA).
After the release of Abacab, the band went back to the recording studio and released their second extended play. It included another single titled "Paperlate".
With the exception of "Misunderstanding", which climbed to #14 on the Billboard Hot 100, by 1982, Genesis had failed to crack the Top 20. In 1983, their self-titled album included a single, "That's All", which made it to #6 on the Hot 100. But it was the release of the Invisible Touch album in 1986 that sent the band to the top of the charts. All five singles, including the title track, made the Top 5, and "Invisible Touch" made it to #1. In 1991, the band released the album, We Can't Dance. Of the songs from the album, the single "I Can't Dance" made the Top Ten in then USA and Canada. In 1992, another single from the album, "Hold On My Heart", made it to #1 on the Canadian RPM chart.
After We Can't Dance, Genesis waited until 1997 to release their final studio album, Calling All Stations. The album was a Top Ten hit across Europe. However, it didn't crack the Top 50 on the album charts in the important American record market. Since that time, Genesis had released various compilation albums. Genesis has sold over 150 million records. In 2007, Genesis went on a world tour. While there has been talk in the press of a possible reunion tour, as of July 2018, it hasn't transpired.
Concurrently, Phil Collins launched a solo career in 1981. His first hit single, "In The Air Tonight", climbed to #2 on the Canadian RPM charts in 1981. His singles, "Against All Odds", "Easy Lover", "One More Night", "Separate Lives", "Groovy Kind Of Love", "Two Hearts", "Another Day In Paradise", "I Wish It Would Rain Down", "Something Happened On The Way To Heaven" and "Do You Remember?" all topped the RPM singles charts in Canada. Most of these topped the Billboard Hot 100, as did "Sussudio". In 1996, Phil Collins had his last Top Ten hit in Canada titled "Dance Into The Light".
In 2016, Collins published his memoir, Not Dead Yet. His first wife, Andrea Bertorelli, sued Collins in December 2015 over the way their relationship is described in his book. Between October 5 and 28, 2018, Phil Collins will be on a North American tour of 18 cities, including dates in Toronto and Montreal.
Tony Banks has released six studio albums and two soundtracks. Though none of his albums have sold especially well, Banks has enjoyed focusing more on orchestra composition. In 1985, Mike Rutherford took a break from Genesis and formed the band Mike & The Mechanics. Among their notable singles in the 80s are "All I Need Is A Miracle" and "The Living Years". In 2014 Rutherford published the first memoir about Genesis in 2014 titled The Living Years:The First Genesis Memoir.
May 31, 2021
Ray McGinnis
References:
Genesis: A Brief History, World Of Genesis.com.
Craig McLean, "Genesis Interview: 'We Were Hated,'" Telegraph, UK, September 30, 2014.
George Simpson, "Phil Collins FINALLY Speaks Out on Genesis Reunion and it's Great News," Express, London, UK, October 18, 2016
Ben Beaumont-Thomas, "Phil Collins Confirms Return to Music: 'I'm No Longer Officially Retired'," Guardian, October 28, 2015
Phil Collins, Not Dead Yet, (Crown Archetype, 2016).
"Phil Collins Sued by Ex-wife Over Claims Made in Autobiography," Sky News, December 5, 2016
Paul Sexton, "Is Genesis Getting Back Together? Tony Banks Talks Reunions, Phil and Prog Rock," Daily Express, London, UK, June 22, 2014
Mike Rutherford, The Living Years: The First Genesis Memoir, (Thomas Dunne Books, 2014).
Julia Llewelyn Smith, "Genesis Star Mike Rutherford: 'I Never Told Dad What a Wonderful Man he Was,' " Telegraph, UK, January 26, 2014.
"A History of Homelessness," BBC History Magazine, November 22, 2018.
"C-FUN Top Thirty," CFUN 1410 AM, Vancouver, BC, April 24, 1982.
For more song reviews visit the Countdown.