#49: Misunderstanding by Genesis
Peak Month: July 1980
15 weeks on Vancouver's CKLG chart
Peak Position #2
Peak Position on Billboard Hot 100 ~ #14
YouTube: "Misunderstanding"
Lyrics: "Misunderstanding"
Genesis formed in Surrey, UK, in 1967. The bands name was suggested by their producer, Jonathan King, of "Everyone's Gone to the Moon" fame on the pop charts in 1965. King had earlier suggested the band go by the name of Gabriel's Angels. Though the band initially adopted that name, they soon changed their name to From Genesis to Revelation. Soon, they shortened their name to Genesis. It was a band name that led to many possibilities, including a riff off of their name on their first album, Genesis to Revelation. The band consisted of keyboard player Tony Banks, bass and guitar player Mike Rutherford, guitarist Anthony Philips, drummer Chris Stewart, and Peter Gabriel as lead vocalist. Stewart was fired from the band in 1968 and replaced by John Silver. The band's debut album was From Genesis to Revelation, in 1969. Silver was replaced by John Mayhew on drums. In 1970, Genesis released Trepass, after which both Mathew and Guitarist Anthony Philips left the band. In 1971, Philips was replaced on guitar by Steve Hackett and the band released their third studio album Nursery Cryme. The fourth studio album, Foxtrot, featured new bandmate Phil Collins on drums. The band released Genesis Live in 1973 with Gabriel, Banks, Rutherford, Hackett, and Collins in the lineup. It climbed to #9 on the UK Pop Album chart.
Later in 1973, Genesis released their fifth studio album, Selling England by the Pound. The album was a commercial success, climbing to #3 in the UK and #4 in Italy. This was followed by The Lamb Lies Down on Broadway in 1974. The album topped the pop album chart in France and peaked at #10 in the UK. In 1975, Peter Gabriel left the band and Phil Collins became the primary lead vocalist with the release of A Trick of the Tail. The album topped the pop album chart in France, #3 on the UK album chart, #4 in both Italy and New Zealand, and #7 in the Netherlands.
The eighth studio album, Wind & Wuthering, was released in 1976. It peaked at #3 on the pop album chart in France, and in the Top Ten in Italy, Switzerland and the UK. Seconds Out, a second live album, cracked the Top Ten on album charts in France, Italy and the UK in 1977.
In 1978, Steve Hackett left Genesis leaving Tony Banks, Mike Rutherford and Phil Collins to carry on. They released the ninth studio album …And Then There Were Three… It became their most successful album to date, climbing to #2 in France and West Germany, #3 in the UK, #6 in Italy, #7 in Norway, #8 in the Netherlands, #10 in New Zealand, #11 in Canada, #12 in Australia, #13 in Switzerland, and #14 on the Billboard 200 Album chart. From the album came the #7 charting UK single "Follow You, Follow Me".
Band member, Phil Collins, chose to live in Vancouver for awhile, beginning in December 1978. Extensive touring with Genesis had created a strain in his marital relationship. When the marriage ended in April 1979, Collins returned to the UK.
By 1980, Genesis had released ten studio albums, two live albums and one extended play. That year they released Duke, with the single "Turn It On Again" which cracked the Top Ten singles charts in Italy and the UK. Another track from the album was "Misunderstanding".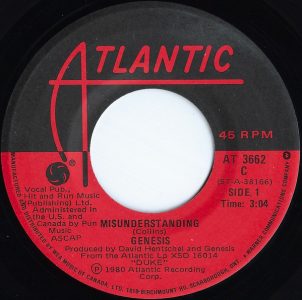 "Misunderstanding" was written by Phil Collins. This was one of the first songs Phil Collins wrote on his own. He was going through a very difficult time – his first wife Andrea had left him and taken their two children with her. Phil found himself alone in the house he once shared with them, and began writing songs – sad ones. "Misunderstanding" finds Collins getting stood up and failing to understand that the girl wants nothing to do with him. Despite all evidence to the contrary, he keeps blaming her evasiveness on "some misunderstanding." In a way, Collins is looking at himself as a witness observer – his story about a man who is delusional in love reflects his hopeless attempts to put his marriage back together (they divorced in 1980).
"Misunderstanding" peaked at #1 in Philadelphia, Milwaukee (WI), Bakersfield (CA), Burlington (VT), Fort Dodge (IA), Dallas, Kansas City (MO), Tempe (AZ), Toronto, Saskatoon (SK), and Minneapolis/St. Paul, #2 in Vancouver (BC), Regina (SK), Lancaster (PA), Atlanta, Green Bay (WI), and St. Cloud (MN), #3 in St. Louis, Baltimore, Winnipeg (MB), Hartford (CT), Richmond (IN), Grand Rapids (MI), Sherbrooke (PQ), and Denver, #4 in Buffalo, Fredericton (NB), Bangor (ME), Charleston (WV), and Chicago, #5 in Springfield (MA), Terre Haute (IN), Ottawa, Tucson (AZ), Seattle, Hamilton (ON), and Cleveland, #6 in Providence (RI), Burbank (CA), Sacramento (CA), Montreal, and Las Vegas, #7 in Columbia (SC), Battle Creek (MI), Tampa, London (ON), Presque Isle (ME), and New Orleans, #8 in Phoenix, Los Angeles, and Windsor (ON), and #10 in San Francisco and New York City.
Duke topped the album charts in Canada and the UK, and landing in the Top Ten in France, Italy, Norway, Sweden, Switzerland and West Germany. It stalled at #11 on the Billboard 200 Album chart and received a platinum certification in both the UK and USA.
In 1981, they released their album, Abacab, which was the first album by Genesis to crack the Top 10 of the Billboard 200 album chart, climbing to #7. While in the UK, the album was the seventh for Genesis to make the Top 10 UK album charts where it peaked at #1. Abacab also peaked at #1 in France, and charted into the Top Ten album rankings in Canada, Italy, the Netherlands, Norway and West Germany. The title track, "Abacab" peaked at #3 in South Africa, and made the Top Ten in Norway and the UK. A second single release, "No Reply At All", was a Top Ten single in Canada in 1981.
Meanwhile former Genesis bandmate, Peter Gabriel, had a hit in Vancouver in 1980 titled "Games Without Frontiers". The fourth single from Abacab was "Man On The Corner".
After the release of Abacab, the band went back to the recording studio and released their second extended play. It included another single titled "Paperlate".
With the exception of "Misunderstanding", which climbed to #14 on the Billboard Hot 100, by 1982, Genesis had failed to crack the Top 20. In 1983, their self-titled album, Genesis, included a single, "That's All", which made it to #6 on the Hot 100, and in Ireland, and #2 in Canada. Another track, "Home By The Sea" climbed to #4 in New Zealand in 1986.
Genesis topped the pop album charts in Finland, the UK and West Germany. It climbed to #2 in Austria, Canada, the Netherlands, New Zealand, Norway and Switzerland, #3 in Iceland, #4 in Italy and #9 on the Billboard 200 album chart in the USA. A second single from the album, "Mama" made the Top Ten on the singles charts in Austria, Finland, the Netherlands, Norway, Switzerland, the UK and West Germany.
But it was the release of the Invisible Touch album in 1986 that earned the band more acclaim. Invisible Touch topped the album charts in Canada, New Zealand and the UK. It also made the Top Five album ranking in Australia, Austria, Finland, Italy, Norway, Sweden, Switzerland and #3 on the Billboard 200 Album chart in the USA. As well, Invisible Touch cracked the Top Ten in both France and Japan. All five singles from Invisible Touch, including the title track, made the Top 5, and "Invisible Touch" made it to #1.
In 1991, the band released the album, We Can't Dance. The album shot to number-one in Austria, Belgium, Germany, the Netherlands, Norway, Switzerland and the UK. It peaked at #2 in Denmark, Finland, France, and Italy, #4 in Greece, Switzerland and on the Billboard 200 Album chart. The album also climbed into the Top Ten album charts in Australia, Canada, Hungary, Japan, New Zealand, Portugal, and Spain.
Of the songs from the album, the single "I Can't Dance" made the Top Ten in then USA and Canada. In 1992, another single from the album, "Hold On My Heart", made it to #1 on the Canadian RPM chart.
After We Can't Dance, Genesis waited until 1997 to release their final studio album, Calling All Stations. The album was a Top Ten hit across Europe. However, it didn't crack the Top 50 on the album charts in the important American record market. Since that time, Genesis had released various compilation albums. Genesis has sold over 150 million records. In 2007, Genesis went on a world tour. While there has been talk in the press of a possible reunion tour, as of July 2018, it hasn't transpired.
Concurrently, Phil Collins launched a solo career in 1981. His first hit single, "In The Air Tonight", climbed to #2 on the Canadian RPM charts in 1981. His singles, "Against All Odds", "Easy Lover", "One More Night", "Separate Lives", "Groovy Kind Of Love", "Two Hearts", "Another Day In Paradise", "I Wish It Would Rain Down", "Something Happened On The Way To Heaven" and "Do You Remember?" all topped the RPM singles charts in Canada. Most of these topped the Billboard Hot 100, as did "Sussudio". In 1996, Phil Collins had his last Top Ten hit in Canada titled "Dance Into The Light".
In 2016, Collins published his memoir, Not Dead Yet. His first wife, Andrea Bertorelli, sued Collins in December 2015 over the way their relationship is described in his book. Between October 5 and 28, 2018, Phil Collins will be on a North American tour of 18 cities, including dates in Toronto and Montreal.
Tony Banks has released six studio albums and two soundtracks. Though none of his albums have sold especially well, Banks has enjoyed focusing more on orchestra composition. In 1985, Mike Rutherford took a break from Genesis and formed the band Mike & The Mechanics. Among their notable singles in the 80s are "All I Need Is A Miracle" and "The Living Years". In 2014 Rutherford published the first memoir about Genesis in 2014 titled The Living Years:The First Genesis Memoir.
November 2, 2023
Ray McGinnis
References:
Genesis: A Brief History, World Of Genesis.com.
Craig McLean, "Genesis Interview: 'We Were Hated,'" Telegraph, UK, September 30, 2014.
George Simpson, "Phil Collins FINALLY Speaks Out on Genesis Reunion and it's Great News," Express, London, UK, October 18, 2016
Ben Beaumont-Thomas, "Phil Collins Confirms Return to Music: 'I'm No Longer Officially Retired'," Guardian, October 28, 2015
Phil Collins, Not Dead Yet, (Crown Archetype, 2016).
"Phil Collins Sued by Ex-wife Over Claims Made in Autobiography," Sky News, December 5, 2016
Paul Sexton, "Is Genesis Getting Back Together? Tony Banks Talks Reunions, Phil and Prog Rock," Daily Express, London, UK, June 22, 2014
Mike Rutherford, The Living Years: The First Genesis Memoir, (Thomas Dunne Books, 2014).
Julia Llewelyn Smith, "Genesis Star Mike Rutherford: 'I Never Told Dad What a Wonderful Man he Was,' " Telegraph, UK, January 26, 2014.
Matthew Parker, "Steve Hackett on revisiting Genesis, tackling Bach and 'quiet lead' guitar," MusicRadar, October 9, 2012.
"Vancouver's Official Top 20," CKLG 730 AM, Vancouver, BC, July 23, 1980.
For more song reviews visit the Countdown.