#924: Model Girl by Johnny Maestro
Peak Month: March 1961
9 weeks on Vancouver's CKWX chart
Peak Position #6
Peak Position on Billboard Hot 100 ~ #29
YouTube.com: "Model Girl"
Lyrics: "Model Girl"
John Mastrangelo was born in New York City in 1939. He began his career in 1957 as the original lead singer of the Crests, one of the first interracial groups in the music industry. Initially, The Crests had three African American members (one female), one Puerto Rican, and one Italian American (Johnny Maestro). Patricia Van Dross, older sister to famed R&B singer Luther Vandross, sang with Johnny Maestro while The Crests were signed to the Joyce Record label. Before The Crests signed with Coed Records, Patricia left the group because her mother didn't want her 15-year old daughter touring with the older guys. After a regional hit with "My Juanita"/"Sweetest One" on the Joyce label, The Crests charted a song titled "Pretty Little Angel" that was a Top 20 hit in Buffalo, New York, in May 1958. Their follow-up hit, called "16 Candles" climbed to #2 in early 1959 on the Billboard Hot 100 and #9 on CKWX in Vancouver.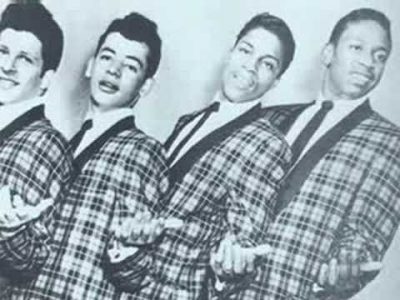 "16 Candles" almost missed being a hit. In 1958, Coed gave the Crests two songs for their second single. The first track was "Beside You", a standard doo-wop tune that was expected to get radio airplay. "That song was more in tune with what was happening on the radio back then," Johnny Maestro recalled, "the real rhythm and blues doo-wop stuff. It had more harmonies, I think. It tended to lean more toward what was happening." The flip side was "16 Candles", a teen birthday theme that Maestro remembers as "a little classier." It was brought in by staff writers Luther Dixon and Allyson Kent. Alan Freed of New York's WINS and Dick Clark on ABC-TV, were two of the most influential deejays in America, and they liked "16 Candles" a lot more than "Beside You". They both played the song incessantly. Soon other disc jockeys began playing that record. This led teenagers to start buying it. Eventually, "16 Candles" climbed to #2 on the Billboard Hot 100 in February 1959.
From December 1958 to December 1960, The Crests charted four songs into the Top Ten in Vancouver, while just their one big hit, "16 Candles", was the lone Top Ten charted song in the USA. Their other Top Ten singles in Vancouver were "Step By Step" "Trouble In Paradise" and "Isn't It Amazing." Between "Step by Step" and "Trouble in Paradise", Coed Records released the single titled "The Great Physician" under the name Johnny Masters. Though the single was a commercial failure, Johnny Maestro decided to leave The Crests and go solo. Before he left the group, The Crests released an album titled The Crests Sing All the Biggies. The album included some of the Crests own hits "16 Candles", "The Angels Listened In" and "Six Nights A Week". As well, the Crests covered "Earth Angel" by the Penguins, "My Special Angel" by Bobby Helms, "Butterfly" by Andy Williams, "Silhouettes" by the Rays and others. From the album, the Crests released their cover of the 1956 hit by the Five Satins titled "I Remember (In The Still Of The Night)". In December 1960, The Crests cover of the song stalled at #102 beneath the Billboard Hot 100.
Johnny Maestro's label, Coed Records, released singles by him variously credited his recordings to Johnny Mastro, Johnny Masters and Johnny Maestro, and Johnny Maestro the Voice of the Crests. In the USA, Maestro was unable to reach the Top Ten as he had with The Crests. But his two Top 40 hits in the USA climbed into the Top Ten in Vancouver. The first of these was "Model Girl".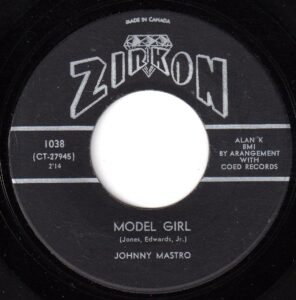 In "Model Girl" the spark begins when a guy sees a girl "walking down the street." The street is a place where numbers of romances start. In 1964, Roy Orbison would see a "pretty woman walking down the street." In 1956 the Four Lads were "standing on the corner watching all the girls go by." In "Model Girl" the attraction is mutual from the start as we learn "You lit my heart when you said 'Hello'." It is not the guy but the gal who makes the first move. At that moment the male narrator sings "And right away I felt the love bug grow." A love bug in this case is not an insect, but a metaphor for a heart-opening attraction for someone.
In "Model Girl" the suitor describes how "Heaven picked you Miss Universe. The angels brought you right down to earth." In 1961 the Miss Universe pageant was just nine years old. In 1952 the Pacific Knitting Mills company, and manufacturer of Catalina Swimwear, founded the Miss Universe pageant. It was first aired on television in 1955 on CBS with 33 contestants, including from the United States and Alaska. But it was in 1960 the pageant that Miss Universe began to climb in TV viewership. That year there were 43 contestants and the title was won by Linda Bement of the United States. So, "Model Girl" being compared to Miss Universe in early 1961 was a trendy compliment.
In the song "Model Girl" this female is "a perfect twenty-two" waist. Online one website suggested an adult female who is 5'4″ is ideally 36-23-36. So, perhaps the "perfect twenty-two" in "Model Girl" might be five-foot-three and 35-22-35. While beauty may be in the eye of the beholder, there were plenty of fashion magazines telling women how to look in order to catch a man. In 1926, Gene Austin had a number-one hit with "Five Foot Two Eyes of Blue (Has Anybody Seen My Gal)". In 2018, an article in Business Insider stated "The average American woman, standing at just over 5 feet 3 inches tall, is around five and a half inches shorter than the average American man." This may have been the case back in 1961, or possibly the average American woman in 1961 was just over 5 get 2 inches tall. In any event, it's likely the "Model Girl" who is a perfect twenty-two is about this height (5'2″ to 5'3″). It would be less ideal to have a "perfect twenty-two" who is 6 feet 1 inches tall.
Modelling as a profession was first established in 1853 by Charles Frederick Worth, the "father of haute couture", when he asked his wife, Marie Vernet Worth, to model the clothes he designed. The term "house model" was coined to describe this type of work. Eventually, this became common practice for Parisian fashion houses. Barbara Goalen became the first British supermodel, "the most photographer woman in Britain," from 1947 to 1954, appearing in Vogue, Harper's Bazaar among others. Her delicate physique (33 chest – 18 waist – 31 hips) exaggerated her hourglass figure to photographic advantage. In "Model Girl" the singer relates "a model like you, ooh what we could do…" The woman he aspires to be in relation with could walk right out of a fashion magazine.
Elsewhere in the lyrics for "Model Girl", "Cupid shot his arrow in our hearts and gave our love affair a perfect start." In classic mythology, Cupid is the god of desire, attraction and affection. In ancient mythology, a person, or even a deity, who is shot by Cupid's arrow is filled with uncontrollable desire. In the case of "Model Girl" it is "heaven," "the angels" and "Cupid" who each assist the blooming romance.
"Model Girl" was cowritten by Ollie Jones and Lockie Edwards Jr. Ollie Jones who was born in Philadelphia in 1923. He was an original member of The Ravens who charted nine Top Ten singles in the American R&B charts between 1948 and 1952, including a cover of "'Ol Man River". He joined the Benders and in 1954 The Cues. With the latter group he was a backing vocalist on Big Joe Turners' "Flip, Flop and Fly", LaVern Baker's "Tweedle Dee" and "Jim Dandy", and Roy Hamilton's "Don't Let Go", among others. Jones was also with The Cues for "Why", a Top Ten hit in Vancouver in 1957. Ollie Jones songs have been covered by The Ronettes, Patti LaBelle, The Stylistics, Johnny Ray, Perry Como, Maynard Ferguson, Gene McDaniels, Gene Vincent, Brook Benton, Jerry Butler, Fontella Bass and Fleetwood Mac. In 1990 Ollie Jones died at the age of 66.
The other songwriter for "Model Girl", Lockie Edwards Jr., was born in Bay City, Texas, in 1936. Edwards attended public school in Galveston and after graduating, joined the US Army, serving before the Korean War ended in 1953. He later moved to New York in pursue of becoming a professional songwriter. He wrote songs for Jimmy Jones, Nat "King" Cole, Louis Prima, Marv Johnson, Chuck Jackson, Baby Washington, Dionne Warwick, Adam Wade, Timi Yuro, Roy Hamilton, Ray Peterson, Neil Diamond, Long John Baldry, the Isley Brothers, and others. Edwards also produced records for The Shirelles, and boxer Joe Frazier. After a prolonged illness, Lockie Edwards Jr. died in early 2012 at the age of 75.
"Model Girl" peaked at #6 in Vancouver, #8 in Youngstown (OH), #12 in Jefferson City (MO), and Winnipeg (MB), #14 in Tampa (FL), #19 in York (PA), and #20 in Buffalo, Denver and Erie (PA).
Johnny Maestro's next single was "What a Surprise", a Top Ten hit in Vancouver. Maestro's next single, "Mr. Happiness" was a Top 20 hit in Vancouver in August 1961, and Top Ten in Tuscon, Arizona. Billed now as Johnny Maestro and The Coeds, the constant changes in how Maestro was billed may have been confusing for some of his fans as well as the DJ's who'd spin his records. In the summer of 1962 Johnny Maestro had a minor hit co-written by Barry Mann and Cynthia Weil titled "Before I Loved Her" which got some chart action in California and New York. In July 1963 Maestro scored a Top 20 hit called "Over The Weekend" in Hermiker, New York.
In 1965, billed as Johnny Maestro And The Crests, "I'm Stepping Out Of The Picture" was fated to not even step into the pop charts. With the British Invasion, teen record buyers weren't interested in hearing the latest record from a late 50's doo-wop group. After leaving Coed Records in 1962, Johnny Maestro recorded with Zirkon Records, United Artists, Scepter Records, Apt Records and Parkway Records. But changing record labels didn't get him the success he hoped for as all nine singles released after "What A Surprise" failed to enter the Billboard Hot 100.
Maestro later started a group called The Brooklyn Bridge and had a Top Ten hit in 1969 called "The Worst That Could Happen".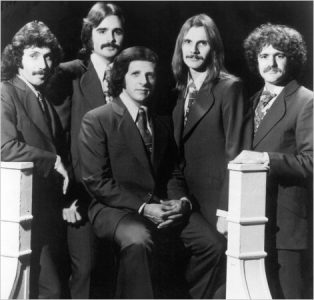 The Brooklyn Bridge made many appearances on TV, including as guests on The Ed Sullivan Show, The Mike Douglas Show and the Della Reese Show. The Brooklyn Bridge continued to perform until 2010, the year Johnny Maestro died.
On May 9, 2012, Congressman Jerrold Nadler of New York paid honor to Johnny Maestro in the chambers of the House of Representatives of the United States of America. Maestro was born and grew up in the Nadler's Congressional district that encompasses Maestro's childhood neighborhood.
September 24, 2022
Ray McGinnis
References:
Patrick Prince, "Spend time in the presence of a master: Johnny Maestro," Gold Mine Magazine, Iola, WI, April 19, 2011.
Dennis Hevesi, "Johnny Maestro, Brooklyn Bridge Singer, Dies at 70," New York Times, March 26, 2010.
Andrew Scott, "J.T. Carter, an Original Member of Doo-wop's The Crests, Still Living in Harmony," Pocono Record, Stroudsburg, PA, September 3, 2012.
"Henry Oliver 'Ollie' Jones," Findagrave.com.
"Only 5.84 Million people viewed Miss Universe Nielsen Rating confirm," Bahamas Press, August 27, 2009.
Pageant Coach, "1955 Miss Universe Pageant in Long Beach, California 46664," ownthatcrown.com, January 16, 2021.
Hilary Brueck, "Women often say they prefer taller men — but the reality is more complicated," Business Insider, 2018.
"Cupid," Wikipedia.org.
Obituaries, "Barbara Goalen," Telegraph, June 19, 2002.
"Fabulous Forty," CKWX 1130 AM, Vancouver, BC, March 4, 1961.
For more song reviews visit the Countdown.