#275: Mr. Songwriter by Connie Stevens
Peak Month: August 1962
12 weeks on Vancouver's CFUN chart
Peak Position #2
Peak Position on Billboard Hot 100 ~ #43
YouTube: "Mr. Songwriter"
Lyrics: "Mr. Songwriter"
Concetta Rosalie Ann Ingolia was born in 1938 in New York City. Her father, Teddy Stevens, was born Pietro Ingoglia. Teddy Stevens was a jazz musician in Manhattan, and adopted an anglicized name. In 1950, at the age of 12, she witnessed a murder in Manhattan. Her parents decided to send Concetta to rural Missouri to live with relatives. Three years later in 1953, she moved with her father to Los Angeles, after her parents got a divorce. She enrolled at the Sacred Heart Academy for Girls, and later transferred to the Hollywood Professional School when her talents as an actress looked promising. In the mid-50s Concetta Ingolia formed a vocal quartet called "The Foremost" where she was joined by three men: Tony Butala, Mike Barnett, Dick Stewart. (Butala and Barnett and went on to form the close-harmony group The Lettermen which Barnett left after 1958). Concetta's first professional acting job was early in 1957 when she was featured in a TV commercial for a local Los Angeles bakery.
In 1957, at the age of 19, she appeared in the film Young and Dangerous, and adopted the stage surname of her father: and so the name Connie Stevens was born. The film was about a doctor's son who has a reputation as a juvenile delinquent, and the parents' of his girlfriend who try to break up a dating relationship. Similarly, she appeared later in '57 in Eighteen and Anxious opposite Jim Backus.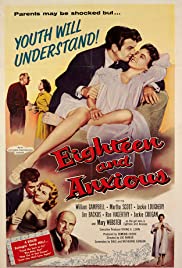 Parents may be shocked but…Youth Will Understand! Eighteen and Anxious
In 1958 Connie Stevens appeared a teen sports car club vs. motorcycle gang film titled Dragstrip Riot. The film's poster gave those curious to buy tickets this teaser: "Murder at 120 miles per hour." This was followed with a role in the comedy Rock-A-Bye Baby opposite Jerry Lewis. Later in 1958, Stevens appeared in a drama with Francis Farmer in a film whose title gave away the plot: The Party Crashers. In the film Stevens played a young woman who is attracted to the animal magnetism of a party crasher Twig Webster – the son of a doctor with a reputation for being a juvenile delinquent.
And in 1958 Connie Stevens released an album of standards titled Conchetta. The album was aimed at the classic pop audience. Tracks from Conchetta included the Nat "King" Cole number-one hit from '51 "Too Young"; the late 40s hit by Kay Kyser "On A Slow Boat to China"; and the Judy Garland hit from the late 40s "The Trolley Song". The liner notes for Conchetta were simply effusive:
When Connie sings…you understand the warm romance of a Neapolitan night. You catch traces of the piquant humor of an Irish jig, or the insinuating rhythms of Mohican drums. You can imagine the startling freshness of the English countryside. These are the moods and emotions to be discovered in the voice of the lovely Connie Stevens. They're hers by virtue of the rich heritage of Italian, Irish, English and Mohican Indian ancestry, all combining to produce one of the most delightful young talents to emerge in recent years…. Conchetta, the title of this album, is Connie's real name (although she spells it "Concetta"). The title was selected because the sound of her name seems to suggest those qualities of romance and vivaciousness which are so apparent in her singing and her beautiful appearance…. In an era when youth is on the march, demanding fresh sounds, fresh faces and new concepts, Connie Stevens emerges to 'fill the bill' in every particular.
In the late 50s, Stevens was a guest on The Bob Cummings Show, The Ann Sothern Show, Sugarfoot, Maverick, Cheyenne, and 77 Sunset Strip. In the latter TV series, she sang a duet with star of the show Edward Byrnes titled "Kookie, Kookie Lend Me Your Comb". The single climbed to #4 on the Billboard Hot 100 in May 1959. From 1959 to 1963 Connie Stevens appeared in over 100 episodes of Hawaiian Eye as the character Cricket Blake – a photographer who also sings at the Hawaiian Village Hotel's Shell Bar. In Hawaiian Eye Cricket Blake helps two private investigators investigate mysteries and protect clients.
In 1960 Connie Stevens had her biggest selling single, "Sixteen Reasons", which climbed to #3 in May of the year. The song detailed sixteen great things about being in love, including: "(nine) snuggling in the car, (ten) you're wish upon a star, (eleven) whispering on the phone, (twelve) you're kiss when we're alone." (The song was covered by the Lettermen on their 1962 album Once Upon A Time). Her followup single, "Too Young To Go Steady" which charted briefly in Vancouver in the summer of 1960, was passed up by most radio markets.
In the spring of 1961, Connie Stevens had another brief chart run in Vancouver with "Make-Believe Lover". This was followed by "If You Don't Somebody Else Will" which had only two weeks charting in Vancouver in August '61. Meanwhile, she starred in the drama Parrish, opposite her Hawaiian Eye co-star Troy Donahue. The film's poster exclaimed: "Into Connecticut's 'Million Dollar Mile' came a young intruder with nothing but his name…and his name was PARRISH. He was more than a boy. He was not yet a man. Dangerously in-between three girls! Stevens and Donohue were subsequently cast with top billing in Susan Slade, based on the novel The Sin of Susan Slade.
In early 1962 Stevens struggled to have another hit with "Why'd You Wanna Make Me Cry". And though her next release also failed to crack the Top 40 on the Billboard Hot 100, she had a hit record in Vancouver with "Mr. Songwriter".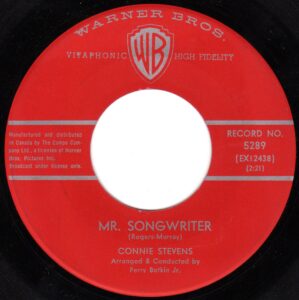 "Mr. Songwriter" was cowritten by Kay Rogers, who was born in 1919 in New York City. Rogers birth name was Edward Abraham Snyder. He studied at the Julliard School in Manhattan before getting hired to work as a songwriter in the Brill Building on Broadway. Snyder used an alias for some of the songs he was credited with writing: Kay Rogers. As Rogers, he got credit for cowritting "A Hundred Pounds Of Clay", a #3 hit for Gene McDaniels on the Billboard Hit 100 in 1961. In 1964 "Rogers" wrote one of the first charting singles for Aretha Franklin titled "Runnin' Out Of Fools". Rogers also wrote songs recorded by Big Maybelle, Dusty Springfield, Nancy Wilson, the Yardbirds, Timi Yuro, Gladys Knight & The Pips, and others. Snyder also used his real name instead of his alias – Kay Rogers – when getting credit for writing songs.
Under his real name, Snyder is crediting with cowritting "The Girl With The Golden Braids" for Perry Como in 1957; "Who's Sorry Now" for Connie Francis in 1958; "What Will Mary Say" for Johnny Mathis, and "Hurry Up And Tell Me" for Paul Anka, both in 1963; "Spanish Eyes" for Al Martino in 1965; and cowrote English lyrics to "Strangers In The Night" for Frank Sinatra in 1966. Edward "Kay Rogers" Snyder died in Florida in 2011, at the age of 92.
"Mr. Songwriter" is a song about a young woman who admits she doesn't know the first thing about writing romantic poems. So she asks "Mr. Songwriter" – a name she conjures for collective muse who writes popular songs – to write her "a song that will bring him to me" (the boy she adores). She suggests several other songs that "Mr. Songwriter" might know, as examples of what he might write for her. These are "Bless You" by Tony Orlando, and "I Don't Wanna Cry" by Chuck Jackson, both modest hits in 1961.
Stevens also sings that she wants the songwriter to make up words that rhyme to last forever. As well, she wants a song that will tell the guy she's got a crush on "without him, I just wanna die." Did I hear anyone say "RED FLAG!" There may be boys who could possibly be wooed by a gal who writes a song that rhymes to interest him in her. But, based on the lyrics, the main thing she's letting her heartthrob know in "Mr. Songwriter" is that unless the heartthrob wants her, she's going to feel like ending her life. Of course, it is plausible that the narrator of the song who sings "without him, I just wanna die," is overly dramatic and tells herself things like this – but doesn't actually want to die. But, still, what should a friend do if they learn someone is thinking like this?
In a 2014 article on luvze.com titled "Don't Kill Yourself Because You Can't Get A Girlfriend," Kate writes about comments she had noticed online from young men:
I am 19 years old and I have been rejected by every girl I have ever asked out. I have never had a girlfriend or sex, and when the girls reject me, they humiliate me in front of their friends in order to look better. Should I kill myself?
In the article it is emphasized that the person who is the right fit to go out on a date with will not be someone who humiliates or rejects them in front of other people. Instead, the kind of person that is the right fit is someone who is appreciative, delighted, to be in their company. Luvze.com invites young men who are feeling hopeless about their hopes for romance: "You may have beliefs that you don't even know you have that are affecting your perception of yourself, women, dating, and relationships. It is very important to understand this because if you don't, then you are being ruled by your unconscious beliefs and can't make changes in perception to feel better about yourself and your situation." And the same could be said for young women who are feel a guy they have a crush on is their last hope or else they'll "just wanna die."
At the heart of "Mr. Songwriter", we meet a young woman who doesn't believe she knows how to express herself. She tells herself "I don't know any poetry. How can I show what he means to me?" On the one hand, in most schools – either in elementary, junior high or high school – all students are introduced so some poetry. And they are given some poetry exercises to try in class. While a student may judge their poetry as not very good, beauty is in the eye of the beholder. After all, in one episode of The Flintstones we learn that Fred Flintstone once sent this poem to Wilma Flintstone:
You're the one who understands,
with eyes as big as frying pans.
It's not great poetry, but Wilma loved it. The poem came from Fred, and she appreciated the sentiment behind his words. For the teenage girl in "Mr. Songwriter", is Mr. Songwriter actually the muse she is trying to access, and she is going to express her own words on a page in poetry or song – once Mr. Songwriter inspires her? Or is she wanting someone else – in this case Mr. Songwriter is a third party – to write something romantic, that she can try to pass off to her teenage crush as her own? The best advice to give to listeners of "Mr. Songwriter" who fret that they can't write poetry, is to invite them to think of something they are talented, skilled at. Best to introduce to someone you want to get to know better and date, some hobby or activity you enjoy where you are relaxed and in your element. That way the teenage girl's crush will pick up on her strengths and not on her evident anxiety about her poetry.
"Mr. Songwriter" climbed to #1 in Honolulu, #2 in Vancouver (BC), #7 in Calgary (AB), #8 in Springfield (MA) and Seattle, and #9 in San Bernardino (CA). As the song failed to get much chart action in over half the states across the USA, it didn't crack the Top 40 nationally, stalling at #43 on the Billboard Hot 100.
While Connie Stevens was a star on Hawaiian Eye, she had a two-year dating relationship with Elvis Presley in the early 60s. Stevens told author Alanah Nash in her 2010 Elvis biography, Baby, Let's Play House, that one time she received a call from Elvis to go on a date. "I knew this was a fellow who could break your heart. He was just so beautiful." Despite only dating on and off for about two years, Stevens confided Elvis was "one of the loves of my life." Stevens and Presley were on the set together while he was filming Kid Galahad in 1962.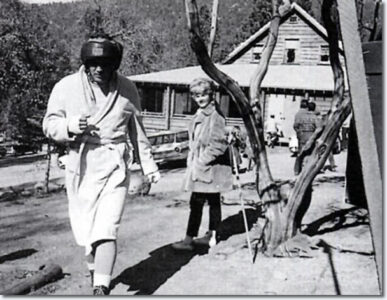 In 1963 Connie Stevens and Troy Donohue co-starred in the film Palm Springs Weekend. While in 1964-65 she appeared in 34 episodes of the TV comedy, Wendy And Me, opposite George Burns.
Three more single releases between 1962 and 1964 were commercial flops. But in 1965, Stevens managed to crack the Top 20 in Vancouver with "Now That You've Gone". At the end of '65 Connie Stevens had one last charting single in Vancouver titled "Something Beautiful", which cracked the local Top 40. As well in 1965, Stevens appeared in the horror film Two on a Guillotine. Several more B-films followed into 1966, including Way…Way Out with Jerry Lewis. She also starred on Broadway with The Star-Spangled Girl and won a Theatre World Award for her performance in 1967. In the late 60s, Connie Stevens joined Bob Hope on numbers of his USO tours to provide entertainment to American troops during the Vietnam War. In 2013 she was awarded the Founder's Medal for Patriotism for her over forty years doing USO tours. The award was given by the National Society of the Daughters of the American Revolution.
Stevens released five more singles between 1966 and 1970, but failed to revive her fading career as a recording artist. However, her 1970 recording "Keep Growing Strong" was covered successfully by the Stylistics as "Betcha By Golly Wow" in 1972.
In the late 60s Stevens appeared twice on Rowan & Martin's Laugh-In. In the late 70s into the early 80s she appeared in 3 episodes of Fantasy Island and 8 episodes of The Love Boat. In 1982 she had a minor role in the film Grease 2. And in 1987 she played opposite Frankie Avalon and Annette Funicello in Back To The Beach. In 1986, with not enough offers for acting roles coming her way, Connie Stevens started a beauty cosmetic company named Forever Spring. It eventually became a $100,000,000 business.

Stevens has been the recipient of a star on the Hollywood Walk of Fame, and also a star on the Italian Walk of Fame in Toronto. Connie was elected secretary-treasurer of the Screen Actors Guild in 2005. In 2009, Stevens wrote, produced and directed a film titled Saving Grace B. Jones. The film was shot in it was shot in Boonville, Missouri. It was based on true events that Steven's witnessed there as a child, concerning the release of a woman from a local asylum. Since suffering a stroke in 2016, she has been living mostly a private life away from the limelight.
August 2, 2021
Ray McGinnis
References:
Pierre Perrone, "Eddie Snyder: Co-writer of 'Strangers in the Night' and 'Spanish Eyes'," Independent, October 23, 2011.
"Connie Stevens," Imdb.com.
"Connie Stevens Biography," conniestevens.com.
Carrie Rickey, "Behind the Camera Connie Stevens, Upbeat Blond Singer-actress of the `50s and `60s, Drew upon Dark Memories 50 Years Buried to Create "Saving Grace B. Jones," Screening Saturday," Philadelphia Inquirer, March 26, 2009.
Kelly Braun, "Elvis Presley Couldn't Help Falling in Love — See the King of Rock 'n' Roll's Dating History," Closerweekly.com, January 14, 2020.
Kim Sloan, "Edward Byrnes and Connie Stevens Spotlight: ("Kookie Kookie Lend Me Your Comb")," PopBopRockTilUDrop
Kate, "Don't Kill Yourself Because You Can't Get A Girlfriend," Luvze, January 6, 2014.
"C-FUNTASTIC FIFTY," CFUN 1410 AM, Vancouver, BC, August 25, 1962.
For more song reviews visit the Countdown.