#66: Mull Of Kintyre by Wings
A-side: "Mull Of Kintyre"
Peak Month: January 1978
14 weeks on Vancouver's CKLG Chart
Peak Position #1
Peak Position on Billboard Hot 100 ~ did not chart
YouTube.com: "Mull Of Kintyre"
Lyrics: "Mull Of Kintyre"
B-side: "Girl's School"
Peak Month: January 1978
14 weeks on Vancouver's CFUN Chart
Peak Position #2
Peak Position on Billboard Hot 100 ~ #33
YouTube.com: "Girl's School"
Lyrics: "Girl's School"
Paul McCartney was born in Liverpool in 1942. He attended the Liverpool Institute High School for Boys and met fellow classmates George Harrison on a school bus. When Paul was 14 his mom died from a blockage in one of her blood vessels. In his early teens McCartney learned to play trumpet, guitar and piano. He was left-handed and restrung the strings to make it work. In 1957, Paul met John Lennon and in October he was invited to join John's skiffle band, The Quarrymen, which Lennon had founded in 1956. After Paul joined the group his suggested that his friend, George Harrison, join the group. Harrison became one of the Quarrymen in early 1958, though he was still only 14. Other original members of the Quarrymen, Len Garry, Rod Davis, Colin Hanton, Eric Griffiths and Pete Shotton left the band when their set changed from skiffle to rock 'n roll. John Duff Lowe, a friend of Paul's from the Liverpool Institute, who had joined the Quarrymen in early 1958 left the band at the end of school. This left Lennon, McCartney and Harrison as remaining trio.
The band changed their name to the Beatles, were regulars in Hamburg, Germany, and developed a following in Liverpool, England. In August 1962, Ringo Starr from Rory & The Hurricanes accepted Paul McCartney and John Lennon's invitation to became the Beatles new drummer. The first EMI Parlophone single "Love Me Do"/"PS I Love You" climbed to #17 on the UK charts in the fall of 1962. "Please Please Me" climbed to #2 on the UK pop charts in early 1963. And in April 1963 "From Me To You" became the bands first #1 hit on the UK charts staying on top for seven weeks in a row. It became the first Beatles song on the Vancouver pop charts was in June 1963. It charted on C-FUN together with the cover version by Del Shannon. The song stalled at #116 on the Billboard Hot 100, but the Beatles climbed to #14 in Vancouver in July '63.
In 1963 "She Loves You" topped the UK charts for six weeks and "I Want To Hold Your Hand" wrapped up the year on top for five weeks in the British Isles. Beginning on December 21, 1963, "She Loves You" topped the C-FUN charts for four weeks. It was replaced on January 18 by "Please Mr. Postman", and on January 25 by "I Wanna Hold Your Hand" for six weeks. On March 7 "All My Loving" took over the #1 spot, subsequently sharing the #1 spot with the B-side "This Boy" through to April 4. After sixteen weeks at #1 the Beatles were knocked out of the top spot by the Dave Clark Five's "Bits And Pieces". During their streak at #1 in Vancouver from December 21, 1963, to April 4, 1964, "All My Loving"/"This Boy" kept the #1 hit in the USA, "Can't Buy Me Love" stalled at #2 here on the west coast. Between December 14, 1963, and September 17, 1966, the Beatles had up to five songs in the Top Ten in Vancouver for 107 out of 146 weeks.
The band released chart-topping albums between 1963 and 1970, including Meet the Beatles!, The Beatles Second Album, A Hard Days Night, Beatles '65, Beatles VI, Help!, Rubber Soul, Yesterday and Today, Revolver, Sgt. Pepper's Lonely Hearts Club Band, Magical Mystery Tour, Beatles (White Album), Yellow Submarine, Abbey Road, and Let It Be.
The Beatles split in 1970. Paul McCartney had the most successful solo career of the four. He formed the band Wings with Denny Laine and Linda McCartney. From Scarsdale, New York, Linda Louise Eastman was born in 1941. Her father, Lee Eastman, was a Russian-Jewish immigrant and practiced entertainment law. His clients included Harold Arlen, and Jack Lawrence. A composer of "If I Didn't Care" for the Ink Spots, and "All Or Nothing At All" for Frank Sinatra, Jack Lawrence wrote "Linda" for Lee Eastman in tribute to his daughter. The song became a number-one hit for Buddy Clark in 1947. In 1964, Linda Eastman became a receptionist and editorial assistant for Town & Country Magazine. She ended up doing photo shoots, including for pop stars. A photoshoot for the Rolling Stones on a yacht which opened doors. On August 15, 1965, Linda Eastman was invited backstage at Shea Stadium in conjunction with the Beatles concert in Queens, New York City. It was there she met Paul McCartney. Linda Eastman continued to take photos for album covers, and magazine spreads of Aretha Franklin, Bob Dylan, Jimi Hendrix, Grace Slick, Janis Joplin, Eric Clapton, The Doors, Simon & Garfunkel, the Animals, Neil Young, the Who and others. Linda Eastman and Paul McCartney were married in 1969.
In the 1970s, McCartney's hits included "Another Day", "Uncle Albert/Admiral Halsey", "Give Ireland Back To The Irish", "My Love", "Band On The Run," "Listen To What The Man Says", "Live And Let Die", "Let 'Em In", "Silly Love Songs" and "Mull Of Kintyre".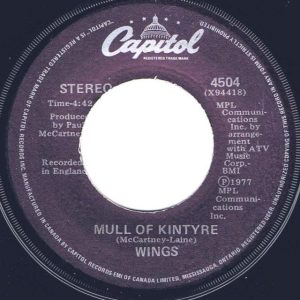 "Mull Of Kintyre" was cowritten by Paul McCartney and one-time Moody Blues bandmate Denny Laine. Born Brian Frederick Hines in Birmingham in 1944, Denny Laine learned to play guitar as a boy. He had his first public performance at the age of 12. When he formed a band called The Diplomats, he changed his name. In an interview, Laine stated he chose Denny because 'everyone had a backyard, and a den to hang out. I think I got that nickname there.' His surname came from his sisters' favorite recording artist, Frankie Laine. As lead singer for the Moody Blues, Denny Laine provided the lead vocals for the bands' only Top Ten hit in the UK or USA in the 1960's titled "Go Now". With five followup singles going either sideways or nowhere, Laine left the Moody Blues in 1966. He subsequently formed the Electric String Band who opened for Jimi Hendrix and Procol Harum at the Saville Theatre in London in June 1967. But the Electric String Band was overlooked and split up by the end of the year. In 1971, Laine was asked to join Paul McCartneys' new band Wings. He left Wings in 1981 and over the decades has released a dozen solo studio albums.
"Mull Of Kintyre", as Paul McCartney explains, is an ode to the Mull of Kintyre and the islands' natural beauty and sense of home. "I certainly loved Scotland enough, so I came up with a song about where we were living: an area called Mull of Kintyre. It was a love song really, about how I enjoyed being there and imagining I was travelling away and wanting to get back there."
Mull of Kintyre
Oh mist rolling in from the sea,
My desire
Is always to be here
Oh Mull of Kintyre
The song offers images of "deer in the glen," and "sunsets on fire." It is also sung from the point of view of someone who has many memories of earlier times in their life spent on the Mull of Kintyre. Paul McCartney made Mull of Kintyre his primary residence in the early 70's. In 1966, Paul bought the 600-acre High Park Farm. But it was after his marriage in 1969 to Linda, and the breakup of the Beatles, that the new couple spent much time on the remote island getaway. In time, the McCartneys got another place in Sussex and spent holidays at High Park Farm. After Linda died in 1998, Paul spent less and less time there. Mull Of Kintyre was now a mix of incredible beauty and the felt absence of Linda.
"Mull Of Kintyre" peaked at #1 in Vancouver (BC), Hamilton (ON), #3 in Ottawa (ON), #5 in Peterborough (ON), and #10 in Buffalo (NY). "Girl's School" peaked at #1 in Hamilton (ON), #2 in Vancouver (BC), #3 in Ottawa (ON), #5 in Peterborough (ON), #7 in Anniston (AL), and #9 in Toronto. Internationally, "Mull of Kintyre" peaked at #1 in Australia, Austria, Belgium, Ireland, the Netherlands, New Zealand, South Africa, Switzerland, the UK and West Germany, #2 in Norway, and #5 in Spain. It was the number-one song of the year in 1977 in the UK, and landed in the Top Five for 1978 in Australia, New Zealand, South Africa and Switzerland.
After "Mull Of Kintyre", McCartney released the album London Town. From the album came a number one charting single "With A Little Luck". In 1979, McCartney stayed in the Top Ten with his disco-influenced "Goodnight Tonight". He ended the year with his Christmas tune "Wonderful Christmastime" which made the Top Ten in Germany, the Netherlands, New Zealand, Norway, and the UK.
The flip side of "Mull Of Kintyre" is "Girls School", written by Paul McCartney. The song is a semi-pornographic rocker. Yuki is an "oriental princess" who shows films in the classroom. McCartney confides "boy, they put the paper on the windows." Whatever is on the film isn't meant for the eyes of the general public. The "Spanish doll," Sister Scala, "runs a full-body outcall massage parlor." In the late 70's, massage was very risqué. Especially, if it wasn't given by a Registered Massage Therapist. And it seems Sister Scala is running a business where girls at the school are visiting men in their homes to give a full-body massage. Nudge, nudge, wink, wink.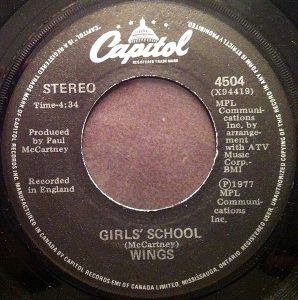 "Girls School" climbed to #1 in Hamilton, #3 in Vancouver and Ottawa, #5 in Peterborough (ON), #7 in Sydney (NS), #9 in Toronto, #10 in Buffalo and Seattle, and #33 on the Billboard Hot 100.
In January 1980, Paul McCartney was arrested at a Japanese airport for possession of marijuana. In 1980, McCartney released McCartney II and had another international number-one hit with "Coming Up". After John Lennon was murdered outside the Dakota on West 72nd Street in the Upper West Side of Manhattan on December 8, 1980, McCartney was reluctant to tour. In 1982, Paul teamed up with Stevie Wonder to record "Ebony And Ivory". The song was an instant success. Later that year, McCartney's duet with Michael Jackson off the Thriller album, "The Girl Is Mine", was a Top Ten hit. And the following year, he teamed up again with Michael Jackson to record "Say, Say, Say", another huge hit. In 1984 Paul McCartney was one of the recording artists contributing to the Band Aid charity single "Do They Know It's Christmas?" And in 1985, Paul McCartney was back in the Top Ten with the theme song to the movie "Spies Like Us".
A 1986 album release, Press to Play, received modest sales making the Top Ten album charts in Norway and the UK, but only #30 in the USA. In 1987, the Ferry Aid charity single "Let It Be" had to feature Paul McCartney with a solo spot. The gospel cover of the Beatles 1970 chart-topper went to number-one. It featured solo spots by Boy George, Kate Bush, Mel and Kim, Andy Bell of Erasure, Kim Wilde, Nick Kershaw and Edwin Starr. And in 1989, McCartney had a solo spot on a cover of the 1964 single "Ferry Cross The Mersey" by Gerry and the Pacemakers. McCartney was joined by Gerry Marsden, Holly Johnston and the Christians on what topped the UK singles chart for three weeks in May 1989. That year Paul McCartney scored a Top Ten hit titled "My Brave Face" in Ireland and Norway.
In the '90s, McCartney had a Top ten hit with "Hope Of Deliverance" (1992) in Canada, Germany, the Netherlands, Norway and Poland. His very successful A Flaming Pie album in 1997 saw less success with several tracks released from the album as singles.
In 2001, McCartney had a #6 hit in Canada with "From a Lover to a Friend". A 2004 benefit single, "Do They Know It's Christmas?", was issued featuring McCartney to raise money for famine in the Darfur region of the Sudan. The charity single once again climbed to #1 in the UK, as well as Canada, Italy and Spain. His 2007 single "Dance Tonight", from his Memory Almost Full album, became a #3 hit on the Japan Singles chart.
In 2012, McCartney released his Kisses on the Bottom album. A single from the album, "My Valentine", went to #2 in the Czech Republic and #10 in Poland. That Christmas, McCartney was one of the musicians on The Justice Collective charity single "He Ain't Heavy, He's My Brother". The song was a cover of the 1969 single by The Hollies. The cover made it to #1 in the UK. McCartneys' recording of "Queen Eye" was a #2 hit in the Czech Republic in 2013.
McCartneys' most recent international Top Ten hit was with Kanye West and Rihanna in 2015 titled "FourFiveSeconds". In 2018, he had a #3 hit in the UK and #6 in Russia with "I Don't Know". As well, the B-side, "Come On to Me" climbed to #1 in Croatia and Japan, and #8 in the Netherlands and Russia. In 2020, the ex-Beatle made it to #7 in Taiwan with his recording of "Find My Way".
Between 1971 and 2015 McCartney has had forty-eight of his single releases reach the Top Ten in one or more countries internationally. Over the years Paul McCartney had produced records for other recording artists. This includes "A World Without Love" for Peter and Gordon, "You've Got To Hide Your Love Away" for Silkie, "Mellow Yellow" for Donovan, "Those Were The Days" for Mary Hopkin, James Taylor's self-titled debut album James Taylor, Ringo Starr's self-titled 1973 album Ringo and George Harrison's 1981 album Somewhere In England.
On April 19 and 20, 2016, Paul McCartney gave concerts at Rogers Arena in Vancouver. On November 25, 2012, and seven years later on July 6, 2019, Paul McCartney performed at BC Place Stadium in Vancouver.
In addition to being a member of Wings, Linda McCartney created a healthy food business named Linda McCartney Foods. It was netting $60,000,000 USD a year by the late 90's. She became Lady McCartney when Paul was knighted in 1997. Linda McCartney died of breast cancer at the age of 56 in 1998.
January 30, 2023
Ray McGinnis
References:
David Fricke, "Paul McCartney Looks Back: The Rolling Stone Interview," Rolling Stone, August 10, 2016.
Ben Quinn, "Paul McCartney 'saw God' After Taking Drugs During Beatles Heyday," Guardian, September 2, 2018.
Katie Allen, "Linda McCartney Food Empire Sold," Guardian, June 13, 2006.
"Linda McCartney, Photographer of Rock Stars, Dies at 56," New York Times, April 20, 1998.
Ray Connelly, "Memories of Linda and how the Mull of Kintyre lost its magic for Paul McCartney," Daily Mail, October 8, 2013.
Gary Graff, "Moody Blues Co-founder Denny Laine 'Very Pleased' to be Added to Rock & Roll Hall of Fame Roster," Billboard, December 23, 2017.
"Paul McCartney Concert Dates Canada," Setlist.fm.
"CKLG Top 30," CKLG 730 AM, Vancouver, BC, January 18, 1978.
"C-FUN Top Thirty," CFUN 1410 AM, Vancouver, BC, January 7, 1978.
For more song reviews see the Countdown.