#343: My Bucket's Got A Hole In It by Ricky Nelson
Peak Month: April 1958
5 weeks on Red Robinson's Teen Canteen Vancouver Chart
Peak Position ~ #1
Peak Position on Billboard Hot 100 ~ #12
YouTube: "My Bucket's Got A Hole In It"
Lyrics: "My Bucket's Got A Hole In It"
In 1940 Eric Hilliard Nelson was born. On February 20, 1949, while still eight years old, he took the stage name of Ricky Nelson when appearing on the radio program, The Adventures of Ozzie and Harriet (1952–66). A child actor, Ricky was also a musician and singer-songwriter. He also co-starred alongside John Wayne and Dean Martin in the western Rio Bravo (1959). He placed 53 songs on the Billboard singles charts between 1957 and 1973.
His first single release was "I'm Walking" which debuted on May 3, 1957 on CKWX in Vancouver (BC), and May 18 on the Cashbox pop singles chart. It climbed to #4 in Vancouver and #17 on the Billboard pop chart. The B-side, "A Teenager's Romance" peaked at #8 on the Billboard pop chart, but didn't chart in Vancouver.
Ricky Nelson sang all his single releases on The Adventures of Ozzie and Harriet. His next single was "You're My One And Only Love".
Nelson racked up a number of #1 hits in Vancouver, including "My Bucket's Got A Hole In It" in 1958.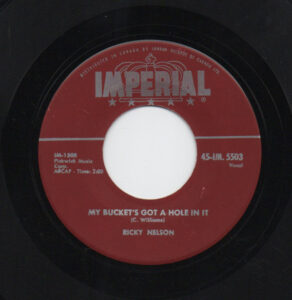 "My Bucket's Got A Hole In It" was written by Clarence Williams, who was born in suburban Baton Rouge (LA) in 1893 (some sources say 1898). A jazz musician who travelled with W.C. Handy for awhile, Williams wrote hundreds of songs. These include "Sugar Blues", "I Ain't Gonna Give Nobody None o' This Jelly Roll" and "Baby Won't You Please Come Home" each in 1919. And in 1922 he wrote "Ain't Nobody's Business". Numbers of his songs were recorded by Bessie Smith, Alberta Hunter, Fats Waller, Ella Fitzgerald, Count Basie, Johnny Mercer, the Mills Brothers, Lionel Hampton, Louis Armstrong, Frank Sinatra, Billie Holliday, Dinah Washington, Sam Cooke, Sarah Vaughan, Julie London, Sam Cooke and others.
In the original version of the song, the singer complains that his bucket has a hole in it, and he can't buy any beer. It was this obstacle to buying beer that Hank Williams sang in his 1949 Top Ten country music cover of "My Bucket's Got A Hole In It". But in Ricky Nelson's 1958 version that he sang on The Adventures of Ozzie and Harriet he complains that his bucket "don't work no more." He hikes up a mountain and looks down to the sea. There he sees the crowds of people, and the fishes, "doin' the beda-bop-bee." In addition, his relationship status is rapidly changing. He is going to tell his "baby" that he's leaving town. While, he's already planning to hook up with someone new as he waits "for a woman that ain't got no man."
There were numbers of folk songs about holes in buckets. "There's A Hole In My Bucket", a children's song from 17th Century in Germany, concerns two children – Henry and Liza – who try to solve the matter of a leaky bucket. It was popularized by Harry Belafonte, Odetta, Pete Seeger and others.
"My Bucket's Got A Hole In It" climbed to #1 in Vancouver (BC) and Milwaukee (WI), #2 in La Crosse (WI), #3 in Toronto, Burlington (VT) and Albany (NY), #5 in Janesville (WI) and Phoenix (AZ), #7 in San Francisco and Seattle, #8 in Chicago, and #9 in Duluth (MN). However, across the United States, "My Bucket's Got A Hole In It" got hardly any chart action in over 30 states. Consequently, it stalled at #12 on the Billboard pop chart.
In August 1958, Ricky Nelson had his first #1 song on the Billboard Hot 100, "Poor Little Fool". The single charted to #1 in Vancouver on non-consecutive weeks in July and August. And from November 10 , 1958, to January 19, 1959, "Lonesome Town"/"I Got A Feeling" charted within the Top Ten of the CKWX Sensational Sixty. Additional hits for Nelson included the double-sided disc "It's Late"/"Never Be Anyone Else But You" which climbed to #1 in Vancouver in March 1959. And in August 1959, Ricky Nelson was back in the Top Ten in Vancouver with "Sweeter Than You"/"Just A Little Too Much". A final appearance in the Top Ten in 1959 was with "One Minute To One".
With his weekly appearance on The Adventures of Ozzie and Harriet, Nelson was the first pop singer in the rock 'n roll era to use a TV show as a platform to promote his single releases. Between 1957 and 1959 Ricky Nelson had charted 15 songs into the Top Ten in Vancouver. His sixteenth Top Ten hit was "Young Emotions." The B-side of that single was "Right By My Side." While the tune didn't do very well in the USA, stalling at #59, in Vancouver the B-side peaked at #11. While the pretty "Young Emotions" written by Mack David, climbed to #7 here in town.
During 1960, Ricky Nelson was shooting a film titled The Wackiest Ship In The Army. Filmed in Pearl Harbor and the island of Kauai. The film's plot set during World War II, begins with Lt. Rip Crandall (Jack Lemmon), an expert yachtsman in civilian life, now based at Townsville, Queensland, Australia. He is surprised to be assigned command of a sailing ship, the USS Echo. The only crew member who knows how to work a ship with sails is eager young Ensign Tommy Hanson (Ricky Nelson), who cost Crandall a yacht race with a error in that race before the war.
In 1961 Ricky Nelson dropped the "y" from his name on his 21st birthday. Nelson was back at #1 in 1961 with "Travelin' Man"/"Hello Mary Lou". He enjoyed further successes on the pop charts in the early 60's. These included Top Ten hits in Vancouver: "A Wonder Like You", "Teenage Idol", "It's Up To You", "Gypsy Woman"/"String Along". But by early 1964, Nelson had his last Top Ten hit in the USA that decade titled "For You". His final Top Ten hit in Vancouver (BC), "Your Kind Of Lovin'", was a hit in 1966.
In 1967 Vancouver's premiere supper club was The Cave. Opened in 1938 at 626 Hornby Street, patrons could enjoy a delicious dinner between 5:30 p.m. and 7:30 p.m. A menu at the time offered a choice of appetizers: crab meat cocktail or fruit cocktail, followed by "daily soup" or tomato juice. Entree options included fried filet of sole, roast sirloin of beef, grilled pork chops, filet mignon, fried half spring chicken and roast duckling. With each of these dishes came carrots and peas, and mashed potatoes. And for dessert: jello with whipped cream and milk. At the start of 1967, The Cave printed a poster featuring an upcoming booking with "Mister Entertainment," Wayne Newton. On the bottom of the poster was the following notice: "Opening Wed. Feb. 15th for 10 days only Ricky Nelson." Though Nelson had changed credits on his records in 1961 from Ricky to Rick, in 1967 The Cave (and likely other venues) were still billing him as "Ricky."
Rick Nelson had one last Top Ten hit in 1972 titled "Garden Party". The song recounted an appearance he made at Madison Square Gardens in New York City for a Rock 'n Roll Revival on October 15, 1971. After singing "Hello, Mary Lou", Nelson sang a version of the Rolling Stones' "Honky Tonk Women" that resulting in some booing from the audience. At that point Rick Nelson decided it was time to leave the stage, when he was followed by Chuck Berry singing "Johnny B. Goode".Rick Nelson performed in concert with the Stone Canyon Band at the Pacific Coliseum in Vancouver on September 5, 1976. He died in a small plane crash on December 31, 1985.
February 26, 2021
Ray McGinnis
References:
Dean Martin and Ricky Nelson sing "My Rifle, My Pony and Me" in Rio Bravo, 1959.
The Wackiest Ship In The Army, Columbia Pictures, 1960.
The Adventures of Ozzie and Harriet, ABC (1952-1966).
Penny Pagano, Probe Discounts Drugs as Cause of Air Crash That Killed Rick Nelson, LA Times, Los Angeles, CA, May 29, 1987.
Editors – Rolling Stone, "Rick Nelson – biography," The Rolling Stone Encyclopedia of Rock & Roll, (Simon & Schuster, 2001).
"The Music of Clarence Williams," Basin Street.com.
"Teen Canteen Survey: The Top Songs," CKWX 1130 AM, Vancouver, BC, March 30, 1958.
For more song reviews visit the Countdown.