#245: My Girl Sloopy by Little Caesar & The Consuls
Peak Month: August 1965
12 weeks on Vancouver's CKLG chart
Peak Position #1
Peak Position on Billboard Hot 100 ~ #50
YouTube: "My Girl Sloopy"
Lyrics: "My Girl Sloopy"
Little Caesar and the Consuls were a rock n' roll group, formed in Toronto in 1956. Their website states that they are the "oldest rock and roll dance band in Canada." Known as The Consuls, they originally consisted of Peter DeRemegis on drums, Gene MacLellan on guitar, Lenny Stubbs on bass guitar, Norm Sherrat on saxophone, Bruce Morshead on keyboards and lead vocals, and in 1957 added Robbie Robertson on guitar. In time the band added Little Caesar to their name after a number of fans commented that lead singer Bruce Morshead resembled Edward G. Robinson in the film Little Caesar. DeRemegis and Robertson left the band in 1958 to form The Suedes. The core of the Little Caesar and the Consuls consisted of Morshead, guitarist Ken Pernokis (from 1959), bassist Tom Wilson (from 1960), and drummer Gary Wright (from 1963).

The band released their first single in 1959 titled "I'm Happy". Four years later they had a #7 hit in October 1963 on CHUM in Toronto with "If (I Found A New Girl)". Their followup, "Something's Funny, Something's Wrong" was a minor hit in Hamilton in the winter of '63. In the summer of 1964 they covered Frankie Ford's "Sea Cruise" with little success.
However, they got wider recognition in 1965 when they released "My Girl Sloopy".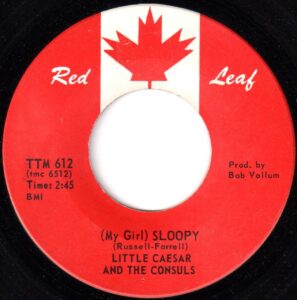 The song was originally written in 1964 by Wes Farrell and Bert Russell and titled "My Girl Sloopy". That same year it was a top 30 hit for The Vibrations. The most popular version of Sloopy was by the McCoys, a band from Indiana. Their version was titled Hang on Sloopy was a number one hit in October 1965 in the USA. Interestingly, "Hang On Sloopy" by the McCoys didn't even crack the record charts on CKLG or CFUN. Another version of "Hang on Sloopy" popular in 1965, that made both the US and local Vancouver pop charts, was by Ramsey Lewis.
Bertrand Russell Berns was born in the Bronx to Russian Jewish immigrants in 1929. When he was fourteen he contracted rheumatic fever which damaged his heart. After he recovered, he took piano and learned to read and write music. In 1949 he co-founded Magic Records and found a new talented female recently graduated from high school named Edith Gormezano who soon went by the pseudonym of Eydie Gormé. They got an office at 1650 Broadway and started publishing sheet music. But by the end of 1950 the little record company had folded, with none of the songs they wrote even being recorded. He visited Cuba in the winter of 1957, over a year before the Cuban Revolution. In 1958 he wrote "Way Down By the Cherry Tree" for Capitol Records vocalist Micki Marlo. In 1959 Berns began to work at 1650 Broadway and formed a group called the Beatniks who recorded an obscure tune titled "Beat Generation".
On February 12, 1960, Bert Berns got a job with Robert Mellin Music as a song plugger for fifty dollars a week. Meanwhile, he kept on writing. He penned "A Little Bit Of Soap" for the Jarmels in 1961, along with having "Twist And Shout" recorded originally by the Top Notes – and then the Isley Brothers. Other notable songs Berns penned were "Tell Him" by the Exciters (1962), "Cry Baby" by Garnet Mimms (1963) and later Janis Joplin (1971), "Here Comes The Night" by Them (1965), "I Want Candy" by the Strangeloves (1965) and later Bow Wow Wow (1982), "Are You Lonely For Me Baby" by Freddie Scott (1967), "Piece Of My Heart" by Big Brother and the Holding Company featuring Janis Joplin (1968) and "Twenty Five Miles" by Edwin Starr (1969). For Bert Berns, writing "take another little piece of my heart" had a double meaning, given his compromised heart from his bout of rheumatic fever in his youth.
Bert Berns also was a producer of several notable hits including "Under The Boardwalk" by the Drifters (1964), "Baby I'm Yours" and "Make Me Your Baby" by Barbara Lewis (both 1965) and "Brown Eyed Girl" for Van Morrison (1967). Berns died at the age of 38 of a heart attack in December 1967.
In 2014 a book retrospective was published about Burns titled Here Comes the Night: The Dark Soul of Bert Berns and the Dirty Business of Rhythm and Blues by Joel Selvin. A musical by Daniel Goldfarb, Piece of My Heart: The Bert Burns Story, debuted Off-Broadway in 2014. And in 2016 Burns son Brett released his documentary BANG! The Bert Berns Story.
Wes Farrell was born Wesley Donald Fogel in 1939 in Manhattan. At the age of 20, he penned "Boys" which became the B-side of the Shirelles' "Will You Love Me Tomorrow". The song was later recorded by The Beatles on an album in 1963. He wrote the B-side for Dion's "Ruby Baby" in 1963, and wrote other B-sides recorded by Gene Chandler, In 1964 "Baby Let Me Take You Home" became a #21 hit for the Animals in the UK. As well, Farrell wrote "Come A Little Bit Closer" for Jay & The Americans, a #3 hit on the Billboard Hot 100. Farrell wrote another hit for Jay & The Americans, charting to #11 titled "Let's Lock the Door (And Throw Away the Key)".
Wes Farrell wrote "Come On Down To My Boat" for Every Mothers Son in 1967, a #6 hit on the Billboard Hot 100. He also co-wrote "Indian Lake" for the Cowsills and "Doesn't Somebody Want To Be Wanted" for The Partridge Family. For five years the New York born Ferrell was married to Tina Sinatra, the sister of Nancy Sinatra. Farrell died of cancer at the age of 56 in 1996.
"My Girl Sloopy" is about a guy in love with Sloopy, who "lives in a very bad part of town." She's put down for the rough, working class, and possibly sleazy neighborhood she lives in. The guy in love with Sloopy says to her "Sloopy let your hair down girl, let it down on me." To "let your hair down" in the Sixties was slang for leaving behind one's inhibitions, to behave in a way that is free from social limitations or any code of conduct. To let one's hair down was to just be yourself, to be candid and 'real' about what you think. In the budding relationship between the narrator of the song, and Sloopy, the couple are getting to a place where they can really be themselves.
In the McCoys version of "Hang On Sloopy", the singer adds "well it feels so good…shake it, shake it, shake it, Sloopy." So, unless the listener is imagining that Sloopy and the guy are now dancing "shaking it," what feels so good – all that shaking going on – is sexual.
"My Girl Sloopy" was first recorded by the Vibrations in 1964, followed by Bobby Jay And the Hawks, The Yardbirds, Freddy Cannon, and Dino, Desi And Billy.
"My Girl Sloopy" peaked at #1 in Vancouver (BC), Winnipeg (MB), Grand Rapids (MI), and Seattle, #3 in San Francisco, #5 in San Jose (CA), Reno (NV), and Edmonton (AB), #6 in Wilmington (DL), #7 in Vancouver (WA) and Erie (PA), #8 in Toronto and Woonsocket (RI), and #12 in San Diego. The single got little chart action in over 35 states across the USA and stalled at #50 on the Billboard Hot 100.
"My Girl Sloopy" was given an award for Best Produced Single at the Annual RPM Awards in 1965. (RPM is the Canadian music industry magazine that published a weekly Canadian pop singles chart between February 1964 and November 2000).
Reworked as "Hang On Sloopy", in addition to the McCoys, the song was recorded by the Vogues, the Gentrys, Barry McGuire, Jan & Dean, the Newbeats, Ramsey Lewis, Sandy Nelson, Xavier Cugat, the Fabulous Echoes, the Ventures, the Sandpipers, the Swinging Medalions, the Beau Brummels, and the Supremes. In January 1966 the Brazilian vocal duo Leno e Lílian released a cover version in Portuguese titled "Pobre Menina". Their cover topped the Brazilian charts.
In December 13, 1965, Little Caesar And the Consuls cover of the The Miracles 1963 hit, "You Really Got A Hold On Me", topped the RPM Canadian singles chart. This made Little Caesar and the Consuls the second Canadian recording act to have a number-one hit on the national pop charts. (The Guess Who? with "Shakin' All Over" were the first). The single stalled at #23 in Vancouver.
Prior to February 1964 there were only local radio markets like CHUM in Toronto and CKWX and CFUN in Vancouver issuing pop charts going back to 1956-57. In the case of CHUM, Paul Anka's "Diana" topped the Toronto chart on August 12, 1957, making it the first Canadian recording act to top the charts in that city. A year later on CHUM, Jack Scott topped the Toronto chart on August 18, 1958, with "My True Love". In Vancouver, the first Canadian recording artist to top the pop charts in the rock 'n roll era was Paul Anka with "Lonely Boy" for five weeks on the CKWX Sensational Sixty from July 20 to August 17, 1959. ("Lonely Boy" was also number-one in Ottawa for four weeks in July '59, and in Montreal for four non-consecutive weeks in July and August of '59). While in Ottawa, Paul Anka's "Put Your Head On My Shoulder" was number-one for four weeks in the fall of '59; And five weeks on CJAD in Montreal. While in Smiths' Falls and Ottawa in January 1958, Paul Anka's "You Are My Destiny" topped the pop charts.
On June 28, 1965, RPM Magazine did a feature on Little Caesar and the Consuls. They reported "If 'My Girl Sloopy' was your first introduction to Little Caesar and the Consuls then you have indeed missed five of the most talented, and despite their youthfulness, pioneers of the successful group business in Canada. Little Caesar and the Consuls have been in the teen pleasing business longer than any other group but are still in their early twenties, and compete with the handsomest of them all."
"Bruce (Little Caesar) Morshead…Besides working full time at Canadian Kodak and weekends gigging, he is working on his B.A. at night school… Norm (Mr. Fix-it) Sherrat plays sax and shakes up quite a storm with the maracas… Ken (Funny Man) Pernokis…a master of stand up comedy, is capable of breaking up his audience at the beginning of the act and has the audience in the palm of his hand throughout the set… Tom (The Dancing Man)…his rubbery-legged dance routine excites the audience and gets them in the mood to dance and even imitate his actions. Gary (the Baby) Wright is the youngster of the group… His claim to fame is his good looks and fact that he's the bashful one, which makes him a target for all the screaming young fans." After mentioning how big a hit "If" was in 1963, RPM tells its readers that Little Caesar and the Consuls "popularity just seemed to grow and grow and grow…. Little Caesar and the Consuls are probably the most successful and wealthiest recording group in Canada. Each of their records have made them enough money to allow for further sessions."
"My Girl Sloopy" was one of a number of songs in the mid-sixties about a dating relationship crossing economic boundaries. Another was "Poor Side Of Town" by Johnny Rivers, while the Standells sang "Some Times Good Guys Don't Wear White".
In 1966, the group had success with "You Laugh Too Much", which climbed to #9 on the Canadian RPM singles chart in April. Their followup was a cover of The Heartbeats Top Ten R&B hit from 1956, "A Thousand Miles Away". The cover stalled at #58 on the RPM singles chart in the summer of 1966.
Little Caesar and the Consuls had two more minor regional hits: "Mercy Mr. Percy" in Sault Ste. Marie (ON) in the fall of 1966; And "My Love For You (Part 1)", a #7 hit in Orillia (ON) in the spring of '67. While they were releasing hit records, Little Caesar and the Consuls opened concerts in Toronto for The Beach Boys, the Rolling Stones, the Lovin' Spoonful, Dave Clark Five, and Sonny & Cher.
On Wikipedia it is reported that "Morshead and Wilson left the band in 1968. The band continued with new vocalist and keyboard player Steve Macko before breaking up in 1971."
As well, on Wikipedia it was noted that "In 1993, Norm Sherratt, Tom Wilson, Steve Macko, Vic Wilson (saxophones), Tony Crivaro (vocals & guitar) and Gary Wright (drums) joined up and recorded a reunion album, Since 1956."
Tom Wilson left the band in 2011. Norm Sherratt, who had left the band from 1972 to 1992, left the band in 2014. Other lineup changes occurred over the long arc of Little Caesar and the Consuls performing continuously since 1956.
Currently the lineup includes keyboard player Walter Taylor (since 2003), lead vocalist, guitar and trumpet player Martin Damsell (since 2011), saxophonist Russ Strathdee (since 2013), drummer Phil Strong (since 2015), and bass guitarist James Legere (since 2017). The band looks forward to performing again live as pandemic restrictions ease in Ontario.
October 22, 2021
Ray McGinnis
References:
Suzy Evans, "First Look at 'Piece of My Heart: The Bert Berns Story' (Exclusive)," Hollywood Reporter, June 13, 2014.
"BANG! The Bert Berns Story," SXSW.com. Austin, Texas, March 11, 2016.
Joel Selvin, Here Comes the Night: The Dark Soul of Bert Berns and the Dirty Business of Rhythm and Blues, (Counterpoint, 2014).
Irv Lichtman, "Songwriter/Exec Wes Ferrell Dies: Worked On Many Early Rock Hits," Billboard, March 16, 1996.
Little Caesar and the Consuls, "Band Member History," little.mywhc.ca.
"Little Caesar and the Consuls," RPM, June 28, 1965.
"Silver Dollar Survey," CKLG 730 AM, Vancouver, BC, August 1, 1965.
For more song reviews visit the Countdown.