#21: Oh Boy by the Crickets
Peak Month: December 1957
Peak Position #1 Red Robinson Teen Canteen chart
18 weeks on Vancouver's CKWX chart
Peak Position on Billboard Hot 100 ~ #10
YouTube.com:
The Crickets became a rock 'n roll/rockabilly group in 1957. They are credited with influencing a whole range of recording artists including Bruce Springsteen, Bob Dylan, the Rolling Stones and the Beatles. In fact, the Beatles got the idea for their name as a riff off of another insect, cricket, just going up one letter of the alphabet from C to B for Beatles. Paul McCartney once told the press, "If it wasn't for the Crickets, there wouldn't be any Beatles." The Crickets were initially the backing band for Buddy Holly and among their hits are "That'll Be The Day", Peggy Sue", "Oh Boy", "Not Fade Away", "Maybe Baby", "It's So Easy" and "Rave On".
It was in Lubbock, Texas, that guitar player Buddy Holly and drummer J.I. Allison first met to discuss forming a rock 'n roll band. They got bass player, Joe Mauldin to be a third member of the band. The three were capable of writing, playing, producing and recording their own records. They were also skilled at over-dubbing in the studio years before it became a standard feature of studio recording. "That'll Be The Day" climbed to #1 in the spring of 1957 establishing The Crickets as a part of the vanguard of rock 'n roll at a time that many music critics predicted its demise and regarded it as a "music fad." While The Crickets were not acknowledged on the record label credits for "Peggy Sue", many DJ's knew that Buddy Holly's band was playing on the record.
With the release of "That'll Be The Day" in June of 1957 and their many subsequent hits, The Crickets became the leading rock and roll band in the world. In late 1958, Buddy Holly decided to move to New York and become more involved in the business side of music. Allison and Mauldin continued on with The Crickets, adding their old friend Sonny Curtis as lead guitarist and vocalist. Sonny had played guitar and fiddle in earlier groups with Buddy and J.I, so his joining was a welcome and seamless fit with the band's unique sound and approach.
The Crickets recalled in John Goldrosen's book The Buddy Holly Story, that they were inspired by other groups named after birds. They were then considering insects-centered names, apparently unaware of the Bronx R&B vocal group The Crickets, who recorded for Jay-Dee. It is worth noting that they almost chose the name Beetles. Years later, The Beatles chose their band name partly in homage to The Crickets.
The Crickets followup single to "That'll Be The Day" was "Oh Boy".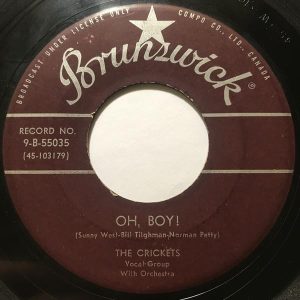 "Oh Boy" is a song about a guy who is confident that when a sweetheart that he adores receives "all of my love, all of my kissin'," she will understand at last what she's been missing. He is no shy guy. And he declares "tonight there'll be no hesitating, oh boy, when you're with me, oh boy." Listeners could imagine just how far he might go if he got the chance. But, back in 1958 that might be to "first base," or to "second base."
"Oh Boy" peaked at #1 in Vancouver, Burlington (VT), #2 in Charleston (WV), #3 in Pittsburgh, Gary (IN), and La Crosse (WI), #4 in Los Angeles, Phoenix, Worcester (MA), and Minneapolis/St. Paul, #5 in Chicago, Portland (OR), Boston, Detroit, Houston, and Newport News (VA), #6 in Albany (NY), Ottawa (ON), Toronto, Duluth (MN), Norfolk (VA), and Baltimore, #7 in Milwaukee (WI), and Regina (SK),#8 in Woonsocket, and Seattle, (RI), #9 in San Diego, Lowell (MA), and Smiths Falls (ON), and #10 in Birmingham (AL).
The Crickets enjoyed further success with their releases "Maybe Baby", which climbed to #4 in the UK and #17 on the Billboard pop chart. Their first release in 1958 was "Think It Over", which climbed to #11 in the UK and #27 on the national pop charts in the USA.
Sonny Curtis rejoined The Crickets in 1959. Although Curtis had gone on the road with other musicians by the time Buddy Holly put together The Crickets in 1957, Curtis joined The Crickets after Holly's death in 1959. Soon, he took over the lead vocalist role in addition to lead guitar. As the credits show, he was part of the band for the 1960 album In Style with The Crickets. On this album they recorded the original versions of two of Curtis's best known songs, "I Fought The Law" (a hit for the Bobby Fuller Four in 1966) and "More Than I Can Say" (a hit for Leo Sayer sixteen years later.)
Soon after Holly died, three of the The Crickets, Jerry Allison, Joe B. Mauldin and Sonny Curtis, began backing the Everly Brothers in concert and in the studio. On January 8, 1960, Curtis was a session musician for Eddie Cochran for his recording of "Three Steps To Heaven." Sonny received his draft notice from the US Army and was away from the music scene from 1960 to 1962. During the two years he was in the military, he wrote one of his classic songs, "Walk Right Back". It was recorded in 1961 by the Everly Brothers and topped the charts in the UK, went Top Ten in the USA and to #5 in Vancouver.
David Box, a native of Lubbock, Texas, and a near identical Buddy Holly sound-a-like, joined the group as lead vocalist for their 1960 single, "Don't Cha Know" backed with "Peggy Sue Got Married". David Box would later die in a charter plane crash on October 23, 1964 while touring as a solo singer, just as Buddy Holly had died.
The Crickets charted four singles with Buddy Holly in the late 50's. These were "That'll Be The Day", Oh Boy!", "Maybe Baby" and "Fool's Paradise". The Crickets returned to the Vancouver pop charts on three occasions in the early 60's. In May 1962 they had a Top 20 hit here on the West Coast with "I'm Not A Bad Guy". In 1962, The Crickets' version of the Gerry Goffin–Carole King song "Don't Ever Change" reached the top 5 in the British single charts. The Crickets would also release in 1962 their album entitled Bobby Vee Meets the Crickets, with Bobby Vee singing on lead vocals.
In 1963, the Crickets had a Top Ten hit in Vancouver with a song penned by Sonny Curtis titled "My Little Girl".
In the mid 70s, the Crickets moved to the Nashville area and began a long association with Waylon Jennings whom they had known since the early Lubbock days. In addition to touring and recording with Jennings, the group made frequent international tours including dates in England (where they recorded with Paul McCartney), Spain, Germany, Sweden and Ireland. It's an annual tradition they continue to this day.
Over the years, the Crickets have appeared in motion pictures and numerous documentaries, as well as top television shows including The Ed Sullivan Show, Sunday Night At The London Palladium, American Bandstand, The David Letterman Show, CNN, America's Talking, Westwood One Radio syndicated specials, and a two-hour Nashville Network special shown worldwide.
J.I. Allison became one of the most sought after drummers and as a session musician played on recordings with Bobby Vee, Johnny Burnette, Eddie Cochran, Johnny Rivers, Waylon Jennings, Paul McCartney and many others. His drumming style can be heard on Buddy Holly's "Peggy Sue" and The Everly Brothers' "Till I Kissed You". Phil Everly once spoke of Allison as "the most creative drummer in rock and roll." On Rolling Stone magazine's "Book Of Lists" J.I. Allison is rated as one of the top three drummers in rock and roll history. Allison also wrote, or co-wrote, "That'll Be The Day", "Peggy Sue" and "More Than I Can say". In 2013 J.I. Allison House opened in Lubbock, Texas, in tribute to Allison's legacy of music-making.
Bassist Joe. B. Mauldin is widely regarded in the rock music industry as one of the top rock 'n roll bass players. He was a recording engineer at Gold Star Studios in LA. He was recording engineer for many stars including Herb Alpert & The Tijuana Brass, Phil Spector, Leon Russell and Maureen McGovern. Mauldin wrote a number of songs recorded by Buddy Holly and The Crickets including "I'm Gonna Love You Too" and "Well All Right". He has toured with The Everly Brothers, Johnny Burnette and Waylon Jennings.
Sonny Curtis, also a native Texan, played lead guitar on Buddy Holly's first Decca sessions. Curtis was born in a dugout in 1937 in Meadow, Texas. His parents were cotton farmers contending with the Dust Bowl of the Great Depression. He was a teenage pal and lead guitarist with Buddy Holly in Lubbock, Texas, in a pre-Crickets band called The Three Tunes. Sonny is his actual first name, not a nickname. His fluid guitar playing style was a major influence on Waylon Jennings. In addition to his work with the Crickets, Sonny has enjoyed enormous success as a solo recording artist and as one of Nashville's most respected songwriters. His songs have been recorded by artists from Bing Crosby to the Bear on the Andy Williams Show. Among his hit song credits: "Love Is All Around" (the Mary Tyler Moore Television Show Theme song which Sonny also sang on every opening segment of the show), "I Fought The Law," "Walk Right Back" which was a big hit for the Everly Brothers and many others. Curtis had a Top Ten hit in Vancouver in 1964 titled "A Beatle I Want To Be" and a number of hits on the US country charts including "The Real Buddy Holly Story" and "Good Old Girls".
May 24, 2023
Ray McGinnis
References:
Sonny Curtis bio, Sonny Curtis.com.
The Crickets bios, The Crickets.com
Gary James, Interview with Jerry Allison, Classic Bands.com.
Sarah Rafique, "Classic Bassist Joe B. Mauldin Remembered as 'Gentle Soul,'" Lubbock Avalanche-Journal, Lubbock, TX, February 7, 2015.
"Red Robinson's CKWX Teen Canteen Survey," CKWX 1130 AM, Vancouver, BC, December 29, 1957.
For more song reviews visit the Countdown.