#500: Oh Joan by the Beau-Marks
Peak Month: February 1961
9 weeks on Vancouver's CFUN chart
Peak Position #3
Peak Position on Billboard Hot 100 ~ did not chart
YouTube.com: "Oh Joan"
Originally named the Del Tones when they formed in Montreal in 1958, the groups' first single, called "Moonlight Party", climbed to #1 in Montreal in May 1959. However, there were other bands with the same name. The Deltones had a single on Vee-Jay Records that was a minor hit in Chicago. That group had a minor hit in Philadelphia on another label in 1960 called "Strollin' the Blues". There was also a band from Australia called the Delltones. To avoid confusion, the Del Tones from Montreal changed their name to the Beau-Marks in 1959 in response to a political controversy. Their new name was a pun on the Bomarc, the worlds first supersonic long-range, anti-aircraft missile, developed by Boeing. The development of the Bomarc missile was accompanied by problems with its propulsion system. In 1958 the Conservative Government, led by Prime Minister John Diefenbaker, was faced with two strategies for Canadian air defense. One was to produce the Avro Arrow, a very fast missile at a cost of over 12 Million per aircraft. It was created by the Canadian company, Avro Canada. The other option was to purchase Bomarc missles made by Boeing in Seattle, Washington, for 2 Million. The later missiles would be tipped with nuclear warheads. However, the Conservatives opted eventually not to have nuclear tipped missiles in Canada. With the cancellation of the Avro Arrow, the company lost over 14,000 jobs.

As the missile controversy swirled in the halls of the Canadian Parliament, the Beau-Marks had fun with their version of the missile's name. Their debut album, The High Flying Beau-Marks, had the Beau-Marks wearing red and blue plaid suit jackets, white collared shirts, black ties and navy blue pants. Smiling in the sun, they stood and squatted on a tarmac in front of a jet plane.
The Beau-Marks were comprised of lead vocalist and guitarist Raymond "Ray" Hutchinson, bass and guitar player Michel "Mike" Robitaille, pianist Joseph "Joey" Frechette and drummer Gilles Tailleur. Born in Montreal, in 1940, as a child, Ray Hutchinson had tuberculosis for twelve years. He got better and at the age of seventeen was writing and performing "Moonlight Party," that became the Del Tones first hit, prior to the group's name change. Two of the Beau Marks, guitarist and vocalist Ray Hutchinson, and bass player Mike Robitaille, were polio victims. They met at a school for handicapped children in Montreal.
The Beau Marks debut album contained a dozen tracks, five of which would be released on 45 RPM singles. The first four of these were "Clap Your Hands," "'Cause We're In Love", "Billy, Billy Went A Walking" and "Oh Joan" released through 1960. "Moonlight Party", which was released as a single in 1959 by the Del Tones, also was a track on The High Flying Beau-Marks.
The group recorded and paid for all their recordings. They also wrote all their songs. Initially, they released "Clap Your Hands" without any hand clappers on the recording. Gary Copeland, who knew the group when they recorded in the studio recalls the went on to market "they were finished, but they had some studio time left. Ray suggested to Joey that they record the Clap your Hands Song, but Joey said that nobody would like it. Well, Ray won and the rest is history." They recorded the record twice, the second time they added hand clapping. It was the response to "Clap Your Hands" that got the quartet bookings in both Manhattan's Carnegie Hall and Peppermint Lounge's as well as on American Bandstand. They also were among the first Canadian groups to appear on the Ed Sullivan Show. (The Four Lads had performed a number of times on the Ed Sullivan Show, including on July 11, 1954. And The Crew Cuts had been on Ed Sullivan's Toast Of The Town on December 12, 1954).
"Clap Your Hands" climbed to #1 in Australia for four weeks in August 1960. In the USA "Clap Your Hands" peaked at #45 on the Billboard Hot 100 and #40 on the Cashbox Top 100 Singles chart. Each article posted on Vancouver Signature Sounds involves research into the chart runs on the Billboard Hot 100 and the chart runs on the local radio stations in Vancouver, and selected radio markets of interest elsewhere. However, I don't typically include that data in the "References" section below. On my "Resources" page on this website, readers can access links to the Billboard archives and Vancouver Top 40 Radio.com, where most of the weekly charts for CKWX, CFUN and CKLG between 1958 and 1969 can be viewed. However, in the case of "Clap Your Hands", there is a lot of misinformation online about how well this song did on the national charts in the USA and in Canada. Numbers of online sites claim the song peaked at #1 in the USA, or #15. But it's best chart run was for 15 weeks on Cashbox where it peaked at #40. And in Canada the song was not a #1 hit in the nation. It peaked on 1050 CHUM-AM in Toronto at #14, and also at #14 on CFUN in Vancouver. On CJAD in Montreal, "Clap Your Hands" climbed to #21. It made the Top Ten in Calgary, but access to complete chart information on 960 CFAC radio in Calgary is not available online.
The second single from The High Flying Beau-Marks was "Billy, Billy Went A Walking". Their third single release was "Oh Joan".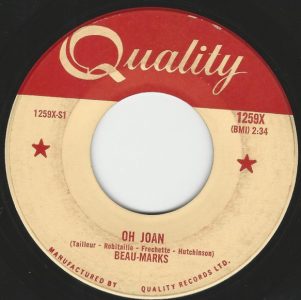 "Oh Joan" was co-written by the four members of the group. The song is about a guy who is crying his heart out for Joan. She is leaving him and has boarded a train, never to return. We learn from the lyrics that she doesn't love him anymore. The lyrics don't tell us why. But the guy she's leaving still loves her and doesn't know why she's ditched him.
In an article on Luvze.com titled "One Big Reason Your Girlfriend May Leave Without A Word," the circumstances for departure are examined. There are actually several possible reasons for a girlfriend ditching her boyfriend without a word. In no particular order, one reason may be that she is a coward. She doesn't feel the same way as her boyfriend does about her, and she is afraid to see the disappointment on his face when she breaks up with him in person. So she chooses instead to leave without a word. A subset of this is that she has already found someone else, and is possibly dating another guy and doesn't want to have to admit this to her current boyfriend.
But another reason that is that the girlfriend has had enough. The patterns of communication in the relationship have deteriorated, or were never good from the start. The patterns of communication leave at least one person feeling disrespected and diminished. So Joan, in "Oh Joan", may have left and boarded a train because her boyfriend:
Isn't willing to talk to Joan about problems she is having
Blames Joan for things that are not her fault
Ridicules Joan for her feelings
Overreacts to a simple question, comment, or feeling Joan has
Leaves Joan feeling worse about herself, the relationship, or her boyfriend after a conversation
In the Beau Marks song, Joan may have been sick and tired of being treated shabbily, and decided that her take-away from the dating relationship was that conversation with her boyfriend was useless.
"Oh Joan" ends with the spoken words "Don't go baby. Baby. Joan." Pop songs with a spoken part appeared on the pop charts with some frequency in the late 50s, the 60s and 70s. These included "Ain't No Mountain High Enough" by Diana Ross, "All American Boy" by Bill Parsons, "Are You Lonesome Tonight" by Elvis Presley, "Atlantis" and "Barabajagal" by Donovan, "Big Bad John" by Jimmy Dean, "Bobby" by Neil Scott, "Chantilly Lace" by the Big Bopper, "Cool Jerk" by the Capitols, "Do You Love Me" by the Contours, "Ebony Eyes" by the Everly Brothers, "Hello Fool" by Ralph Emery, "Is That All There Is?" by Peggy Lee, "Kookie, Kookie, Lend Me Your Comb" by Edd Byrnes and Connie Stevens, "Little Darlin'" by the Diamonds, "Love Is Here And Now You're Gone" by the Supremes, "Love Is Strange" by Mickey and Sylvia, "My Boyfriends Back" by the Angels, "My Guy" by Mary Wells, "Oh Carol" by Neil Sedaka, "Reach Out I'll Be There" by the Four Tops, "San Franciscan Nights" by Eric Burdon and the Animals, "See You Later Alligator" by Bill Haley & His Comets, "Speedy Gonzales" by Pat Boone, "Spill The Wine" by War, "Stranded In The Jungle" by The Cadets, "The Leader Of The Pack" and "Remember (Walking In The Sand)" by the Shangri-Las, "Three Stars" by Tommy Dee and "(You're My) Soul And Inspiration" by the Righteous Brothers.
The Beau Marks second album had no hit singles. However, their third album, The Beau Marks, included five single releases. (The spelling in the album created some ongoing confusion regarding whether or not to include a hyphen in the group's name). The first single release from this album was "Classmate". It was ready for the record buying public in June 1961.
From The Beau Marks album, there were other single releases. "Yours" climbed to #18 in Vancouver in October 1961. "Little Miss Twist" saw the group trying to cash in on the twist craze, and it climbed to #15 in Vancouver in January 1962. The 1930's standard, "Summertime" was a B-side to the commercial failure, "Clap Your Hands Once Again", in April 1962. A final single release from their self-titled third album was "The Tender Years". Though the song didn't chart in Vancouver, it made the Top 20 on CHUM in Toronto in the summer of '62.
At the peak of their popularity in 1960, the Beau Marks appeared on American Bandstand and the CFTO (Toronto) show Hi-Time. They also did some touring in the USA which included a gig at Carnegie Hall in New York City. After releasing their three albums in the early sixties the group split coinciding with the British Invasion.
In 1963 Ray Hutchinson joined Dave Nichol and The Coins. Eventually Hutchinson became a lounge act, as well as owning a restaurant in Montreal called Le Sentiment where he also performed. Gilles Tailleur lost his life at the age of 35 from a cerebral hemorrhage. Mike Robitaille went on build a career in video production. Lastly, Joey Frechette became the CEO of Capitol Records' April Blackwood publishing. From there he moved on to work as a program director at CHOO radio in Ajax, Ontario. He released his own version of "Clap Your Hands" in 1987 billing himself as Joey Conrad.
Update: Ray Hutchinson died on October 31, 2021.
January 20, 2019
Ray McGinnis
References:
Gary Copeland, The Beau-Marks/Ray Hutchinson, Russ & Gary's "The Best Years of Music,"August 1, 2010
The Beau-Marks bio, Rockabilly.nl
The Beau-Marks, The Canadian Encyclopedia.ca
Ray Hutchinson bio, Ray Hutchinson.tripod.com.
Don McBrearty, The Arrow, Tapestry Pictures/CBC, 1996.
Sh-Boom, Wikipedia.org.
The Ed Sullivan Show (1948-1971), Episode 7.43, July 11, 1954, IMDb.com
Cashbox Top 100 Singles, July 2, 1960, Cashbox Magazine, USA.
Number One Singles of 1960 (Canada), CHUM charts, Wikipedia.org.
"C-FUNTASTIC FIFTY," CFUN 1410 AM, Vancouver, BC, February 4, 1961.
Rick Jackson. Encyclopedia of Canadian Rock, Pop and Folk Music. Quarry Press, 1994.
Kate, "One Big Reason Your Girlfriend May Leave Without A Word," Luvze.com, August 16, 2016.
Greg Davis, "Ray Hutchinson of The Beau-Marks, one of Canada's first rock 'n' roll bands, dead at 81," Global News, November 2, 2021.
"The C-FUN-Tastic Fifty," CFUN 1410 AM, Vancouver, BC, January 28, 1961.
For more song reviews visit the Countdown.