#392: Peter Rabbit by Dee Jay And The Runaways
Peak Month: June 1966
8 weeks on CFUN's Vancouver Chart
Peak Position ~ #2
Peak Position on Billboard Hot 100 ~ #45
YouTube: "Peter Rabbit" ~ Dee Jay And The Runaways (1966)
Lyrics: "Peter Rabbit"
YouTube: "Peter Rabbit" ~ Myron Lee and the Caddies (1961)
Dee Jay And The Runaways was a band formed in 1964. They were from Spirit Lake, Iowa. The "Dee" in the band was Denny Storey, from Spencer, Iowa, and was born in 1943. Denny played drums, and had formed his first band at the age of 14 in early 1958. The "Jay" in the band was bass guitar player John Stenn, born in Spirit Lake, Iowa, in 1940. Denny and John looked for other musicians to join their new band. The lead singer was Gary Lind. Other members of the band included bass guitarist Bob Godfredson, and keyboard player Dennis Kintzi from St. James (MN). Storey, Stenn and Kintzi had all been members of a six-piece band called The Chevelles. Stenn talked up a couple of local investors and founded IGL Studios in Milford, Iowa. IGL stood for Iowa Great Lakes. The band released "Love Bug Crawl" in 1965, a cover of a 1957 rockabilly tune by Jimmy Edwards that was popular in a few radio markets in Iowa, Illinois and Missouri.
In 1966 Dee Jay And The Runaways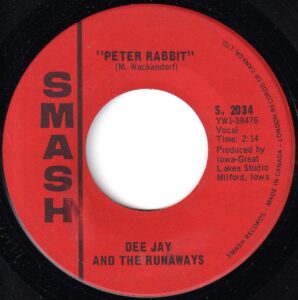 When Dee Jay And The Runaways performed "Peter Rabbit", Dennis Kintzi would dress up as a giant white rabbit. Another band member would dress up like farmer McDonald and threaten the rabbit with his trusty gun.
"Peter Rabbit" was written by Myron Wachendorf, who was born in rural South Dakota in 1941. As rock 'n roll was sweeping the USA in the late '50s, South Dakota's answer to the craze came from Sioux Falls. Myron Lee was still in high school, and gathered around him two classmates from his Sioux Falls high school, another in the city from Augustana College, and a final bandmate from the town of Garretson, a 30 minute drive northeast of Sioux Falls. A natural born showman, Myron Lee's band called themselves The Caddies. Pretty soon Myron Lee and the Caddies were playing at two of Sioux Falls most popular night clubs, the Stardust Club and Club Cabana. Myron Lee was South Dakota's answer to Buddy Holly, Elvis Presley and Ricky Nelson. In 1958 the band performed in Tyndall (SD), and kept widening their fan base. That year Myron Lee and the Caddies released their first single, and they also backed Buddy Knox on tour in the late 50s. Most of their songs were rockabilly.
Myron Lee recalls that after his band recorded "Peter Rabbit" in 1961 "I sent the record to all the major radio stations in the Midwest and we got a ton of air play. When that happens, the word gets out and sure enough I got a call one afternoon from a guy named WINK MARTINDALE from Los Angeles. He said he was the A and R man for DOT RECORDS which was a major label. They were very interested in adding PETER RABBIT to the label and offered me two cents a copy which was pretty standard in those days. I had been given some advice earlier from some friends in the business and was told to hold out for a little more money than that. I asked for four cents a copy and there was silence on the line for a few seconds. Wink then told me they would consider it and get back to me if interested. They never got back."
The original Myron Lee and the Caddies version of "Peter Rabbit" got airplay on CKWX in Vancouver (BC) in December 1961. It also made the Top Ten in Fargo (ND) and a few other cities in the American Midwest. The song was a mix of rockabilly with and backing vocals: "bop, bop, bop, bop," during the chorus. The song introduced a number of fairy tale characters who Peter Rabbit is hanging out with, at least in the song. These were Little Boy Blue, Goldilocks and the three bears, and Mother Goose.
Little Boy Blue is from an English nursery rhyme that dates back as far as 1744. Its lyrics are
Little Boy Blue, come blow your horn,
The sheep's in the meadow, the cow's in the corn.
Where is that boy who looks after the sheep?
He's under a haystack, fast asleep.
But in Myron Lee's "Peter Rabbit", Little Boy Blue is hiding out with Peter Rabbit and Mr. Magoo. The latter is a cartoon character created in 1949 by animator Willis Pyle, who also was an animator with Disney on the animated films Pinocchio, Bambi and Fantasia. Mr. Magoo is an elderly, wealthy, short-statured retiree who gets into a series of comical situations as a result of his extreme near-sightedness, compounded by his stubborn refusal to admit the problem. However, through uncanny streaks of luck, the situation always seems to work itself out for him. His penchant for obliviousness, also helps matters and he is always still standing at the end of each episode, optimistic as ever. In the song "Peter Rabbit", one can imagine the disobedient rabbit getting along with the indolent Little Boy Blue, who has long ago forgotten to attend to his shepherding duties. Myron Lee was likely having fun with the lyrics, adding in the near-sighted, self-absorbed Mr. Magoo.
In the second verse, Peter Rabbit meets Goldilocks and the Three Bears. They are characters from the 19th Century British fairy tale. The original version of Goldilocks and the Three Bears the is a story of a badly-behaved silver haired old woman who enters the forest home of three adult bachelor bears while they were away on a walk, because the porridge was too hot to eat at the time. The old silver-haired woman sits in one of their chairs, eats some of their porridge, and sleeps in one of their beds. In this original version of the story, the old woman is an unsympathetic character: She enters in the home of somebody else without permission, she eats somebody else's food and she sleeps in somebody else's bed. When the bears return and discover her, she wakes up, jumps out of the window, and is never seen again.
In 1904, the second version replaced the old woman with a little girl named Goldilocks, and the third and by far best-known version replaced the original bear trio with Papa Bear, Mama Bear and Baby Bear. In this story the smallest, youngest bear is the recipient of Goldilock's lack of concern for the bear's property. She wrecks the baby bears' chair, eats his porridge and helps herself to his bed for a nap. In the song "Peter Rabbit", he hangs out with Goldilocks and joins in eating porridge. Given that Peter Rabbit is disobedient, and Goldilocks is breaking into the homes of others (the Three Bears for example), they are a good pairing in the song.
In the third verse of "Peter Rabbit", Myron Lee has the rabbit spending time with Mother Goose. Stories or Tales from Past Times, with Morals or Mother Goose Tales, was published in 1697 in Paris, France, and written by Charles Perrault. For those who know the stories of Mother Goose, they include Sleeping Beauty, who suffers the sin of curiosity, and is punished with a century of sleep as penance before being allowed to return to live in the world. After her return, she is subordinate to the prince who wakens her. Mother Goose is preoccupied with telling morality tales. While Peter Rabbit is disobedient, and can't help himself from eating vegetables in a farmers' garden he's not supposed to enter.
In 1963 Bobby Vee recommended Myron Lee and the Caddies to Dick Clark. Later in 1963 they became the back-up band for Dick Clark's Caravan of Stars. In 1964, Myron Lee and the Caddies were the backing band for Bobby Vee while he toured to Florida, Oklahoma, Texas and elsewhere. On June 6 and 7, 1964, Bobby Vee was one of the headliners for the Teen Fair of Texas in San Antonio. The mostly outdoor event featured other recording acts including Diane "Navy Blue" Renay and the Rolling Stones. The British band was on their first tour of America and had 150 people in the crowd booing them inside the Joe Freeman Coliseum, which was sweltering and had no air conditioning.
In his memoir, Rolling Stone bass guitarist Bill Wyman recalled "…everyone got a poor reception from a mixed crowd of cowboys and kids. We had to go on after some performing monkeys. What the hell were we doing here? People didn't know whether to take us seriously or as a joke."
In 1965 Myron Lee and the Caddies returned as the backing band for the Dick Clark Caravan of Stars. The tour included a concert at the PNE Forum in Vancouver (BC) on May 26, 1965. It featured The Zombies, Del Shannon, Shangri-Las, Dee Dee Sharp, Jewel Aikens, Tommy Roe and others.
Between 1958 and 1965 Myron Lee and the Caddies released eleven songs. In 1962, "Town Girl" was produced by Dorsey Burnette, and in 1965 "Everybody's Going To The Party" was produced by Tommy Roe.
"Peter Rabbit" is a song based on the Beatrix Potter story, The Tale of Peter Rabbit, first published in 1902. The children's story concerned a mischievous and disobedient young Peter Rabbit who enters, and is chased around, the garden of Mr. McGregor. Peter escapes and returns home to his mother, who puts him to bed after offering him chamomile-tea.
The widowed mother rabbit warns her four rabbit children, Flopsy, Mopsy, Cottontail, and Peter, not to enter the vegetable garden of a man named Mr. McGregor, whose wife, she tells them, put their father in a pie after he entered. Her triplets obediently refrain from entering the garden. Peter's older sisters, Flopsy, Mopsy, and Cottontail, are good little bunnies and go down the lane to gather blackberries. But Peter enters the garden to snack on some vegetables.
He ends up eating more than what is good for him and goes looking for parsley to cure his stomach ache. Peter is spotted by Mr. McGregor and loses his jacket and shoes while trying to escape. He hides in a watering can in a shed, but then has to run away again when Mr. McGregor finds him, and ends up completely lost. After sneaking past a cat, Peter sees the gate where he entered the garden from a distance and heads for it, despite being spotted and chased by Mr. McGregor again. With difficulty, he wriggles under the gate, and escapes from the garden.
After returning home, a sick Peter is sent to bed by his mother, after she tells him that his jacket and shoes are the second jacket and pair of shoes that he has lost in a fortnight. His mother also takes note that he was not feeling too well, and deduces that he had definitely been to Mr McGregor's garden. To cure his stomachache, Mrs. Rabbit gives him chamomile tea, which is revealed to be one teaspoon and gives a dose of it to Peter.
In the Dee Jay And The Runaway version of "Peter Rabbit", they keep Little Boy Blue, Mr. Magoo and Goldilocks. They leave out reference to the Three Bears, and replace Mother Goose with the Little Red Hen.
In the story of the Little Red Hen, a hen living on a farm finds some wheat and decides to make bread with it. She asks the other farmyard animals for help planting it, but they refuse. The hen then harvests and mills the wheat into flour before baking it into bread; at each stage she again asks the animals for help and they refuse. Finally the hen has completed her task and asks who will help her eat the bread. This time the animals accept eagerly, but the hen rebuffs them stating that, just as she made the bread herself, she will eat the bread herself, and runs away with the bread.
In the song "Peter Rabbit", the rabbit and the Little Red Hen are "talking things over in the high wired pen." Not that the vegetable garden mooching Peter Rabbit and the self-starting Little Red Hen have much in common. As in the case of Peter Rabbit when he is variously with Little Boy Blue, Mr. Magoo, and Goldilocks – now in the company of the Little Red Hen – "along comes McDonald with his trusty gun" and starts shooting at them. And Peter Rabbit and the Little Red Hen run for their lives.
In the children's story, it is Mr. McGregor who finds Peter Rabbit in his vegetable patch. McGregor chases the rabbit out of the garden. But in the song, "Peter Rabbit", a farmer named McDonald chases the rabbit with a gun, and firing bullets.
The McDonald character who enters the song "Peter Rabbit" is taken from the children's song "Old MacDonald Had A Farm".
Old MacDonald had a farm, E-I-E-I-O!
And on his farm he had a cow, E-I-E-I-O!
With a moo-moo here and a moo-moo there,
Here a moo, there a moo,
Everywhere a moo-moo,
Old MacDonald had a farm, E-I-E-I-O!
In the traditional song, each successive verse introduces another animal (or bird) in Old MacDonald's farm: some dogs (bow-wow), some hens (cluck cluck), some ducks (quack quack), some pigs (oink oink), some cats (meow meow), a goat (baa baa) and a donkey (hee-haw). And in the song, it seems that things are as they should be. Each of the species are being their essential selves, behaving and sounding as they should. Old MacDonald seems content to have the growing chorus fill his farm with sounds.
But in "Peter Rabbit", McDonald (in the "Old MacDonald" songs, some versions have a Mc, and others a Mac) is shooting at each character in the song: Little Boy Blue, Mr. Magoo, Goldilocks, the Little Red Hen, and Peter Rabbit – who just keeps "hopping along."
Dee Jay And The Runaways appeared on the Cleveland variety TV show Upbeat, on July 16, 1966. They shared the stage with The Supremes, Paul Anka, the G.T.O.s, Chubby Checker and the Jive 5. A month later they appeared on Dick Clark's pop-rock variety show Where The Action Is on August 15, 1966. Others on the episode were The Happening, and Paul Revere And The Raiders. But Dee Jay And The Runaways had a unique set for the TV show, performing and lip-synching their hit on the USS Forester docked at Norfork, Virginia.
"Peter Rabbit" climbed to #1 in Erie (PA) and Burlington (VT), #2 in Vancouver (BC), Regina (SK), Billings (MT), Duluth (MN), Orlando (FL), Columbus (OH) and La Crosse (WI), #3 in Terre Haute (IN) and Syracuse (NY), #4 in Edmonton (AB), Minneapolis/St. Paul and Grand Rapids (MI), #5 in Seattle and Davenport (IA), #6 in Cincinnati (OH), Midland (TX) and Louisville (KY) #7 in Akron (OH), #8 in Lansing (MI) and Lloydminster (AB), and #9 in Manchester (NH) and Hartford (CT).
On the strength of "Peter Rabbit", Dee Jay And The Runaways went on tour with Del Shannon and the Young Rascals in the USA and Canada.
Dee Jay And The Runaways released a followup single titled "She's A Big Girl Now". It was produced by Dickie Lee who had a few hits in the early 60s, including "Patches" and "Big Brother". In Canada it made the pop charts in Lloydminster (AB), Saint John (NB) and St. John's (NFLD). The single climbed to #5 in Wausau (WI). But it got little radio play outside a few radio markets across North America. Subsequently, the band released a cover of the Spencer Davis Group hit "Keep On Running". While the single made the Top 30 in Sioux Falls (SD) and a few other radio markets, it got passed over in most locales.
In the summer of 1968, the band had one last single release with "Doesn't Matter Anymore". Their cover of the late-50s Buddy Holly hit made the pop chart in Des Moines (IA). By the end of the year Dee Jay And The Runaways broke up. John Stenn joined the United States Navy, and several others also were drafted to fight the Vietnam War.
Dee Jay And The Runaways have had a couple of reunions, in 1981, 1982 and 1996. In 2003 John Senn and members of the Iowa Rock 'n Roll Music Association opened the Rock 'n Roll Museum. John Senn, Denny Story, Bob Godfredson, and Gary Lind reunited in 2007. They combined with the members of BB & the Bullfrogs and the Senn Menn to form a new 10 piece show band, the Generations of Rock 'n' Roll. More recently, Dee Jay And The Runaways played a concert in Arnolds Park, Iowa, on July 25, 2013. And in the summer of 2016, the band reunited once more to perform in concert on July 16 at the Rose Garden Stage in Sioux City.
Denny Storey died in 2018 at the age of 74. John Stenn died in 2019 at the age of 78.
November 2, 2020
Ray McGinnis
References:
Myron Wachendorf with Chuck Cecil, Myron Lee and the Caddies: Rockin' n' Rollin' Out of the Midwest, 2013.
Myron Lee, "We Sometimes Made Bad Decisions," myronlee.com, August 5, 2018.
2013 Inductees, "Sioux Falls Night Clubs: Shorty's, Club Cabana, Stardust, 7 Oaks Inductees," South Dakota Rock and Roll Music Association.
Priscilla Aguirre, "55 years ago, the Rolling Stones Performed a Disastrous Show in San Antonio," San Antonio Express-News, June 7, 2019.
Bill Wyman, Stone Alone: The Story of a Rock 'n Roll Band, (Viking Penguin, 1990).
Beatrix Potter, The Tale of Peter Rabbit, (Warne, 2002) [100th Anniversary edition].
Mike Barnes, "Willis Pyle, Famed Animator on 'Pinocchio' and 'Mr. Magoo,' Dies at 101," Hollywood Reporter, June 8, 2016.
Tolovaj Publishing House, "The History Behind the Story of Goldilocks," Owlcation, March 2, 2020.
Lucinda McQueen, Illustrator, The Little Red Hen, (Scholastic Inc., 1985).
Michael Jack Kirby, "Dee Jay And The Runaways," waybackattack.com.
"Dee Jay And The Runaways," Nostalgia Central.com.
"The Chevelles," Iowa RocknRoll Music.com.
"Bands named for Rock the Roof," Sioux City Journal, Sioux City (IA), June 7, 2013.
"Upbeat TV Program," Wikipedia.org.
"C-FUNTASTIC FIFTY," CFUN 1410 AM, Vancouver, BC, June 25, 1966.
For more song reviews visit the Countdown.