#75: Pineapple Princess by Annette
Peak Month: August 1960
11 weeks on Vancouver's CKWX Chart
Peak Position #1
Peak Position on Billboard Hot 100 ~ #11
YouTube.com: "Pineapple Princess"
Lyrics: "Pineapple Princess"
Annette Joanne Funicello was born in Utica, New York in 1942. In 1955 she began her professional career as a child performer at the age of twelve when Walt Disney discovered her performing as the Swan Queen in a dance recital of Swan Lake at the Starlight Bowl in Burbank, California. She became one of the most popular Mouseketeers on the original Mickey Mouse Club. As a teenager, she became a pop singer and shortly after an actress in a series of films popularizing the successful Beach Party genre alongside co-star Frankie Avalon during the mid-1960s. On July 17, 1955 Annette Funicello made her television debut during the live broadcast of Disneyland's opening day ceremonies. She participated in a song and dance routine promoting the upcoming debut of Walt Disney's new television show, The Mickey Mouse Club. Following the shows premier on Monday, October 3, 1955, The Mickey Mouse Club became an immediate hit. Its army of small, amateur mouse-eared stars took America by storm. It wasn't long before the young audience of boys and girls developed a particular interest in a little dark haired girl named Annette.

Just as she had appealed to Walt Disney himself, when he discovered her at a dance recital, Annette emerged as a favorite among many children across the USA, launching her into television stardom. As a result Annette appeared on numerous magazine covers and a variety of Disney branded merchandise.
Walt Disney took advantage of Annette's talents and popularity by featuring her in several Mickey Mouse Club serials, such as The Further Adventures of Spin and Marty and The New Adventures of Spin and Marty. He eventually gave Annette a twenty episode serial of her own, simply titled Annette, during what would be the shows final season. Following the cancellation of The Mickey Mouse Club in 1959, Annette was the only mouseketeer to remain under contract with Disney. The Mickey Mouse Club did, however, appear in re-runs well into the 1960s.
Annette's solo music career began in 1958 while her serial Annette, was airing on The Mickey Mouse Club. During a hayride scene in one of the episodes, Annette sang what was meant to be a hokey ballad called "How Will I Know My Love," complete with juice harp and miniature accordion. As a result of Annette's rendition her friend Laura apologizes for being previously critical of the song.
After the episode aired, thousands of fans called the studio asking where they could buy the record. It was then Walt Disney met with Annette and announced he was signing her to a recording contract. With panic in her voice Annette responded, "But Mr. Disney, I don't sing. You know I don't sing". Disney arranged for Annette to work with Tutti Camarata, a famous musician, arranger, and record producer who had previously worked with other recording artists including Frank Sinatra, Bing Crosby and Ella Fitzgerald. Camarata also brought in The Sherman Brothers as composers, who would come to call Annette "their lucky star" due to the success they found in working with her.
Following the successful release of "How Will I Know My Love", it was decided that Annette's next record would be aimed toward the Rock and Roll market, which at the time was practically uncharted territory for a female artist. "Tall Paul," her second single was recorded and released by March of 1959. It was written by Bob and Dick Sherman. It reached number seven on the Billboard chart. With rock and roll instrumentation overpowering her soft voice during the recording sessions, the Shermans and Tutti developed the "Annette Sound." This was a method of double tracking Annette's voice and adding echos. In 1959 Annette began what would become a long time professional relationship with Dick Clark when she made her first appearance on American Bandstand singing "Tall Paul". She also joined Dick Clarks Caravan of Stars that year, a bus concert tour across the country with other teen idols.
Although uncomfortable being thought of as a singer, Funicello had a number of hit records in the late 1950s and early 1960s, mostly written by the Sherman Brothers, including "My Heart Became Of Age" and "Pineapple Princess."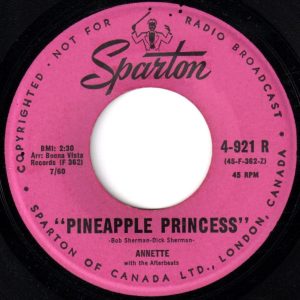 "Pineapple Princess" was written by the Disney songwriting team of Bob and Dick Sherman. Richard Morton Sherman was born in New York City in 1928. His brother, Robert, was born in New York City in 1925. The Sherman brothers would go on to win oscars in 1964 for composing the score for the film Mary Poppins. This included the songs "A Spoonful of Sugar", "Let's Go Fly a Kite" and the Oscar Award winning "Chim-Chim-Cher-ee". They also wrote the music for the 1968 film Chitty-Chitty-Bang-Bang, and The Jungle Book. They also co-wrote "You're Sixteen", a number-one hit for Ringo Starr in 1974, and a Top Ten hit for Johnny Burnette in 1961. Other songs the brothers wrote include "Let's Get Together" for Hayley Mills.
"Pineapple Princess" was released the year after Hawaii became the 50th state the join the United States of America. The impressions of Hawaii by people in the Lower 48 wasn't aided by some of the lyrics in "Pineapple Princess". At one point, Annette sings "I saw a boy on Oahu isle, floating' down the bay on a crocodile." Neither crocodiles or alligators are native to Hawaii. The only place you'll find them is at a zoo in Honolulu.
In the song, the boy plays his ukulele. An article on stringvibe.com details the origins of the ukulele. "The origin of the Ukulele is highly attributed to Hawaii though it was first developed and used in the Madeira Island of Portugal where it was called a Machete. Once the machete was adopted in Hawaii it was redesigned to make it easier to learn and play. Hawaiians then started making the instrument out of a native wood, Koa, and adjusted the tuning, finishing the transformation from a machete to the ukulele we know today. The Ukulele is still highly linked with music from Hawaii where the name translates as 'jumping flea,' Possibly because of the movement of a player's fingers. The earliest Portuguese immigrants arrived in Hawaii to work in the sugar cane fields When they arrived safely the would celebrate with Portuguese folk songs played on the four-string machete. In August 1879, less than two weeks following their arrival, the Hawaiian Gazette reported of a band of Portuguese musicians who had been delighting people with night street concert using a strange instrument that looked like a cross between a guitar and a banjo. After the Gazette report, The newly minted Ukulele rose to popularity among the native population and eventually became Hawaii's national instrument. Two of the immigrants by the names of Augusto Dias and Jose do Espirito Santo helped the growing interest by opening their own instrument shop in Honolulu, the first of its kind."
The boy in the song nicknames his girlfriend Pineapple Princess. The pineapple showed up in Hawaii, coming from South America, around 1770. In 1899 James Dole established the Hawaiian Pineapple Company. It was at this time that pineapples were first commercially produced and canned. Dole turned its first profit producing pineapples in 1903. The pineapple industry took off from there. By the 1930's, Hawaii became the top producer of pineapple in the world. Pineapple was both planted and harvested by hand.
The boy wants to live with his Pineapple Princess in a bamboo hut. Bamboo was brought to Hawaii from Polynesia centuries ago. As well, Polynesian settlers brought coconut trees to Hawaii and planted them hundreds of years ago. In the song the Pineapple Princess refers to her boyfriend as her "own little coconut." The Polynesians also brought banana trees to Hawaii and planted them where they flourished. In 1960, fans of The Mickey Mouse Club were snapping up singles released by Annette.
"Pineapple Princess" peaked at #1 in Vancouver (BC), Los Angeles, San Diego, Tulsa (OK), and Little Rock (AR), #2 in Santa Rosa (CA), Phoenix, and Baton Rouge (LA), #3 in Seattle, #4 in Fort Dodge (IA), Waterloo (IA), Manchester (NH), and Grand Rapids (MI), #5 in Denver, Minneapolis/St. Paul, Calgary (AB), and Des Moines (IA), #6 in Davenport (IA), and Kalamazoo (MI), #7 in Wilkes-Barre (PA), and Pensacola (FL), #8 in Oxnard (CA), Cleveland, Portland (OR), Chicago, La Crosse (WI), Milwaukee (WI), and Philadelphia, #9 in San Francisco, Vancouver (WA), Buffalo, Erie (PA), Ann Arbor (MI), and Akron (OH), #10 in Trenton (NJ), and Flint (MI), and #11 in Ventura (CA) St. Louis, and Springfield (MA).
After "Pineapple Princess", Annette had trouble getting on the Billboard Hot 100, never mind any more Top 40 hits. "Dream Boy" barely made the Hot 100, stalling at #87, though it made the Top 20 in Vancouver. Her next twenty single releases, beginning with "Indian Giver" missed the Billboard Hot 100. But in 1961 in Vancouver, "Indian Giver" caught on and made the Top 10. Annette also had a medium hit in Vancouver in 1962 with "Mr. Piano Man".
In 1963 Annette was loaned out to American International for ten movies. She starred in her first non Disney film, Beach Party with her long time friend Frankie Avalon. This campy comedy put a spin on the traditional musical with dialogue and songs directly inspired by the humor and musical tastes of teens at the time. The movie was a great success and spawned four more beach themed-movies: Muscle Beach Party, Bikini Beach, Beach Blanket Bingo and How to Stuff a Wild Bikini. From 1963 to 1965 Annette Funicello and Frankie Avalon became known as the "King and Queen of the Beach". While working with American International Pictures Annette also starred in Pajama Party and two racing films: Fireball 500 and Thunder Alley. She made cameo appearances in Ski Party and Dr Goldfoot and the Bikini Machine. In 1968 she played Davy Jones' girlfriend in the Monkees film HEAD before retiring from the big screen for two decades.
In 1965 Annette was married to Jack Gilardi and gave birth to a daughter (Gina) that same year, and had two more children in the early 70s (Jack Jr. and Jason). By the late 60s she shifted her attention from her career to raising a family. Although she had completely walked away from other aspects of her career, Annette never left television. While staying busy being a mom she would agree to guest star on a large number of popular shows and specials over the next two decades including Fantasy Island, Love American Style and The Love Boat. She was the popular spokeswoman for Skippy Peanutbutter for nine years from the mid 70's through the early 80's and she took part in countless television, radio, and magazine interviews. In 1992 Annette founded the Annette Funicello Bear Company which produced collectable designer teddy bears. She died in 2013 after living with multiple sclerosis for twenty-one years.
January 4, 2023
Ray McGinnis
References:
Funicello, Annette, and Romanowski, Patricia. A Dream Is a Wish Your Heart Makes: My Story. Hyperion, New York, NY, 1994.
Eudie Pak, Annette Funicello, Original Mouseketeer, Dies at 70, Biography.com, April 8, 2013.
Bikini Beach, American International Pictures, 1964.
Muscle Beach Party, American International Pictures, 1964.
Fireball 500, American International Pictures, 1966.
Thunder Alley, American International Pictures, 1967.
How to Stuff a Wild Bikini, American International Pictures, 1965.
Beach Blanket Bingo, American International Pictures, 1965.
Mickey Mouse Club, ABC, 1955-1959.
Bruce Weber, "Robert B. Sherman, a Songwriter for Disney and Others, Dies at 86," New York Times, March 6, 2012.
John Burlingame, "Songwriter Robert B. Sherman Dead at 86: Teamed with Brother Richard to Become a Disney Institution," Film Music Society.org, Los Angeles, CA, March 6, 2012.
Travis Thornton, "Are There Any Crocodiles in Hawaii?," Community Literacy, May 31, 2022.
"The History of the Ukulele – Origins Through Modern Day," stringvibe.com.
"A Brief History of Pinapples in Hawaii," Hawaiian Ocean Project, June 27, 2018.
"Sensational Sixty," CKWX 1130 AM, Vancouver, BC, August 22, 1960.
For more song reviews visit the Countdown.