#235: Robot Man by Jamie Horton
Peak Month: September 1960
12 weeks on Vancouver's CKWX chart
Peak Position #1
Peak Position on Billboard Hot 100 ~ did not chart
YouTube.com: "Robot Man"
Lyrics: "Robot Man"
Gayla Rienette Peevey was born in Oklahoma City in 1943. She moved with her family at the age of 5 to Ponca City, Oklahoma. When she was ten years old she recorded "I Want a Hippopotamus for Christmas". In October 1953, Peevey performed the song on The Ed Sullivan Show in an episode that aired on November 15, 1953. As a result of her song's release, a local promoter picked up on the popularity of the song and Peevey's local roots. A campaign was launched to present Peevey with an actual hippopotamus on Christmas. The campaign succeeded, and Peevey was presented with a hippopotamus named Matilda, which she donated to the city zoo. Matilda the hippopotamus lived to the age of 47 and died in 1998.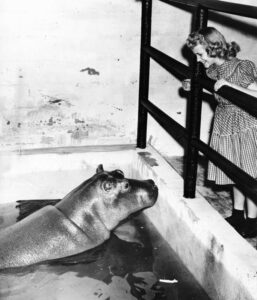 As a child singer, Peevey released "Wish I Wuz A Whisker (On The Easter Bunny's Chin)" in 1954, and a duet with child singer Jimmy Boyd "I'm So Glad (I'm A Little Boy and You're A Little Girl)". Boyd had a number-one hit in December 1952 titled "I Saw Mommy Kissing Santa Claus".
Later in 1959, Peevey recorded under the name Jamie Horton. Her first single release credited as Jamie Horton was "My Little Marine". The lyrics began "The Marines are sending my boyfriend somewhere across the sea. I know I'll cry my heart out." The single made the Top 50 in Vancouver on both the CFUN and CKWX charts in early 1960. The single climbed to #3 in Honolulu. It was also a Top 20 hit in Pittsburgh (PA), Wilkes-Barre (PA), Oceanside (CA), and Minneapolis/St. Paul (MN).
Two more releases into the spring of 1960, "Where's My Love" written by Paul Anka, and "There Goes My Love" written by Buck Owens. Both singles received little notice. But Jamie Horton's fourth release, "Robot Man" got her more attention.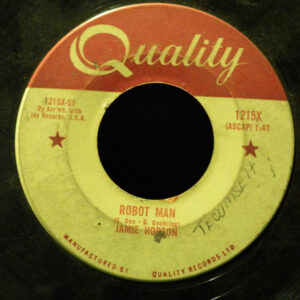 "Robot Man" was a cover of a Connie Francis release that came out after Francis' hit "Among My Souvenirs". It was not a hit for Connie Francis, so Jamie Horton took it to the recording studio. The song was written by George Goehring and Sylvia Dee. She first gained attention with her novelty song "Chickery-Chick", a number one hit for Sammy Kaye's Orchestra in the winter of 1945. In 1963, Sylvia Dee also co-wrote "The End of the World", a country-pop hit for Skeeter Davis. Sylvia Dee also wrote "Moonlight Swim" for Elvis Presley's 1961 movie, Blue Hawaii, and for Elvis' 1968 movie, Speedway, she wrote "Suppose". Sylvia Dee was born in 1914 in Little Rock, Arkansas, with the birth name Josephine Moore.
George Goehring wrote songs recorded on albums for Dion, Guy Mitchell and a minor hit for Gene Pitney titled "Half Heaven, Half Heartache". He also wrote a Top Ten hit in 1959 for Connie Francis named "Lipstick On Your Collar". Goehring was also one of the co-writers for "Hootenanny", a Top 40 hit in 1963 for the Glencoves. in 1963, George Goehring and Sylvia Dee co-wrote "Please Don't Talk To The Lifeguard" for Diane Ray. Dee died at the age of 52 in 1967.
Lyrics in "Robot Man" advance the benefits of having a robot as a boyfriend instead of "a real live boy." With a real live boy you have to a) "listen to his alibis," b) put up with him running "around with other guys," c) deal with the frustration of not getting phone calls, d) endure his dancing with other girls, e) have verbal arguments with him, f) and end up crying into your handkerchief after he makes you cry. However, with a Robot Man you just have to wind him up with a "robot key." With a robot man, a young woman could count on having a "steady date seven days a week." Unlike "a real live boy," a robot man would be reliable. And there wouldn't be any arguments because it would be impossible for the robot man to speak. So, Jamie Horton concludes "it's a robot man I'm dreamin' of, because I can depend on a robot love."
In popular culture, in 1939 a science fiction novel titled I, Robot, was published. The novel was made into a movie in 1950.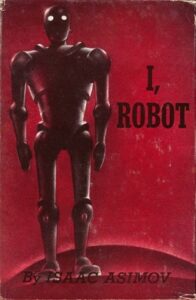 The robot Gort was a menacing "interstellar policeman" from the 1951 science fiction film The Day the Earth Stood Still. Gort was very tall robot man and his suit was similar to a skin diver's wetsuit.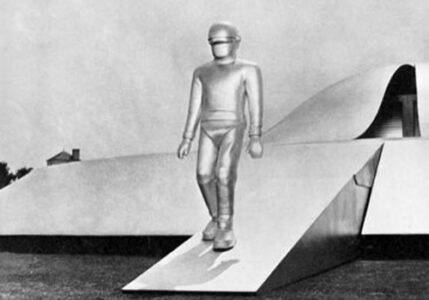 In 1954, one of the many science fiction films was Tobor the Great. Tobor (robot spelled backwards) is easily stolen and reprogrammed between noble U.S. scientists and evil (probably) Soviet spies.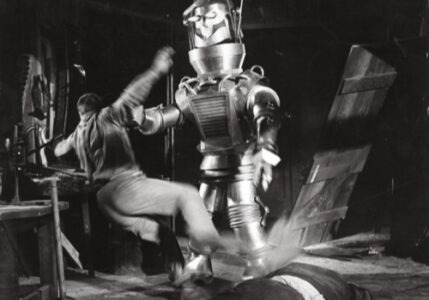 As well, there were many robots who were part of an invading alien force from outer space. For example, the Venusian robots in 1954's Target Earth, who terrorized Chicago.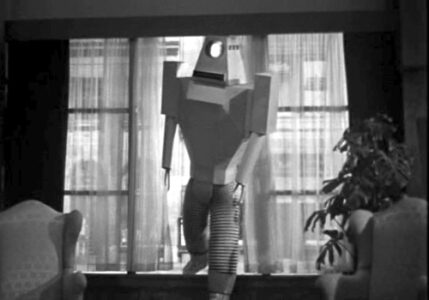 In 1956, Robby the Robot originated as a character in the science fiction film Forbidden Planet. Robby's thick, stubby arms were connected to his body with plastic ball-joints that fitted into matching sockets in the torso, allowing the joints a small amount of rotational movement. Robby also had a dry wit.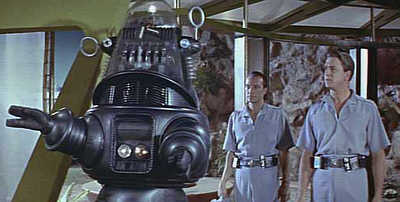 We don't know exactly what the image of the robot the songwriters of "Robot Man" had in mind. But with all these movie pictures of robots from the previous two decades, there were plenty of robot men to choose from to suit any female human's type.
"Robot Man" climbed to #1 in Vancouver (BC), #13 in Worcester (MA), #14 in Fort Dodge (IA) and #21 in Seattle. Gayla Peevey (Jamie Horton) was just 17-years-old when "Robot Man" was a hit in these few radio markets.
Robots continued to be featured in pop culture into the 1960s, and more recently. One of the more popular robots was the one that appeared in Lost In Space, which first aired in 1965.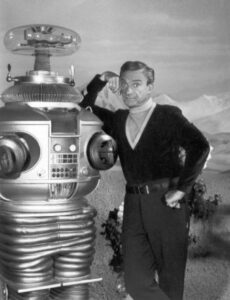 Though endowed with superhuman strength and futuristic weaponry, the robot in Lost In Space often displayed human characteristics, such as laughter, sadness, and mockery, as well as singing and playing the guitar. With his major role often being to protect the youngest member of the crew, the Robot's catchphrases were "It does not compute" and "Danger, Will Robinson!", accompanied by flailing his arms.
At the end of 1960, Jamie Horton released "What Should A Teen Heart Do". The single received some chart action in Rochester (NY), San Diego and San Bernardino (CA), and climbed to #20 in Norfolk (VA). Her next release in 1961, "Yes, I'll Be Your Girl", made the Top 30 in Great Falls (MT), but was a flop elsewhere. Another release in '61 was "They're Playing Our Song". The single was notably written by Beverly Ross, who penned "Dim, Dim The Lights" for Bill Haley and his Comets in 1954, "Lollipop" for the Chordettes in 1958, "Candy Man" for Roy Orbison, "The Girl Of My Best Friend" recorded by Elvis Presley and Ral Donner, and "Judy's Turn To Cry" for Lesley Gore in 1963.
It made the Top 40 in Norfolk (VA), Nashville and Chicago. In the summer of 1962 Jamie Horton's "Only Forever" was a Top 40 hit in Montreal, Baltimore, San Diego, Chicago, Youngstown (OH) and Wilkes-Barre (PA). One final single release in the winter of 1962, "Go Shout It From A Mountain" was another commercial failure, though written by Jack Nitzsche (who went on to produce albums by Buffalo Springfield, Neil Young and the Rolling Stones, and score numerous films, including One Flew Over the Cuckoo's Nest, and in 1982 won an Academy Award for Best Original Song for "Up Where We Belong").
In 1963, Gayla Peevey got married to Cliff Henderson. Peevey attended San Diego State University and graduated with a degree in teaching. She subsequently left teaching, and went into advertising where she owned her own firm for 15 years.
References:
"Gayla Peevey," Wikipedia.org.
Beverly Ross bio, Beverly Ross.info
Beverly Ross, I Was the First Woman Phil Spector Killed, (Beverly Ross LLC, 2013).
"Sylvia Dee, Lyricist, 52, Dies; 'Too Young' Among Hit Tunes," New York Times, 1967.
George Goehring – Credits, Discogs.com.
Scott Wold, "The 100 Greatest Movie Robots of All Time," Paste Magazine, June 17, 2021.
Jacob Shelton, "Gayla Peevey Of 'I Want A Hippopotamus For Christmas' Fame Was Only 10 Years Old," GroovyHistory.com, December 14, 2019.
"Sensational Sixty," CKWX 1130 AM, Vancouver, BC, September 26, 1960.
For more song reviews visit the Countdown.