#782: Roll Me Away by Dwayne Ford
Peak Month: September 1980
11 weeks on CKLG's Vancouver Chart
Peak Position ~ #12
Peak Position on Billboard Hot 100 ~ did not chart
YouTube: "Roll Me Away"
Dwayne Ford was born in Edmonton, Alberta, in 1949. Ford learned the piano from the age of five. He was a professional musician by the time he turned sixteen. Ford joined the Nomads while in Alberta. Ford moved to Toronto in 1970 and was hired on by Ronnie Hawkins, as part of the Ronnie Hawkins' Rock And Roll Revival And Travelling Medicine Show. By late 1971 Ford, and two other members of Hawkins' band – Terry Danko and Jim Atkinson – were feeling ready for a new challenge. The three musicians left Hawkins band and formed Atkinson, Danko and Ford. Two other members of Hawkins band, guitarist Hugh Brockie and Brian Hilton also joined up with the new trio which changed its name to Bearfoot.
In 1972 Atkinson, Danko and Ford released a debut album with all five bandmates as personnel for the recording. They re-released the album in 1973 titled as Bearfoot. A follow up album, Friends With Bearfoot, led to the release of the single, "Molly" in early 1974. In 1974 Bearfoot was nominated in the Juno Awards category for Most Promising Group of the Year.
Dwayne Ford was a musician on a 1974 album All In The Past for the Canadian duo, Gary & Dave. Ford played the piano on the Canadian hit record by Gary & Dave titled "Could You Ever Love Me Again". He also was a studio musician on recordings with Shirley Eikhard, Patsy Gallant, Michel Pagliaro, Donovan, Tom Middleton and April Wine, including on their 1976 Top 20 single "Gimme Love". In 1975 he was a session musician playing keyboards for Patricia Dahlquist on an album which spawned the single "Keep Our Love Alive".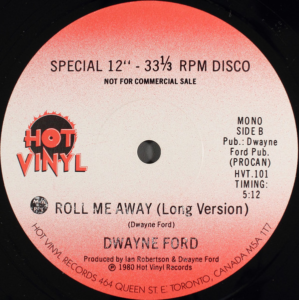 "Roll Me Away" was written by Dwayne Ford. In the song there's a guy who has his share of pain and misery. In order to get rid of his blues, he decides to either go outdoors and enjoy the sunshine, or at night to dance.
"Roll Me Away" was a song featured in the 1980 Canadian horror film Deadline, later released in the USA in 1984. The film starred Canadian actor Stephen Young, whose previous credits included the World War II film Patton (1970), the dystopian thriller Soylent Green (1973), and drama-romance Lifeguard (1976). Deadline's plot is about a popular horror writer whose family life is falling apart struggles to write his next horror movie. The film featured acting by Rough Trade bandmates Carole Pope and Kevin Staples.
"Roll Me Away" peaked at #12 in Vancouver (BC). A followup single, "The Hurricane", got airplay in Vancouver (BC) and Toronto in 1982. The song was a track on Ford's solo album Needless Freaking released in 1981.
In 1996 Dwayne Ford released another solo effort titled Another Way To Fly. Ford has kept on creating new material and released an album, Some Day in 2007, and On The Other Side, in 2009. Ford lives in Edmonton, though he has performed often in Palm Springs, California. More recently, Dwayne Ford released Dwayne Ford Extras in 2016. Ford has also contributed music for soundtracks for the television and film industry.
January 2, 2021
Ray McGinnis
References:
Dwayne Ford and Doug Grant, "Dwayne Ford – bio," Canadian Bands.com.
Terry Danke, "Bearfoot," Canadian Bands.com.
"Dwayne Ford Interview," Sessiondays.com, December 2014.
"Dwayne Ford," Westcoastdk.com, 2016.
"Deadline," IMDb.com.
"CFUN Top 30," CFUN 1410 AM, Vancouver, BC, September 13, 1980.
For more song reviews visit the Countdown.