#1024: Shaka Shaka by Zwol
Peak Month: November 1979
10 weeks on Vancouver's CFUN chart
Peak Position #15
Peak Position on Billboard Hot 100 ~ did not chart
YouTube: "Shaka Shaka"
Walter "Zwol" Zwolinski was born in Toronto in 1946. He formed the Canadian rock band Brutus in 1969. The band included Tom Wilson who was a former member of Little Caesar And The Consuls. The Consuls had a number-one hit in Vancouver (BC), Winnipeg (MB), Seattle and Grand Rapids (MI) in the summer of 1965 with "(My Girl) Sloopy". It also made the Top Ten in San Francisco, San Jose (CA), Toronto, Edmonton (AB), Wilmington (DL), Reno (NV) and Erie (PA). Between 1969 and 1971 the Waterloo (ON) based Brutus were opening acts for Chicago, the Staccatos and the Guess Who. Then Brutus disbanded in '71.
In 1973 Brutus reformed, giving up the blue-jean hippie attire for a glam rock look borrowed from David Bowie, the Sweet and Gary Glitter. Brutus did a sold out concert at Ontario Place in Toronto. In an article he penned on Canadianbands.com, Walter Zwol writes at this time "the band's onstage antics" got "them into trouble, and they were banned in several Toronto high schools. Zwol was also arrested at one point in North Bay, Ont and was even slammed publicly for supposedly worshipping the devil."
Brutus continued to have lineup changes, and they got a record deal with GRT in 1975. Their first single release had little success. But in the fall of 1975, "Oh Mama Mama" was a consistent seller and made it to #16 in Vancouver (BC) on CFUN. The Montreal Star named the song the Best Canadian Single of the Year. Brutus went on to open concerts over the next few years for Boston and Peter Gabriel. But in 1978 Brutus disbanded.
Subsequently, Walter Zwol embarked on a solo career. In the fall of 1978, Zwol had some airplay with his single "New York City"in San Diego, Windsor (ON) and Denver. Then in early 1979 Zwol had a Top 30 hit in Windsor (ON) and Hamilton (ON) titled "Call Out My Name". But it was his third single release titled "Shaka Shaka" that charted in Vancouver (BC).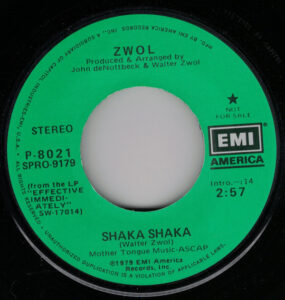 "Shaka Shaka" was written by Walter Zwol. The song is about people dancing in the streets and 'shaka shaka', which resembles "shake." Zwol sings "everybody will be making it. Everybody will be shaking it." So the song title is a made-up slang for "shake" and "shaking" as one dances.
There have been a number of hit records over the years that reference 'shaking' both as an aspect of dance, and as a physical reaction to finding someone sexually attractive. These include "All Shook Up" by Elvis Presley, "Shakin' All Over" by the Guess Who, "Whole Lotta Shakin' Goin' On" by Jerry Lee Lewis (and originally by Big Maybelle), "The Hippy Hippy Shake" by the Swinging Blue Jeans, "Shake" by Sam Cooke, "Shake, Rattle And Roll" by Bill Haley And His Comets (and originally by Big Joe Turner), "Shake Shake Sherry" by the Flairs, "Shake Your Groove Thang" by Peaches & Herb, and "(Shake, Shake, Shake) Shake Your Booty" by K.C. and the Sunshine Band.
"Shaka Shaka" peaked at #15 in Vancouver (BC).
Next, Walter Zwol created a musical project called The Rage. In the summer of 1981, credited to Walter Zwol & The Rage, "Darlin' I'll Be True" climbed to #7 in Winnipeg (MB), and #22 in Ottawa (ON). A subsequent single titled "Thrillz", from a Rage album titled Thrillz, was not commercially successful.
Zwol writes that once he was finished with The Rage, "After working briefly at Attic Records, he formed Naked Brunch which toured but never recorded."
References:
"Walter Zwolinski," Wikipedia.org.
Walter Zwol, "Brutus," Canadianbands.org.
"C-FUN Top 30," CFUN 1410 AM, Vancouver, BC, November 24, 1979.
For more song reviews visit the Countdown.