#330: She Can't Find Her Keys by Paul Peterson
Peak Month: February 1962
9 weeks on CFUN's Vancouver Chart
Peak Position ~ #1
6 weeks on CKWX's Vancouver Chart
Peak Position ~ #1
Peak Position on Billboard Hot 100 ~ #19
YouTube: "She Can't Find Her Keys"
Lyrics: "She Can't Find Her Keys"
Paul William Petersen was born in Glendale, California, in 1945. He started his career at the age of eight and began appearing on the Mickey Mouse Club in 1955. From there he was cast as Jeff Stone on the Donna Reed Show where he starred in that role from 1958 to 1966. When he first started playing Jeff Stone, Paul was just 4'3″ tall, which is one reason he got the job. Donna herself was a petite 5'4″. Paul got this part the day after he turned thirteen. While appearing on the Donna Reed Show both he and his sister, Mary Stone, sang songs that would become hit singles. The actress playing Mary Stone was child actor Shelley Fabares who had a number one hit in 1962 called "Johnny Angel." Paul Petersen also sang songs in the Donna Reed Show including "She Can't Find Her Keys", "My Dad" and "Keep Your Love Locked".
Paul's early childhood was spent with his parents and older sister Pamela, on the Cherokee County, Iowa farm of his aunt and uncle. Economic necessity was the reason for the family of Wilma and Lawrence Peterson moved from California to Iowa. During the years on the farm Paul was taught to read by his mother at the age of four. She also enrolled him in music, tap dancing and dramatic schools at an early age. He vividly remembers the kind of punishment that was meted out when he misbehaved, a bite of raw liver. He admits this was often. It wasn't a terribly effective punishment; he still likes liver in any form provided it is cooked. His father, of Danish descent, worked as a mechanic and when the family fortunes improved, the Petersens returned to California.
When Walt Disney sent out a call for young tap dancers for The Mickey Mouse Club Paul applied for a position and was chosen to be a Mouseketeer. From the start there was no question in Paul's mind that he would be anything else but a performer. It was his choice, he enjoyed it and adapted to it without any of the traumas sustained by some children who are pushed into becoming child actors by their parents.
Paul Petersen's first movie was in 1957 in an uncredited role as Joey a in the comedy-drama This Could Be the Night. That year he also appeared in the science fiction film The Monolith Monsters as Bobby the paperboy. In 1958 he played a boy in the western Day of the Badman. Petersen got a more substantial role later that year in the film, Houseboat. He was cast as David Winters, the son of Cary Grant and future mother by marriage, Sophia Loren.
By 1962 Paul Petersen had received numerous awards in recognition of his celebrity and being a household name. These included the Professional Photographers Association award for "Most Photographed Teenager In Show Business" and named "Best Teen Actor On Television" by 16 Magazine. Petersen also had a large fan club across America and beyond.
On January 18, 1962, Paul Petersen – in his role as Jeff Reed on The Donna Reed Show – appeared in an episode titled "For Angie With Love." In the episode Jeff tries to match a rich boy's gift of a Cashmere sweater to Angie who he is sweet on. When Jeff walks Angie home she keeps handing him items from her bag while she searches for the key to her house. Later, in a dream sequence, Jeff sings "She Can't Find her Keys" to Angie. He also makes Angie a keyring from a soft stone in his metalwork class at high school.
"She Can't Find Her Keys" was instantly released as a single and began to climb the pop charts in Vancouver, debuting at #20 on CKWX and #14 on CFUN.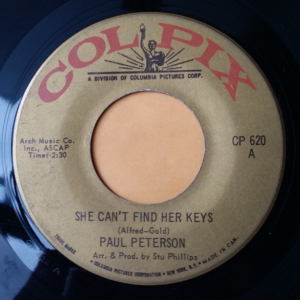 "She Can't Find Her Keys" credited Paul Peterson, with an "o" in his surname in the single release. But, on the album where the song was the first track, Lollipops and Roses, his surname on the album cover was Petersen, with a third "e" in the surname. His other single releases in 1962-63 – "My Dad", "Keep Your Love Locked", "Lollipops And Roses" and "Girls In The Summertime" – spelled his surname Petersen. It's possible the pressing of "She Can't Find Her Keys" with the Peterson spelling was an undetected typo.
"She Can't Find Her Keys" was written by Roy Alfred and Walter "Wally" Gold. The song concerns a recurring situation whenever a boyfriend in the song drops his girlfriend at her door. He wants to give her a goodnight kiss, but she is distracted by trying to locate her keys. Her house keys are in her bag. The bag, as we learn, is very large. It contains: lipstick, powder, bubble gum, bobby pins, curlers, tweezers, cold cream, candy bars, nail file, school books, an autograph of Fabian, gumdrops, glasses, magazines, tangerines, Presley records, hair spray, jelly beans, eyebrow pencils, perfume, potato chips, portable batteries, frozen custard, piano bench, pretzels, monkey wrench, tennis racket, army cots, pumpkin seeds, coffee pots, watermelons, goal post, a rabbits foot, French toast, a fire hydrant, ash can, TV set and an electric fan.
It seems that her "bag" is more like a moving van. In The Donna Reed Show episode "For Angie With Love," – after Paul Petersen finishes singing "She Can't Find Her Keys" – there is a load of items from Angie's bag piled up almost to her waist.
"She Can't Find Her Keys" uses a list-making device to exaggerate the girlfriend's difficulty in locating her keys to her home. While she keeps finding everything under the sun, except her keys, the boyfriend finds it off-putting and underwhelming. After all, all he wants is a "goodnight kiss." A little kiss and a squeeze, and off he would go. Instead, she is preoccupied and he explains "I give up, go home and go to sleep."
In an article in 2015 titled "21 Things Every Woman Should Have In Her Purse Today," it is indeed a "thing" for women to have overstuffed bags and purses. The article advises women to always carry at least these things: car keys, house keys, wallet with ID, driver's license, debit and credit cards, lipstick and lip balm, cell phone and cell phone charger, extra pair of underwear and socks, flashlight, toothbrush, toothpaste, ibuprofen or other headache pills, granola, snack bar, seat-belt cutter, hand sanitizer, whistle, mirror, water bottle, card with emergency contact information, extra prescription medications, extra pair of contact lenses and glasses, diapers, pacifiers, nail file, nail clippers, tool to break a window to crawl out of a vehicle, pepper spray, and a compass.
In her book In Your Purse: Archeology of the American Handbag, author Kelley Styring did a study of 100 women and what was collectively in their 100 purses. She found there were a total of 6,670 items, or about 66 items per purse. Styring writes "A woman's purse is a bag of contradiction on a string. It is the nerve center of her life – holding all manner of vital and precious things. Yet, most purses are a disorganized pit – mixing the tools of daily life – keys, wallet, phone, everything – with the detritus of living – gum wrappers, expired coupons, hair…" Styring asserts that the modern purse, and handbag, fail in terms of "organization, fundability and durability of items…security." The author also found that in 2007 there were 93,000,000 women in the USA aged 18-64. Of these, 95% carried a purse "regularly."
The modern purse was designed in 1841 in England by H.J. Cave & Sons in response to demand from husbands who wanted their wives to have a bag for their personal items while traveling by rail. The first handbags were essentially women's pockets with handles attached to them, but women's pockets, because they were worn under a woman's skirts and close to her skin, were considered undergarments. So, when bags for women first became popular, many viewed them as vulgar or risque. As Caroline Cox notes in Bags: An Illustrated History, "These early handbags were also daring, one of the first examples of underwear as outerwear—and thus for many a rather absurd affectation. The idea of a woman parading her personal belongings in a visible pocket was an act akin to lifting up her skirts and publicly revealing her underwear."
The Women's Museum of California in San Diego notes, "Aside from the scandalousness of parading one's undergarments about for everyone to see, some women viewed handbags as a poor alternative to pockets. Early American feminists, in particular, fought the loss of pockets for women. They believed handbags would never be as practical as pockets and advocated for functional pockets built into women's garments like pockets were for men. For these women, pockets for men and handbags for women became symbolic of the inequality between the sexes and the struggle for women's equal rights." With the rise of the department store as a respectable location for women to meet outside of their homes, it became possible for them to stay away from home for much longer than they could previously. With this newfound freedom came the need to carry more than what would fit in an impractically small reticule. Louis Vuitton was among the designers of women's handbags in the mid-to-late 19th Century.
In the 1840s, with the arrival of the railroads in Paris and the increased number of shoppers they brought, there appeared department stores which grew in size, and began to have large plate glass display windows, fixed prices and price tags, and advertising in newspapers. A novelty shop called Au Bon Marché had been founded in Paris in 1838 to sell items like lace, ribbons, sheets, mattresses, buttons, and umbrellas. It grew from 3,200 square feet and 12 employees in 1838 to 540,000 square feet and 1,788 employees in 1879. And with this expansion there were plenty of handbags and purses for sale.
Though not featured in the lyrics of "She Can't Find Her Keys", in a 1964 appearance of Shindig! Paul Petersen produces a pair of his girlfriend's house keys – that have apparently been in his pants pocket all along.
Co-writer of "She Can't Find Her Keys", Roy Alfred, was born in 1916 in New York City. Alfred was a Tin Pan Alley lyricist who in 1946 wrote "The Best Man", a Top 20 hit for Nat "King" Cole. Alfred wrote lyrics for R&B singer Roy Milton for "The Hucklebuck" in 1949. He also wrote "You Don't Learn That In School", recorded in 1947 by Louis Armstrong, Nat King Cole and others; "Don't Do Something To Someone Else (That You Wouldn't Want Done To You)" for Mel Torme in 1949; In 1953 he wrote the B-side to Frank Sinatra's "I'm Walking Behind You" titled "Lean Baby." In 1955 he wrote lyrics to "(The) Rock and Roll Waltz" which became a number-one hit for Kay Starr in March 1956, knocking "The Great Pretender" out of the top spot. That same year he penned a #7 R&B hit for Frankie Lymon and the Teenagers titled "Who Can Explain?", and a Top 40 pop hit titled "The Wisdom Of A Fool" for the Five Keys. In 1960 Roy Alfred wrote the track, "Cozy Little Compact Car", for Brian Hyland's debut album The Bashful Blonde. In 1961 Roy Alfred wrote a Top 40 hit for Sam Cooke titled "That's It—I Quit—I'm Movin' On". And in 1965 Roy Alfred penned "Let's Lock the Door (And Throw Away the Key)" for Jay & The Americans. Roy Alfred died in 2008 at the age of 92.
The other co-writer of "She Can't Find Her Keys", Wally Gold, was born in 1928 in Teaneck, New Jersey. He formed the Four Esquires in 1956 who had a Top 30 hit with "Hideaway". Gold wrote "Look Homeward, Angel", a hit for Johnnie Ray in 1957. In the 1960's he co-wrote Elvis Presley's "Good Luck Charm" and "It's Now Or Never", "Lucky Devil" for Carl Dobkins Jr., "Because They're Young" for Duane Eddy, Lesley Gore's "It's My Party" and Gene Pitney's "Half-Heaven, Half-Heartache." He also wrote minor hits for Dodie Stevens, Frankie Avalon, Gene Vincent, Brook Benton, Pat Boone, Jackie De Shannon, Cliff Richard, Shirley Bassey, and the Diamonds. Later in the decade, he produced albums for Barbra Streisand, Jerry Vale, and Tony Bennett. In the 1970's, he discovered the group Kansas, who had a Top Ten hit with "Dust In The Wind". Gold was later the music coordinator for Don Kirshner's Rock Concert television series. Wally Gold died at the age of 70 in 1998.
"She Can't Find Her Keys" peaked at #1 in Vancouver (BC), Syracuse (NY) and Seattle, #2 in Toronto, Cleveland, Montreal, Boston and Springfield (MA), #3 in Worcester (MA) and San Bernardino (CA), #7 in San Diego and Dallas, #8 in Los Angeles, Chicago and Phoenix, and #9 in San Francisco, St. Louis and Halifax (NS). In about thirty states across the USA "She Can't Find Her Keys" got little airplay. As a result, the song stalled at #19 on the Billboard Hot 100.
In Vancouver, "She Can't Find Her Keys" peaked at #1 on both CFUN and CKWX. Though its chart run on 'WX ended after just six weeks – as the station published its final Fabulous Forty on March 3, 1962 – the chart run was even more successful than on CFUN, as the single spent two weeks at number-one on 'WX and five weeks in the Top Ten. This was compared to one week at number-one on CFUN, and four weeks in the Top Ten.
Paul's follow-up single was "Keep Your Love Locked" that was a song he was proud of. It was written by songwriting team Gerry Goffin and Carole King. Paul remembers Carole playing this haunting song for him at the piano.
Paul Petersen turned 19 years old in September 1962. Later that fall "My Dad" climbed to #6 on the Billboard Hot 100, becoming his only single to reach the Top Ten in the USA. It sold a million copies in the fall of the year, Peterson was worth a million dollars (about $8.6 million in buying power in 2020).
Petersen appeared often on tour with Dick Clark's Caravan of Stars and American Bandstand. As someone who got his start as a child start Paul was interested in the wellbeing of children. He spoke about his involvement with an agency to adopt children in need of a home during an October 3rd interview with Dick Clark in 1964.
In 1967 Petersen appeared in several movies. In the Year 2889 was a post-apocalyptic film based on a short story by Jules Verne and his son, Michael Verne. A nuclear war has wiped out most of Earth's population. The film follows a group of survivors who take refuge in a Dallas mansion from not only the rising radiation levels but a ruthless tough guy and a hoard of cannibalistic mutants. His other film that year was in The Happiest Millionaire, a musical about a Philadelphia millionaire starring Fred MacMurray. In 1968 Petersen appeared in a western called Journey to Shiloh. It concerned seven young Texans in the Confederate army during the American Civil War. In Tennessee a major battle is about to take place. Along the way they encounter many perilous adventures. Petersen played alongside James Caan, Michael Sarrazin, Harrison Ford and Jan-Michael Vincent.
He has played important television roles in Playhouse 90, Lux Video Theatre, Ford Theatre, G.E. Theater, The Virginian, F-Troop, Custer and Lassie.
Paul Petersen's career on the Mickey Mouse Club and The Donna Reed Show has cast him as a representation of the "All American Boy" for a generation. By the late 60s, with over a half a million troops in Vietnam and a new counter-culture movement, people wanted to watch Jim Morrison and The Doors on TV, not Paul Petersen.
In the mid-seventies, Paul decided to embark on a writing career. His first publication was a non-fiction book, High Performance Driving, about safety and repair tips for race car drivers. This was followed by eight fictional action-adventure books in a series called The Smuggler, featuring a hero named Saveman. In 1977, he penned a biographical work about the original Mousketeers, Walt, Mickey and Me.
Petersen has also been an advocate for fair child labor practices in the film and TV industry, including remunerating children for the work they do and not just their parents. His nonprofit organization, A Minor Consideration, was established in 1990. It has advocated for legislation designed to ensure that young performers actually receive the monies they earn. They have been successful in lobbying such legislation to be enacted into law in California. The organization also gives support to child actors dealing with issues related to the transition from childhood into adult careers within and beyond the film and TV industry.
November 13, 2020
Ray McGinnis
References:
Paul Petersen biography, Paul Petersen.com.
Paul Petersen interview with Dick Clark, American Bandstand, ABC, October 3, 1964.
Kent Black, "When Early Acting Careers Careen to an End: Advocacy: Paul Petersen of 'The Donna Reed Show' has Established a Support Group for Former Young Actors who Have Faced Real-life Horror Stories," Los Angeles Times, January 5, 1994.
"Roy Alfred," Secondhandsongs.com.
"Wally Gold," Discogs.com.
Linda Loosli, "21 Things Every Woman Should Have In Her Purse Today," Food Storage Moms.com, February 27, 2015.
Sara Danford, "The History of the Handbag," Women's Museum of California, San Diego, CA, May 31, 2017.
Caroline Cox, Bags: An Illustrated History, (Aurum Press, 2007).
Kelley Styring, In Your Purse: Archeology of the American Handbag, (AuthorHouse, 2007).
"C-FUNTASTIC FIFTY," CFUN 1410 AM, Vancouver, BC, February 2, 1962.
"Fabulous Forty," CKWX 1130 AM, Vancouver, BC, February 3, 1962.
For more song reviews visit the Countdown.