#628: Sing High – Sing Low by Anne Murray
Peak Month: January 1971
8 weeks on CKVN's Vancouver Chart
Peak Position ~ #5
Peak Position on Billboard Hot 100 ~ #83
YouTube.com: "Sing High – Sing Low"
Lyrics: "Sing High – Sing Low"
In 1945 Morna Anne Murray was born in Springhill, Nova Scotia, a coal-mining town. Her father was a doctor and her mother was a registered nurse. Growing up she took piano lessons for six years and began taking vocal lessons at age fifteen in 1960. Anne loved music. It was the age of rock 'n' roll, and growing up she sang along with all her favourites – Buddy Holly, Bobby Darin and Connie Francis. However, Anne was also inspired by a wide variety of musical styles, including the classics, country, gospel, folk, and crooners such as Patti Page, Bing Crosby and Rosemary Clooney. She loved them all. In 1962 she gave one of her first public performances singing "Ave Maria" at her high school graduation. She went on to be part of the CBC variety show Singalong Jubilee in 1967.

A document on display at the Anne Murray Centre in Springhill, Nova Scotia, dated May 30, 1966, informed her: "Your signature on four copies of this letter will serve to engage your services for the 1966 Singalong Jubilee series. It is understood that you will be required to function either as a singer for a fee of seventy-one dollars and fifty cents ($71.50) per show or as a soloist for a fee of ninety-nine dollars ($99.00)." Her first album, What About Me, was released in 1968. Her signature song, "Snowbird" went to #6 in Vancouver and #8 on the Billboard Hot 100. It established a following and 76 singles, 32 studio albums and 55 million record sales later, Anne Murray is one of the most awarded and honored recording artists in the Canadian music industry.
After "Snowbird" hit the charts, Anne Murray was in demand for television and stage appearances all over North America. She had hit the big time. The success of "Snowbird" was followed by hits on both the pop and country charts. She became a regular on The Glen Campbell Goodtime Hour, and her popularity increased even further. "Snowbird" was the first of three #1 hits in a row on the Canadian Country charts for Murray.
Her next album, Straight, Clean And Simple, coincided with the release from the album of "Sing High – Sing Low". The song quickly climbed to #1 on the Canadian RPM Adult Contemporary chart and the Canadian Country charts.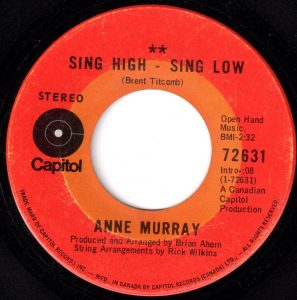 "Sing High – Sing Low" is a song inviting togetherness through song. It can be taken as a metaphor for a couple to "sing together again," and grow closer to one another. It can also be taken as an invitation for groups of people in specific communities, or in our broader society, to sing.
In an article in the Irish Examiner in 2015, they reported on a study by the Royal Society's Open Science Journal. The study compared the level of closeness participants in singing classes felt compared to those in other arts, writing and cultural areas of study. They found that "singing stood out as a powerful bonding force that acted rapidly on a whole group of individuals at once. The Royal Society's Dr Pearce said: "One of the key differences between humans and other primates is that we can exist in much larger social groups. Singing is found in all human societies and can be performed to some extent by the vast majority of people. It's been suggested that singing is one of the ways in which we build social cohesion when there isn't enough time to establish one-to-one connections between everyone in a group." As a singer, Anne Murray may have already sensed the magnetic bonding between people singing together. Her song "Sing High – Sing Low" invites anyone, regardless of skill, to join in with others and simply sing. And the benefits of singing a "song we all know" adds to the sense of community.
"Sing High – Sing Low" was written by Brent Titcomb. He was formerly a member of the mid-60's group Three's A Crowd (also spelled 3's A Crowd on their record sleeve distinct from Three's A Crowd on their 45 RPM's). 3's A Crowd had a Top 20 hit in Vancouver in 1966 titled "Bound To Fly". For a number of years Titcomb was a member of Anne Murray's touring band. He also did voiceovers for the animated movie, The Care Bears. Brent Titcomb has headlined the Festival of Friends music festival in Hamilton, Ontario, on five occasions and performed there at over twenty-five of the festivals. He had his own variety folk music show on CBC called The Brent Titcomb Show. Living mostly in Toronto, Brent Titcomb returned to Vancouver in 2014 to help care for his dad up to his fathers death in 2016.
"Sing High – Sing Low" peaked at #5 in Vancouver on CKVN. It climbed to #2 in both Calgary and Edmonton, #5 in Chilliwack (BC), #6 in Regina and #10 in Hamilton. But in 41 states in the USA, "Sing High – Sing Low" was given a pass by most DJ's causing it to stall at #83 on the Billboard Hot 100.
Her fourth Top Ten on the Canadian Country charts was "It Takes Time", which peaked on RPM Magazine's Canadian Country chart at #6. However, it didn't get any attention on the pop or country charts in the USA. Even on the pop charts in Canada it barely made the Top 30. However, in Vancouver the song climbed to #10.
"It Takes Time" was her third Top Ten hit on the pop charts in Vancouver. She would have four more Top Ten hits in Vancouver during the 70's. Her other Top Ten hits across the decade include "Talk It Over In The Morning", "Danny's Song", "You Needed Me" and "I Just Fall In Love Again".
Anne Murray is often cited as the woman who paved the way for other Canadian international success stories such as Alanis Morrisette, Nelly Furtado, Celine Dion, Sarah McLachlan and Shania Twain. Murray is also the first woman and the first Canadian to win "Album of the Year" at the County Music Association Awards for her 1984 album A Little Good News. Murray has received four Grammy Awards and twenty-four Juno Awards.
The Anne Murray Centre, located in Springhill, Nova Scotia, houses a collection of memorabilia from both her personal life and professional career in a series of displays. The Anne Murray Centre, which opened on July 28, 1989, is a registered Canadian charity. As a non-profit association, all the revenue generated from its operation is used to provide employment for local people and for its ongoing maintenance. The Anne Murray Centre aims to foster tourism in the area and promote awareness of the music of Nova Scotia and Canada.
In 2009 Anne Murray co-authored her memoir with Michael Posner.
February 27, 2019
Ray McGinnis
References:
Anne Murray Bio, Anne Murray.com
Anne Murray Centre, Springhill, Nova Scotia.
"Anne Murray Talks Drugs, Divorce in 'Painful' Memoir," CTV News, October 30, 2009.
Anne Murray Anne and Michael Posner, All of Me, (Vintage Books, 2009).
"Singing Brings People Together More Than any Other Activity, says an Expert," Irish Examiner, October 28, 2015.
Brent Titcomb, 3's A Crowd, Citizenfreak.com.
"Your Average Rock & Roll Radio Survey," CKVN 1410 AM, Vancouver, BC, January 29, 1971.
For more song reviews visit the Countdown.