#425: Smooth As Silk by MCJ & Cool G
Peak Month: March 1991
14 weeks on Vancouver's CKLG's chart
Peak Position #5
Peak Position on Billboard Hot 100 ~ did not chart
YouTube: "Smooth As Silk"
MCJ & Cool G were James McQuaid (MCJ), originally part of the Halifax hip hop group New Beginning, and Richard Gray (Cool G). MCJ was the rapper and Cool G mostly sang the choruses. Their sound included new jack swing which was popular at the time. New jack swing originated with Janet Jackon's 1986 Control album, featuring her hits "What Have You Done For Me Lately", "When I Think Of You", "Nasty" and the title track. Other examples of new jack swing are Club Nouveau's cover of "Lean On Me", Paula Abdul's "Straight Up", "I Like The Way (The Kissing Game)" by Hi Five, "I'm Your Baby Tonight" by Whitney Houston, "My Prerogative" by Bobby Brown, and "I Wanna Sex You Up" by Color Me Badd.
McQuaid was born in 1968 in North Preston. He grew up on Gottingen Street in Halifax, four blocks from Halifax Harbour. He remembers three or four banks, a couple of movie theaters and restaurants. When he was around ten-years-old, James remembers Christmas lights all along Gottingen Street and in the summer there was a car show. He started listening to hip-hop when he was twelve-years-old. In his teens McQuaid took boxing lessons. He was in a hip-hop group called New Beginnings and he remembers jamming at the corner of Gottingen and Uniacke Street. At the time, McQuaid's name in the band was "Microphone J." The group incorporated R&B along with rap. The first live performance of New Beginnings was ate Club Flamingo. They opened for some R&B bands in Halifax when McQuaid was only sixteen-years-old. The New Beginnings entered a lot of talent shows.
McQuaid met Richard Grey and they cut a few 12 inch singles, including one titled "Girl On My Mind". The hip-hop sound at the time was expressed by the Fat Boys, Salt 'N Pepa, LL Cool J, De La Soul, N.W.A., 2 Live Crew, A Tribe Called Quest and Run-D.M.C. McQuaid says hip-hop was about creativity. When the first hip-hop groups showed up with their pants halfway down their bum, that was an artistic statement. Since that time, showing up like that to a party lacks originality. Though he was from Halifax, the album tracks by MCJ & Cool G weren't lyrically about life in Halifax. James McQuaid says the duo was just about "making music."
In 1988 the duo moved to Montreal and were signed with Capitol Records in 1989. MCJ & Cool G went on tour with Vanilla Ice, Snow, MC Hammer, Rob Base and DJ E-Z Rock were also on the tour. MCJ & Cool G were but were kicked off the tour by Vanilla Ice. MCJ & Cool G has about eight or nine dancers with them for their concerts. In 1990, they released their debut album So Listen. The album featured the singles "So Listen" and "Smooth As Silk" which were typical of their new jack swing/hip-hop sound. The title track was released in the fall of 1990 and peaked at #16 in Vancouver. Their second release was "Smooth As Silk".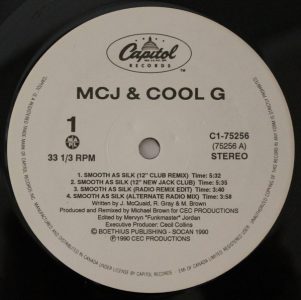 "Smooth As Silk" was written by James McQuaid. The song is about a guy who sees a woman he likes walking with another guy. He notices that she's "smooth like leather, soft like silk." He wants to get close to her, since he's decided "you're the one I want, you're the one I need." Of course, none of this may happen since he hasn't even spoken to her. And she may be tight with her current boyfriend. He concedes that nothing "might happen." However, he's going to try to let her know he's "for real." The song reflects the impact that a strong physical attraction can have on someone, even when they've never been introduced to the person who's caught their eye. "Smooth As Silk" peaked at #5 in Vancouver (BC) and #13 in Hamilton (ON).
In 1991, MCL & Cool G were nominated for two Juno Awards. These were for Best R&B/Soul Recording for their So Listen album, won by B Kool for his Simply Majestic album. The duo got a Juno nomination for Rap Recording of the Year with So Listen. That Juno was won by Maestro Fresh Wes for his Symphony In Effect album. They were also nominated for Single of the Year with "So Listen". That Juno was won by Colin James for "Just Came Back". McQuaid reflects that "a record company is nothing more than a glorified bank that lends you money at a terrible rate."
Between 1990 and 1994, the duo were "grinding," doing concerts all across Canada. They did all the small towns "from Newfoundland to Vancouver." They were on the road and also in the studio. MCJ & Cool G opened for Public Enemy on one tour. McQuaid was in the studio producing and writing songs.
MCJ & Cool G had one followup album in 1993, Dimensions Of Double R&B. On the album they sampled James Brown for two of the tracks. In 1994, they were nominated for Best R&B/Soul Recording with Love Me Right. That Juno was won by Rupert Gayle for "The Time Is Right (I'll Be There For You)". Despite their critical acclaim with four Juno nominations in response to their two album releases, the duo felt burned by the label. They didn't get the promotion they anticipated. By the end of the decade no other rap or hip-hop artists from the Halifax area were signed to a major label.
MCJ & Cool G went to New York and made about thirty recordings that were candidates for a third album. At that time the sound was more R&B, less hip-hop. There were some cassette tapes from that time that were lost. After MCJ & Cool G, James McQuaid lived in Montreal and New Jersey. Then he moved back to Halifax in 2004. This happened to coincide with Cool G's marriage.
In 1994 James McQuaid produced the Da Freshmen. They were a three member hip-hop group from Montreal. McQuaid produced their album All About The Girls. Since around 1998, James McQuaid has gone by the nickname "Homegrown," writing, creating and developing with new talent. One of Da Freshmen told McQuaid should move to the USA with all his talent. But, McQuaid kept saying he was from Canada and that was where he saw himself remaining. Consequently, Da Freshmen started to nickname him "Homegrown." He says that the key to the music industry is "art." In 2002, he produced a single by Technical Sense titled "In Da Club", while he was living in New York City. In 2005 he produced Nicole Moses (Nikki Mo) album The Answer. He's discovered that as a producer he has to pay attention to deadlines and getting projects finished. The frustrating dynamic as a producer is the personal dynamics with some of the recording artists and "dealing with their baggage."
In 2007 MCJ & Cool G received a Music Pioneer Award from the African Nova Scotia Music Association. After receiving the award Cool G said "We went from Halifax to Montreal, to Miami. But we had to go back to Halifax to get our first award."
In an interview in 2014 McQuaid said he continues to get royalty checks internationally from as far away as Africa and Australia.
References:
"MCJ & Cool G," Canadian Encyclopedia.
Tony Mitchell, editor, Global Noise: Rap and Hip Hop Outside the USA, (Weslayan University Press, 2001).
Thomas Quinlan, "Halifax Hip-hop Anticipates the Big Bang," Exclaim!, May 1, 2000.
"1991 Juno Award Nominees and Winners," awardsandwinners.com.
"African Nova Scotia Music Association 2007 Awards," ANSMA.com.
Seth Glasgow, "James McQuaid Interview," M-X Cloud.com, 2014.
"CKLG Top 40," CKLG 730 AM, Vancouver, BC, March 11, 1991.
For more song reviews visit the Countdown.